Oven roasting is a delicious way to enjoy vegetables and these Roasted Brussels Sprouts with Balsamic vinegar is one of our favorites! The crisp, caramelized flavor of these Brussels sprouts combined with the sweetness of aged balsamic makes for an elegant side dish. Then….top them off with a sprinkling of toasted hazelnuts!
The earthy flavor of Brussels sprouts really come to life when roasted in a hot oven. Roasting enhances their natural sweetness and the caramelization transformed them into pure deliciousness.
Did You Know?
Brussels sprouts originated in Europe and named after the city of Brussels.
The British are the top consumers of these baby cabbages.
Brussels sprouts are a member of the cabbage family.
The smaller heads of Brussels sprouts will be more tender and sweeter than the larger heads.
Brussels sprouts have their peak season between September to mid-February.
Brussels sprouts are a cold weather vegetable that take several months to mature.
Over-cooked Brussels sprouts will smell up your house.
If you are planning to include Brussels sprouts in your backyard garden you will want to plant them in the summer for a fall harvest.
We tossed our roasted Brussels sprouts with a thick syrupy, balsamic vinegar which compliments the caramelized flavor. This bottle of balsamic is not what I use for an everyday balsamic vinegar. It is reasonably priced and I reserve it for special glazes, salads dressings and things like these roasted sprouts.
What is Balsamic Vinegar?
When making traditional balsamic vinegar, the process includes crushing the grapes and using the juice and the "must". Grape must is freshly crushed grape juice with all the skins, seeds and stems.
A good, aged balsamic vinegar is dark, syrupy and sweet. It can be pretty pricey depending on the type of grapes used. The length of the aging process and type of aging container will also add dollars to that bottle of balsamic.
You will find good brands of balsamic in your local grocery store that are reasonably priced and won't break your budget.
Tips To Prepare Roasted Brussels Sprouts with Balsamic:
Choose the small sprouts, about 1-1/2 inches in diameter. They will be more tender and sweet.
Drizzle or toss the sprouts with plenty of oil
For dark caramelization roast the Brussels sprouts on a bare sheet pan, cut side down or half and half.
Roast in a hot 425°F oven
Do not crowd the sheet pan or the sprouts will steam and not be crisp
Check the sprouts for doneness three-quarters through the cooking time.
Small sprouts will roast al dente in 12 to 15 minutes, larger sprouts up to 20 minutes.
If you begin to smell them roasting they will be overcooked
Keep the balsamic to a minimum, just enough to flavor but not overpower the Brussels sprouts.
Transfer the roasted Brussels sprouts with balsamic to your prettiest serving dish and sprinkle with toasted chopped hazelnuts.
Enjoy these Brussels sprouts as a side dish or as the main entree of a vegetarian meal.
How to make Brussels sprouts crispy.
For nice, crispy edges on these Brussels, roast them on high heat and make sure the oven is hot when you put them in to cook. As I mentioned above, don't over-crowd the sheet pan. It is tempting to cook as many as you can all at once. But if you pile too many on the pan at one time, they will just steam and you will not get crispy edges.
MORE SIDE DISH RECIPES WE ARE SURE YOU WILL LOVE:
CONNECT WITH SAVOR THE BEST!
Be sure to follow us on our social media accounts
Facebook * Instagram * Pinterest * Twitter * Youtube
Did you make this recipe? We would love to hear from you. Drop us a comment below.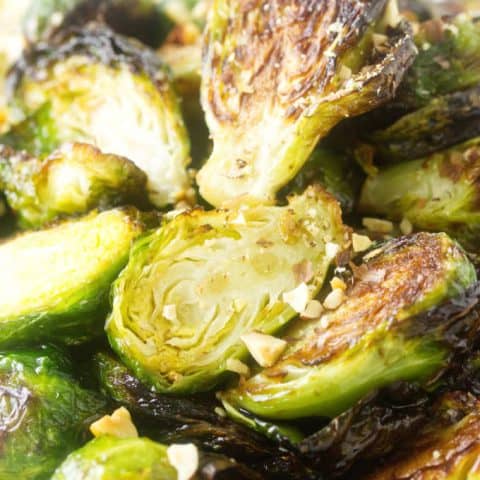 Roasted Brussels Sprouts with Balsamic
Yield: 4 Servings
Prep Time: 10 minutes
Cook Time: 12 minutes
Total Time: 22 minutes
These Roasted Brussels Sprouts with Balsamic have a caramelized flavor combined with the sweetness of aged balsamic and a crunchy sprinkling of toasted hazelnuts.
Ingredients
1-1/2 pounds fresh Brussels sprouts
3 tablespoon olive oil
1/2 teaspoon sea salt
1/4 teaspoon ground black pepper
2 tablespoon balsamic vinegar
3 tablespoons chopped toasted hazelnuts
Instructions
Preheat oven to 425°F.
Pull off any of the outside leaves of the sprouts that are wilted or discolored. Trim the bottom off and slice sprouts in half lengthwise.
Add the sprouts to a large bowl and toss with 3 tablespoons of olive oil.
Tip the Brussels sprouts onto a bare sheet pan. Turn part of the sprout halves cut side down. Season with a generous sprinkling of salt and fresh ground black pepper.
Transfer to the center rack of the oven and roast until tender and caramelized, about 15-18 minutes. (See notes)
Transfer the sheet pan from the oven, drizzle and toss the Brussels Sprouts with the balsamic.
Scoop the Brussels Sprouts into a serving dish and sprinkle with toasted, chopped hazelnuts and serve.
Notes
Select small 1-1/2 inch diameter Brussels Sprouts
Use enough oil to lightly coat the sprouts
Sprouts can be added to the sheet pan then drizzled and tossed with oil
For the best caramelization do not line the sheet pan
Place the cut side down for deep caramelization
Use a minimum of quality balsamic vinegar
Do not overcook, check for doneness half way to three-quarters into the cooking time.
If you smell them roasting they will be over cooked.
For Weight Watchers or Slimming World, this recipe has 4 WW SmartPoints or 6 Syns
Nutrition Information:
Yield: 4
Serving Size: 1 cup
Amount Per Serving:
Calories: 196
Total Fat: 15g
Saturated Fat: 2g
Trans Fat: 0g
Unsaturated Fat: 12g
Cholesterol: 0mg
Sodium: 302mg
Carbohydrates: 15g
Fiber: 5g
Sugar: 4g
Protein: 5g
Nutrition information is a guideline only, is calculated automatically by third party software, and absolute accuracy is not guaranteed.