Cider Braised Pork Shoulder with Apples is as classic an autumn/winter dish as you can get! Slow-roasted pork shoulder braised in fresh apple cider and served with sautéed apples makes a delicious main course! The pork is tender, and the cider-y juices are cooked down into a sweet/savory sauce. Spoon it over the meat and pair it with some creamy mashed potatoes for a flavorful feast that everyone will enjoy!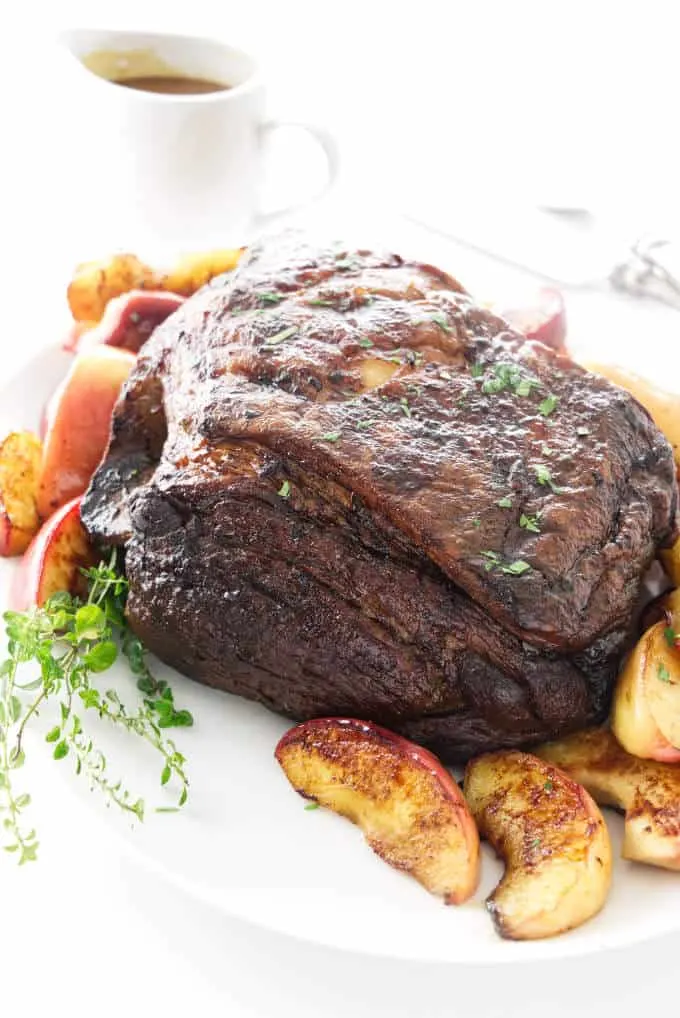 We love the combination of apples and pork (have you tried our Chipotle Pork Chop Sheet Pan Dinner with Apples or our apple stuffed pork loin?), so naturally, this braised pork roast is right up our alley.
The braised pork shoulder is tender, juicy, and infused with sweet apple cider. Served with sautéed apples and a cider sauce, this is a no-fuss dinner that works for both special occasions and weekend family dinners.
What does it mean to braise pork?
Braising is the process of cooking meat covered (often with vegetables) in a small amount of liquid for a longer period of time, often at a lower temperature. The low and slow method results in meat that is melt-in-your-mouth tender and full of flavor, thanks to the aromatics that are usually incorporated into the dish.
Our Cider Braised Pork Shoulder with Apples uses a combination of apple cider, fresh apples, apple brandy, fresh thyme and bay leaves to bring a light apple flavor to the meat.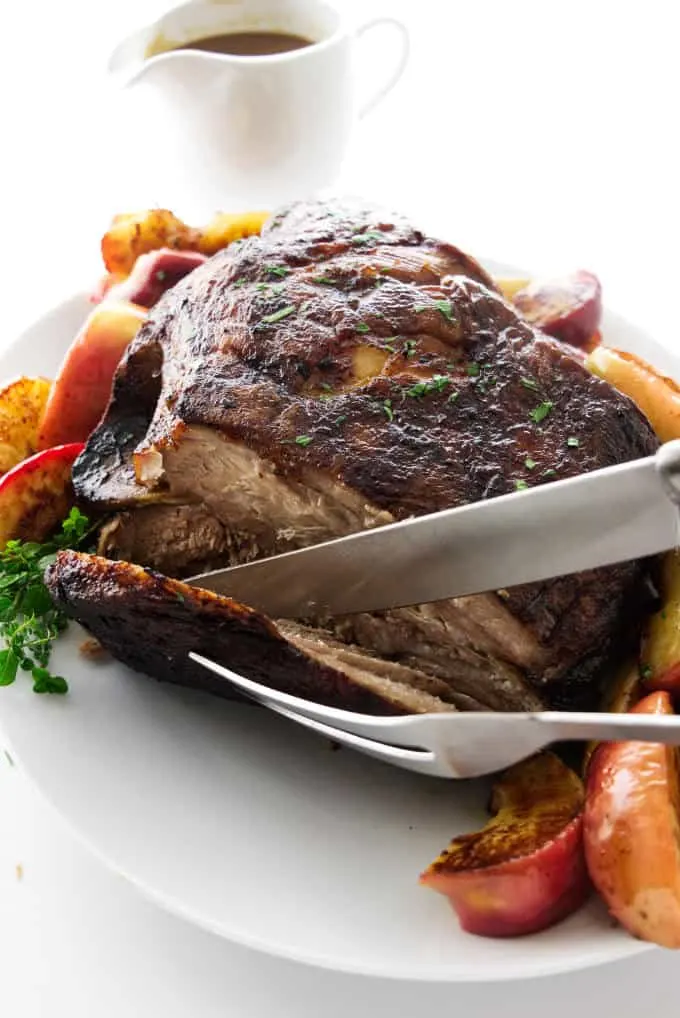 And if you want to check out a few of our other favorite braised meat recipes, take a look at our Braised Greek Lamb Shanks and these Port Wine Braised Short Ribs. So much tender, meaty goodness!
How to make Cider Braised Pork Shoulder with Apples
Just like many other braised meats, this fantastic dish is so simple to make! Ten ingredients and one pot. But first, let's talk about the best cut of meat for braised pork.
What cut of pork is best for braising?
This recipe is made with pork shoulder. It results in a tender and flavorful pork dish that won't break the bank, either. Pork shoulder is an affordable cut of meat that really shines when it is cooked low and slow. With a sufficient amount of fat, it is juicy and satisfying, and BONUS: it can feed a crowd.
Bottom line: if you want a deliciously tender pork dish, braised pork shoulder is the way to go. 😉
Ingredients for braised pork shoulder
To make this cider braised pork shoulder with apples, you will need the following ingredients:
bone-in pork shoulder
olive oil or vegetable oil
apple cider
apple brandy
thyme sprigs
salt
bay leaves
sweet apples
butter
flour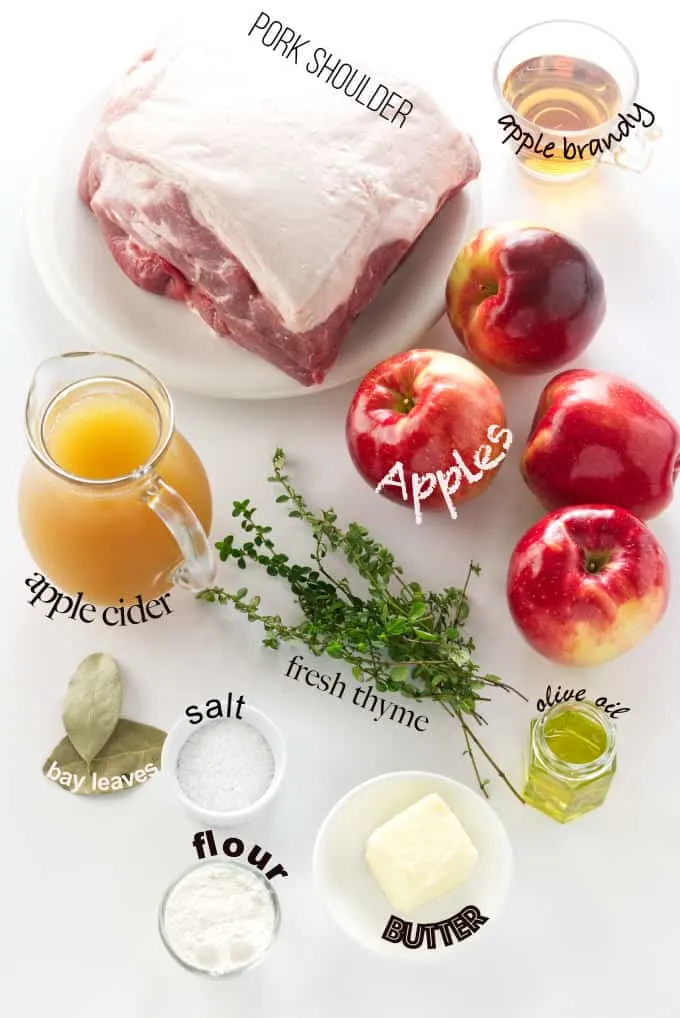 Braised pork roast is best when prepared in a heavy-bottomed, oven-safe pot with a lid, preferably a Dutch oven that can hold 7 to 8 quarts.
Our Braised Pork Shoulder recipe
This Cider braised pork shoulder recipe is a four-step process, and I'm thrilled to tell you that the oven does most of the heavy lifting!
Here's how it's done (scroll to the bottom of the page to see the printable recipe card):
Brown the pork roast: Preheat the oven to 250°F. Pat the pork and season it. Add the oil to the Dutch oven set over medium heat. Brown the pork, turning it to sear all sides.
Add ingredients and braise: Add the cider and apple brandy, along with the thyme sprigs and bay leaves. Cut and quarter one of the apples and add it to the pot. Cover and roast in the oven for 6 hours or until the meat is fork-tender. When done braising, transfer the pork roast to a platter and tent it with foil, allowing it to rest for about 15 minutes.
Make the sauce: Pour the braising liquid through a sieve and toss any residue in the strainer. Spoon off as much of the fat from the liquid and reserve. In a saucepan, melt the butter and then add the flour and cook, stirring the roux for a couple of minutes. Slowly add the strained braising liquid, whisking it until the sauce thickens. It will cook about 5-6 minutes. Transfer to a gravy dish or pitcher and keep warm.
Sauté the apples: Cut the apples in half, core and slice each apple into 3 thick slices. Over a large skillet, melt the remaining butter and cook the apple slices over medium heat until they turn golden and are barely tender. Serve the apples around the pork roast and garnish the dish with fresh thyme.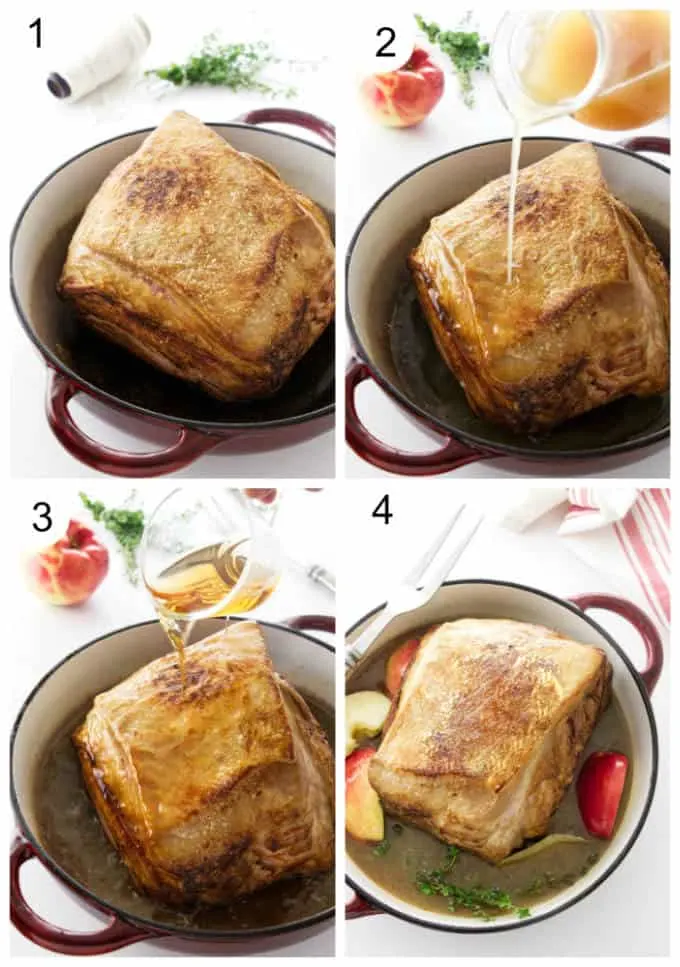 Pro tips for braised pork shoulder
When braising pork shoulder, keep these tips in mind:
Bone-in pork shoulder is preferred, but you can also use boneless pork shoulder. Just make sure to tie it in several places with kitchen twine to keep it in a tight bundle.
Rosemary can also be used instead of fresh thyme sprigs.
When braising, check the level of braising liquid occasionally. About one-third of the roast should be under the liquid, so add extra apple cider if needed.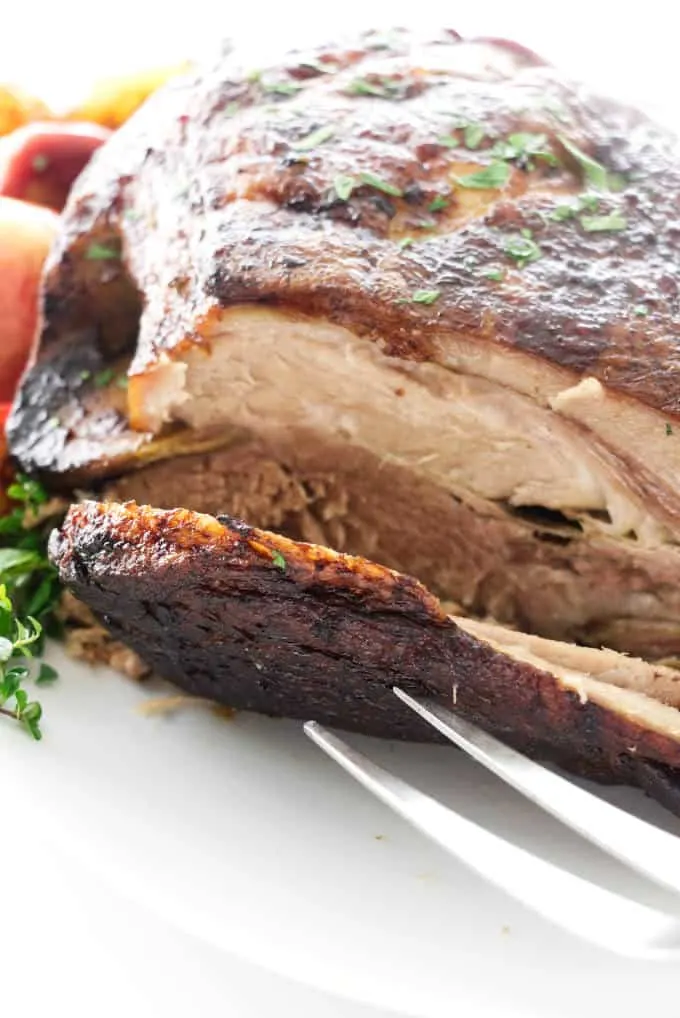 Cider Braised Pork Shoulder with Apples is one tasty meal that will certainly wow! We hope you love it, and if you do, we're always very grateful for a five-star rating on the recipe below.
Frequently asked questions
What apples are best for cooking with pork?
Any variety of apple will taste great with pork but we prefer apples that hold their shape when they are cooked. Here are some recommendations:
Mutsu
Pink lady
Honeycrisp
Golden Delicious
How do I keep my pork roast from drying out?
Leave the fat cap on the top of the roast.
Cover the pot during the roasting process.
Helpful Tools
Some of the following links are affiliates. If you click on these links and purchase something, we may receive a small commission. You don't pay any extra but it will help us keep the lights on.
SOME OTHER RECIPES WE ARE SURE YOU WILL LOVE:
Slow Cooker Pot Roast: The easy, everyday pot roast just got easier with this slow cooker pot roast recipe! Tender, juicy slices of beef with potatoes, carrots and baby onions. A savory, delicious sauce made from the pan juices.
Chicken and Rice Bake: Dinner has never been easier than this chicken and rice bake! Made with seasoned chicken thighs and baked with fragrant, lemony basmati rice, this easy recipe will become one of your favorites!
Port Wine Braised Short Ribs: The red Port wine adds a rich flavor to these fork-tender braised short ribs. The braising liquid makes a luxuriously rich, flavorful sauce.
CONNECT WITH SAVOR THE BEST!
Be sure to follow us on our social media accounts
Facebook * Instagram * Pinterest * Twitter * Youtube
Did you make this recipe? We would love to hear from you. Drop us a comment below.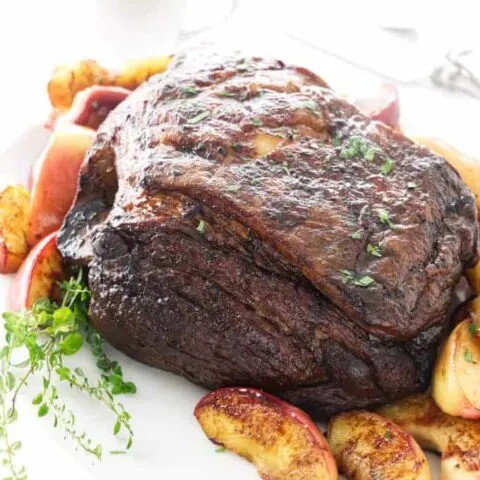 Cider Braised Pork Roast with Apples
Total Time:
6 hours
15 minutes
Our Cider Braised Pork Roast with Apples is a classic fall feast! Tender, moist pork shoulder slow-roasted in fresh apple cider and newly harvested apples! The rich apple-flavored sauce is a delicious bonus and perfect with mashed potatoes.
Ingredients
1 pork shoulder, 6 pounds, bone-in
1-1/2 teaspoon coarse salt
2 tablespoons olive or vegetable oil
3 cups apple cider
1/2 cup apple brandy
Thyme sprigs
3 bay leaves
4 sweet apples, divided
4 tablespoons butter, divided
2 tablespoons flour
Instructions
To Braise the Pork:
Preheat the oven to 250°F
Pat the pork with paper towels, season with salt and a few grindings of fresh pepper. Add the oil to an 8-quart Dutch oven, braiser or heavy-bottomed pan, set over medium high heat. When the oil is hot add the pork and brown, turning to brown all sides, 10-12 minutes.
Add the cider and apple brandy.
Tie several thyme sprigs together with kitchen twine and add the bundle to the pan with the bay leaves.
Cut, quarter and core one of the apples and add to the pan.
Cover the pot and transfer to the oven and roast for 6 hours or 1 hour per pound until the meat is fork-tender.
Remove from the oven and transfer the pork roast to a platter, tent with foil and let rest for 15-20 minutes.
For the Sauce:
Remove the remains of the tied thyme bundle from the braising liquid and discard.
Pour the liquid through a fine sieve set over a bowl, discard the residue in the strainer. Spoon off as much of the fat from the liquid as possible and reserve. There should be about 2 cups of liquid, add additional water or cider if necessary.
Melt 2 tablespoons of butter in a saucepan set over medium-low heat. Add the flour, cook and stir the roux for 1-2 minutes.
Slowly add the strained braising liquid, whisking until slightly thickened, 5-6 minutes. Transfer to a spouted pitcher or gravy dish and keep warm while sautéing the apples.
For the Apples:
Cut the apples in half, core and slice each half into 3 thick slices.
Set a 10-inch non-stick skillet over medium heat, melt the remaining 2 tablespoons of butter and add the apples slices. Brown to a light golden, turning with tongs to brown all both sides.
Cook the apples until barely tender but still a little firm when pierced with a fork.
Remove the foil from the pork roast and place the apples on the platter around the pork roast. Garnish with fresh thyme sprigs.
Notes
If using a boneless pork shoulder, tie it in several places with kitchen twine to keep it in a tight bundle while cooking.
Thyme or rosemary are good choices for this cider braised pork roast.
Check the level of braising liquid from time to time to keep the level of liquid to 1/3 of the roast under the braising liquid. Add additional cider if necessary.
A fat-separator pitcher can be used to pour off the accumulated fat
Recommended Products
As an Amazon Associate and member of other affiliate programs, I earn from qualifying purchases.
Nutrition Information:
Yield:

10
Serving Size:

1
Amount Per Serving:
Calories:

185
Total Fat:

9g
Saturated Fat:

4g
Trans Fat:

0g
Unsaturated Fat:

4g
Cholesterol:

24mg
Sodium:

485mg
Carbohydrates:

21g
Fiber:

2g
Sugar:

15g
Protein:

4g
Nutrition information is a guideline only, is calculated automatically by third-party software, and absolute accuracy is not guaranteed.