This apple stuffed pork loin is perfect for a hungry crowd. The pork tenderloin is stuffed with a mixture of apples, cornbread, onions, and bacon. Combine the pan drippings with some extra broth and white wine for an amazing white wine pan sauce.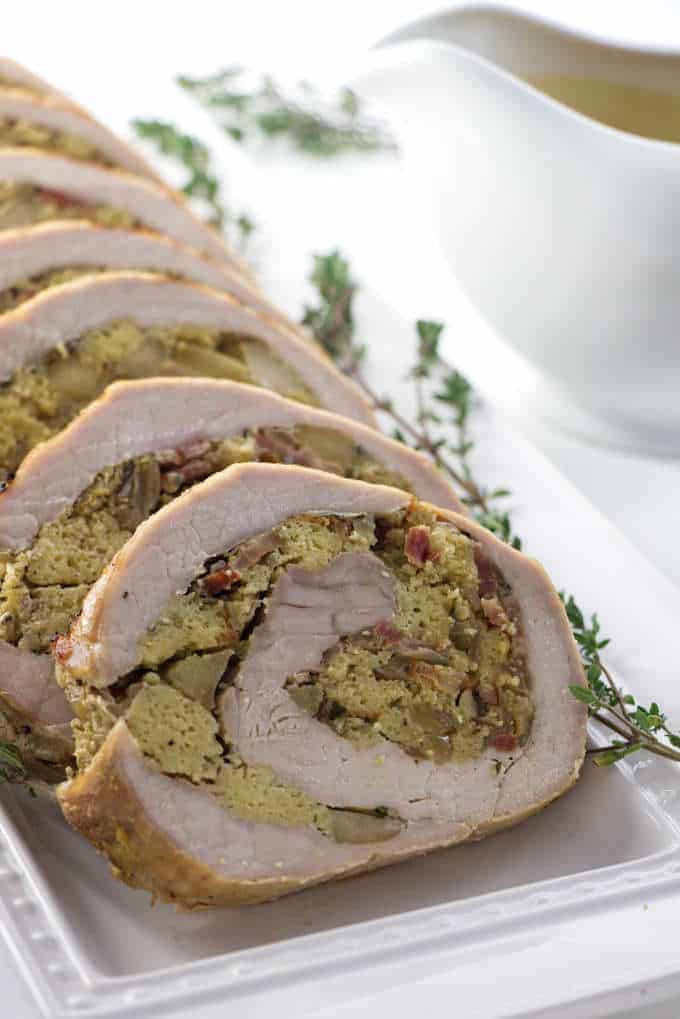 Pork loin is a very versatile and budget-friendly piece of meat. I'm going to show you how to cut a large, thick, tenderloin into a thin, long slab of meat that you can roll up with some stuffing. It makes an impressive presentation.
If you don't want to butterfly the pork tenderloin yourself, then you can just ask your butcher to do it for you. However, if you watch our video, you will see that it really isn't difficult. All you need is a sharp knife.
How to butterfly a pork loin:
First there a few helpful tips to keep in mind when you butterfly your tenderloin.
Use a sharp knife.

Keep your knife parallel to the cutting surface. If you angle it down, you will cut through the meat.

Make sure you don't cut all the way through the loin, stop cutting 1/2 inch from the end.

Use a meat mallet to pound out the thicker parts of the meat so the whole slab of meat is the same thickness.

Stick the pork loin in the freezer for 30 minutes to an hour. That will make it firmer and easier to cut.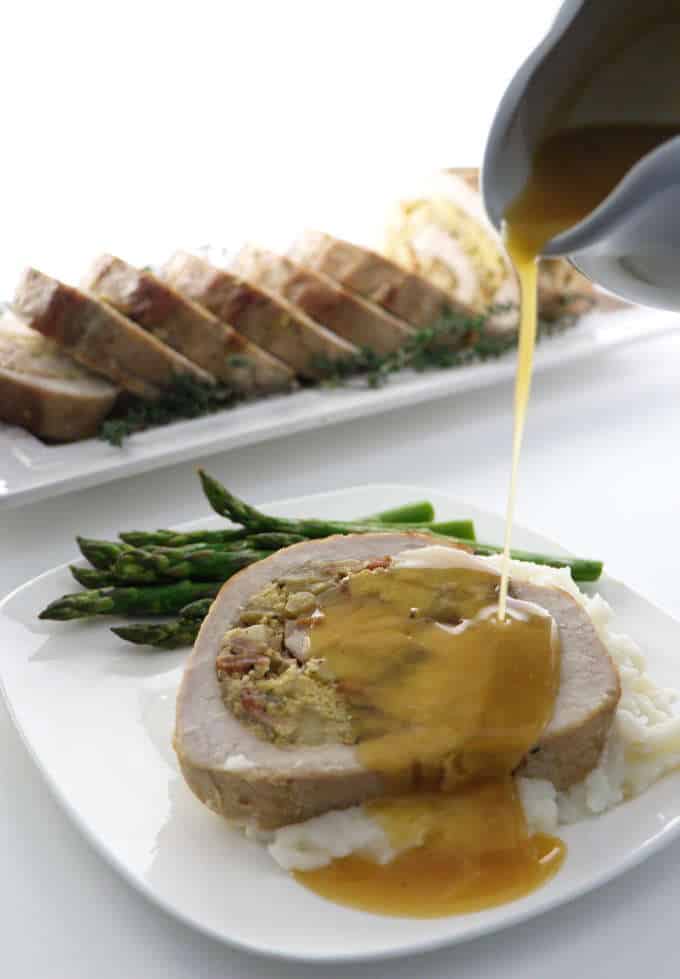 Steps to butterfly a pork loin.
Now let's get started with the steps for butterflying the pork loin.
First cut off the silver skin and fat from the outside of the pork loin.

Place the pork loin on a cutting board so that one end is directly in front of you.

Cut along the side of the pork loin one inch up from the cutting board. Make sure to keep the knife parallel to the board.

Cut to within 1/2 inch of the other side of the loin and open the loin like a book.

Repeat the process with the thicker side of the pork loin and open it up again.
This technique works best for pork loins that are at least 3 inches thick. If your pork loin is thin, you may only need to make one cut right down the center of the loin.
We used a 3-pound pork tenderloin for this recipe which is plenty to serve 6 hearty appetites. If you have a smaller tenderloin you will want to adjust the cooking time.
What temperature to cook pork loin:
Since pork loin is such a lean meat, you don't want to over-cook it or it will dry out.
Pork loin tastes best when you cook it to 145°F. If you cook it much longer then it won't be moist and juicy.
If you have been around for as long as I have, you may remember a time when the USDA recommended cooking pork until it was a dry and dead 160°F. However, they have changed their guidelines and now say whole cuts of pork can safely be cooked to 145°F with a 3 minute rest time.
Just to clarify, that recommendation is only for whole cuts of pork such as steaks, roasts, and chops. If you are cooking ground pork or organ meats, you need to cook the meat to an internal temperature of 160°F.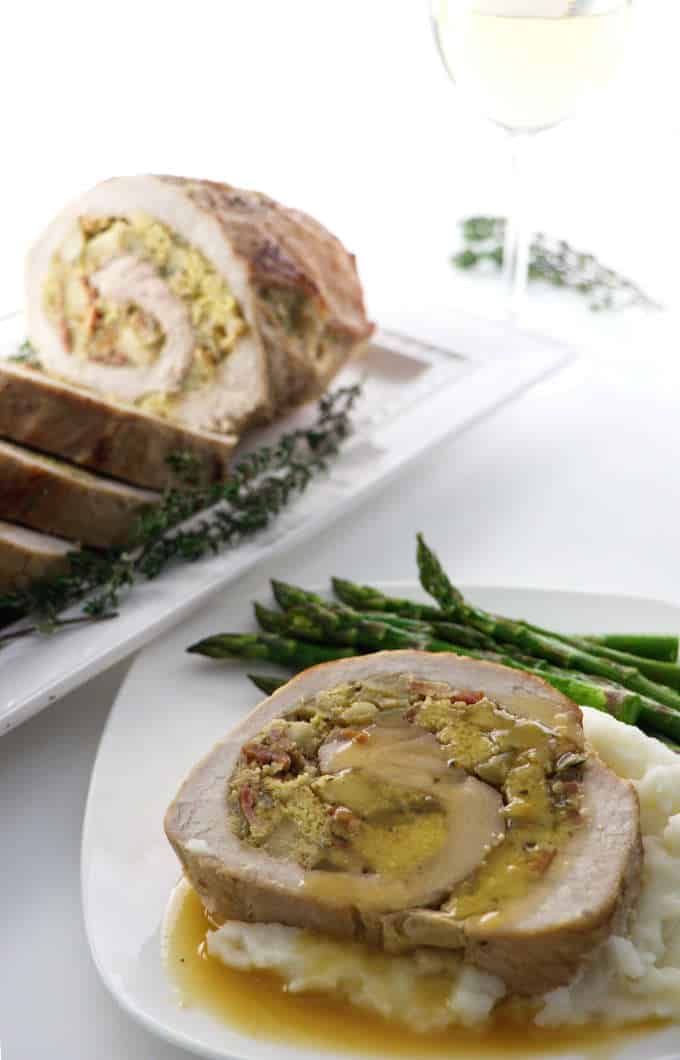 Can you eat pork slightly pink?
As long as the internal temperature reaches 145°, whole cuts of pork are safe to eat if they are a little pink inside. The best, and safest way to determine the correct temperature of your pork is to use a meat thermometer.
Watch our video to see how you can butterfly a pork tenderloin so you can stuff it and roll it up into a beautiful spiral.
More Recipes You Will Love
This

slow roasted pork shoulder

has a spicy rub and a delicious flavor. The oven does all the work to make an incredibly tender pork shoulder. You only need to spend 20 minutes prepping the meal.

If you're looking for a fast weeknight dinner, this

Chipotle Pork Chop Sheet Pan Dinner

only takes 30 minutes to cook. The chipotle sauce is finger-lickin'-good!

If you have leftover pork, use it to make this

Pork Fried Rice

. It is the best way to re-purpose a meal and no one will know they are eating leftovers.
Connect With Savor the Best:
Please follow us on our social media accounts
Facebook * Instagram * Pinterest * Youtube * Twitter
Did you make this recipe? We would love to hear from you. Drop us a comment below.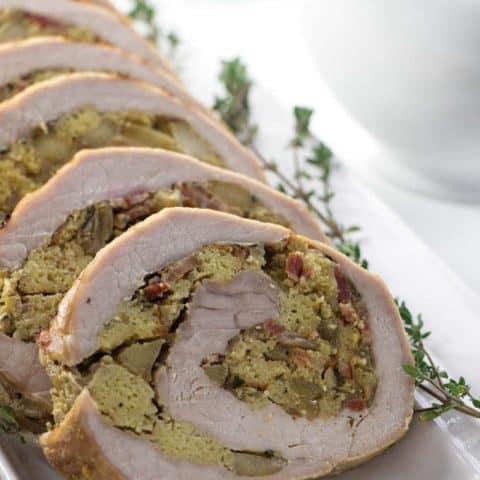 Apple Stuffed Pork Loin
Total Time:
1 hour
20 minutes
A tender pork loin is rolled up with a delicious stuffing that is made with cornbread, apples, and bacon. The presentation of this spiral stuffed pork loin is truly beautiful.
Ingredients
5 to 6 slices of thick cut bacon, chopped into 1-inch sections
2 medium onions, diced
4 medium red apples, peeled and chopped,
2 tablespoons sugar
2 teaspoons fresh thyme leaves
2 teaspoons fresh chopped sage
3/4 teaspoon salt
2 cups cornbread cubes
1 egg
2/3 cup chicken broth
1 pork loin (2-1/2 to 3 pounds)
WHITE WINE PAN SAUCE:
1/4 cup white wine
3/4 cup chicken broth
2 teaspoons cornstarch
2 tablespoons butter
salt and pepper to taste
Instructions
Prepare the pork loin. You can either butterfly it yourself or have the butcher do it for you. If you want to do it yourself see our video for how to butterfly a pork loin.
Preheat the oven to 450°F
Heat a skillet over medium heat then add the bacon to the hot skillet. Cook until crispy then set aside.
Pour out all but 1 tablespoon of bacon fat. Heat the tablespoon of bacon fat in the skillet and add the onion. Cook for 4 to 5 minutes until it begins to brown slightly.
Add the apples, sugar, thyme, sage, and salt. Cook for another 5 minutes or until the apples are soft.
Remove the apple mixture from the heat and let it cool slightly. Stir in the cubes of cornbread then crumble the bacon into the mixture.
Whisk the egg into the chicken broth and stir into the mixture. If the mixture isn't completely moistened then gradually add 1/4 to 1/2 cup more chicken broth or water until all the stuffing is moist. Don't make the stuffing sopping wet, just make sure that it is moist enough to stick together when gently pressed.
Stuff and roll the pork loin:
Lay the butterflied pork loin out flat, season with salt and pepper then spoon the stuffing mixture over it. Roll the pork over the stuffing, jelly roll style.
Tie the pork loin together using butchers twine and place it in a 13X9 inch pan with the seam side down.
Season the pork loin with salt and pepper then place it in the preheated oven for 15 minutes then reduce the heat to 350°F and cook for 45 to 55 more minutes or until the center of the pork is 145°F.
Remove the pork loin from the oven and cover it with tin foil for 10 to 15 minutes before slicing.
WHITE WINE PAN SAUCE:
Pour the pan juices through a sieve and add them to a sauce pan. Cook over medium heat and add the white wine and chicken broth. Simmer for 4 or 5 minutes or until reduced by by almost half the amount.
Whisk the cornstarch with 2 tablespoons of cold water then whisk the cornstarch slurry into the saucepan. Simmer for 1 minutes until thickened. Stir in butter. Season with salt and pepper as needed.
Recommended Products
As an Amazon Associate and member of other affiliate programs, I earn from qualifying purchases.
Nutrition Information:
Yield:

6
Serving Size:

1
Amount Per Serving:
Calories:

439
Total Fat:

16g
Saturated Fat:

6g
Trans Fat:

0g
Unsaturated Fat:

9g
Cholesterol:

96mg
Sodium:

1283mg
Carbohydrates:

59g
Fiber:

4g
Sugar:

19g
Protein:

15g
Nutrition information is a guideline only, is calculated automatically by third party software, and absolute accuracy is not guaranteed.