Triple Lemon Cheesecake Bars are a lemon-y dream! They're the combination of two incredible desserts: tangy lemon squares and classic cheesecake. This lemon cheesecake bars recipe results in a light and creamy dessert topped with tangy lemon curd, while the base is a simple and sweet crust made with crushed lemon Oreo cookies.
It's why we call these "triple lemon cheesecake bars," there is delicious lemon flavor in the crust, the filling and the topping! A lemon cheesecake bar makes the perfect after-dinner treat or even mid-day snack served with a cup of coffee. We're adding this to our long list of heavenly lemon dessert recipes because you can never have too many.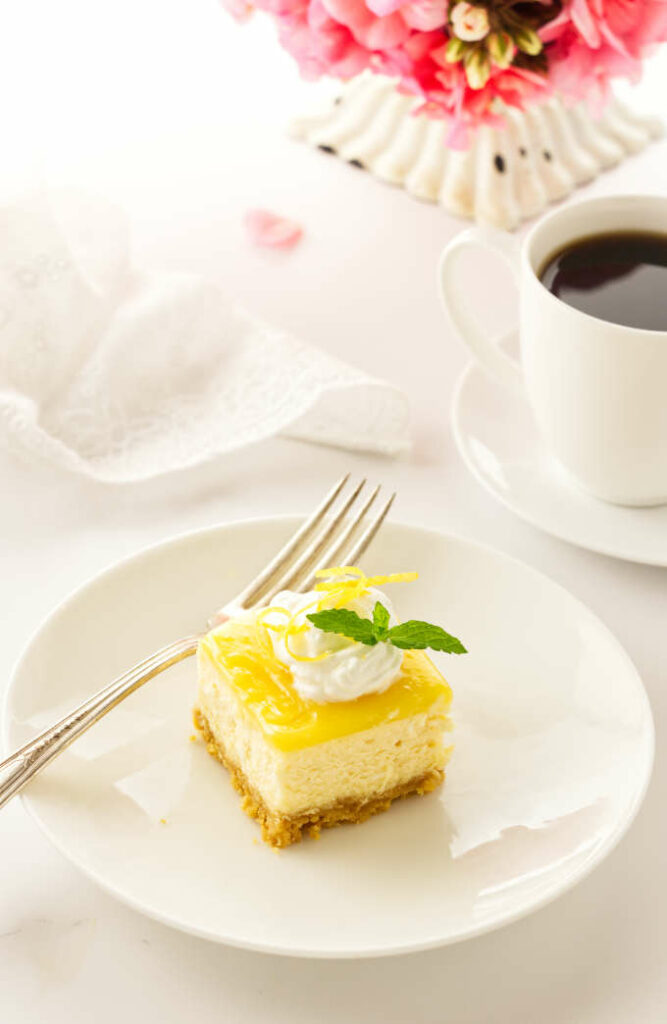 All the Details:
I don't know about you, but lemon desserts make me happy. They're bright, sunny, and that tangy lemon flavor pairs well with so many things (like this lemon lavender cake and our lemon Bundt cake!). We love to top cakes and other treats with creamy lemon curd or our lemon dessert sauce, and this recipe combines that with another one of our favorites: rich and velvety cheesecake. But, serve it all in bar form for a slightly more casual dessert that still feels special.
These Triple Lemon Cheesecake Bars Are:
Simple to make
Creamy, tart, and delicious
A wonderful way to use lemon curd
Perfect for entertaining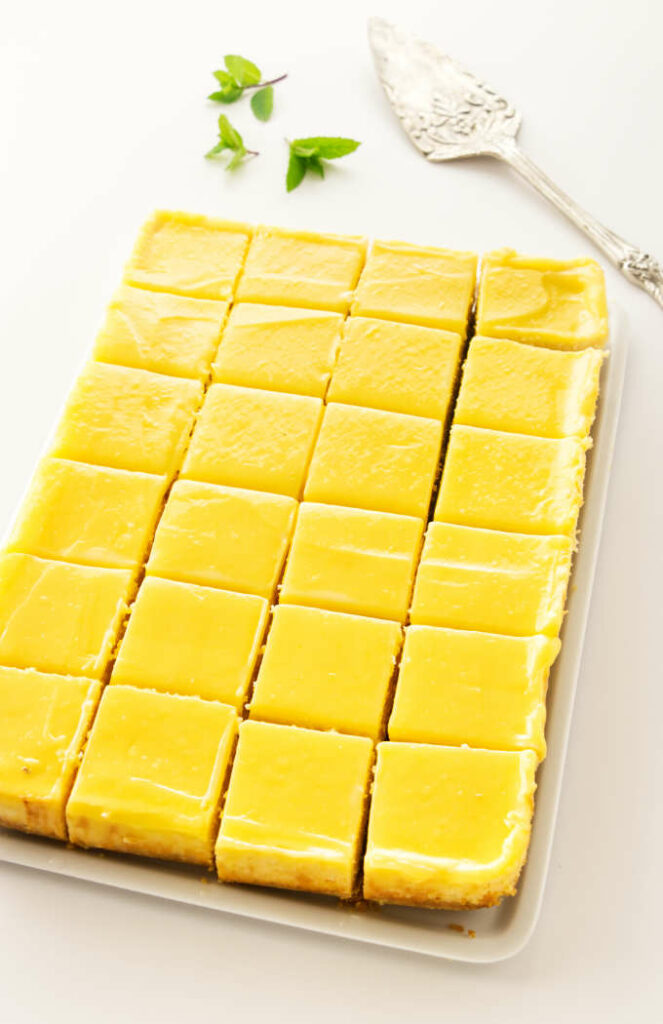 The Ingredients You Will Need:
Simple ingredients come together to make these amazing lemon cheesecake bars, from the cream cheese filling to the lemon-y crust.
This lemon cheesecake bars recipe requires two steps: making the cheesecake bars and making the yummy lemon curd topping. The ingredient list includes everything you will need for both those steps (see the full amount and all the details in the recipe at the bottom of the page).
You will need:
Butter
Cream cheese (at room temperature)
Granulated sugar
All-purpose flour
Lemon zest
Freshly-squeezed lemon juice
Vanilla extract
Eggs, at room temperature
Egg yolks (for the lemon curd)
Salt
If you have extra lemons, save them for our blackberry lemon bread, the lemon zest compliments the blackberries perfectly.
How to Make Lemon Cheesecake Bars:
While there are two main steps to this recipe, if you already have lemon curd on hand, it becomes even easier! We've also simplified the crust process by using store-bought lemon cream Oreo cookies. They're perfect for this recipe as they add a deliciously light lemon flavor to the sweet cookie base.
If you want to make your own cookies instead, you can make our triple lemon cookies. Here is a quick overview of the recipe for lemon cheesecake bars. Scroll down to the printable recipe card for all the details.
Make the lemon crust.
Make the lemon cheesecake filling: After you bake the filling, let it cool for 4 hours or overnight.
Prepare the lemon curd topping: Once the lemon curd is cool, spread it over the top of the cheesecake bars.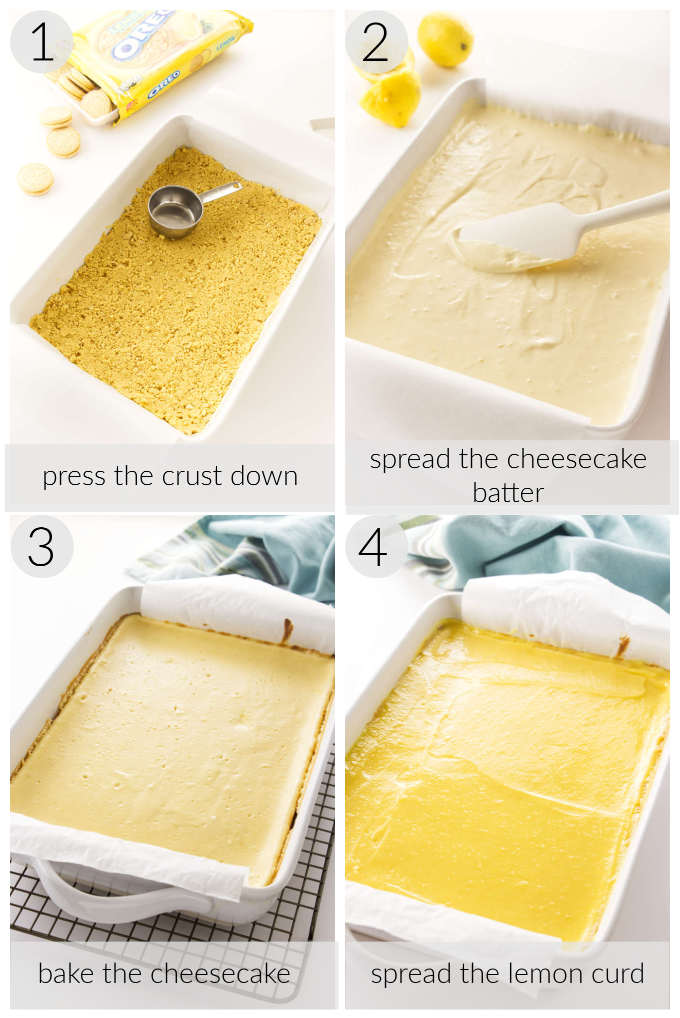 Tips for success:
When making the lemon curd, try not to let the mixture come to a boil. If it begins to boil, remove it from the heat and return it to a lower heat. You'll know it's done when the curd is thick enough to coat the back of a spoon and you can run your finger through it and it holds a trail.

Use room temperature ingredients for the cheesecake! Cream cheese and eggs at room temperature will combine smoothly and you won't get lumps in your batter.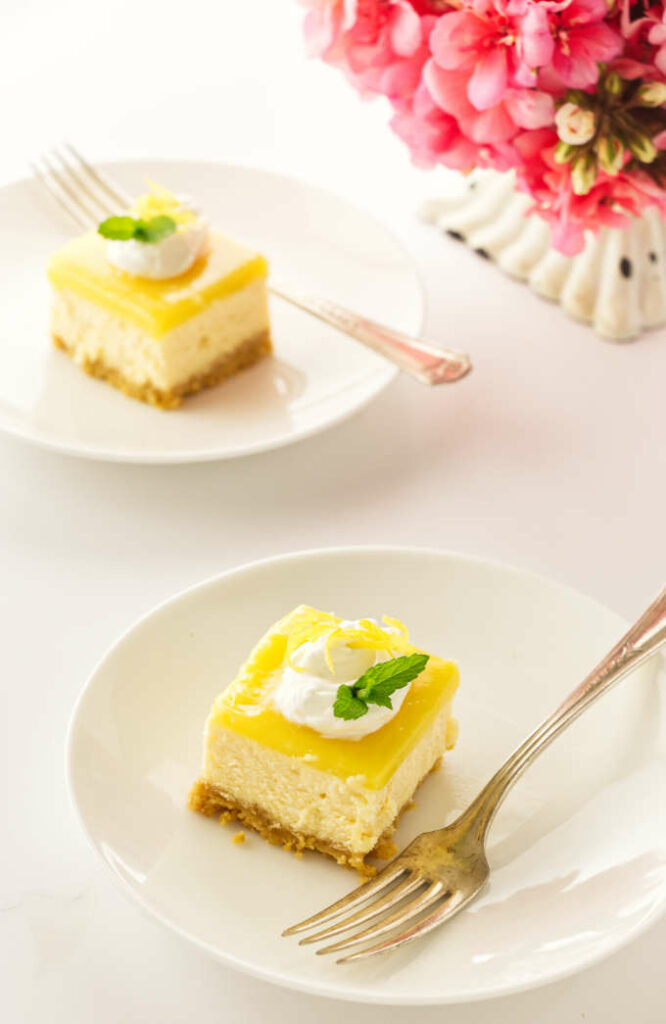 These triple lemon cheesecake bars are delicious and dainty little lemon squares you can enjoy year-round! We know we certainly will. 😉
Some Other Recipes You Will Love:
Triple Chocolate Brownies: We all love brownies and these fudgy brownies are over-the-top delicious! Made with three different types of chocolate: Unsweetened chocolate bars, semi-sweet chocolate and unsweetened cocoa powder. These brownies have your name on them!
Fresh Raspberry Bars: This easy recipe features fresh sweet raspberries with a jammy texture, cut into thick slices and crunchy crusts. Think…raspberry pie ❤️
Blondie Brownie: The fudgy taste and texture of these blonde brownies will tickle your tastebuds. They are chewy and loaded with chocolate chips, coconut, butterscotch chip with the option for your choice of add-ins.
Connect With Savor the Best:
Please follow us on our social media accounts
Facebook * Instagram * Pinterest * Youtube * Twitter
Did you make this recipe? We would love to hear from you. Drop us a comment below.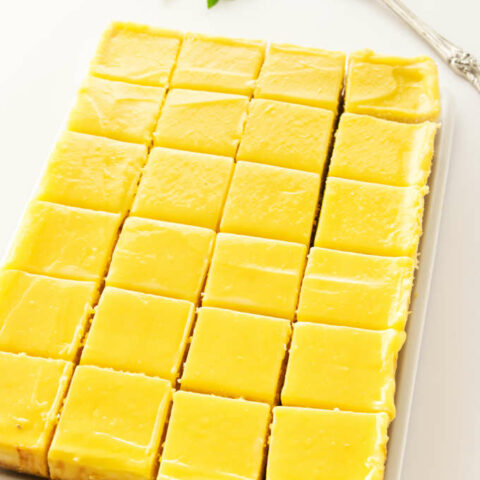 Triple Lemon Cheesecake Bars
Total Time:
5 hours
15 minutes
Our Triple Lemon Cheesecake Bars features the great taste of lemon in this light, creamy dessert. It has a crunchy crust made with lemon Oreo cookies, a creamy lemon infused cheesecake filling and a super tangy lemon curd.
Ingredients
For the Lemon Crust:
1 package, (20 oz.) Lemon Cream Oreo sandwich cookies, about 2 cups
4 tablespoons butter, melted
For the Lemon Filling:
4 8-oz. packages cream cheese, room temperature
3/4 cup (200 grams) granulated sugar
3 tablespoons all-purpose flour
2 tablespoons lemon zest
1/2 cup freshly squeezed lemon juice
1 teaspoon vanilla extract
4 eggs, room temperature
Lemon curd: makes 1-1/2 cups
7 large egg yolks
1 cup sugar
6 tablespoons butter, softened
2/3 cup lemon juice
zest from 2 lemons
1/2 teaspoon salt
Instructions
For the Lemon Crust:
Preheat the oven to 325°F and line a 9x13-inch pan with parchment paper having the ends extend over sides.
Place the cookies in a food processor or blender and pulse until they are fine crumbs. Add the melted butter and pulse to combine.
Tip the mixture into the prepared pan and press evenly onto the bottom.
Transfer to the oven and bake for 10 minutes. Remove from the oven and cool on a wire cooling rack.
For the Lemon Filling:
In the bowl of a stand mixer fitted with the paddle attachment, or in a large bowl using an electric hand mixer, beat the cream cheese and sugar until creamy, about 2 minutes. Add the flour, lemon zest, lemon juice and vanilla and beat for 1 minute. Scrape down the sides and bottom of the bowl and beat another 30 seconds to blend any scraped bits.
With the mixer on medium-low, add the eggs one at a time and beating about 30 seconds to combine before adding the next egg. When all the eggs have been added, scrape the bowl down again and beat a final 30 seconds to blend.
Pour the mixture over the crust and spread evenly. Transfer to the oven and bake for 38-40 minutes until the center is almost set. It will continue to cook while cooling from the residual heat.
Remove the pan from the oven and cool for 1 hour on the wire cooling rack; then transfer to the refrigerator for 4 hours or overnight.
For the Lemon Curd Topping:
Set a strainer over a bowl and keep it readily available near the stove.
In a heavy non-reactive saucepan, beat the egg yolks, sugar and butter until well blended. Stir in the lemon juice, zest and salt. Cook over medium-low heat, stirring constantly, for about 10 to 15 minutes until thickened and has a glossy appearance. Try not to let the mixture come to a boil, if it begins to boil remove it from the heat for a bit then return it to a lower heat. You can tell if the lemon curd is thick enough if it coats the back of a spoon and you can run your finger through it and it holds a trail.
When the curd has thickened, pour it into the strainer and press it with the back of a spoon. Discard the lemon zest and any lumps that are left behind in the strainer.
Place in the refrigerator to chill. The lemon curd will thicken more once it has chilled completely
When the lemon curd cools a bit, spread it on top of the cheesecake bars.
Nutrition Information:
Yield:

24
Serving Size:

1
Amount Per Serving:
Calories:

274
Total Fat:

21g
Saturated Fat:

12g
Trans Fat:

0g
Unsaturated Fat:

7g
Cholesterol:

145mg
Sodium:

259mg
Carbohydrates:

16g
Fiber:

1g
Sugar:

12g
Protein:

6g
Nutrition information is a guideline only, is calculated automatically by third-party software, and absolute accuracy is not guaranteed.