Our Roasted Romanesco with Parmesan Panko is a simple and savory side dish that plays with flavor and texture. Roasted Romanesco is slightly sweet and nutty, and our version gets dressed up with a generous crumble of panko bread crumbs and parmesan cheese. The salty, crunchy, streusel-like crumble jazzes up the Romanesco for a side dish that feels extra special!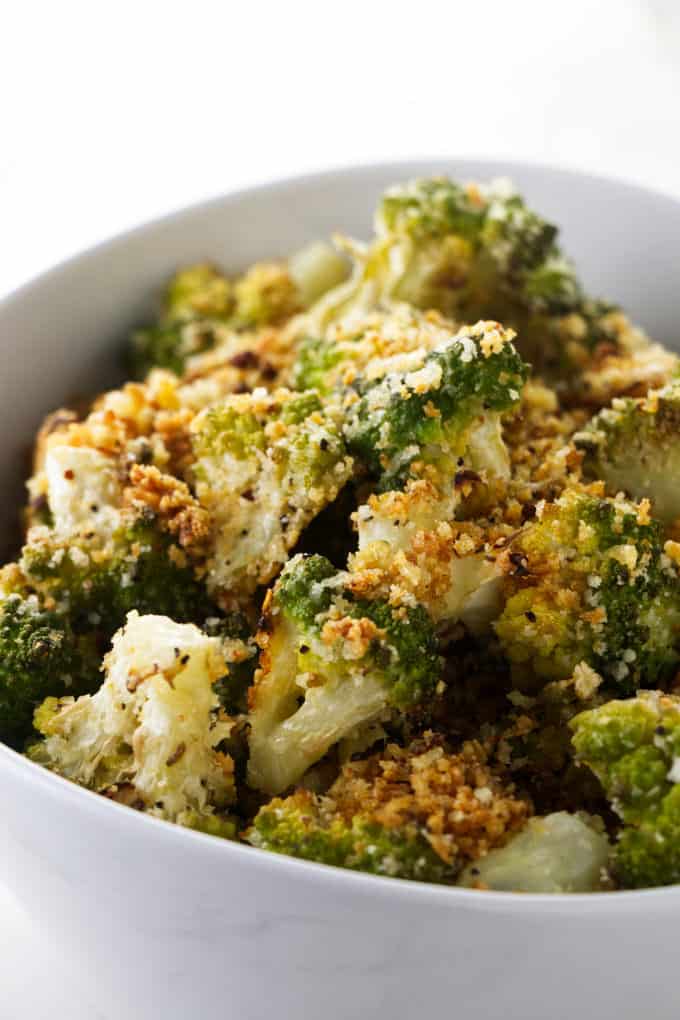 What is Romanesco?
If you're not familiar with Romanesco, also known as "Roman cauliflower," we cannot wait for you to try out this delicious and healthy cruciferous vegetable. Perhaps you've even seen one in the produce section or at your local farmer's market. Romanesco is striking in appearance- it's about the same size as a cauliflower, geometric-looking, and a vivid, neon(ish) green.

What does Romanesco taste like?
Romanesco is in the same family as broccoli, cauliflower, and cabbage. However, you might be pleasantly surprised to find that it has a slightly sweeter, less bitter taste than broccoli and cauliflower. Because of this, it is wonderful to roast!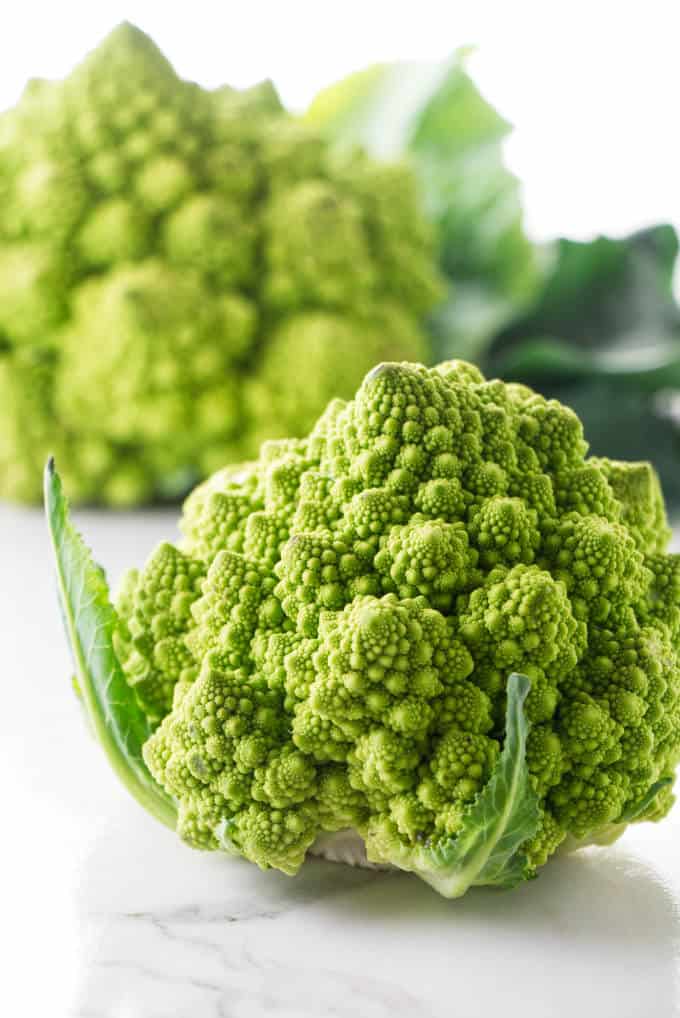 ingredients for roasted Romanesco
Good news- this easy side dish doesn't require a lot to prepare. To make roasted Romanesco with Parmesan Panko, you will need the following ingredients (see the amounts in the recipe card at the bottom of the page!):
Romanesco heads (we use two small ones)
olive oil
garlic cloves, minced
salt and pepper
red pepper flakes
Parmesan cheese
Panko bread crumbs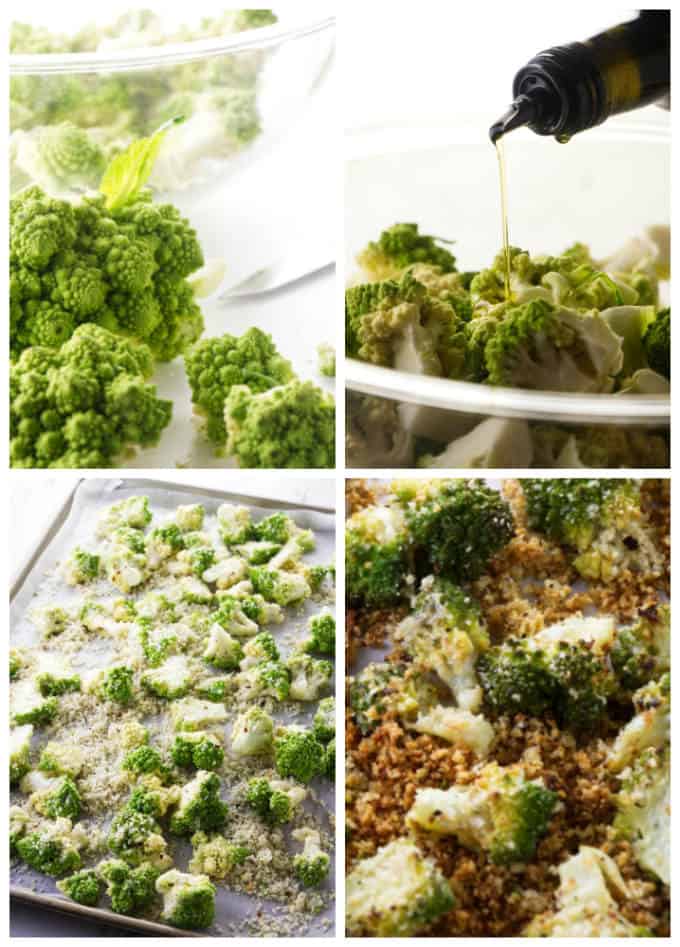 how do you cut romanesco
Here's how to cut the romanesco:
If the romanesco head has a stem that protrudes beyond the florets, cut it so it's flush with the base.
Stand the head upright. Position a sharp knife at the top and cut straight down, right through the middle of the head.
Place the halves against the cutting board and cut them in half again to end up with quarters.
Stand each quarter upright and cut the florets from the core by gently sliding your knife between the stalk and the florets. The knife will help release them from the stalk– you can even pull the florets apart. Cut the florets, if needed, so they're all the same size.
how to make roasted romanesco
Once you have the florets ready to go, it's smooth sailing! Here's how to make roasted romanesco with Parmesan panko:
Coat the romanesco: Preheat the oven to 400°F. With the florets in a bowl, add olive oil and toss to coat all of the pieces evenly. Add the rest of the ingredients and toss everything together.
Roast the romanesco: Spread the florets on a rimmed baking sheet. Roast for 15 minutes, then stir and roast for 15 to 20 minutes longer. Remove from the oven and cool for a few minutes before serving.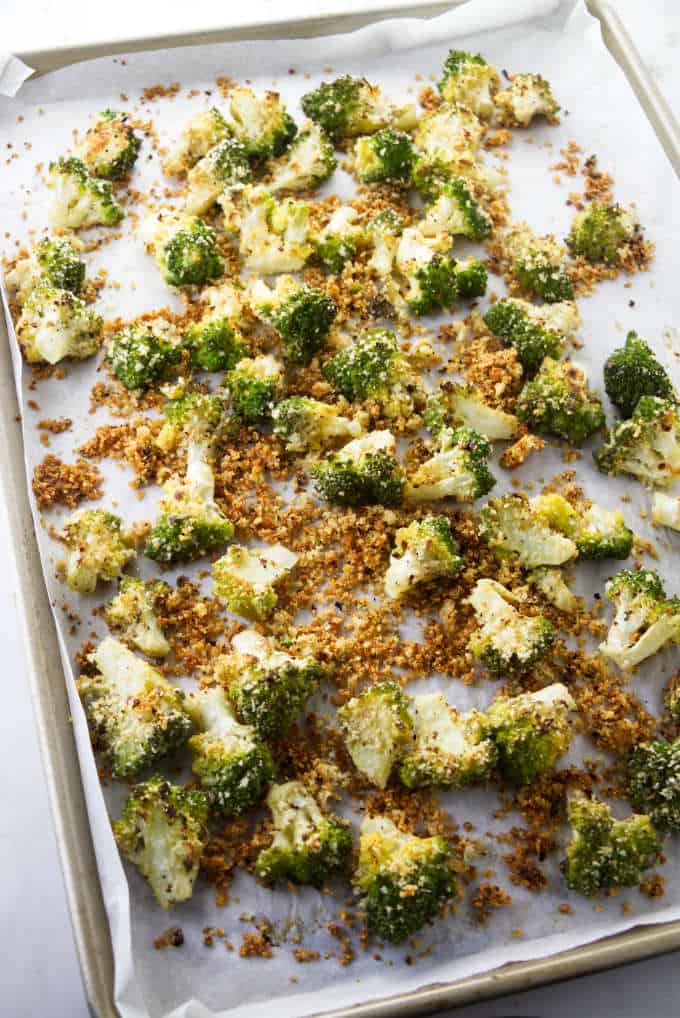 There you have it! Roasted romanesco with Parmesan panko is a simple side dish that comes together with ease! Roasted romanesco is delicious on its own, but the Parmesan panko adds a salty/crunchy element that you will absolutely love!
How to store leftovers
If you have leftovers you can store it in the fridge for 3 to 5 days. If you want to re-purpose the leftover veggie then it is great in soups and stirred into dishes like macaroni and cheese.
It's a healthy side dish that's perfect for a quick, weekday dinner, or a special occasion! If you give it a try, we'd love to know– please tag us on Instagram or drop a comment below!
SOME OTHER RECIPES WE ARE SURE YOU WILL LOVE
Sautéed Beet Greens: Think twice before tossing those beet greens! Our Sautéed Beet Greens recipe makes a nutrient-packed and delicious side! Garlic, lemon juice, and crispy bacon bits compliment this dark and leafy vegetable.
Sage Brown Butter Skillet Cornbread: We've gone and done it– made a classic cornbread ten times better (did you know it possible?)! Our Sage Brown Butter Skillet Cornbread has a depth of flavor that's hard to beat!
Since sometimes all we need is a simple tutorial every now and again, we're going back to the basics to show you How to Steam Broccoli. It's easy, and by the way, the healthiest way to enjoy this cruciferous veg!
CONNECT WITH SAVOR THE BEST!
Be sure to follow us on our social media accounts
Facebook * Instagram * Pinterest * Twitter * Youtube
Did you make this recipe? We would love to hear from you. Drop us a comment below.
Inspired from Ina Garten's snowflake cauliflower recipe in Make it Ahead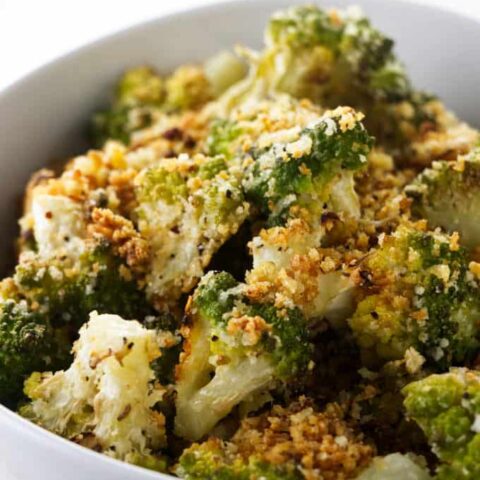 Roasted Romanesco with Parmesan Panco
Yield: 4 servings
Prep Time: 10 minutes
Cook Time: 25 minutes
Total Time: 35 minutes
Romanesco broccoli (aka Roman cauliflower) gets dressed up with a crumble of panko bread crumbs and parmesan cheese. It is like having a savory streusel to top off your veggies.
Ingredients
2 small heads of Romanesco (2 to 2-1/2 pounds)
2 tablespoons olive oil
3 garlic cloves, minced
1/2 teaspoon salt
1/2 teaspoon pepper
1/4 teaspoon red pepper flakes
1/2 cup grated Parmesan cheese
1/2 cup panko bread crumbs
Instructions
Preheat oven to 400°F.
Trim the Romanesco into bite-sized florets and add to a bowl.
Add the olive oil and toss to coat all the florets with the oil. Add the garlic, salt, pepper, red pepper flakes, Parmesan cheese and bread crumbs. Toss everything together.
Spread on a rimmed baking sheet.
Roast for 15 minutes then stir and roast for 15 to 20 minutes longer.
Nutrition Information:
Yield: 4
Serving Size: 1
Amount Per Serving:
Calories: 180
Total Fat: 11g
Saturated Fat: 3g
Trans Fat: 0g
Unsaturated Fat: 7g
Cholesterol: 11mg
Sodium: 596mg
Carbohydrates: 14g
Fiber: 2g
Sugar: 2g
Protein: 6g
Nutrition information is a guideline only, is calculated automatically by third-party software, and absolute accuracy is not guaranteed.