If you have never cooked wolffish before, this baked wolffish recipe is the place to start. It is cooked in a white wine lemon butter sauce that tastes fabulous with the sweet, flakey meat of the wolffish. The sauce gets even more flavorful as the juices from the wolffish release while baking. There is plenty of sauce to spoon over the fish as well as rice or potatoes when it is time to serve.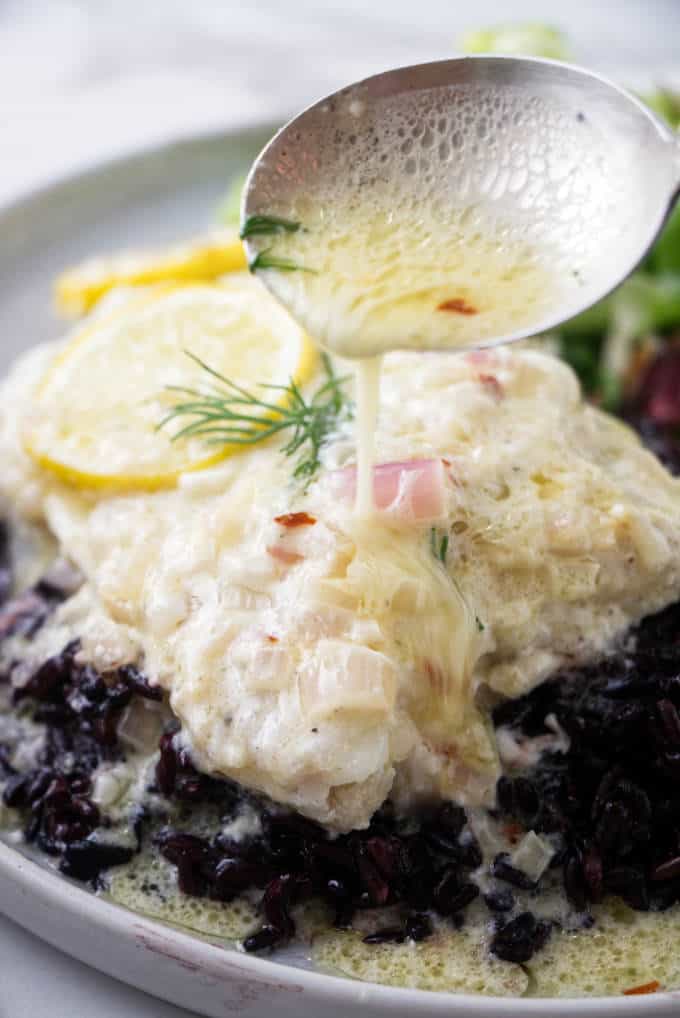 Atlantic wolffish have fierce looking, sharp teeth and extremely powerful jaws that are used to break shellfish as their source of food. They are also known as ocean catfish or seawolf.
What does wolffish taste like?
Wolffish taste like their prey. Since they feed primarily on shellfish such as crab and scallops, their meat is mildly sweet. I liken the flavor to a cross between crab and lobster, however, the texture is much more delicate and flakey than lobster. It actually has a texture more like cod.
If you like dipping your crab and lobster meat in garlic butter sauce then you will love this recipe that bakes the fish in a lemony butter sauce.
You might also like this creamy garlic butter shrimp pasta. Ready in under 30 minutes.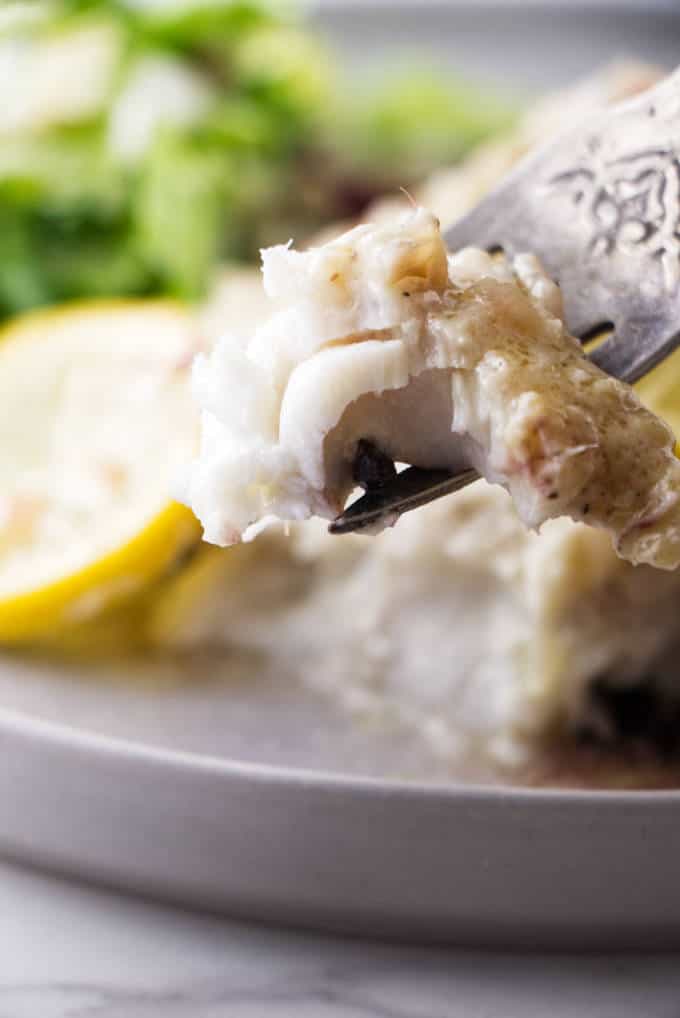 Ingredients you need for this recipe
Wolffish fillets (about 5 to 6 ounces each)
salt and pepper
butter
shallot
garlic cloves
white wine
heavy cream
lemon juice
Dijon mustard
red pepper flakes
lemon
fresh dill for garnish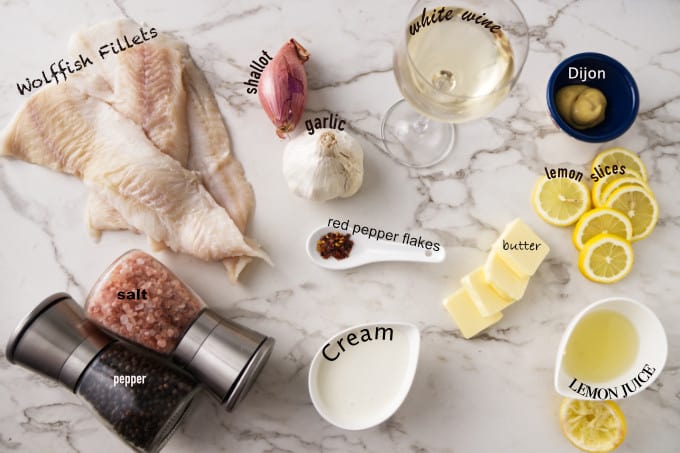 How to cook wolffish.
Since wolffish has a fairly firm texture it can stand up to just about any cooking process. Whether you choose to saute, bake, grill, or steam the fish it is pretty impossible to mess up. Even if you let it cook too long, it will still be tender and flaky because of its slightly higher fat content.
This wolffish recipe is one of our favorites. It is baked in a lemony butter sauce that compliments the flavor of the fish.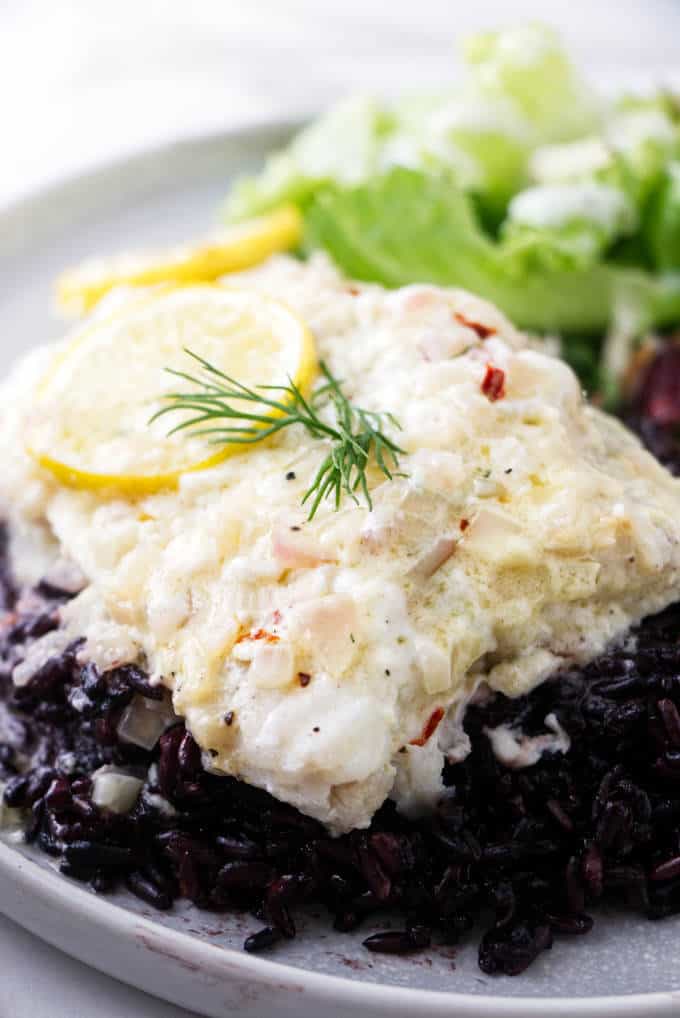 Here is a quick beak-down of the recipe. Make sure you scroll all the way to the printable card for all the details.
Season both sides of the wolffish fillet with salt and pepper.
Melt the butter in a saucepan then add the shallot and garlic.
Pour in the white wine and let it reduce then remove the pan from the heat.
Add the rest of the sauce ingredients and pour over the top of the wolffish in the baking dish. Top with lemon slices.
Cook until the fish is tender and flaky (see the recipe notes for details).
Garnish with fresh dill.
How to tell when wolffish is finished cooking.
Test the fish with the tines of a fork. When it is finished cooking it will flake easily. You will notice the wolffish fillets shrink quite a bit when they cook which is another way to tell when it is finished. This wolffish recipe doesn't get any easier.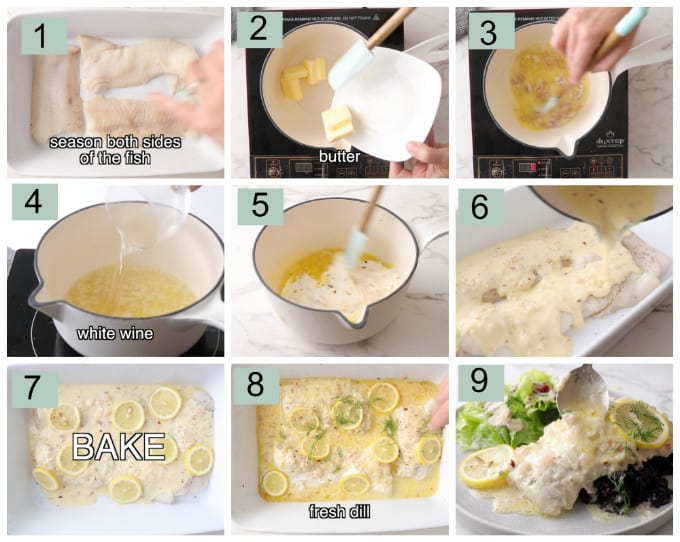 Atlantic wolffish facts:
They live in cold water in depths of 2,000 feet (600 meters)
Wolffish have three rows of fang-like teeth that they use to crush hard shellfish.
Prey include mussels, clams, mollusks, crab, sea urchins, lobster.
Bottom feeders.
They grow up to 30 or 40 pounds and 5 feet long.
Their blood produces a type of antifreeze that keeps them from freezing in their cold environment.
SOME OTHER RECIPES WE ARE SURE YOU WILL LOVE:
If you haven't tried black cod, this is the recipe you need. Black cod is also referred to as butterfish because it is so buttery and rich.
This broiled Copper River King Salmon is a special treat. When you get your hands on this salmon you need a no-fail recipe. This is the one!
This broiled Pacific Cod is infused with a savory lemon tarragon butter. The combination will have your tastebuds singing.
CONNECT WITH SAVOR THE BEST!
Be sure to follow us on our social media accounts
Facebook * Instagram * Pinterest * Twitter * Youtube
Did you make this recipe? We would love to hear from you. Drop us a comment below.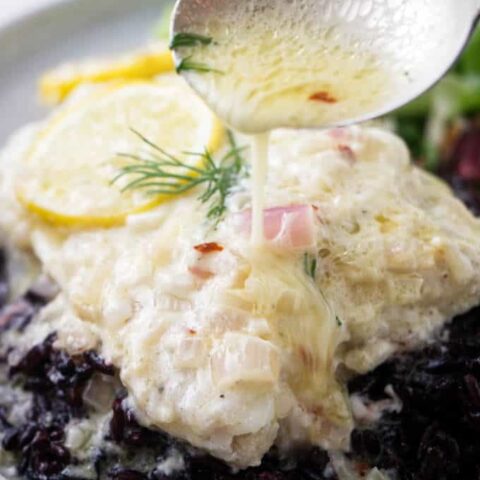 Baked Wolffish Recipe
Yield: 3 to 4 servings
Prep Time: 10 minutes
Cook Time: 12 minutes
Total Time: 22 minutes
Tender, flaky, sweet wolffish gets baked in a white wine lemon butter sauce that is perfect for spooning over the fish fillets. Serve this with rice, quinoa, or potatoes to sop up the sauce.
Ingredients
3 to 4 Wolffish fillets, about 5 to 6 ounces each
salt and pepper
For the white wine lemon butter sauce
4 tablespoons butter
1 shallot, finely chopped
2 garlic cloves, minced
1/4 cup white wine
1/4 cup heavy cream
2 tablespoons lemon juice
1 tablespoon Dijon mustard or Worcester
1/4 teaspoon red pepper flakes
1 lemon, sliced
fresh dill for garnish
Instructions
Preheat the oven to 400°F.
Season both sides of the Wolffish with salt and pepper then place them in a baking dish.
Melt the butter in a saucepan over medium heat
Add the shallot and garlic and cook for 1 minute.
Add the wine and boil for 2 to 3 minutes to reduce the wine.
Remove from heat and stir in the cream, lemon juice, Dijon mustard, and red pepper flakes.
Pour the sauce over the fish, place lemon slices on top and bake for 10 to 12 minutes or until it flakes easily with a fork. (Thicker fillets will need to bake for 15 to 20 minutes, see notes)
Garnish with fresh dill.
Notes
The fillets in these photos and the video are about 1/2 inch thick and only took 11 minutes to cook. If you have thicker fillets then increase the baking time. You will know the wolffish is finished cooking when it flakes easily with a fork.
Recommended Products
As an Amazon Associate and member of other affiliate programs, I earn from qualifying purchases.
Nutrition Information:
Yield: 4
Serving Size: 1
Amount Per Serving:
Calories: 185
Total Fat: 17g
Saturated Fat: 11g
Trans Fat: 1g
Unsaturated Fat: 5g
Cholesterol: 47mg
Sodium: 275mg
Carbohydrates: 6g
Fiber: 1g
Sugar: 2g
Protein: 1g
Nutrition information is a guideline only, is calculated automatically by third-party software, and absolute accuracy is not guaranteed.