This pan-fried rockfish recipe is a must-try for any fish lover. The rockfish gets dipped in a seasoned Dijon egg batter then coated in a Panko and Parmesan crust. It's crispy and flavorful on the outside while remaining juicy and tender inside.
This rockfish recipe uses a shallow fry technique that is fast, easy and uses much less oil than deep frying. You can make this recipe in less than 20 minutes, so you have no excuses not to try it out. Don't miss out on this one!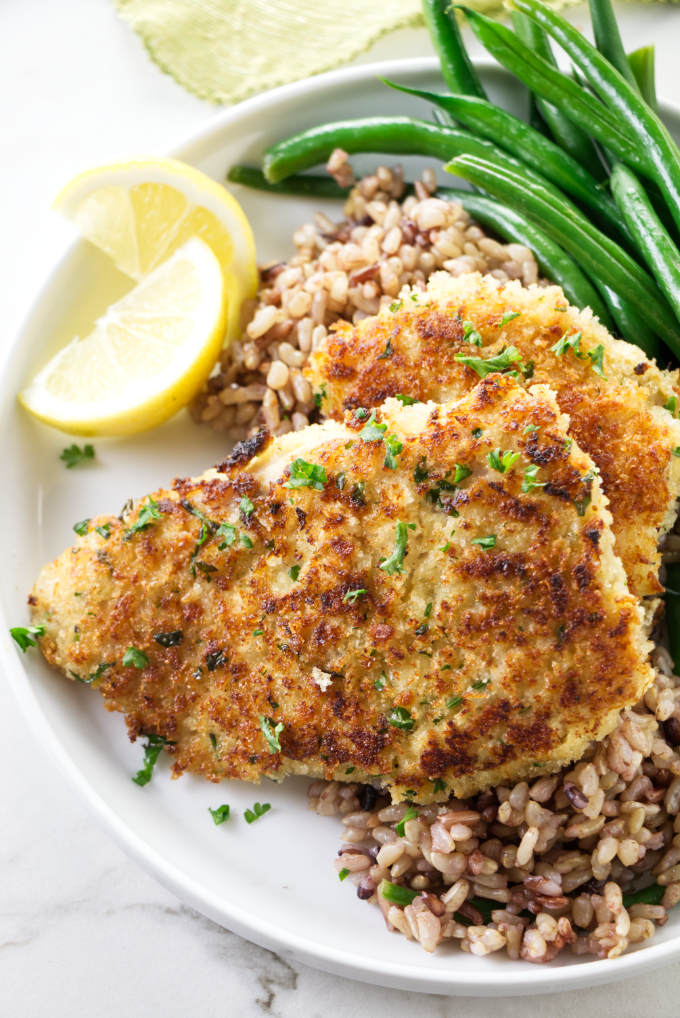 Rockfish is a versatile, mild-flavored fish that pairs well with just about any side dish. Serve it up with some air fryer French fries for a fish and chips dinner or whip up some wild rice and steamed green beans and top it off with some lemon garlic butter sauce (as shown in the photos). You can't go wrong with this one.
Our rockfish recipe starts with a simple Dijon flavored batter that coats the fish and gives the Parmesan Panko crumbs a base to cling to. It is a simple two-step dredging process and you don't need to start with a flour dredge.
As long as you dry the fish very well then the batter will cling to the fish without dredging it in flour. You can see what a 3 step dredging process looks like in our Parmesan crusted chicken.
Why We Love This Recipe:
Uses less oil than deep frying
Quick prep
Kid-friendly
Crispy, flavorful fish without complicated equipment.
Ingredients:
Panko breadcrumbs. Panko breadcrumbs produce a lighter and crunchier texture than regular breadcrumbs but you can substitute them with regular breadcrumbs if you want.
Parmesan cheese. Freshly grated Parmesan in the refrigerator section will have more flavor than the pre-grated stuff that is sold in cans.
Parsley. You can use curly or flat leaf parsley.
Egg
Mayonnaise. Mayonnaise gives the batter extra body and helps the mixture cling to the fish.
Dijon mustard. Dijon mustard adds a great flavor to the fish, but it also works in conjunction with mayonnaise to create a thick batter that clings. If you do not use this mayo and Dijon mixture, the batter will not adhere appropriately.
Garlic powder.
Salt and Pepper.
Rockfish filets. You can use fresh or frozen fillets. If you use frozen fish, make sure you let it thaw completely before you start.
Oil for frying. Use a neutral oil like canola oil, vegetable oil, or corn oil.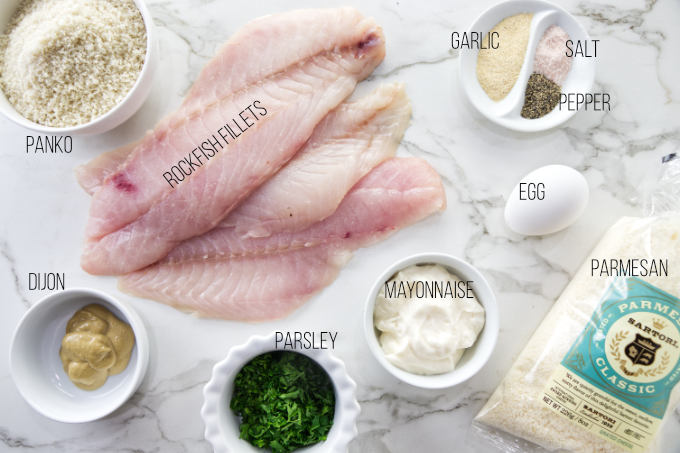 How to Shallow Fry Rockfish:
Here is a brief overview of our crispy pan-fried rockfish recipe. For all the details, scroll down to the printable recipe card.
Combine the Panko, Parmesan, and parsley in one dish.
In another dish, whisk the egg, mayonnaise, Dijon, garlic, salt, and pepper.
Dip the rockfish fillets in the egg mixture until completely coated then transfer to the breadcrumbs and pat the Panko crumbs into the fish filets.
Add enough oil to a skillet until it is 1/4 inch deep and heat it over medium-high.
Gently place the fillets in the hot oil. Cook until golden brown on each side. You may need to do multiple batches.
Helpful Tips:
Dry the rockfish filets thoroughly before dipping them in the egg mixture. You can pat the filets down with a paper towel. If they are not dry, the egg mixture will not cling to the fish.
To check that the oil is hot enough without a thermometer, place the handle of a wooden spoon in the oil. If you see bubbles around the handle, then the oil is hot enough.
Cut the rock fish filets into 3-inch-long pieces. Smaller fish portions will be easier to handle and will fit better in the skillet.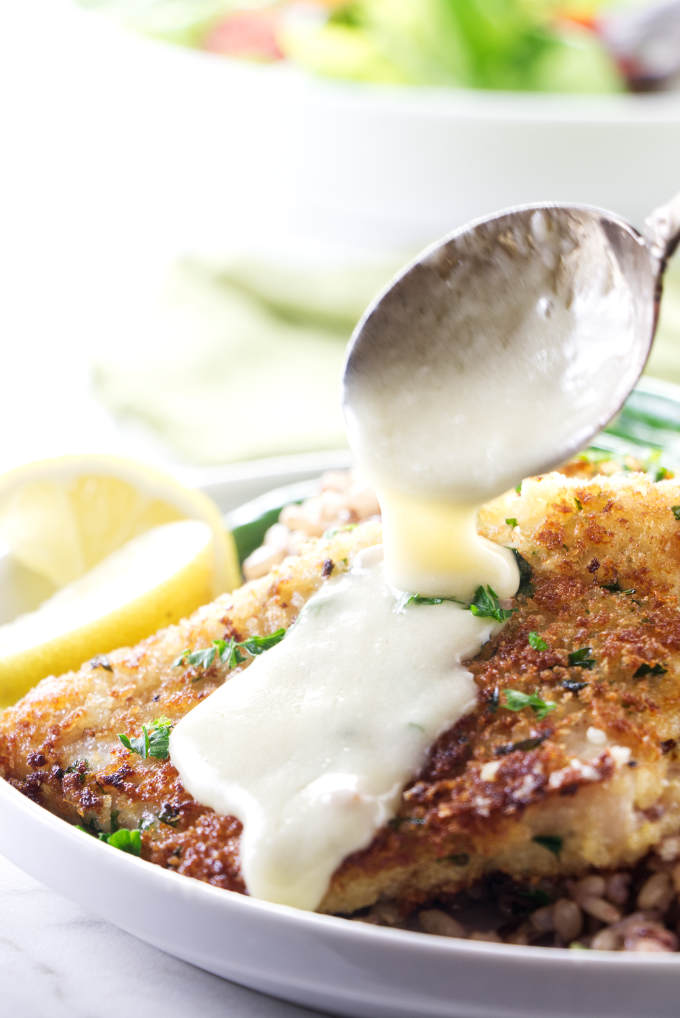 Storing Rockfish:
Rockfish will keep well in the fridge for up to 5 days or in the freezer for 4 to 6 months. After you make this rockfish recipe, you can store leftovers in the fridge for 3 days or in the freezer for 3 months.
Leftovers will not be as crispy when you heat them back up unless you have an air fryer or convection oven.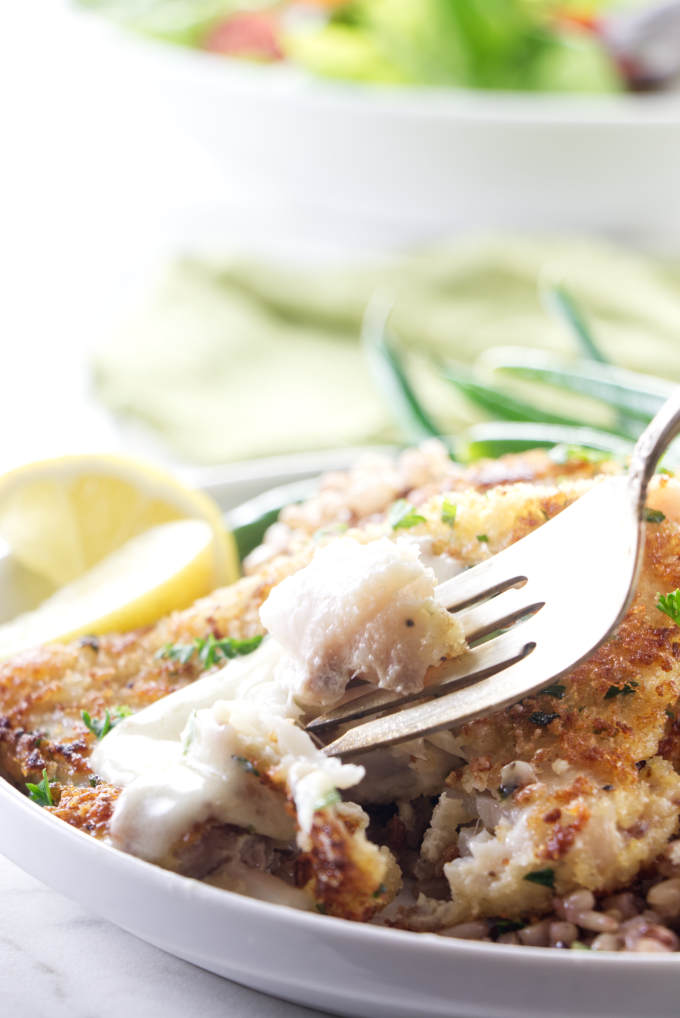 Frequently Asked Questions:
What is Rockfish?
Rockfish refers to a wide variety of fish that live near the bottom of the ocean near rocky reefs. There are over 70 different species of rockfish. All species of rockfish have a firm, lean, and mild-flavored white flesh. You can easily substitute any type of white fish if you're having trouble finding rock fish.
What is Panko?
Panko is a Japanese breadcrumb. One of the benefits of using panko as a breading ingredient for fried foods is that it does not absorb oil as readily and can result in food items with an airier texture and less grease.
How do I make sure my fish turns out crispy?
You can make sure the rockfish filets turn out crispy by following all the steps. Make sure the fish is as dry as possible before cooking. Keep the temperature steady as you cook the fish. If the temperature is too low, the fish won't get crispy.
Is rockfish bony?
Rockfish do have bones but if you purchase filets, there will be fewer bones. If you want boneless filets, ask the fishmonger to remove the belly bones.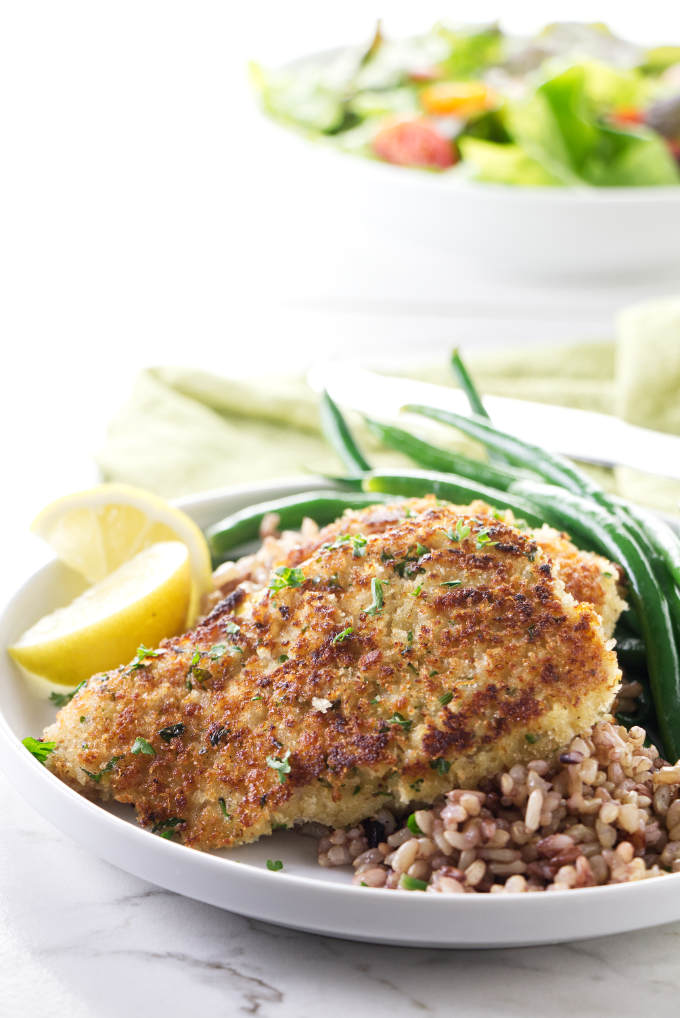 Helpful Tools:
Some of the following are affiliate links. If you click on these links and purchase something, we may receive a small commission. You don't pay any extra but it will help us keep the lights on.
Some Other Recipes We Are Sure You Will Love:
To make this fish and chips recipe healthier, we baked the fish instead of frying it. That way, you get all the flavor of a traditional fish-and-chips dinner without any extra calories!
Try this wolfish recipe. Tender, flaky, sweet wolffish gets baked in a white wine lemon butter sauce that is perfect for spooning over the fish fillets. Serve this with rice, quinoa, or potatoes to sop up the sauce.
This recipe for Copper River King Salmon is a special treat and should be at the top of your list.
Connect With Savor the Best:
Please follow us on our social media accounts
Facebook * Instagram * Pinterest * Youtube * Twitter
Did you make this recipe? We would love to hear from you. Drop us a comment below.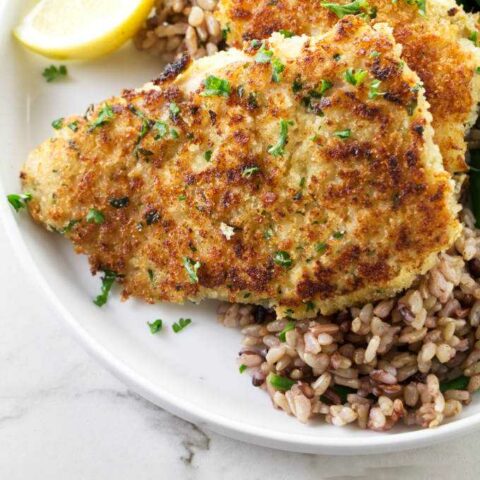 Crispy Pan Fried Rockfish
This rockfish recipe is better than anything you can find in a restaurant. The fish gets dipped in a seasoned egg batter then coated in a Panko and Parmesan crust. Fry it in a pan of hot oil to get an extra crunchy crust on the fish.
If you are using frozen rockfish, thaw it completely before you begin.
Ingredients
1-1/4 cups Panko breadcrumbs
3/4 cups grated Parmesan cheese
3 tablespoons parsley
1 egg
3 tablespoons mayonnaise
2 tablespoons Dijon mustard
1 teaspoon garlic powder
1/2 teaspoon salt
1/2 teaspoon pepper
1-1/2 pounds fresh or frozen rockfish fillets
Vegetable oil for frying
Instructions
Combine the Panko, Parmesan, and parsley in a wide bowl or a pie dish.
In a separate bowl, combine the egg, mayonnaise, Dijon, garlic, salt, and pepper.
Pat the rockfish fillets dry with a paper towel.
Optional step: cut the fillets into smaller sections about 3 inches long.
Add the rockfish fillets to the egg mixture and gently stir to coat the fish.
Pick up the fillet pieces one at a time and place in the breadcrumb mixture. Coat both sides of the fish with the breadcrumbs and gently press down on the fillets to get the breadcrumbs to adhere. Repeat with all the fish fillets.
Add enough oil to a 12-inch skillet to get it about 1/4 inch deep. Heat the oil over medium-high heat.
When the oil is hot (see notes), use tongs to gently add the fish fillets to the pan and cook for 90 seconds to 2 minutes until golden brown. Carefully flip the fish fillets over and cook the other side for another 90 seconds to 2 minutes.
When the rockfish fillets are golden brown, lay them on a cooling rack or some paper towels while you finish frying the rest of the fish.
Serve with tartar sauce or garlic lemon butter sauce.
Notes
Make sure the fish fillets are dry before you add them to the egg mixture. If they are wet, the mixture will not cling to the fish.
You only need about 1/4 inch of oil in the skillet to pan-fry these fish fillets. Make sure the oil is hot enough before you add the fish. If you don't have a thermometer you can check the oil by placing the handle of a wooden spoon in the oil. You will see bubbles around the wooden handle when the oil is hot enough.
Nutrition Information:
Yield:

6
Serving Size:

1
Amount Per Serving:
Calories:

515
Total Fat:

18g
Saturated Fat:

5g
Trans Fat:

0g
Unsaturated Fat:

11g
Cholesterol:

85mg
Sodium:

1187mg
Carbohydrates:

55g
Fiber:

4g
Sugar:

5g
Protein:

33g
Nutrition information is a guideline only, is calculated automatically by third-party software, and absolute accuracy is not guaranteed.