Wild-caught broiled cod with lemon tarragon butter is one of the healthiest dinners ever! A moist and flaky cod fillet topped with a slice of lemon tarragon butter at serving. The butter melts and self-bastes the fillet as a finishing touch adding a delicious flavor to the cod. This is a great dinner idea with minimum fuss and maximum flavor!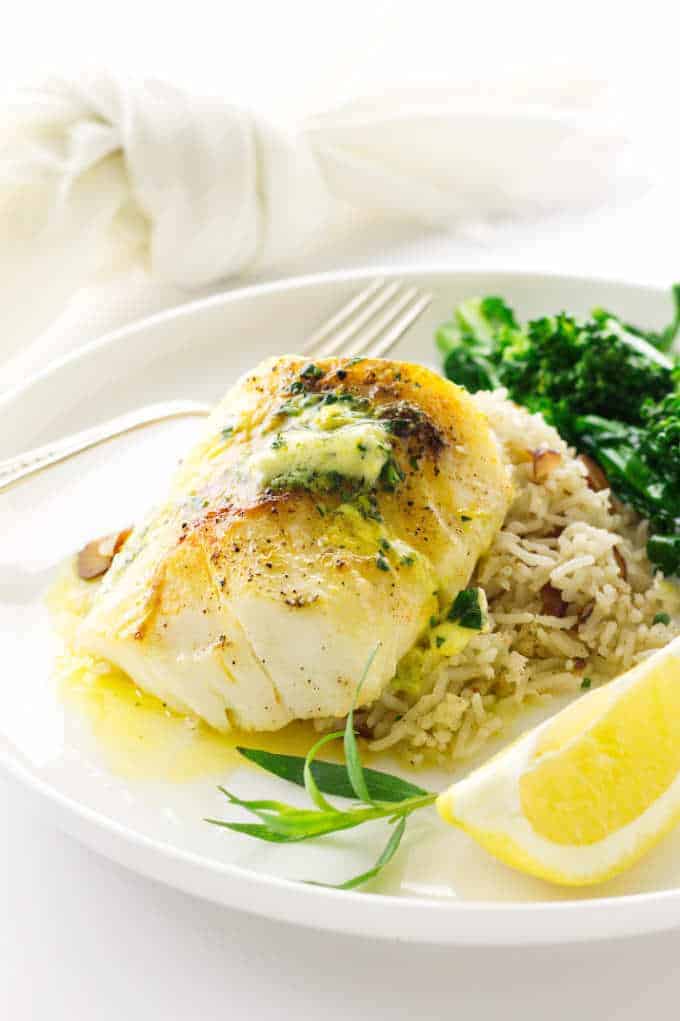 Cod is a mild-flavored fish that is low in calories and heart-healthy. The savory lemon tarragon butter adds a rich elegance to this easy entrée.
Is Pacific Cod Healthy?
Yes, indeed! Pacific cod is harvested from the waters of the Gulf of Alaska and from the U.S. West Coast. The highest quality of cod is processed and frozen on board a short time after bringing it aboard. Most fresh cod from the U.S. West Coast is marketed as fresh fillets while Pacific cod from Alaska is nearly all frozen.
Tarragon Butter.
Because the cod cooks so quickly we will begin with making the tarragon butter as it will need to chill for a bit.
What is tarragon butter?
Tarragon butter is basically a compound butter. It is a blend of butter and herbs. You can easily change the flavor by varying the different herbs. Currently, in my freezer, I have rolls of rosemary butter, oregano butter and thyme butter. I also have a jar of preserved lemon butter left from a recent recipe.
Compound butter is a great way to add flavor to steaks, fish, turkey, rice, actually just about anything. 😊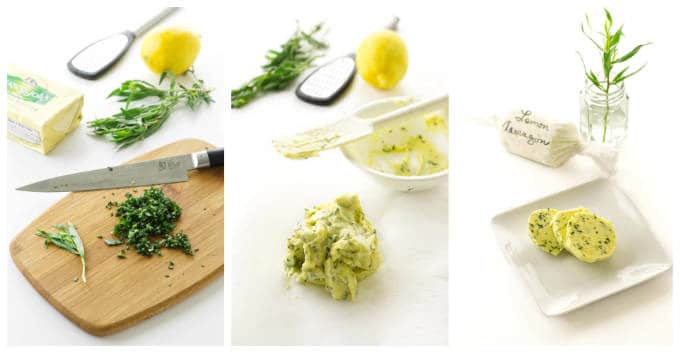 I often buy those small, flat packages of fresh herbs to use in a recipe and there's usually some left. Rather than let any of the fresh herbs go bad in the fridge before I am ready to use them, I repurpose them into herb butters for future recipes. It is so simple to make herb butter.
Here is what you need to make tarragon butter. Be sure to scroll to the recipe card for proportions and instructions
Soft butter
Chopped fresh tarragon
Lemon zest
The key in making a compound/herb butter is to use SOFT butter. Let it soften until you can push your finger into the center. I don't like using the microwave to soften butter as it doesn't soften evenly. Just let the butter sit on the counter until soft.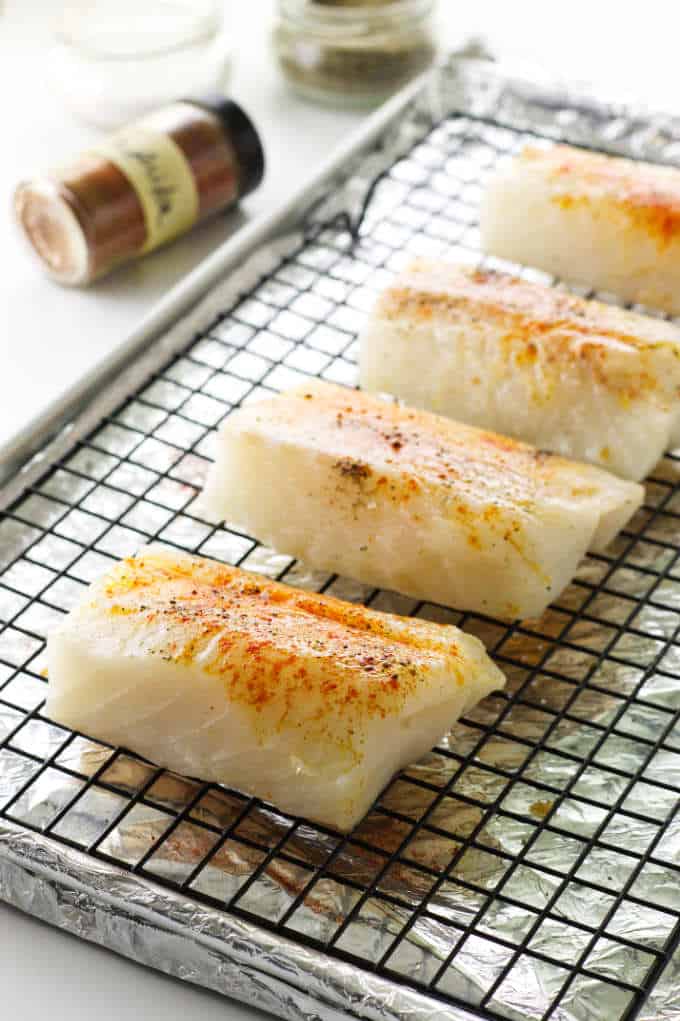 How to make this Broiled Cod with Tarragon Butter Recipe?
While the butter chills, blot the cod fillets to remove excess moisture. Place them on a wire rack set over a baking sheet, brush each one with olive oil and season with salt and pepper. Adding a dusting of paprika is optional. I like the way paprika adds a bright color to the fish.
Position the oven rack to the top, about 6 inches from the heating element and broil the fillets for 7-10 minutes. This time range depends on the thickness of the fillets. When done, the fish should be opaque and flake easily with a fork and ready to serve.
While the fish is broiling, unwrap the chilled tarragon butter and cut 4 slices about 1/4-inch thick. Plate the fish when it is done and add a butter slice to each serving. You do not need to let fish 'rest' after removing it from the oven.
Tips for success.
You don't need to turn the cod when it cooks.
Position the oven rack 4 to 6 inches below the heating element. The position of the rack will make a difference in how long the fish cooks.
Pat the fish dry with paper towels. Moisture will cause them to steam and prevent some browning.
If the fish is thicker than an inch you may need to add a couple of minutes to the cooking time.
If you use frozen cod make sure it is completely thawed before you cook it.
What to serve with Broiled Pacific Cod:
Serve this cod dish with a vibrant green vegetable like these steamed green beans or our asparagus with curry sauce. Add a baked potato or use your instant pot to make a quick sweet potato mash. I served our broiled cod with this easy, oven basmati rice pilaf and sautéed broccolini.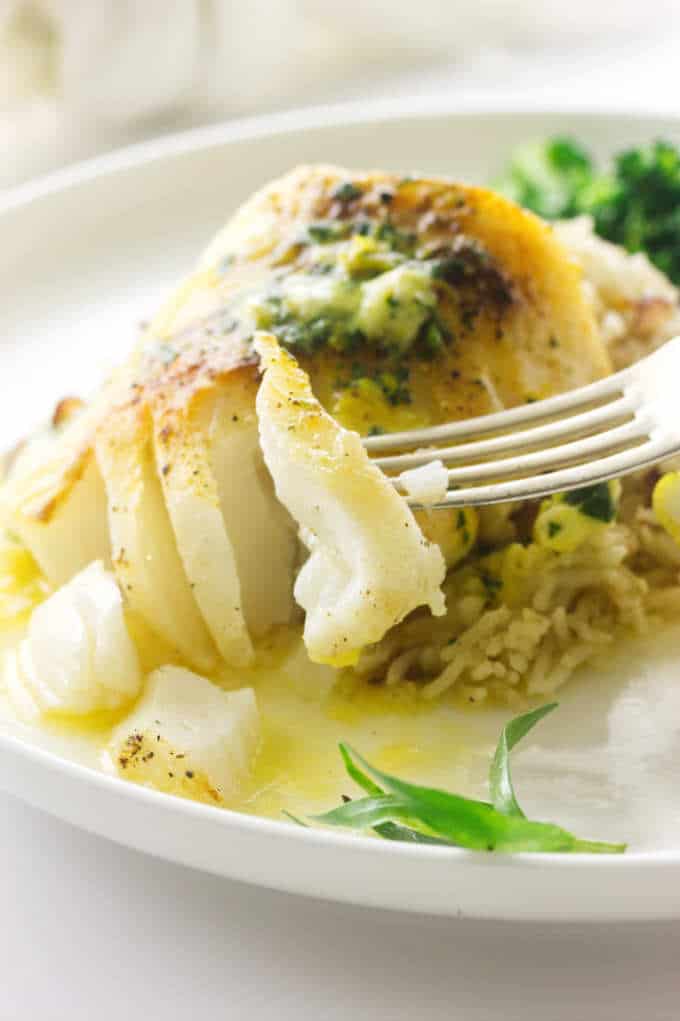 And, would you like dessert? We have an easy, make-ahead, no bake chocolate covered strawberry cheesecake. There is also a fat-free mango 'ice cream' that is unbelievably delicious and keeps the meal low calorie and healthy!
I am hoping you will try this broiled cod recipe. It is so easy to prepare, cooks quickly and is so delicious! It is a great weeknight recipe and still nice enough for special dinners.
SOME OTHER RECIPES WE ARE SURE YOU WILL LOVE:
Preserved Lemon Butter: This Preserved lemon butter is addictive! Keep a supply of this lemony butter in your refrigerator. It will add an extra element of flavor and sparkle to your favorite dish.
CONNECT WITH SAVOR THE BEST!
Be sure to follow us on our social media accounts
Facebook * Instagram * Pinterest * Twitter * Youtube
Did you make this recipe? We would love to hear from you. Drop us a comment below.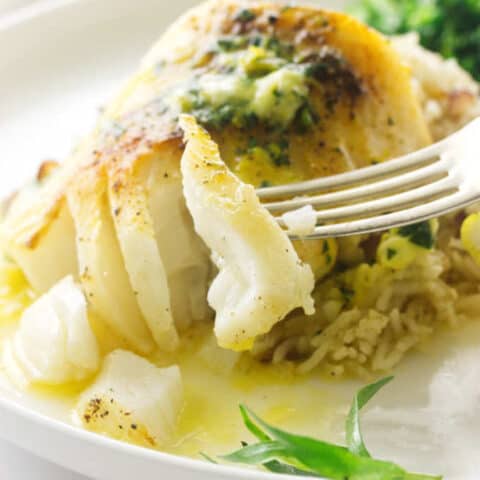 Broiled Pacific Cod with Lemon Tarragon Butter
Yield: 4 Servings
Prep Time: 5 minutes
Cook Time: 10 minutes
Total Time: 15 minutes
Wild-caught broiled Pacific cod with lemon tarragon butter is one of the healthiest dinners ever! The moist and flaky cod is topped with a slice of lemon tarragon butter that self-bastes the fillet. This is a great dinner idea with minimum fuss and maximum flavor!
Ingredients
For the Lemon Tarragon Butter:
4 ounces butter, softened to room temperature
3 tablespoons chopped fresh tarragon
Zest of one medium lemon
For the Broiled Cod Fillets:
4 Pacific Cod fillets, 6-oz each, 1-inch thick
1 tablespoon olive oil
Salt and freshly ground black pepper
Paprika
Lemon wedges
Tarragon sprigs
Instructions
For the Lemon Tarragon Butter:
In a small dish add the soft butter, tarragon and the lemon zest. Mix with a spatula to combine well.
Spoon the herb butter on one end of a piece of parchment paper a couple inches from the edge and shape it into a log with the spatula.
Fold the edge of the parchment paper over the butter log and roll the paper to enclose the butter log. Twist each end like a piece of bubble gum and place the butter log in the refrigerator or freezer until firm.
When ready to use the butter, unwrap it and slice into 1/4-inch slices. Refrigerate the slices of butter until the fish is ready to serve.
To Broil the Cod Fillets:
Set the oven rack to the upper position, about 4-6 inches from the heat and set the control to Broil. Allow 5 minutes for the oven to heat. Line a baking sheet with foil and set a wire rack over it.
Pat the fillets on both sides with paper towels to remove as much moisture as possible. Brush them with the olive oil and sprinkle with salt and pepper. Dust each fillet lightly on the top side with paprika and place them on the wire rack.
Broil the fillets for 7-10 minutes, (begin checking at 7 minutes) just until the fish is opaque and begins to flake easily when a fork is inserted into the thickest part.
Remove the fillets from the oven, place on serving plates. Top each serving with a slice of lemon tarragon butter and garnish with tarragon sprigs and lemon wedges.
Notes
You can prepare the lemon tarragon butter and keep it refrigerated up to 5 days in advance. To keep it longer, wrap the parchment-wrapped long in plastic wrap and store in the freezer for up to 6 months.
To make the lemon tarragon butter, the butter must be soft; let it sit at room temperature until soft. Use either salted or unsalted butter.
Fillets of less than 1-inch thick will take less time to broil. The internal temperature when cooked should be 145°F
To check for doneness of the fillet, insert a fork into the thickest portion of the fish at a 45-degree angle, then twist and pull me of the fish. If fully cooked it will easily flake. If undercooked the fish will resist when twisting/pulling and the fish will be translucent.
Nutrition Information:
Yield: 4 servings
Serving Size: 1
Amount Per Serving:
Calories: 199
Total Fat: 16g
Saturated Fat: 8g
Trans Fat: 0g
Unsaturated Fat: 7g
Cholesterol: 54mg
Sodium: 201mg
Carbohydrates: 6g
Fiber: 2g
Sugar: 1g
Protein: 11g
Nutrition information is a guideline only, is calculated automatically by third-party software, and absolute accuracy is not guaranteed.