Our recipe for Miso Teriyaki Black Cod fillets is equal to any fine-dining restaurant. Thick fillets of wild Alaskan black cod, marinated in a mixture of teriyaki sauce and white miso produce a rich caramelized crust under the broiler. The saltines of the teriyaki sauce and the sweetness of the miso is a perfect balance for these moist, buttery fillets.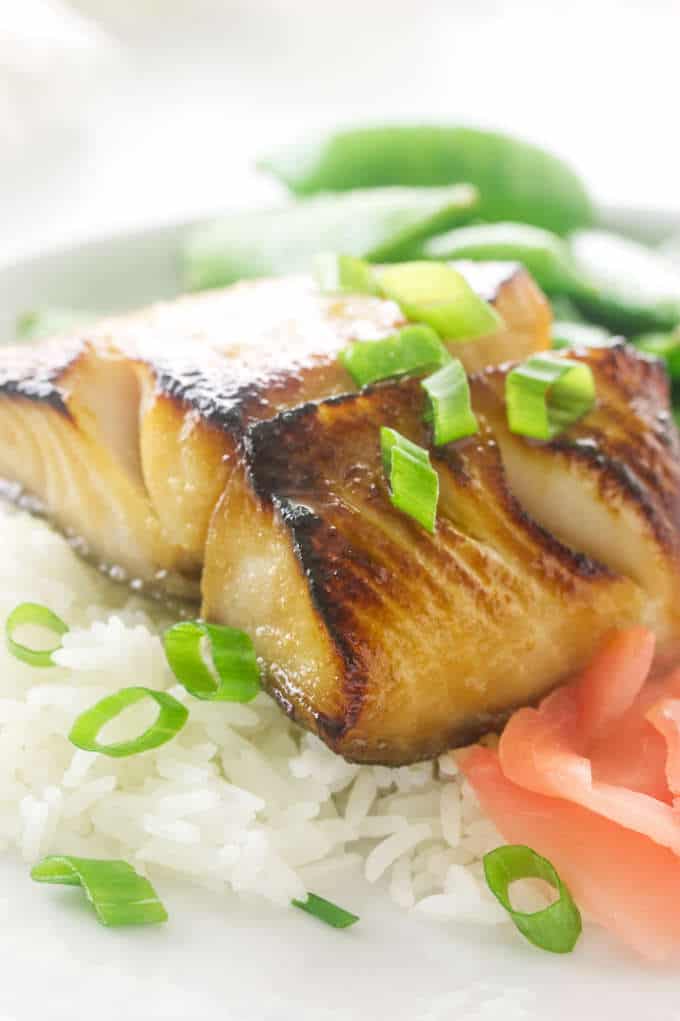 Black cod is also known as Sablefish. This is a rich, fatty fish with more Omega-3 than salmon. The flesh is rich, moist and buttery. Some people call it Butterfish because of the smooth, buttery texture.
This Sablefish (Black Cod) was delivered to us by Sitka Salmon Shares (affiliate link). If you would like to receive your own monthly shipment of fish delivered right to your door, you can use our affiliate coupon code "SAVOR" to get $25 off your first order, good for any share except the "Taste of Fall" share.
The fish from Sitka Salmon Shares is responsibly harvested by a small-boat family of fishermen. The fish is immediately flash-frozen which preserves that fresh-caught flavor. It really does taste fresh!
We always look forward to our shipment of fish. Each order arrives in an insulated box that gets shipped overnight. While it's incredibly convenient, it's also nice to know we're supporting family fishermen while receiving wild-caught fish.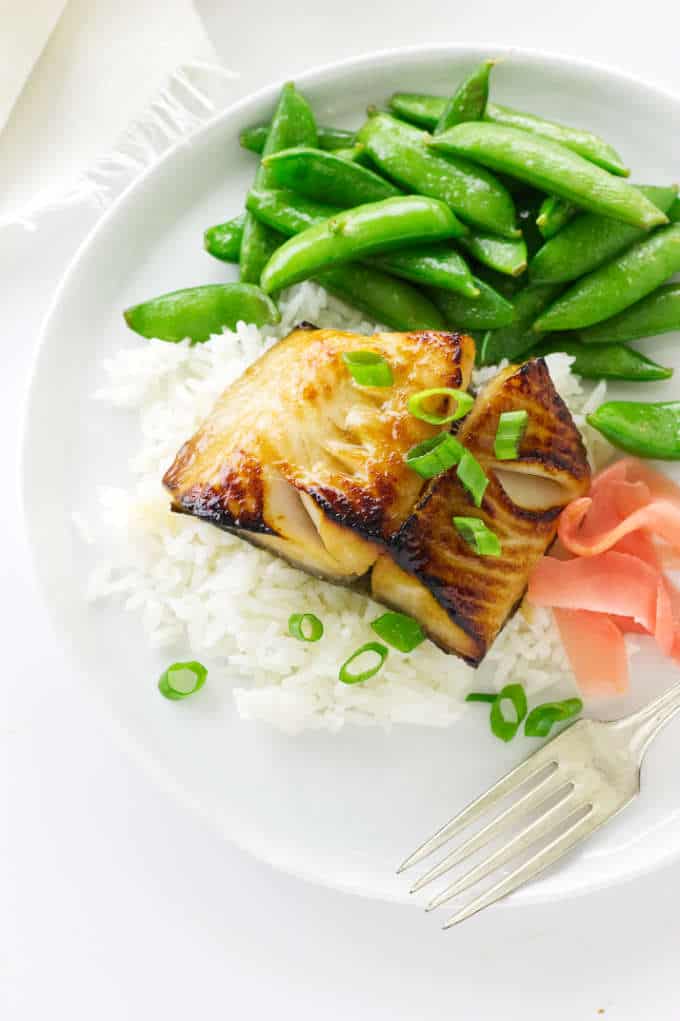 Is there a difference between Black Cod and Pacific Cod?
Black Cod is not actually in the cod family and it is more appropriately named Sablefish. Black Cod is the more common name but you will find we use both names interchangeably on our site.
Pacific Cod and Black Cod are both rich in Omega-3s which makes them heart-healthy fish. However, Black Cod is much richer in Omega-3 and contains as much as Wild Salmon.
Pacific Cod on the other hand is a leaner fish but not shabby in the oil department. Not only is it a great source of the Omega-3s but it also has a great source of oil from its liver. It is loaded with vitamins A, D, and E.
These fish are very similar in that they have a habitat in the icy-cold waters of the Pacific ocean. Black Cod can be distinguished by its dark gray-black skin while the Pacific Cod has a brownish speckled skin.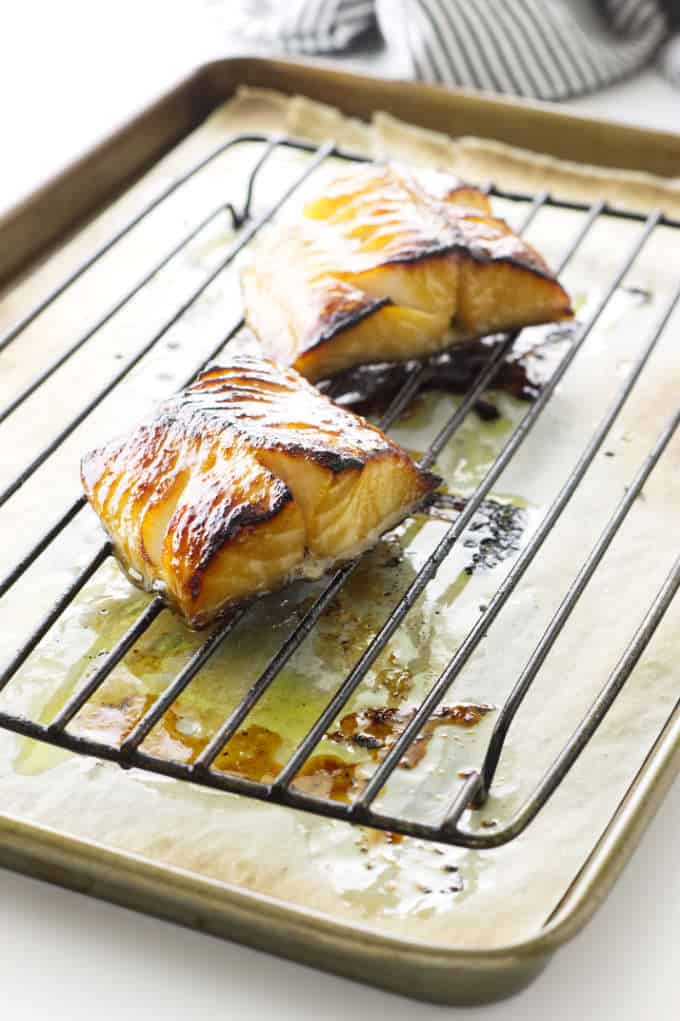 The taste and texture of these two fish is phenonomal and I am hard-pressed to decide which is my favorite. Our Sake-Red Miso Glazed Sablefish is awesome with a rich, buttery flavor and velvety texture. Then there is the firm flesh of the Pacific Cod with it's flaky, delicate flavor. You will love our easy Broiled Pacific Cod with Lemon Tarragon Butter and the Pan-Fried Cod with Lemon- Garlic Sauce.
Today we bring you this recipe for Miso Teriyaki Black Cod. There is a sweetness to the white miso that balances and enhances the flavor of the rich, buttery fillets.
About the recipe:
White miso is the star of this teriyaki marinade! Miso paste is a savory Japanese condiment made from fermented soy beans. This thick mixture has a sweet, salty taste that adds a magical, unami-rich depth of flavor to just about any recipe, including desserts!
The flavor of miso paste ranges from mild to nutty depending on whether you use a light or dark variety. Generally the darker the miso paste the more complex and intense the flavor. If you are new to this condiment you might want to begin with the white miso. Here are a few ideas to experiment with when using miso paste:
Grilled steaks: Spread the steaks lightly with a mash of butter/miso and let sit at room temperature for at least 1 hour, season, and grill over hot coals.
Salad dressing: Whisk a couple of tablespoons of white miso into your favorite homemade salad dressing.
Pasta: Mix the miso paste with grated garlic and ginger, fresh lime juice, toasted sesame oil and mix with hot pasta or noodles.
Chicken: Coat chicken thighs with a mash of white miso with honey, vinegar then bake in the oven.
Hot fudge sauce: Whisk a tablespoon of dark miso into two cups of hot fudge sauce. Serve over ice cream or drizzle on cheesecake.
Get creative and enjoy this incredible condiment!
What you Need to Make this Recip:
I bet you have most of the ingredients on this list except for the miso. You can buy miso paste in any Asian market or online. Also, some upscale grocery stores will have an international section. Look for the miso paste in the refrigerated Asian section.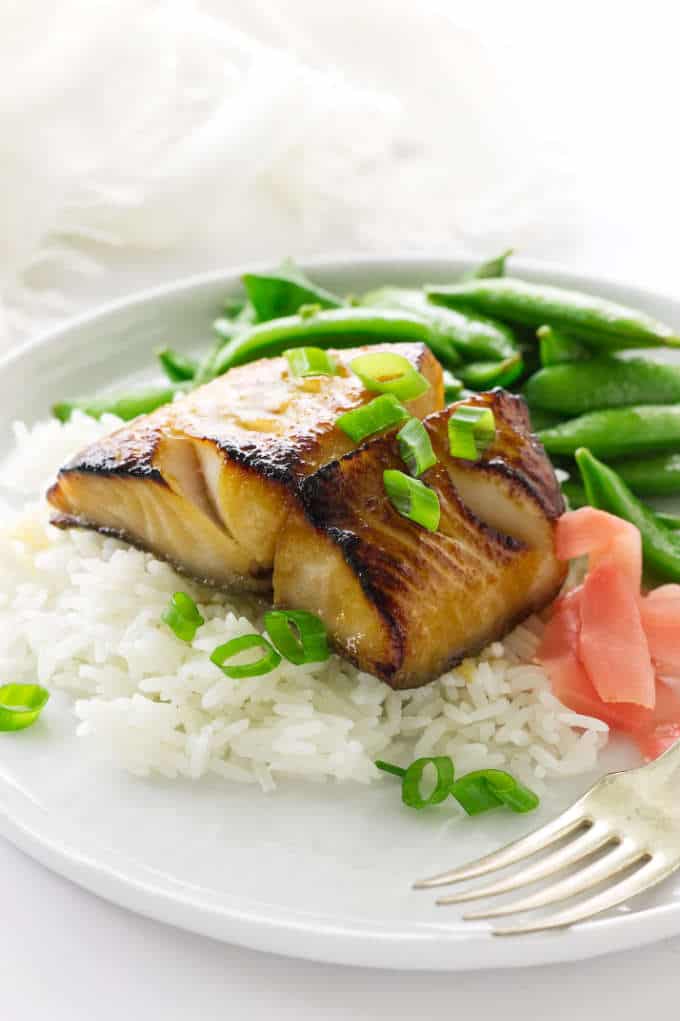 Water
Soy sauce
Brown sugar
Honey
Garlic
Ginger root
Cornstarch
White miso paste
Black Cod/Sablefish fillets
How to Prepare Miso Teriyaki Black Cod:
The first step here is to stir up the miso-teriyaki sauce which is pretty straight forward. The one caveat though, is that the sauce should be cold before adding the fish fillets to marinate.
White miso paste is blended with a homemade teriyaki sauce and the fish is marinated for two hours before broiling. For a quick shortcut you can use your favorite store-bought teriyaki sauce. The sweet-salty miso sauce lends incredible flavor and a deep caramelized crust to the black cod.
This is how to do it:
Step 1. Cook the marinade/sauce on the stovetop then let it cool down in the fridge before stirring in the miso paste.
Step 2. Cover the fish fillets in the marinade and refrigerate for at least 2 hours. This will give plenty of time for the flavors to penetrate into the flesh of the fish.
Step 3. Broil the fish fillets.
Tips for success:
Set the oven to broil and pre-heat for 5 minutes.
Move the oven rack to 6-inches below the heating unit.
Line a baking sheet with foil or parchment to make clean-up easy.
Set a wire rack over the baking sheet and place the fish on the rack. This will let air and heat circulate around the fish.
Most fillets will take 6 to 8 minutes. If you have fillets that are over 1-inch thick you may need to add 1 to 2 minutes.
Watch the fish closely. When the fillets begin to show loose flakes and some caramelized crust, remove them from the oven.
Serve topped with garnishes of sliced scallion tops, sesame seeds, and pickled ginger.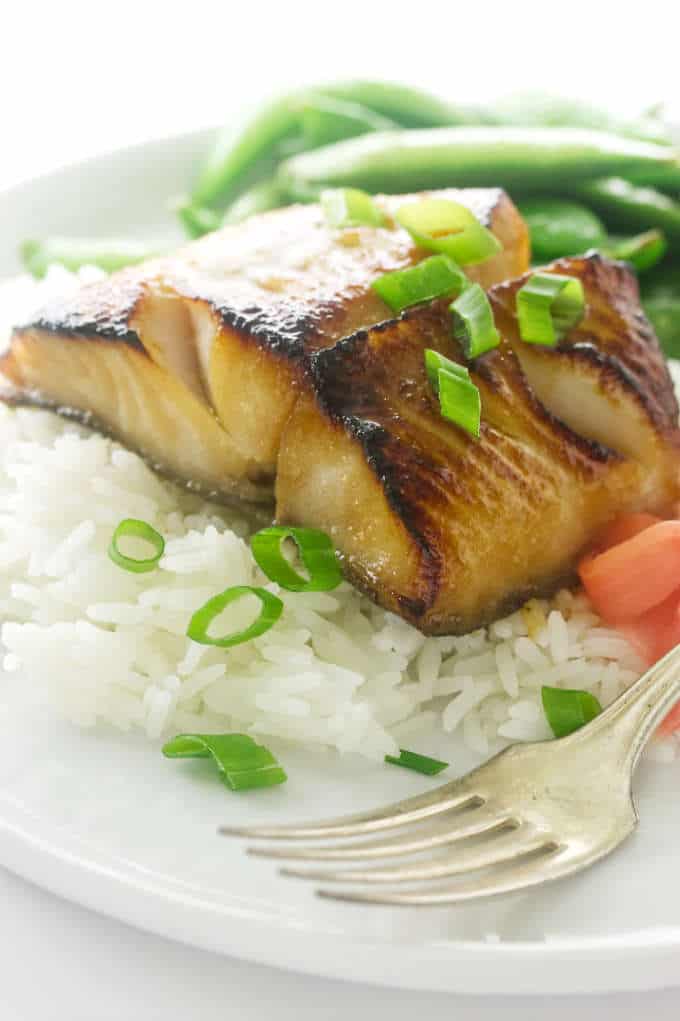 This is a delicious and easy entree that you can incorporate into your weeknight dinner menu. We served this black cod (sablefish) with jasmine rice and sautéed snap peas. This recipe is also suitable for a fancy Asian-style dinner party served with udon noodles and steamed baby bok choy. Enjoy!
Some Other Recipes You Will Love:
Tex-Mex Fish tacos with Chipotle Slaw: Crisp and flakey fish and a slaw that is crunchy with chopped cabbage, carrot, onion, jalepeno peppers and cilantro. The slaw is mixed with a spicy chipotle dressing that enhances all the flavors.
Wild Alaskan Smoked Salmon Chowder: This recipe for Wild Alaskan Smoked Salmon Chowder is thick with potatoes, onion, and salmon. There is an intense smoky flavor in this delicious chowder and it is the perfect lunch or dinner on a cold day.
Spanish Romesco Seafood Stew: From the Catalan coast of Spain comes Zarzuela de Mariscos! Spanish Romesco Seafood Stew is Spain's version of the French bouillabaisse and Italy's cioppino. Spicy chorizo sausages, shrimp, scallops and mussels are swimming in a rich, lightly spicy sauce. Each serving is topped with broiled Pacific cod.
Connect With Savor the Best:
Please follow us on our social media accounts
Facebook * Instagram * Pinterest * Twitter * Youtube
Did you make this recipe? We would love to hear from you. Drop us a comment below.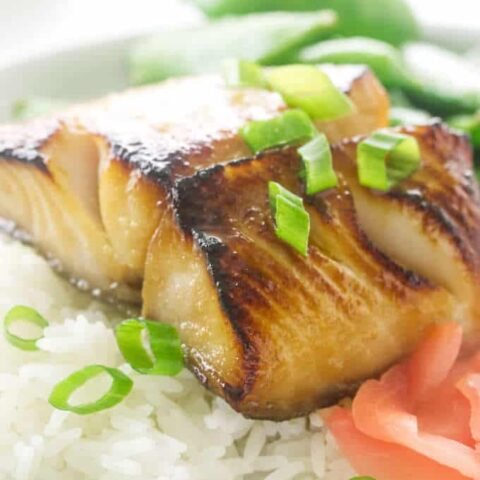 Miso Teriyaki Back Cod
Yield: 2 Servings
Prep Time: 20 minutes
Cook Time: 8 minutes
Additional Time: 2 hours
Total Time: 2 hours 28 minutes
These Miso Teriyaki Black Cod fillets are marinated in a mixture of teriyaki sauce and white miso paste which produces a rich caramelized crust under the broiler. The saltines of the teriyaki sauce and the sweetness of the miso paste is a perfect balance for these moist, buttery fillets.
Ingredients
For the Miso-Teriyaki Marinade:
1 cup water
1/2 cup soy sauce
3 tablespoons packed brown sugar
2 tablespoon honey
3 garlic cloves grated or minced
1 tablespoon grated fresh ginger root
2 teaspoons cold water
1 teaspoon corn starch
3/4 cup white miso paste
2 (6 oz. each) black cod/sablefish fillets
Garnishes:
Sliced green scallions
Sesame seeds
Pickled ginger
Instructions
The Miso-Teriyaki Marinade:
Combine water, soy sauce, brown sugar, honey, ginger, and garlic in a saucepan over medium heat. Cook until nearly heated through, about 1 minute.
Mix cornstarch and 1/4 cold water together in a cup; stir until dissolved. Add to the saucepan. Cook and stir sauce until thickened, 5 to 7 minutes. Remove from heat refrigerate until cold; then add the white miso paste, whisking until smooth.
Add the cooled miso-teriyaki marinade to a closable plastic bag, place the the sablefish fillets inside. Close the bag and marinate for 2 hours, or overnight, turning occasionally.
Broil the Fish:
Preheat the oven to broil setting and move the oven shelf to 6-inches below the heat unit. Remove the fish fillets from the marinade, allowing the marinade to drip off, place the fillets on a rack set over a parchment-lined baking sheet and place in the oven and broil for 6-8 minutes, depending on thickness of fish or until the fish begins to become flaky and is nicely caramelized.
Serve topped with the garnishes of sliced scallion tops, sesame seeds and pickled ginger.
Notes
Look for the miso paste in the refrigerated Asian section.
Chill the sauce before adding the fish fillets to marinate.
For a quick shortcut you can use your favorite store-bought teriyaki sauce.
Nutrition Information:
Yield: 2
Serving Size: 1
Amount Per Serving:
Calories: 676
Total Fat: 23g
Saturated Fat: 4g
Trans Fat: 0g
Unsaturated Fat: 16g
Cholesterol: 76mg
Sodium: 7561mg
Carbohydrates: 73g
Fiber: 9g
Sugar: 42g
Protein: 49g
Nutrition information is a guideline only, is calculated automatically by third-party software, and absolute accuracy is not guaranteed.