This recipe for Wild Alaskan Smoked Salmon Chowder is thick with potatoes, onion, and salmon. There is an intense smoky flavor in this delicious chowder and it is the perfect lunch or dinner on a cold day.
The Pacific Northwest is well known for its clam chowders which are thick and flavorful with chopped clams and potatoes. Another chowder that is very popular is Wild Alaska Smoked Salmon Chowder as Alaska salmon is plentiful in the Seattle/Puget Sound area.
This chowder recipe is thick and full of flavor with smoked salmon, potatoes, carrots, onions, and herbs in a rich creamy base. It is easy and fast to prepare.
Also, it is elegant enough to serve as an informal dinner or lunch entree for your guests with just the addition of a simple salad and a hot, crusty loaf of sour-dough bread. And maybe a cold glass of chardonnay wine? Sounds good to me!
What goes in smoked salmon chowder?
Onion, celery, carrots, bell pepper, and garlic. This is the flavor base.
Flour. For thickening the chowder.
Chili powder, salt and pepper.
Clam juice or chicken stock. You can use either one or a mixture of both.
Potatoes. We recommend Yukon Gold potatoes.
Heavy cream.
Hot-Smoked salmon.
Parmesan cheese
Choosing the Salmon for the Alaskan Smoked Salmon Chowder:
Smoked salmon is a basic term for any cured salmon. It can be wild, farmed dry-cured, cold-cured or hot-cured. There are actually three types of smoked salmon. Lox, Nova, and Hot-Smoked
Lox is salmon cured in a sugar/salt mixture and there is no smoking involved. Swedish in origin, lox is also known as Gravlax. It is a favorite on their famous smorgasbords. Lox is easy to make at home and by following our recipe of Salmon Gravlax you will have a nice supply in two or three days.
Nova salmon refers to salmon caught in the Nova Scotia waters. This type of smoked salmon is also cured in a brine but a milder brine than used when making lox. After the brining, the salmon is 'cold-smoked' meaning it is smoked at a temperature of 80°F or less for up to 18 hours. It is best chilled and thinly sliced. This salmon is excellent served as an appetizer like our Mascarpone and Smoked Salmon Bruschetta. It is also great as the central ingredient in our Sweet Potato Waffles, Duck Eggs and Smoked Salmon as well as our Smoked Salmon Eggs Benedict.
Hot-Smoked Salmon is far different from the lox and cold smoked salmon mentioned above. The texture is firm and flaky and it has an intense smoky flavor. This salmon is actually cooked during the smoking process. Hot-smoked salmon is first wet-brined in a salt/water mixture for several hours, then it is air-dried. Finally, it is smoked at a temperature between 120°-180°F for three or four hours until it reaches an internal temperature of 135°-140°F.
The Hot-Smoked Salmon is the smoked salmon to choose for the Alaskan Smoked Salmon Chowder. This is also the salmon we used in our Smoked Salmon Spread.
How to Make our Wild Alaskan Smoked Salmon Chowder:
This is an easy recipe and it only takes about 25 to 30 minutes to cook. That makes it a great weeknight meal. You are 5 easy steps away from delicious salmon chowder. Make sure you scroll all the way down to the printable recipe card for detailed instructions.
Sauté the veggies. Just the onions, red bell pepper, carrots, celery, and garlic to start with.
Add the flour. The flour will act as a thickener.
Add the broth or clam juice. Pour it in slowly while whisking so it doesn't get lumpy.
Simmer. Add the potatoes and simmer.
Add the final touches. Stir in the cream, smoked salmon, cheese, and lemon. Taste and season as needed.
How to Freeze Smoked Salmon Chowder:
Let the chowder cool down completely then place it in either a freezer-proof container or resealable bag. If you use a bag, remove as much air from the bag as possible and lay it flat. That way it will be easier to store and defrost faster.
You can freeze the chowder for up to 6 months.
To reheat smoked salmon chowder:
Let the chowder thaw in the fridge overnight. When it is thawed, you can reheat on the stovetop over medium heat or in the microwave. Make sure you stir it intermittently while it reheats.
To prevent the chowder from splattering in the microwave you can cover it with a plate or some plastic wrap.
Tips for making smoked salmon chowder.
Sauté the vegetables first. It concentrates their flavors and brings out some of the sugars.
Cook the flour to remove the raw flavor. It only takes about a minute and makes a big difference.
Add the smoked salmon last. It is already cooked during the smoking process. Adding it last will prevent it from over-cooking and getting dry.
Use bottled clam juice or chicken stock instead of water. We prefer clam juice in this recipe but if you can't have shellfish, use a good chicken stock.
After you add the cream don't let the chowder boil or it will curdle.
This wild Alaskan smoked salmon chowder tastes so good served with crusty garlic bread and your favorite glass of chilled white wine. ❤️
SOME OTHER RECIPES WE ARE SURE YOU WILL LOVE:
CONNECT WITH SAVOR THE BEST!
Be sure to follow us on our social media accounts
Facebook | Twitter | Youtube | Pinterest | Instagram
If you make one of our recipes, snap a photo and tag it @savorthebest on Instagram and hashtag it #savorthebest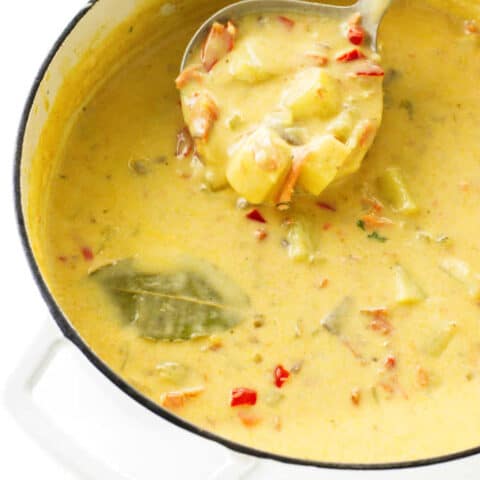 Wild Alaskan Smoked Salmon Chowder
Yield: 8 servings
Prep Time: 15 minutes
Cook Time: 30 minutes
Total Time: 45 minutes
This recipe for Wild Alaskan Smoked Salmon Chowder is thick with smoked salmon, potatoes, carrots, and onions. The perfect lunch or dinner on a cold day.
Ingredients
3-4 tablespoons olive oil
1 cup chopped yellow onion
1/3 cup chopped celery
1/2 cup chopped carrots
1 red bell pepper,cored, seeded, and chopped
2 cloves garlic, minced
1/3 cup all-purpose flour
1 teaspoon mild chili powder
2-1/2 cups clam juice or chicken stock
1/2 cup dry white wine
3 medium Yukon gold potatoes, cut into ½-inch pieces
1 cup heavy cream
Kosher salt
freshly ground black pepper
8 ounces flaked smoked Alaska wild salmon
¼ cup grated Parmesan cheese
1 tablespoon freshly squeezed lemon juice
dill sprigs for garnish
Instructions
Heat oil in a large saucepan over medium-high heat. Add the onions, celery, carrots, pepper, and garlic, cook until softened, about 5 minutes.
Whisk in the flour and chili powder and cook for 1 minute.
Slowly add in the clam juice (or chicken broth) and the wine, whisking until the liquid is smooth. Add the potatoes, bring to a boil then reduce to low and simmer, stirring occasionally, until the potatoes are tender, about 25-30 minutes.
Add the cream and season to taste with salt and pepper. Stir in the salmon, Parmesan and lemon. Serve hot garnished with additional flakes of salmon and dill.
Notes
Use a good, dry white wine, one that you love so you can enjoy the remainder with your chowder.
After adding the cream, heat gently and do not allow the chowder to boil as the cream will curdle.
To reheat, place chowder in a saucepan set over medium heat and simmer until hot. Stir frequently to prevent sticking to the bottom.
Recommended Products
As an Amazon Associate and member of other affiliate programs, I earn from qualifying purchases.
Nutrition Information:
Yield: 8
Serving Size: 1
Amount Per Serving:
Calories: 300
Total Fat: 15g
Sodium: 1138mg
Carbohydrates: 28g
Protein: 13g