Would you believe me if I told you that you could serve this Smoked Salmon Eggs Benedict for brunch this Sunday? And in less than thirty minutes? And with that creamy, lemony hollandaise sauce? Yes, you can!
Eggs Benedict is the ultimate breakfast choice! You can learn how to create this blue-plate special in your own kitchen.
History of the Famous Eggs Benedict:
Actually, the history is rather murky. According to folklore, there are several theories of the creation of this gourmet specialty.
One theory is that the wife of Commodore E.C. Benedict suggested the dish at the Delmonico Hotel. Another theory is that a retired Wall Street broker made the request to help him recover from a hangover. Still another theory credits Pope Benedict XIII with the idea.
Who knows the real story? It is actually the unknown chef that should get the credit for this gourmet brunch specialty. He created a good thing!
What is an Eggs Benedict?
Basically, this is a gourmet brunch specialty consisting of the four main components.
An English muffin, split in half
Thin slices of ham or protein
Two poached eggs
Hollandaise Sauce
The crowning glory of this creation is the creamy, lemony hollandaise sauce!
How to make Smoked Salmon Eggs Benedict:
The timing and assembling of all the ingredients is important. It helps to split the English muffins beforehand. Also, separate the slices of salmon and have them ready and waiting. Or, you can follow this sequence:
Whizz the sauce together in a blender and keep warm
Drop the eggs in the simmering water
Toast and plate the muffins
Spoon some of that creamy, rich sauce on the muffins
Add the smoked salmon slices
Scoop the egg out of the water and slide them onto the salmon.
Spoon more of that creamy, rich sauce on the eggs
Garnish with snipped chives
Serve this Smoked Salmon Eggs Benedict for a special brunch with a glass of bubbly or a mimosa and enjoy!
What is Hollandaise Sauce?
This delicate lemony, butter-based cream sauce is the key component to an eggs Benedict. It is an emulsion of raw egg yolks, melted butter, lemon juice and seasoned with salt/pepper.
There is a big difference in making the classic hollandaise sauce and a blender hollandaise sauce.
How to Make Classic Hollandaise Sauce:
Classic hollandaise sauce can be tricky to make. And it will be about a fifteen-minute process.
The egg mixture is cooked on the stove in a double boiler while whisking to emulsify the sauce. It is important that the eggs do get too hot as it will cause 'breaking' or separation of the sauce. If the sauce does 'break', all is not lost. Add a little boiling water a bit at a time to emulsify it. Or, whisk up another egg yolk in a small dish and slowly, whisk it into the sauce bringing it back together.
How to make the Blender Hollandaise Sauce in our Smoked Salmon Eggs Benedict:
Our version of hollandaise sauce is painless and takes about four minutes. We used a mini-size food processor but a regular size blender will also work. An immersion stick is another good option.
First, separate the yolks from the whites. Save the whites for another purpose and place the yolks in a blender or mini-food processor. Add the lemon juice, mustard, salt, and pepper and blend for a couple seconds. Let the mix rest in the blender.
In a small saucepan, melt the butter slowly over low heat until it begins to foam. Do not let it brown!
Pour the melted butter into the lid opening while the processor is running. As the oil drizzles into the eggs they begin to emulsify and thicken into a sauce. If the mixture becomes too thick, drizzle in a little water or lemon juice. (FYI—if possible, transfer the butter into a pitcher with a spout for ease in pouring)
Transfer the hollandaise sauce into a small jar or pitcher, cover with plastic film and set it into a dish of warm tap water. The sauce will stay warm while toasting the muffins and poaching the eggs.
A word about raw eggs:
Hollandaise sauce contains raw eggs. Some folks also consider soft-cooked, poached eggs as raw. If you have a concern about using raw eggs, safe pasteurized eggs are available. We like to use Davidson's Safest Choice® eggs which are available at some grocery stores. Check the egg section of your local grocery store for these eggs. The manufacturer stamps a red 'P' inside a circle on each egg. This is their identifying mark of pasteurized eggs.
Check out These Brunch Ideas:
Have You Made Smoked Salmon Eggs Benedict?
If you make this or any of our other recipes, we would love to see a picture. After you snap a picture, hashtag it to #savorthebest on Instagram or Facebook.
We would love to hear from you. Drop us a comment below.
The Hollandaise sauce is so good and surprisingly easy to make. Check out some of our other sauces that we think you will love.
Our lemon dill aioli sauce makes a great sauce for fish. This recipe has a video:
Our Lebanese garlic sauce is an addictive, egg-free garlic sauce that goes great on everything.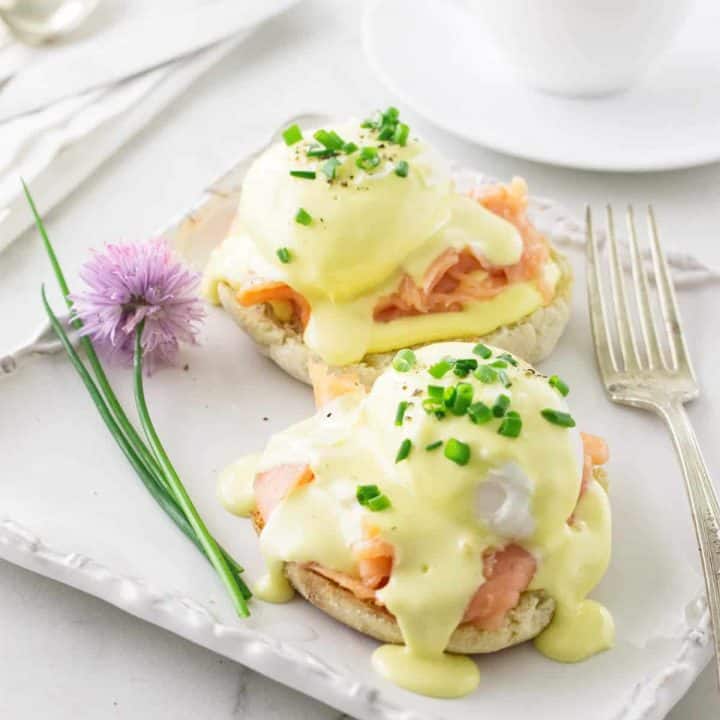 Smoked Salmon Eggs Benedict
Yield: 2-4
Prep Time: 10 minutes
Cook Time: 15 minutes
Total Time: 25 minutes
Enjoy this Smoked Salmon Eggs Benedict at home anytime. Smoked salmon slices on a toasted english muffin with a poached egg. Spoon this creamy hollandaise sauce on top.
Ingredients
For the Hollandaise Sauce
1/2 cup (1 cube butter) melted
3 egg yolks
1 tablespoon Dijon mustard
1/2 fresh lemon, juice
Sea salt and pepper to taste
For the Eggs Benedict
2 English muffins, fork split
4 Eggs
8 slices smoked salmon
1-2 tablespoons snipped chives
Instructions
Prepare the Poaching Water:
Fill a large saucepan with 3 or 4 inches of water. The pan should be large enough to comfortably poach 4 eggs without crowding them. Heat the water on medium-high heat until small bubbles appear on the sides and bottom of the saucepan. Reduce the heat to low and keep at a simmer.
For the Hollandaise Sauce
In a mini-food processor or a blender, add the egg yolks, mustard, lemon juice, process for 30 seconds.
In a small saucepan set over medium heat, add the butter and heat slowly until it is melted and just begins to foam. Transfer the melted butter to a small pitcher or pourable container.
With the processor running, slowly, drizzle the melted butter through the lid opening into the egg mixture. Continue processing and drizzling until all the butter has been incorporated. About 3 minutes. The egg mixture will begin to emulsify and thicken. If it becomes thicker than you like, thin with a tablespoon or more of hot water (or lemon juice) to the desired consistency. Stop the motor and add salt and pepper to taste and whiz again for a second or two.
Transfer the hollandaise sauce into a small pitcher, set the pitcher in a dish of hot tap water to keep warm.
To Poach the Eggs:
Break the eggs, one at a time into a fine-mesh strainer, swirl the egg around allowing the watery liquid to drain off. Transfer the eggs into individual small custard dishes. Tip each egg into the simmering water and poach for 3 to 4 minutes or until desired doneness.
Meanwhile:
Toast, butter and plate the English muffins. Add a tablespoon of hollandaise sauce to each half of muffin. Add 2 slices of smoked salmon.
When the eggs are cooked, remove them one at a time with a slotted spoon, blot the underside of the spoon to remove the excess water and slide the egg onto the smoked salmon.
Spoon another 1 tablespoons of the warm hollandaise sauce over each egg, sprinkle with snipped chives and serve immediately.
Notes
It is helpful to have the muffins split and the salmon slices separated before beginning the hollandaise sauce.
The muffins should only be lightly toasted. Do not toast them crisp.
Adding a couple tablespoons of salt to the poaching water will keep the eggs from sticking to the bottom of the pan.
The Hollandaise Sauce will make one cup, 16 tablespoons
The Hollandaise Sauce does not keep/reheat well. It can be refrigerated and reheated by setting it in hot (not boiling) water.
Nutrition for 1 tablespoon Hollandaise Sauce: Calories 75, fat 8.1 Cholesterol 58mg, Sodium 99mg, Carbs 0.5g, Protein 0.7
Nutrition Information:
Yield: 4
Serving Size: 1 egg/1/2 Muffin, 2 Tbs. Hollandaise Sauce
Amount Per Serving:
Calories: 296
Total Fat: 20.1g
Saturated Fat: 10.1g
Cholesterol: 306mg
Sodium: 883mg
Carbohydrates: 13.8g
Protein: 15g