Do you know what goes with pumpkin muffins? Cheesecake and crunchy cinnamon streusel!! Put it all together in one incredible little package and your guests will be raving. Make these cheesecake stuffed pumpkin muffins for breakfast or dessert. I guarantee no one will complain.
These pumpkin muffins have it all:
Tender and soft muffins.
Creamy dreamy cheesecake filling.
Crunchy cinnamon streusel topping.
A cream cheese icing drizzle for extra WOW.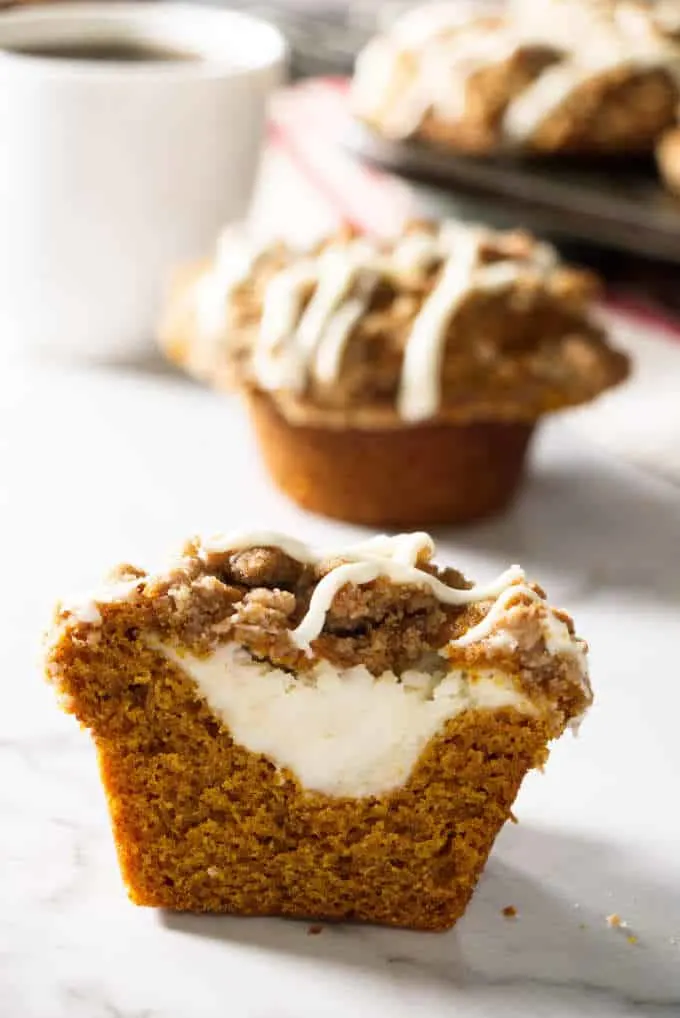 Muffins usually strike up images of healthy, wholesome, whole grain breakfast cakes. Well, not these muffins. These pumpkin muffins are really over the top and loaded with extra yumminess. Some might argue that they are more of a cupcake than a muffin but I will assert that they are definitely muffins.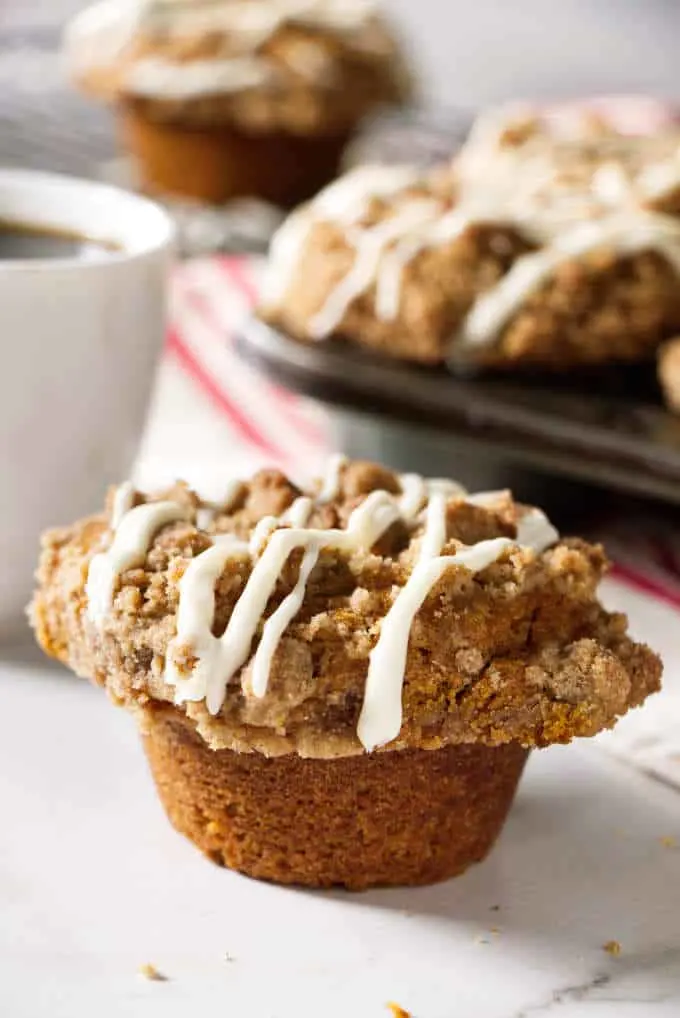 What's the difference between a muffin and a cupcake.
The mixing method is the main difference between a muffin and a cupcake.
You use the muffin method to make muffins and you use the creaming, chiffon, or 'dump and mix' method for cupcakes.
Are you wondering what the muffin method is? It is a simple mixing method whereby you mix the dry ingredient and the wet ingredients separately then GENTLY fold the dry into the wet. It is a mixing method used for denser batters like these banana blueberry muffins or this sweet potato bread.
Another difference between muffins and cupcakes is that it is perfectly acceptable to eat a muffin for breakfast. ?
To be honest, I reserve these pumpkin muffins for dessert because they are so loaded with all the things a dessert should have (sugar). But a nibble of that crunchy cinnamon streusel topping in the morning with my coffee is divine. Who else does that?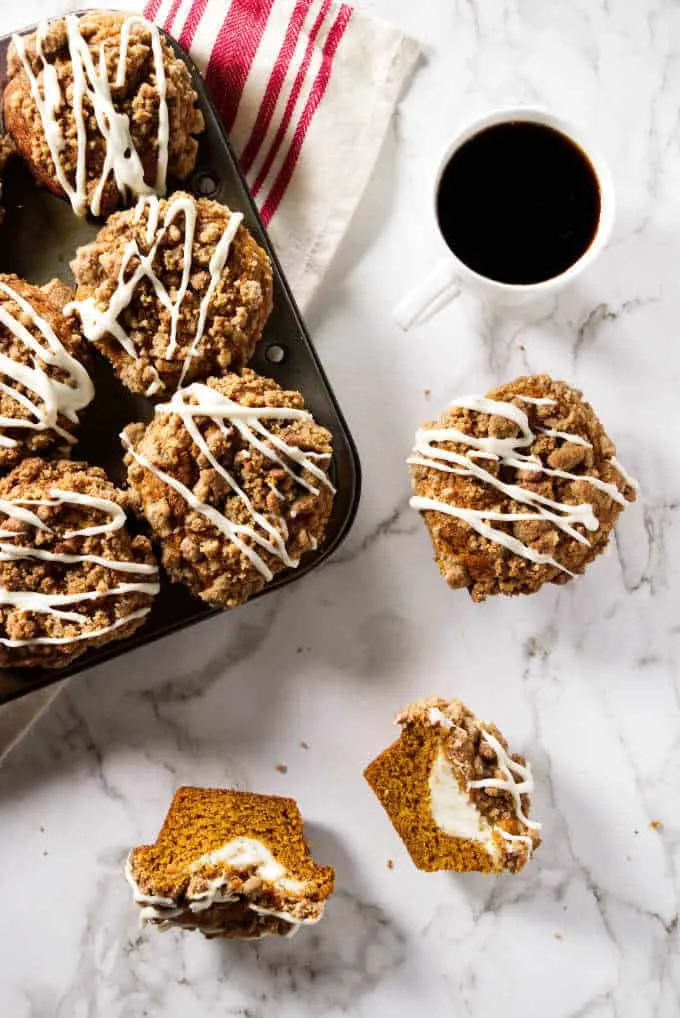 How to make tender, moist pumpkin muffins.
Make sure you scroll down to the printable recipe card for the complete instructions but read this section if you want to know tips for tender muffins.
The steps are basic but the technique is often done wrong. If you have ever had a tough muffin with large holes and tunneling, it is because the batter was overmixed.
The basic steps:
Mix the dry ingredients in one bowl.

Mix the wet ingredients in a second bowl.

Fold the dry ingredients into the wet ingredients.
The technique that makes the difference between tender and tough muffins:
Gently fold the batter and do not overmix!!

Use a large spatula to fold the batter, turning the bowl as you scrape the sides.
That's really all there is to the technique but can be so hard to stop stirring.
The batter should still be a bit lumpy. If you watch the video, you will see that at the batter is not completely smooth. If there are a few streaks of flour in the batter that is fine too.
If you mix the batter too much it will develop the gluten in the flour and make the muffins tough.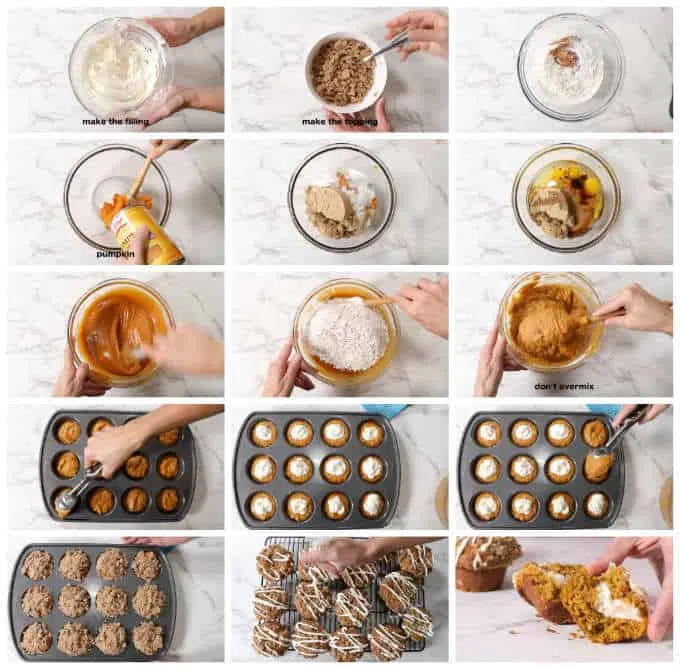 How to make cheesecake stuffed pumpkin muffins:
There are quite a few steps to these decadent muffins but it really isn't difficult. You can even make the cheesecake filling and the streusel topping in advance.
Mix the cheesecake filling.

Blend the cinnamon streusel topping.

Make the pumpkin muffin batter.

Fill the muffin tins 1/2 to 3/4 full with batter.

Scoop some cheesecake filling on top but save some to make a glaze.

Top off with more muffin batter.

Top that off with the cinnamon streusel topping and bake.

Thin out the reserved cheesecake filling and drizzle over the top.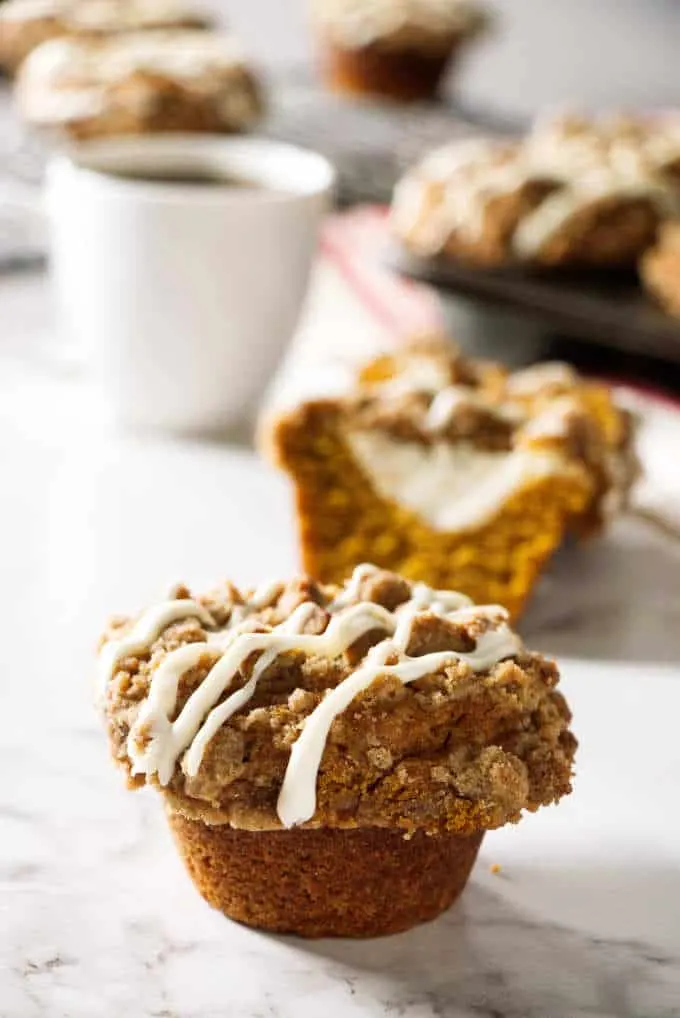 More Easy Quick Bread Recipes
SOME OTHER RECIPES WE ARE SURE YOU WILL LOVE:
If you want more pumpkin muffin recipes, try these pumpkin chocolate chip muffins. Chocolate goes well with pumpkin and you won't be disappointed with these little gems.
This spiced pumpkin cheesecake is an ultra-creamy cheesecake that is loaded with pumpkin flavor. It is surprisingly easy to make and I have a special tip to help you prepare an easy, leak-proof water-bath.
Continue your fall baking with this Chocolate Fudge Swirled Pumpkin Bread! It has layers of rich, fudgy chocolate swirled into moist pumpkin bread.
Connect With Savor the Best:
Please follow us on our social media accounts
Facebook * Instagram * Pinterest * Youtube * Twitter
Did you make this recipe? We would love to hear from you. Drop us a comment below.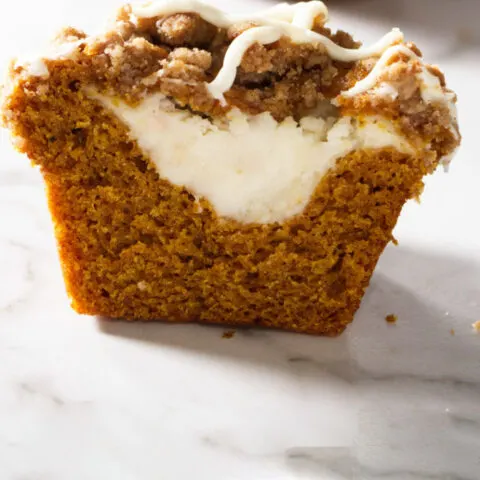 Cheesecake Stuffed Pumpkin Muffins
Yield:
16 standard sized muffins
These pumpkin muffins are light, tender and moist. They are stuffed with a creamy cheesecake filling then topped with a crunchy cinnamon streusel and cream cheese glaze.
Ingredients
Cheesecake filling and glaze for top:
8 ounces cream cheese, room temperature
1/3 cup sour cream
2/3 cup powdered sugar
1/2 teaspoon vanilla
CINNAMON STREUSEL TOPPINING
3/4 cup all-purpose flour (90 grams)
1/2 cup brown sugar (100 grams)
6 tablespoons butter, melted
1-1/2 teaspoons ground cinnamon
1/4 teaspoon salt
Muffins
2-1/2 cups all-purpose flour (300 grams)
2-1/2 teaspoons baking powder
1 teaspoon baking soda
2-1/2 teaspoons pumpkin pie spice*
1 teaspoon salt
1 (15-ounce) can pumpkin puree*
1 cup granulated sugar
1 cup packed brown sugar
3/4 cup vegetable oil
3 large eggs
1 teaspoon vanilla extract
Glaze
1/2 cup of reserved cheesecake filling
1 to 2 tablespoons milk
Instructions
FOR THE CHEESECAKE FILLING (AND DRIZZLE FOR THE TOP)
Beat the cream cheese with a mixer until smooth. Add the sour cream powdered sugar and vanilla. Beat until well combined. Cover and refrigerate until you finish mixing the muffins.
FOR THE STREUSEL TOPPING
Place all the streusel topping ingredients in a bowl and stir together with a fork until it has the consistency of wet sand. Set aside for later.

FOR THE MUFFINS
Pre-heat the oven to 424°F (you will reduce the temp. after the first 5 minutes)
Grease a standard-sized muffin tray. This recipe makes 16 muffins so grease 4 muffin cups in a second tray.
Place the flour, baking powder, baking soda, salt, and pumpkin pie spice in a bowl and whisk or sift together. Set aside while you mix the wet ingredients.
Place the pumpkin, sugar, brown sugar, oil, eggs and vanilla extract in a large bowl and stir with a whisk until smooth.
Fold the flour mixture into the pumpkin mixture until just barely combined (it's ok if there are still lumps: if you mix until it is super smooth the muffins will not be as tender).
Fill the muffin cups about 1/2 to 3/4 of the way full with the batter.
Set aside 1/2 cup of cheesecake filling for later. Scoop about a tablespoon of the filling into the center of each muffin then top off with more batter. The muffin cups should be filled almost to the top.
Sprinkle the cinnamon streusel topping evenly over each muffin.
Bake for 5 minutes at 425°F then reduce the heat to 350°F and bake for another 15 to 18 minutes or until a toothpick inserted in the center of the muffins comes out clean.
Let the muffins cool down for 10 to 15 minutes before removing them from the muffin tin.
MAKE THE GLAZE
Stir the milk into the reserved cheesecake mixture until smooth. Adjust the amount of milk to get a consistency that will drizzle easily.
Place the glaze in a bag, snip a hole in the corner of the bag and drizzle the glaze over the muffins.
Notes
NOTES:
If you don't have pumpkin pie spice you can substitute with the following mixture
1-1/2 teaspoons cinnamon
1/2 teaspoon nutmeg
1/4 teaspoon ginger
1/4 teaspoon cloves.
Make sure you use canned pumpkin puree and not canned pumpkin pie filling.
When you fold the dry ingredients into the wet pumpkin mixture, don't over-mix the batter.
If you are using a darker muffin tin then reduce the oven temperature by 25°F.
Nutrition Information:
Yield:

16
Serving Size:

1
Amount Per Serving:
Calories:

457
Total Fat:

23g
Saturated Fat:

8g
Trans Fat:

0g
Unsaturated Fat:

13g
Cholesterol:

67mg
Sodium:

452mg
Carbohydrates:

58g
Fiber:

1g
Sugar:

37g
Protein:

6g
Nutrition information is a guideline only, is calculated automatically by third party software, and absolute accuracy is not guaranteed.