Blackened halibut is simple and delicious! Tender halibut pieces are seasoned with blackening spices, then pan-seared to get that perfect outer blackened crust. The homemade blend of seasonings is the best way to add a deep and intense flavor to the fish. Serve it with a crisp salad or your favorite quick and easy side for a delicious meal. It's what busy weeknights call for!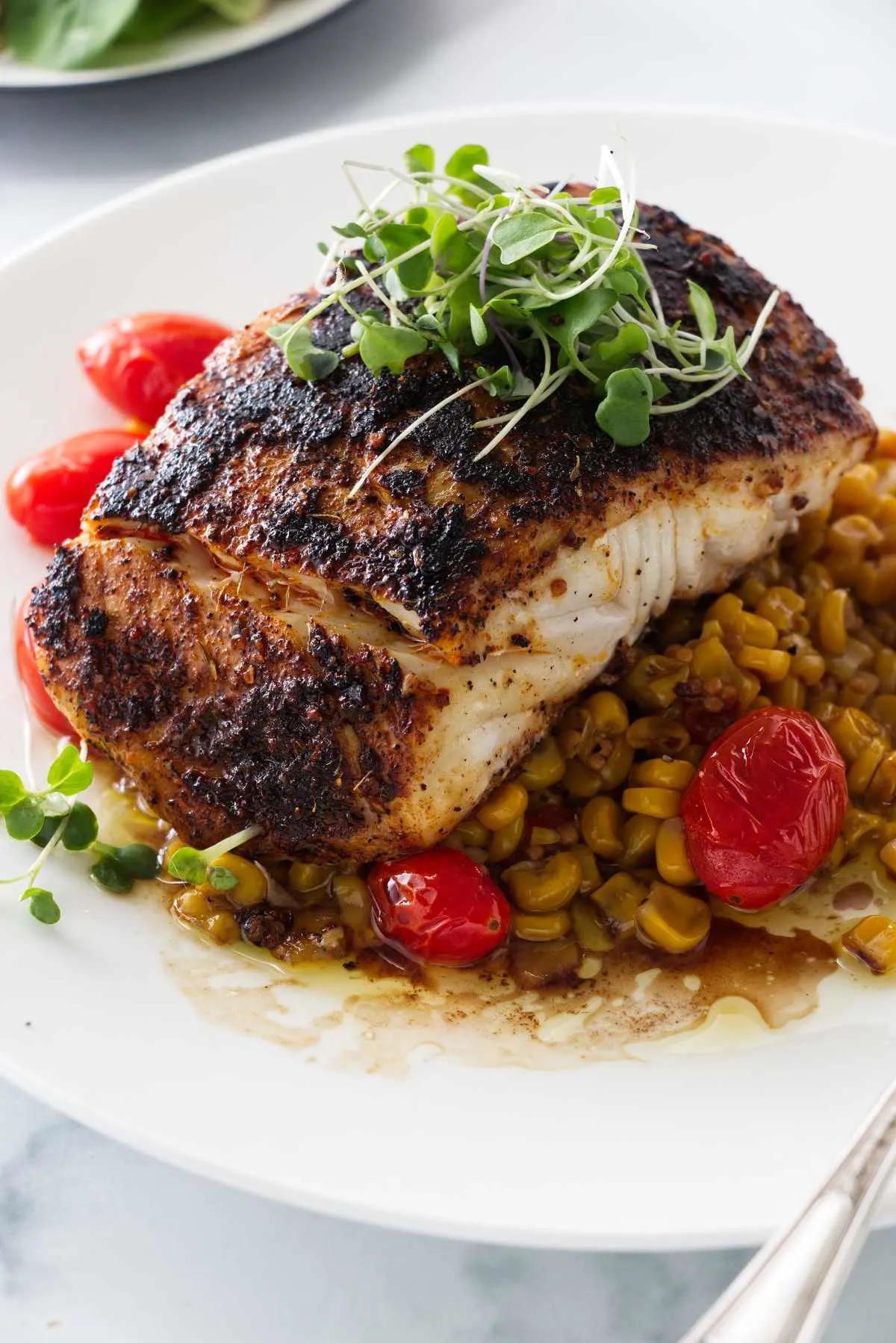 This pan-seared halibut ends up super flaky and flavorful, thanks to the cooking method and the blackening seasoning that gives it just the right amount of spicy flavor.
It's elevated but easy-breezy, which makes it a wonderful meal for both weeknights and special occasions.
Serve it with crusty bread, a side salad or flake the fish apart to create tasty blackened halibut tacos! You have so many options for how to enjoy this spicy halibut recipe. It might just become your new favorite fish dish!
Why This Blackened Recipe Works
Fresh halibut is a light and flaky fish with a slightly sweet, neutral flavor. Similar to broiled cod and other white fish varieties, you can dress it up and prepare it in a number of different ways thanks to its versatility. This dish is a halibut version of our Blackened Mahi Mahi (for more halibut, try our Mediterranean Halibut Provencal!).
It's a great choice if you're looking for an elevated yet quick and healthy meal. You can serve it for a special occasion with a delicious, summery salad (like our Arugula Burrata Salad) or keep things simple with a side of fries of baby roasted potatoes.
​Here's why you'll love it:
Blackened halibut is tender and flaky and flavorful!
You can add this healthy dish to your lineup of impressive, tasty meals.
With a quick prep time, this pan-seared halibut recipe is easy and effortless.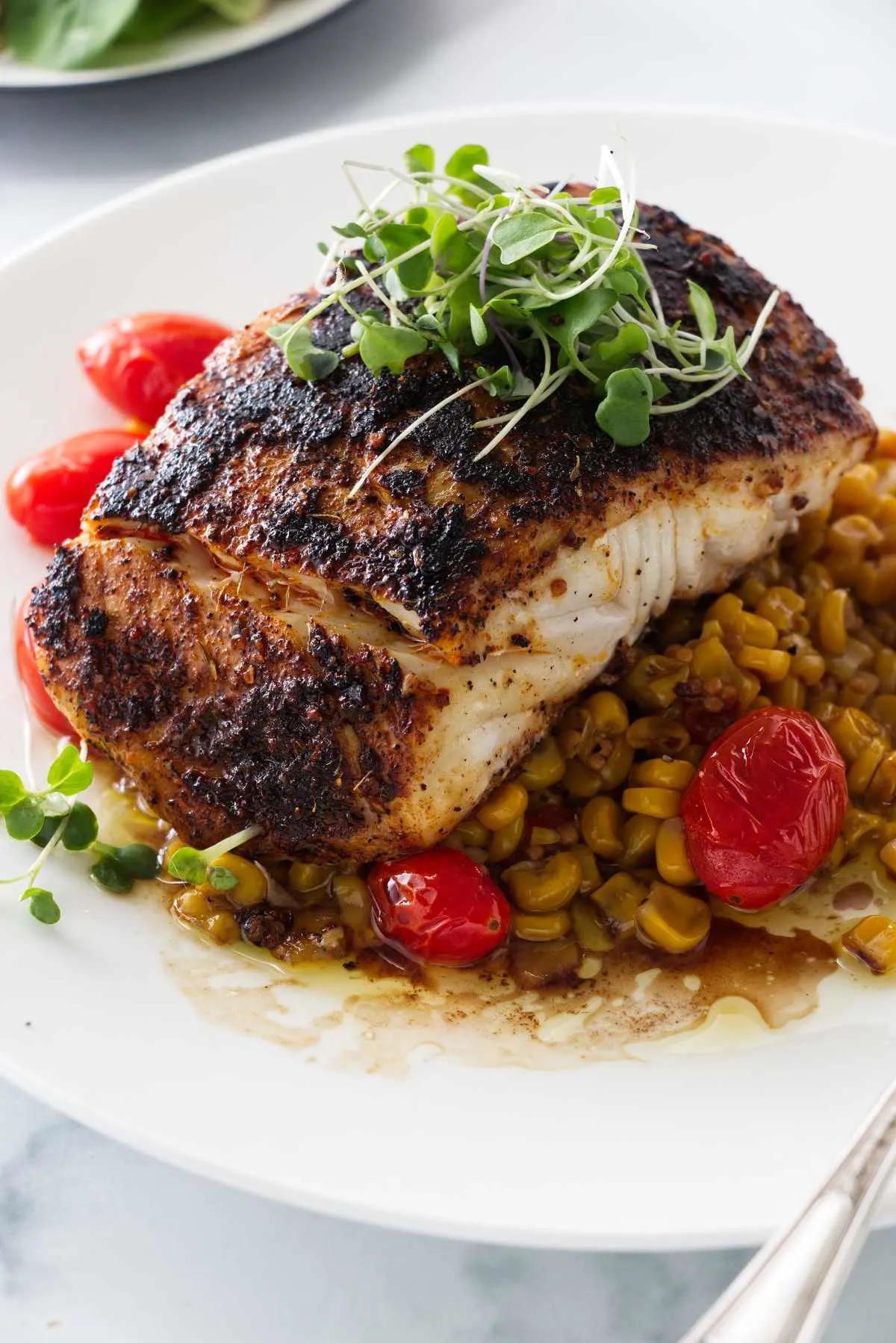 Ingredients for this Halibut Recipe
Here's a look at what you will need for your shopping list in order to prepare blackened pan seared halibut. This is such a fast and easy recipe, it makes a great family dinner for weeknights.
Seasonings. ​The blackening seasoning is a combination of garlic powder, smoked paprika, dried thyme, salt, black pepper, onion powder, cayenne powder, dried oregano, brown sugar and espresso coffee powder. Together, they create a seasoning that has a little bit of a spicy kick, but a deep, intense, smoky flavor and a slightly sweet finish.
Cooking oil. ​This is for your skillet- it will prevent the fish from sticking to the pan. Use an oil with a high smoke point since this recipe needs fairly high heat. Refined avocado oil works great.
Halibut. ​The seasoning is enough for four servings of halibut, about 6 ounces each. The pieces are usually about 1 to 1-1/2 inches thick. You can find fresh or frozen halibut at the seafood section of your grocery store or from a local fishmonger, depending on the season.
​How to Make Blackened Halibut
The process for this pan-seared halibut recipe is so simple! The fish fillets cook quickly in the hot skillet so keep an eye on it! Here's an overview of the steps required.
For all of the details, scroll to the bottom of the page to view the printable recipe card.
In a small bowl or dish, In a small bowl or dish, combine the spices…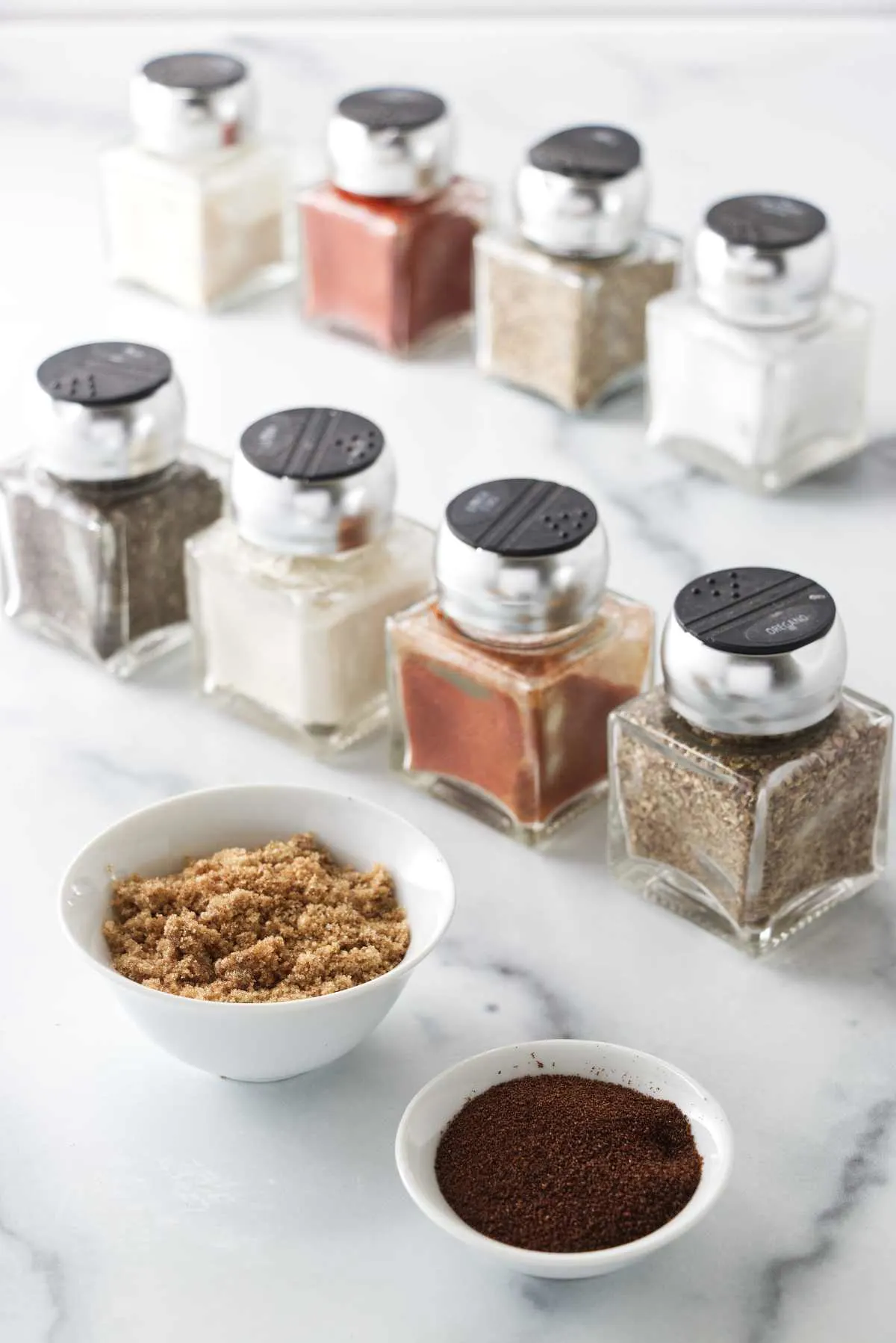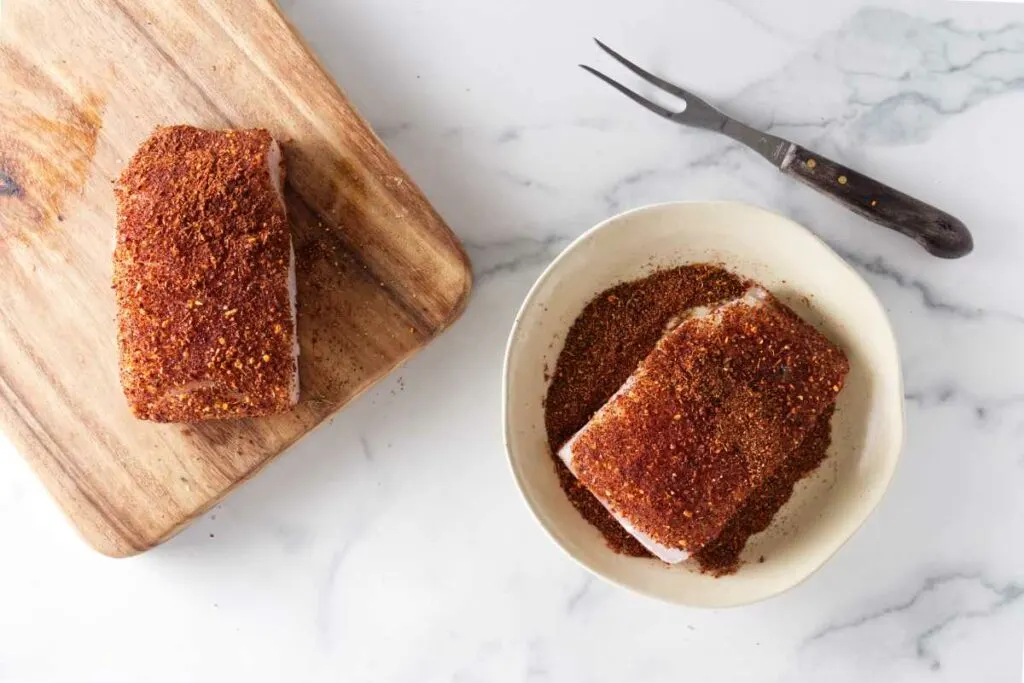 Dredge each halibut portion through the mixture.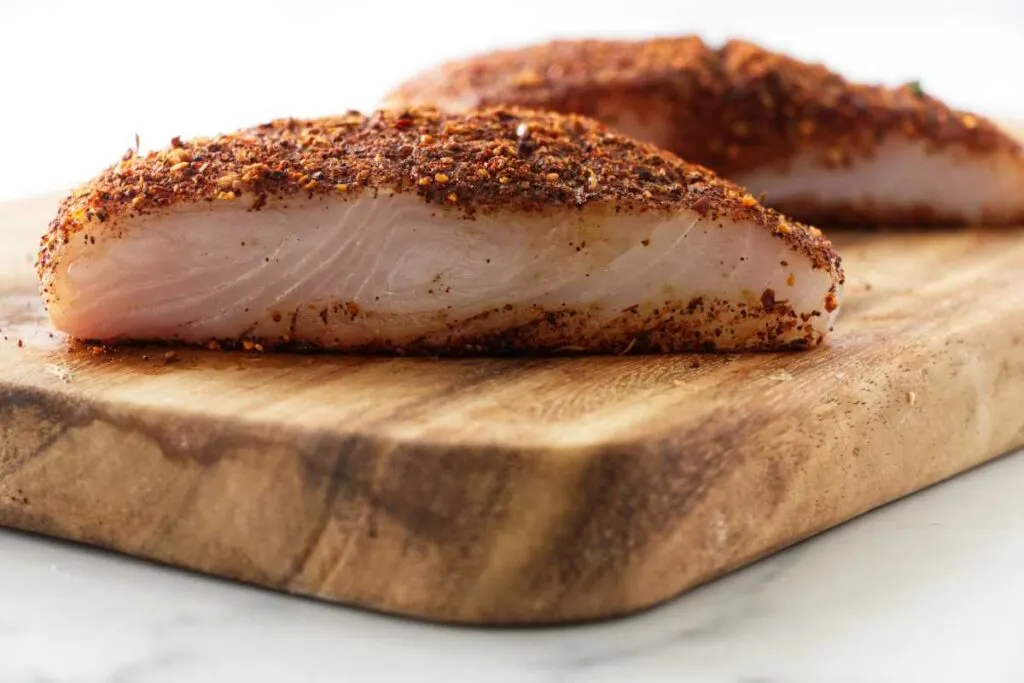 Flip to coat the second side.
Place a large skillet over medium-high heat. When it's hot, lightly brush the bottom with olive oil. Place the halibut fillets skin side up and cook for 4 minutes.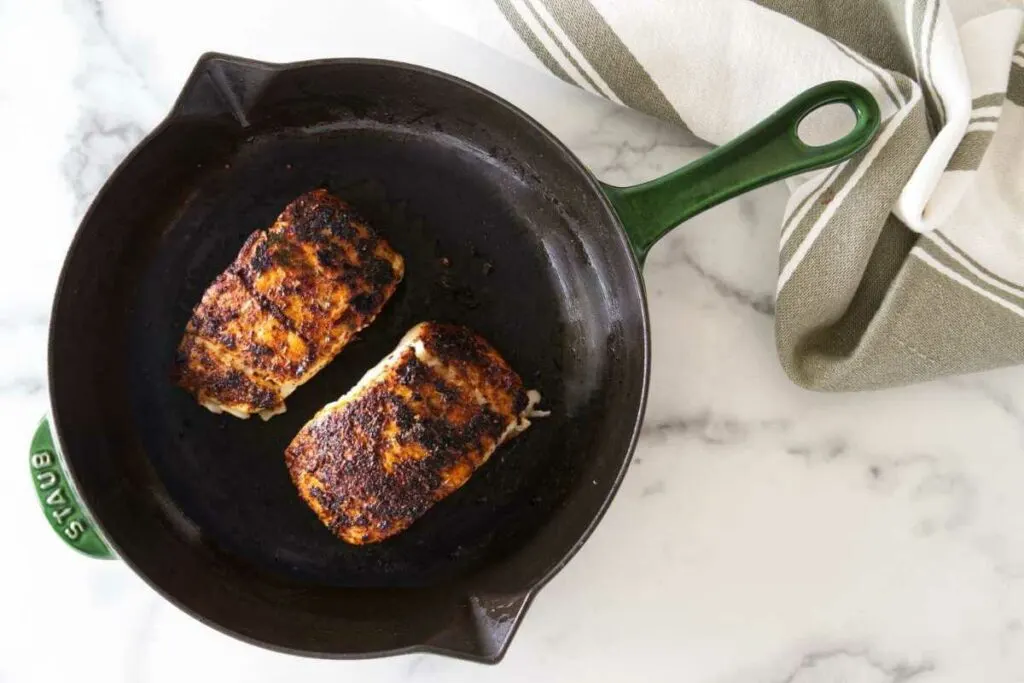 Flip the fillets and cook skin side down for 3-4 minutes or until the flesh is opaque. If using a thermometer, the internal temperature should read 130°F.
Remove from the skillet and serve immediately. You can add a wedge of lemon or a squeeze of fresh lime juice on top if desired and enjoy it with your favorite sides.
More Fish Recipes
Our site has a large selection of seafood recipes. Here is just a small selection if dinner ideas that incorporate fish.
Tips for Success
This blackening seasoning will work with a variety of fish so feel free to use it with your fish of choice! It can add delicious flavor to halibut steaks, cod fillets and even salmon.

For an even quicker process, you can use a store-bought blackened spice blend. They are often labeled as "Cajun Rub."

I like to cover the seasoned fish with plastic wrap and press down on the seasoning so it adheres to the fish. This is a mess-free way to getting the seasoning to stick to the fish and not your hands!

The cooking time will vary based on the thickness of your halibut. If your portions are less than 1 inch thick, adjust the cooking time as needed.

To check doneness without using an instant-read thermometer, insert the tines of a dinner fork at a 45-degree angle into the thickest part of the fish. Twist slightly. If the fish flakes easily, without resistance, it's ready to eat. Be careful not to overcook it as halibut will turn out dry and tough.

Store leftovers in an airtight container in the refrigerator for up to 4 days.

Since this recipe uses high heat, we do not recommend using a non-stick skillet. High heat will break down the coating on non-stick pans and release toxins. I like to use a heavy cast iron pan for this recipe because it retains heat well.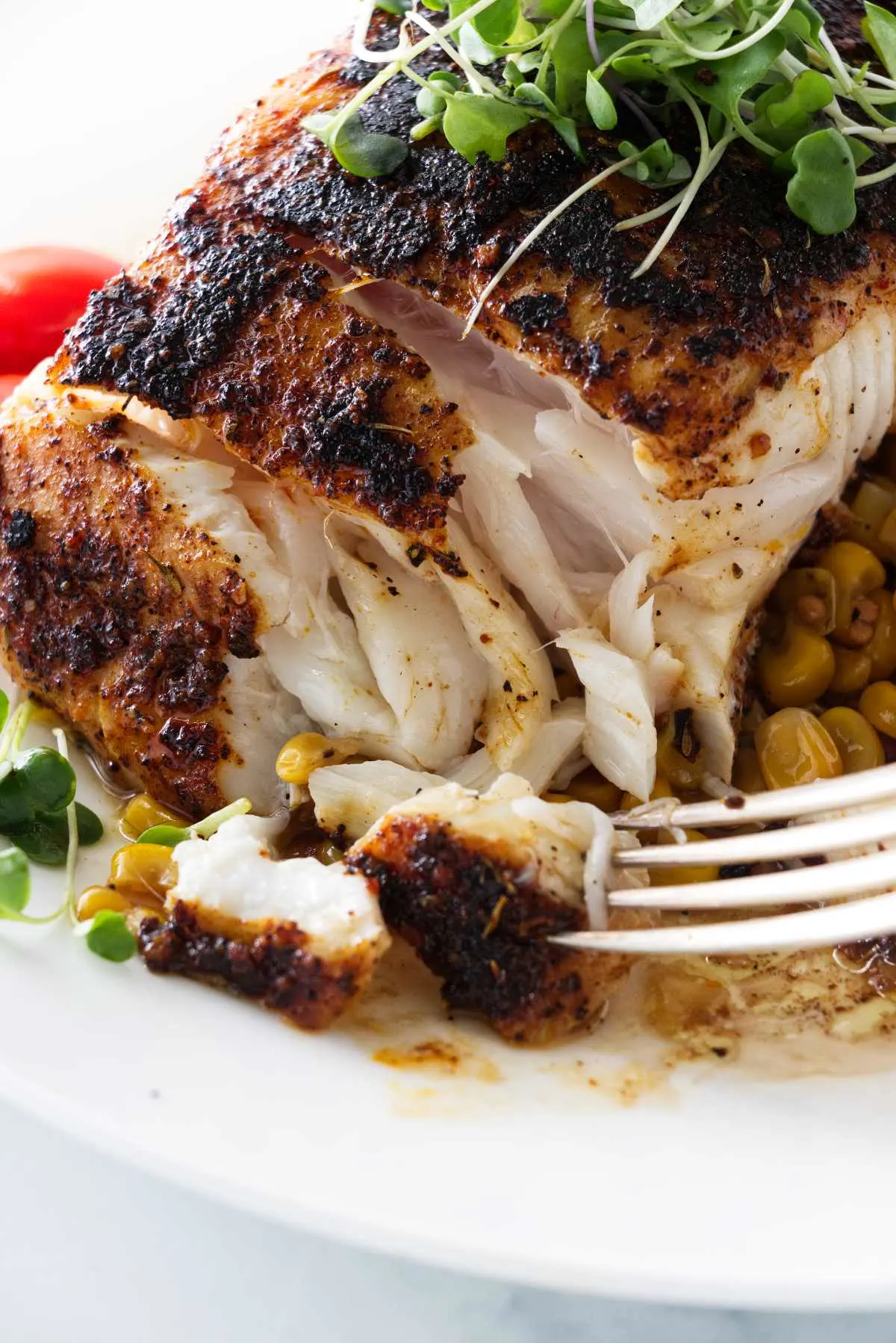 Serving Suggestions
This pan-seared halibut recipe is the perfect standalone meal, but it can also be used as the base for other dishes! Here are a few serving suggestions:
Helpful Tools
Some of the following are affiliate links. We may receive a small commission if you click on these links and purchase something. You don't pay any extra, but it will help us keep the lights on.
More Recipes You Will Love
Blackened Shrimp Tacos are loaded with spicy shrimp, chipotle slaw and a sweet mango salsa! The combination is fresh and delicious and it all comes together in no time! Perfect for light, summer dinners and easy taco nights.
Spicy Blackened Tilapia is another healthy and easy way to enjoy tender fish with a caramelized, Cajun spice layer! It's zesty and peppery and incredibly simple to make!
Elote in a Cup is an easy and convenient way to enjoy all the flavors of Mexican street corn! Perfect for parties or get-togethers, you'll love the delicious corn slathered in a creamy sauce and tossed with cotija cheese and chili powder.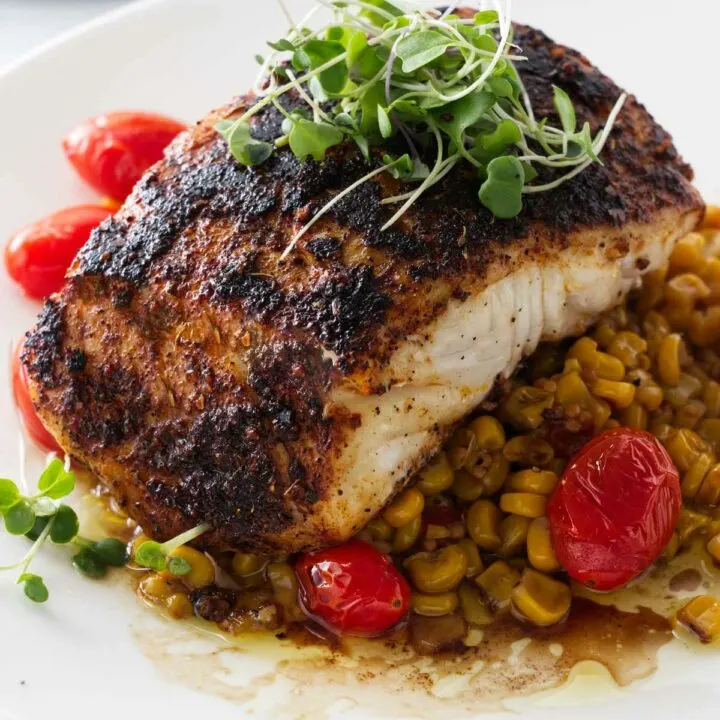 Blackened Halibut
Pan-seared blackened halibut fillets are delicious and so easy to prepare. You can have dinner ready in under 30 minutes.
The blackening seasoning, with its blend of flavorful spices, perfectly balances the mild, delicate flavor of the halibut. The fish gets seared for 3-4 minutes on each side, creating a charred, crispy crust that adds an irresistible texture to every bite.
Ingredients
For the Spicy Blackened Rub:
1 tablespoon garlic powder
1 tablespoons smoked paprika
2 teaspoons dried thyme
2 teaspoons salt
1 teaspoon black pepper
2 teaspoons onion powder
¼ teaspoon cayenne powder
2 teaspoon dried oregano
1 teaspoon brown sugar
1 teaspoon espresso coffee powder
For the Blackened Halibut
4 (6-oz) portions halibut, 1 to 1-½ inches thick
2 tablespoons cooking oil
Instructions
Combine the spices in a shallow dish and dredge each portion of halibut on both sides.
Place a large cast iron skillet over medium-high heat when the skillet is hot brush the bottom lightly with oil. Place the halibut fillets skin side up and cook for 4 minutes.
Carefully turn the fillets and cook, skin side down, for 3-4 minutes, until the flesh is opaque and flakes easily, checking after 3 minutes with a dinner fork or an instant read thermometer.
If using an instant read thermometer, the temperature should read 130°F, remove from the skillet and serve immediately.
Notes
Alternative to making your own spice blend consider a store brand product. There are many blackened spice blends on the market, they are often labeled as 'Cajun' rub.
I like to cover the seasoned fish with plastic wrap and press the fish so the seasoning coat firmly adheres. This keeps my hands from getting 'blackened' with the seasoning as I press lightly on the fish.
The cooking time in this recipe is for halibut fillets of 1-1/2 inches thick. If your fish is less than 1 inch thick adjust the cooking time.
To check for doneness without a thermometer: insert the tines of a dinner fork at a 45-degree angle into the thickest part of the fish and twist slightly. If the fish flakes easily, without resistance it is ready to eat.
Do not overcook the halibut as it will be dry and tough.
Nutrition Information:
Yield:

4
Serving Size:

1
Amount Per Serving:
Calories:

215
Total Fat:

3g
Saturated Fat:

1g
Trans Fat:

0g
Unsaturated Fat:

2g
Cholesterol:

102mg
Sodium:

1201mg
Carbohydrates:

6g
Fiber:

2g
Sugar:

1g
Protein:

39g
Nutrition information is a guideline only. It is calculated automatically by third-party software, and absolute accuracy is not guaranteed.