Taco Tuesday just got a whole lot more exciting with this recipe for Instant Pot Basil Lime Rice! It's fast and fresh and will complement any meal (think curry, tacos, chicken, ANYTHING). Throw this in your Instant Pot for a quick side that goes above and beyond your basic pot of rice. Flavors of basil and lime give this rice a special lift, and the crunchy peanut topping is an extra, flavorful touch.
You know it's winter when your Instagram feed is nothing but photos of hearty stews, warm soups, holiday treats and comfort food casseroles (and I'm definitely not complaining about it). I know the fresh, citrusy profile of this Instant Pot Basil Lime Rice doesn't quite fit the winter food vibe. But give me this any day of the year, it's THAT good. Plus, all you need is a bowl full of spicy curry to go along with it and you'll be feeling all the cozy winter feels. ?
I love my Instant Pot. If you have one, wouldn't you agree that it just makes life better? I mean, I can throw this in the pot and have a delicious side in MINUTES. When time is of the essence (I'm talking Tuesday-dinner-rush-hangry-family-needs-something-NOW type of night), this Instant Pot Basil Lime Rice will be a lifesaver.
How to make Instant Pot Basil Lime Rice in FIVE MINUTES FLAT
No joke. Three minutes cook time (depending on the type of rice you're using), plus a couple of minutes to assemble (a.k.a. throw the ingredients in your Instant Pot). Does it get any easier? No! It does not! So grab these ingredients and let's get started!
chicken broth
long grain white rice
lime (zest and juice)
garlic cloves
salt
fresh basil
chopped peanuts (optional)
Step 2
When the rice has finished cooking, let the Instant Pot do a natural release for at least 10 minutes, then release the remaining pressure manually. During this time, you can prep the lime zest, chop the basil and peanuts. Toss the rice with the lime zest and chopped basil and garnish it with the peanuts when it's time to serve.
That's it! I said FIVE MINUTES FLAT which is technically how long it takes to cook (AMAZING) but don't forget to factor in the necessary pressure release time for the Instant Pot. Plus, it will take about 10 minutes for the Instant Pot to build up the pressure but it is all hands-free. Just let the IP do all the work.
I should also note that altitude will affect the cook time- if you're at a higher altitude, you may need to cook it longer. If you live at an altitude below 3,000 feet, our suggested cook times will do.
Easy, right? And you might even have some leftovers which means extra time saved tomorrow. You're welcome. ?
SOME OTHER RECIPES WE ARE SURE YOU WILL LOVE:
This recipe for Instant Pot Chicken and Dumplings is pure, homemade comfort food. Creamy and savory, it's a MUST TRY SOON sort of recipe.
Our Beef Shawarma Sandwich is one of my favorite foods- I could eat this every day and still come back for more! It has tender shreds of juicy beef with crunchy vegetables, all wrapped up in soft naan and topped with tahini. Hungry yet? I am.
Any stellar rice recipe needs an equally delicious curry partner, so here's one of our favs: Thai Yellow Curry Chicken and Potatoes. It's simple, quick, and will exceed all your curry expectations.
CONNECT WITH SAVOR THE BEST!
Be sure to follow us on our social media accounts
Facebook * Instagram * Pinterest * Twitter * Youtube
Did you make this recipe? We would love to hear from you. Drop us a comment below.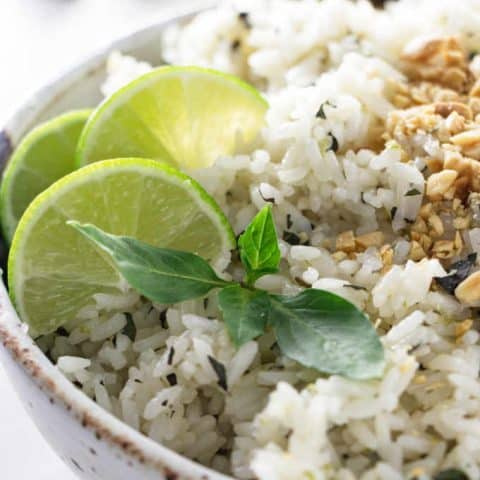 Instant Pot Basil Lime Rice
Yield: 4 servings
Prep Time: 5 minutes
Cook Time: 3 minutes
Additional Time: 20 minutes
Total Time: 28 minutes
Instant Pot basil lime rice is a fast and easy side dish that goes well with any meal. The fresh flavors of basil and citrusy lime give the rice a special lift.
Ingredients
1 cup chicken broth
1 cup long grain white rice
2 tablespoons lime juice
1 to 2 garlic cloves, finely minced
1/2 teaspoon salt
zest of 1 lime
2-3 tablespoons chopped fresh basil
Optional: chopped peanuts for garnish
Instructions
Place the chicken broth, rice, lime juice and minced garlic in the Instant Pot.
Cook on high pressure for 3 minutes (see below for times with different rice).
Let the Instant Pot do a natural release for at least 10 minutes then release the rest of the pressure manually.
Toss with the lime zest and chopped basil. Garnish with chopped peanuts.
Notes
Adjust the cooking time depending on the type of rice you use and the altitude. Higher altitude will require more cook time. If you are below 3,000 feet, you only need the lower cook time provided.
Arborio rice is high in starch and will make a sticky, creamy texture.
For the best flavor, add the lime zest and basil after the rice has finished cooking.
COOKING TIME:
Arborio rice= 5-6 minutes
Jasmine rice= 3-5 minutes
Basmati rice= 4-8 minutes
"Generic" un-named long grain rice= 3-5 minutes (these are usually varieties like Carolina or Texmati.
Brown Rice: 22 minutes.
Nutrition Information:
Yield: 4
Serving Size: 1
Amount Per Serving:
Calories: 65
Total Fat: 0g
Saturated Fat: 0g
Trans Fat: 0g
Unsaturated Fat: 0g
Cholesterol: 1mg
Sodium: 497mg
Carbohydrates: 14g
Fiber: 1g
Sugar: 1g
Protein: 2g
Nutrition information is a guideline only, is calculated automatically by third party software, and absolute accuracy is not guaranteed.