If you have never tried cooking Thai food because it sounds intimidating, this is a great recipe to start with. This Thai yellow curry chicken and potatoes is fast, easy, and incredibly delicious.
You can make it with either store-bought curry paste or pull out all the stops and whip up a batch of homemade curry paste to use in this recipe. The thick, creamy curry sauce is mild enough for the kids to enjoy but you can adjust the heat if you like your curry a bit spicier.
Thai yellow curry potatoes and chicken is comfort food with an Asian flair. The sauce is velvety smooth and rich. It has a very mild spice level with a touch of sweetness from the coconut milk and a pinch of sugar. You're going to want to lick your bowl clean when you finish eating this meal.
How to make Thai yellow curry potatoes and chicken.
Are you ready to make this Thai yellow curry chicken and potatoes? I am going to show you how to make this delicious comfort food for dinner tonight.
1. Heat the curry paste.
First, heat some coconut oil in a saute pan then add the Thai yellow curry paste and a splash of coconut milk. Cook the curry paste until it is hot and fragrant. Don't skip this step, this is where the magic happens.
When you heat the curry paste you cook all the herbs and spices that are concentrated in the paste. It pulls out all the flavors and makes a tremendous difference in the depth of flavor.
Here is an important tip. Make sure you use curry paste for this recipe, NOT pre-made curry sauce. Curry paste is a very concentrated mixture of spices and herbs. Curry sauce is made by adding broth, coconut milk or cream to the curry paste. If you use the sauce, you will dilute the flavors too much with the additional ingredients.
You can use store bought curry paste or you can make your own curry paste if you feel inspired.
2. Add the coconut milk.
After you heat the curry paste, stir in the coconut milk along with some fish sauce and sugar.
To be clear, I am talking about the canned coconut milk that is thick and creamy. Don't use the coconut milk that is sold in boxed cartons.
The boxed cartons of coconut milk have so much water added to them that they will not give you the right texture, consistency, or flavor.
Save the carton of coconut milk for your beverages or cereal and use a can of FULL FAT coconut milk. You could back off to a can of low-fat coconut milk but it just won't be as luxurious.
I have made this Thai yellow curry chicken and potatoes both ways (low fat and full fat) and it is so much better with full-fat coconut milk. However, if you really want to save on the fat calories then it is still pretty good with the low-fat version.
3. Add fish sauce and sugar.
Fish sauce is the special secret sauce. You gotta use the fish sauce. If you have never used fish sauce you're going to think you bought something that went bad as soon as you smell it. Trust me, it hasn't gone bad, it just has a very strong, unpleasant odor but it will not ruin your food.
As soon as you add the fish sauce to the curry mixture, that strong fishy flavor will disappear and you will create an incredible umami flavor and the house will smell like a Thai restaurant. Be brave, pinch your nose if you have to, and add a tablespoon of that special secret sauce
4. Add the chicken.
Now that you have the sauce base made and it is nice and hot, add the cubes of chicken. We used skinless, boneless chicken breasts but if you really want to bump up the flavor then use bone-in chicken thighs. If you use the chicken thighs just make sure you cook the chicken for a couple of extra minutes.
Once the chicken is partially cooked, add the potatoes, onions, and chicken broth. Let all the ingredients cook in that creamy curry sauce until the potatoes are nice and tender.
Now spoon the Thai yellow curry potatoes and chicken over a bowl of rice and dig in!
This recipe was adapted from The Better Than Takeout Thai Cookbook by Danette St. Onge
SOME OTHER RECIPES WE ARE SURE YOU WILL LOVE:
CONNECT WITH SAVOR THE BEST!
Be sure to follow us on our social media accounts
Facebook | Twitter | Youtube | Pinterest | Instagram
If you make one of our recipes, snap a photo and tag it @savorthebest on Instagram and hashtag it #savorthebest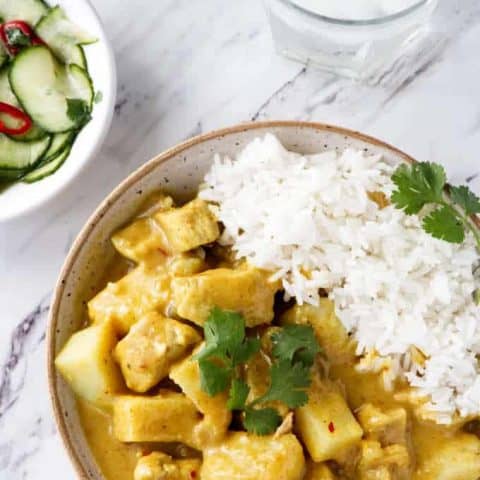 Thai Yellow Curry Chicken and Potatoes
Yield: 4 servings
Prep Time: 10 minutes
Cook Time: 15 minutes
Total Time: 25 minutes
Thai yellow curry chicken and potatoes is a fast and easy recipe that you can whip up on a weeknight. The curry sauce is mild and luxuriously creamy.
Ingredients
3 tablespoons coconut oil
3 tablespoons yellow curry paste
2 cups of canned coconut milk
1 tablespoon fish sauce
1 tablespoon brown sugar
1 pound boneless, skinless chicken breast, cut into bite-sized pieces
1 to 2 large potatoes, peeled and cut into bite-sized pieces
1 onion, peeled and sliced
1/2 cup chicken broth
Instructions
Place the coconut oil in a large saucepan and heat over medium heat. Add the curry paste and a few tablespoons of the coconut milk. Stir well to break up the curry paste and get it hot and fragrant.
Stir in the rest of the coconut milk, the fish sauce, and brown sugar. Then stir in the chicken. Cook the chicken for 5 minutes until it is no longer pink then add the potatoes, onion and chicken broth.
Cover the saucepan and continue to cook over medium heat for 8 to 10 minutes until the potatoes are tender.
Notes
You can substitute bone-in chicken thighs for more flavor but if you use whole, bone in thighs you will need to cook the chicken for a few minutes longer before adding the vegetables. Bone-in chicken thighs will take longer to cook than the bite sized pieces of chicken breast.
Recommended Products
As an Amazon Associate and member of other affiliate programs, I earn from qualifying purchases.
Nutrition Information:
Yield: 4
Serving Size: 1
Amount Per Serving:
Calories: 650
Total Fat: 39g
Saturated Fat: 31g
Trans Fat: 0g
Unsaturated Fat: 5g
Cholesterol: 97mg
Sodium: 830mg
Carbohydrates: 28g
Fiber: 4g
Sugar: 6g
Protein: 29g
Nutrition information is a guideline only, is calculated automatically by third party software, and absolute accuracy is not guaranteed.