Do you like Thai yellow curry? How about prawns? If you nod your head yes, then you will love this easy Tiger Prawn Yellow Curry recipe. Tiger prawns in a yellow curry sauce is a savory bounty of zesty textures and tastes. Big fat, juicy tiger prawns team together in a creamy, coconut Thai yellow curry with rice noodles. Now that is something to look forward to for dinner tonight!
This prawn curry is easy, quick, and soul-satisfying. And since it serves at least six, you'll have leftovers that will be even more flavorful the next day. A supply of homemade Thai yellow curry paste in our freezer makes this fragrant curry an easy weeknight dinner option. This prawn yellow curry dish tastes like you've slaved in the kitchen all day!
Is Thai Yellow Curry hot?
There are three types of Thai curry, red, green and yellow. Of the three, yellow curry is the mildest. What gives this curry its pretty yellow color is turmeric but you do not want to be heavy-handed with it as it can overpower the flavors.
Jars and tins of Thai curry paste are available in the Asian markets but it is really easy to make a batch yourself. Check out our easy recipe and learn how to make your own Thai Yellow Curry Paste.
It keeps in the freezer for a long time and is handy for a quick flavor-packed meal like our Thai-style tiger prawn yellow curry.
How to make this Tiger prawn yellow curry:
This easy and quick one-pot prawn curry meal uses rice noodles but is just as delicious with rice. We used black rice in our Salmon with Thai Yellow Curry which was a delicious blending of flavors and textures.
Yellow curry also goes well with potatoes. This recipe for Thai yellow curry and potatoes is another fast and easy dinner that would be perfect for a weeknight meal.
First, cook the rice noodles according to the manufacturers' instructions for HOT noodles.
Drain and toss the noodles with toasted sesame oil, cover and keep warm.
Sauté the onions, ginger and garlic with oil and cook for a few minutes over medium-high heat.
Reduce the heat and add the curry paste and cook for 2 minutes.
Next, add the coconut milk and soy sauce and bring to a boil.
Add the prawns to the sauce.
Reduce the heat and simmer for 3 or 4 minutes until the prawns turn bright pinkish-orange and curl into a 'C' shape.
Remove from the heat and add lime juice.
How to serve this prawn curry:
Portion the warm noodles into serving bowls and divide the curry sauce and prawns equally among the servings. Garnish with chopped cilantro, lime wedges and fresh Thai basil.
This prawn curry explodes with exceptional flavor! It is fast and easy to prepare which makes it ideal for busy week-night dinners. Try this creamy, flavorful Tiger Prawn Yellow Curry with shrimp for a more budget-friendly week-night dinner.
For Weight Watchers and Slimming World:
Weight Watchers Smartpoints = 6 SmartPoints per serving
Slimming World Syns = 6 Syns
SOME OTHER RECIPES WE ARE SURE YOU WILL LOVE:
Lemongrass Chicken Satay Lemongrass chicken satay has all the complex flavors of Thailand, sweet, sour salty and spicy. Grilled over hot coals and served with a spicy peanut sauce.
Saigon Chicken Salad Saigon chicken salad is filled with an abundance of shredded chicken and healthy crisp veggies, sweet mango slices, fresh Thai basil and mint with a tangy lime vinaigrette dressing, chopped salty peanuts, and a spicy peanut sauce.
Beef Pho Beef pho is a layered soup of hot noodles, green scallions, cilantro and thin slices of beef. A rich, hearty, piping hot beef broth is ladled over the beef. It is served with condiments of Thai basil, mint, cilantro jalapeno peppers and lime wedges.
CONNECT WITH SAVOR THE BEST!
Be sure to follow us on our social media accounts
Facebook * Instagram * Pinterest * Twitter * Youtube
Did you make this recipe? We would love to hear from you. Drop us a comment below.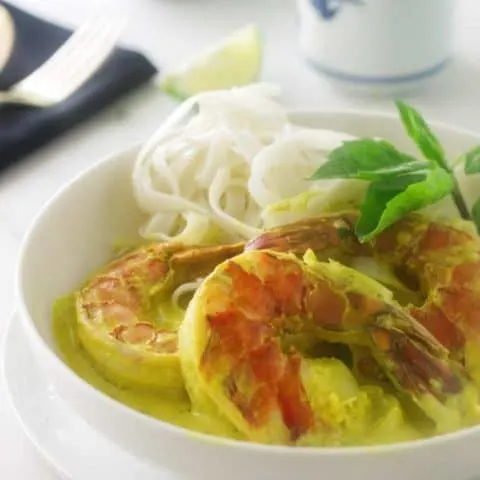 Tiger Prawn Yellow Curry
Tiger prawns in a zesty yellow curry sauce is a savory bounty of textures and tastes. Big fat, juicy tiger prawns team together in a creamy, coconut Thai yellow curry with rice noodles.
Ingredients
8 oz. Thai rice noodles
2 tablespoons toasted sesame oil
1 tablespoon coconut oil
3 green onions, finely sliced
2 cloves garlic, grated or crushed
3 tablespoons Thai curry paste or to taste
2 tablespoons grated ginger root
1 can (13.5 ounces) reduced fat coconut milk
1-2 tablespoon tamari or soy sauce
2 pounds uncooked tiger prawns
1 tablespoon chopped cilantro
Juice of half a lime
Thai basil sprigs for garnish
Instructions
Cook the rice noodles according to the manufactures instructions for HOT noodles. Drain the noodles and toss with the sesame oil.
While the noodles are cooking, add the coconut oil to a large skillet set over medium heat, add the onion slices and garlic. Sauté for 30-seconds then stir in the curry paste and grated ginger root.
Cook for 1 or 2 minutes then stir in the coconut milk and tamarind sauce, blending well. Bring to a gentle boil, then add the prawns and the lime juice. Reduce the heat to low and simmer for 3 minutes. until the prawns have turned a bright pinkish orange
Divide the noodles into 4 serving bowls and spoon the curry sauce and prawns equally into each bowl.
Garnish with chopped cilantro, sprigs, Thai basil and lime wedges.
Notes
Tossing the noodles with oil will prevent them from clumping together.
Any oil can be used but the toasted sesame oil adds an additional layer of flavor.
Tamarind sauce is gluten-free
Soy sauce is not gluten-free as it contains wheat it can be substituted for tamarind sauce if gluten is not an issue.
If tiger prawns are unavailable, buy the largest that you can find that your budget will allow
The prawns will be done when they have cooked into a 'C' shape. An overcooked prawn will be closed.
Do not overcook or the prawns will be tough.
Recommended Products
As an Amazon Associate and member of other affiliate programs, I earn from qualifying purchases.
Nutrition Information:
Yield:

6
Serving Size:

1-1/4 Cups
Amount Per Serving:
Calories:

311
Total Fat:

10g
Saturated Fat:

23g
Trans Fat:

0g
Unsaturated Fat:

5g
Cholesterol:

239mg
Sodium:

532mg
Carbohydrates:

15g
Fiber:

2g
Sugar:

8g
Protein:

37g
Nutrition information is a guideline only, is calculated automatically by third party software, and absolute accuracy is not guaranteed.