If you have Royal Blend rice from RiceSelect then the instructions for cooking the rice are right on the container. However, instructions for the Instant Pot are different. This Instant Pot Royal Blend rice recipe will help you make perfect Royal Blend rice in your pressure cooker.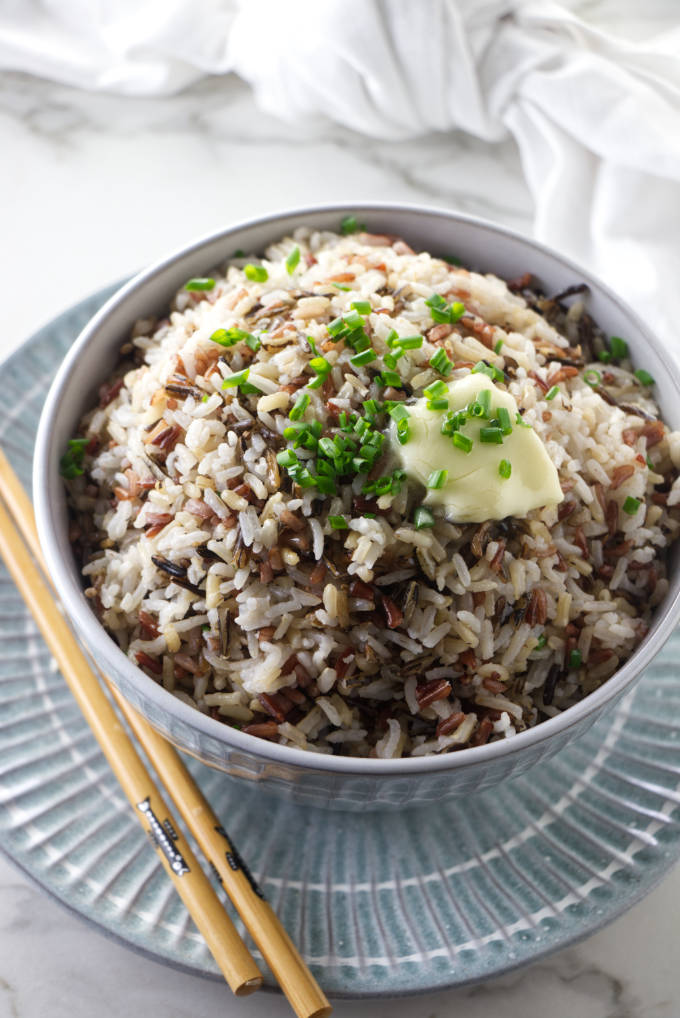 We wanted to include instructions for cooking this rice blend in the Instant Pot for anyone that uses their pressure cooker to cook rice. I use the Instant Pot as a rice cooker quite frequently primarily because it is so convenient.
If you multi-task in the kitchen, this method for cooking rice is very helpful. Just set it and forget it. You don't have to worry about watching a pot or taking it off the stove right away. It's especially convenient for rice varieties that take longer to cook like sprouted brown rice and black rice.
What Is Royal Blend Rice?
Royal Blend rice is a blend of four types of rice. Each rice variety has a unique flavor and they all come together for a delicious side dish.
The four varieties are:
Texmati white rice. Texmati is a cross between Basmati and long-grain white rice. It has a slightly nutty flavor and smells like popcorn when it cooks.

Brown rice. Brown rice is a whole grain, meaning that it still has the most nutritious parts of the grain (the bran and nutrient-packed germ) intact. It is a much healthier option than white rice but takes longer to cook.

Wild rice. Wild rice is actually a grass grain. It is known for its firm texture and nutty flavor and it is a whole grain.

Thai Red rice. With its chewy texture, brilliant color, and earthy taste, Thai red rice makes for great accent rice.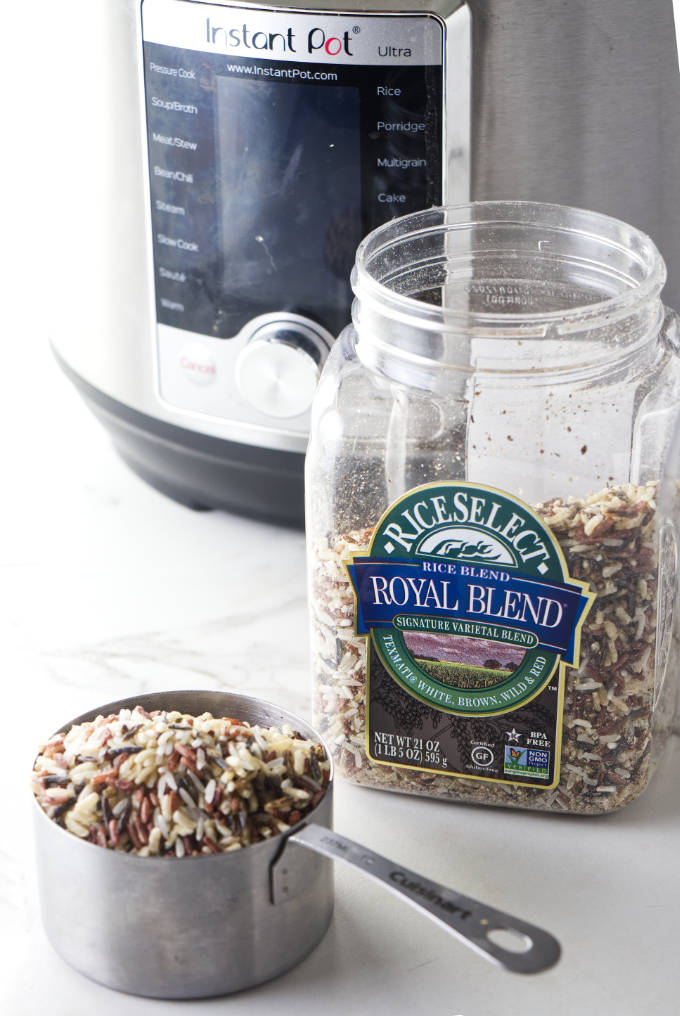 Different Cooking Times:
Since the Texmati rice cooks significantly quicker than the other three rice blends, each of the whole grains have been precooked and dried. That reduces the final cook so the brown rice, red rice, and wild rice will finish cooking at the same time as the Texmati.
The Ingredients
Here is what you need to cook the Royal Blend in the Instant Pot.
Royal Blend rice blend.
Water or chicken broth.
Salt.
Butter (optional).
If you want to add seasonings, this Mediterranean rub or Chili Margarita rub are both delicious.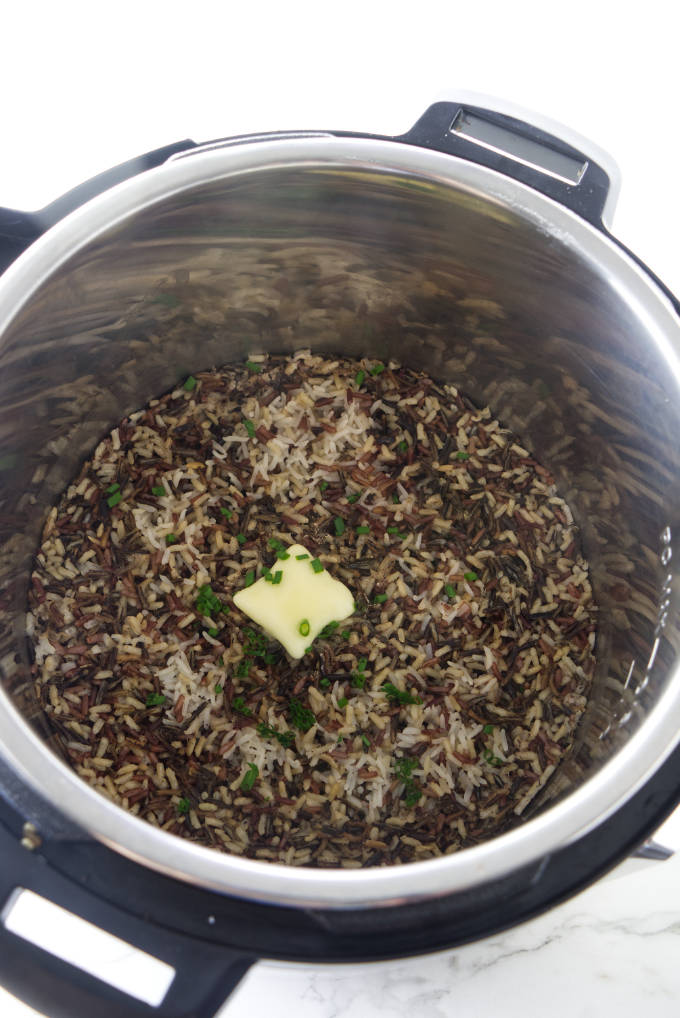 How to Make It:
Here is a brief overview so you can get an idea of what to expect with the recipe. Scroll down to the printable recipe card for all the details.
The recipe is as simple as tossing all the ingredients in the Instant Pot, cooking on high pressure, then allowing the Instant Pot to naturally release pressure.
If you want to make a rice pilaf or make a flavorful rice dish, check out some of the recipe variations that we suggested in our wild blend rice recipe. You can even use this rice blend and fried rice sauce to make a quick pork fried rice.
Helpful Tools:
Some of the following links are affiliates. If you click on these links and purchase something, we may receive a small commission. You don't pay any extra but it will help us keep the lights on.
Some More Recipes We Are Sure You Will Love:
This Instant Pot wild rice soup is brimming with mushrooms and veggies. It is healthy, hearty, and delicious and makes the ultimate comfort food recipe.
Our recipe for chicken with artichokes and olives makes a fantastic family night dinner. The chicken cooks in a tangy lemony broth and gets so tender. Serve it over some basil rice and whip up a snap pea salad for a complete meal.
A savory mixture of cream cheese, salmon, lemon, and fresh herbs gets baked inside a potato crust. This salmon quiche is a tasty and simple dish.
Connect With Savor the Best:
Please follow us on our social media accounts
Facebook * Instagram * Pinterest * Youtube * Twitter
Did you make this recipe? We would love to hear from you. Drop us a comment below.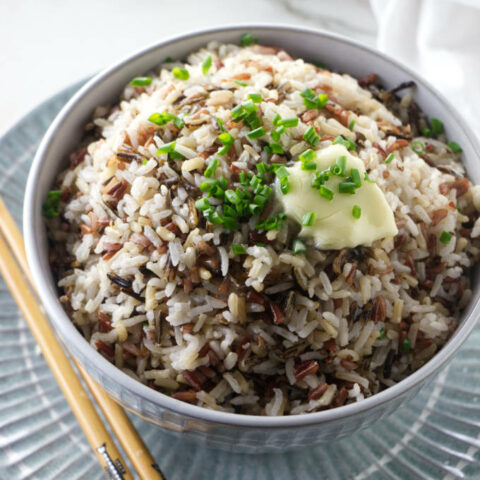 Instant Pot Royal Blend Rice Blend
This is how to cook the Royal Blend Rice Blend by RiceSelect. Don't confuse it with the RiceSelect Whole grain blend.
This blend has Texmati white rice, brown rice, wild rice, and Thai red rice. Since whole grains are mixed with white rice, the whole grain rice was pre-cooked then dried so they would cook at the same rate as the white rice.
Ingredients
1-1/2 cups Royal Blend Rice Blend (Signature Varietal Blend)
1-1/2 cups water or chicken broth
1 teaspoon salt
1 tablespoon butter (optional)
Instructions
Place the rice, water (or broth), and salt in the Instant Pot.
Secure the lid and place the valve in the sealed position.
Cook on high pressure for 3 minutes. Check the label on your rice and make sure it is the correct Royal Blend (Signature Varietal Blend). If you have the Royal Blend with whole grains, it will need to cook on high pressure for 30 minutes.
Allow the Instant Pot to release pressure naturally for 10 minutes then release the rest of the pressure manually.
Notes
Make sure the 'keep warm' setting is turned off. If "keep warm' is on and you leave the rice sitting too long, it will stick to the bottom of the pot.
This is specifically for the Royal Blend Rice Blend by RiceSelect, It has Texmati white rice, pre-cooked brown rice, pre-cooked wild rice, pre-cooked Thai red rice
Nutrition Information:
Yield:

6
Serving Size:

1
Amount Per Serving:
Calories:

92
Total Fat:

2g
Saturated Fat:

1g
Trans Fat:

0g
Unsaturated Fat:

1g
Cholesterol:

6mg
Sodium:

526mg
Carbohydrates:

16g
Fiber:

1g
Sugar:

0g
Protein:

2g
Nutrition information is a guideline only, is calculated automatically by third-party software, and absolute accuracy is not guaranteed.