This is a fabulous soup that is filled to the brim with mushrooms and vegetables. Instant pot wild rice and mushroom soup makes the perfect comfort food dish that is healthy, hearty, and filling. The mushrooms add a beautiful earthy note, while the wild blend rice retains a nice bite.
This dish is quick and easy thanks to your Instant Pot. It's a comforting lunch or dinner on its own, but it can also be served as a starter or side.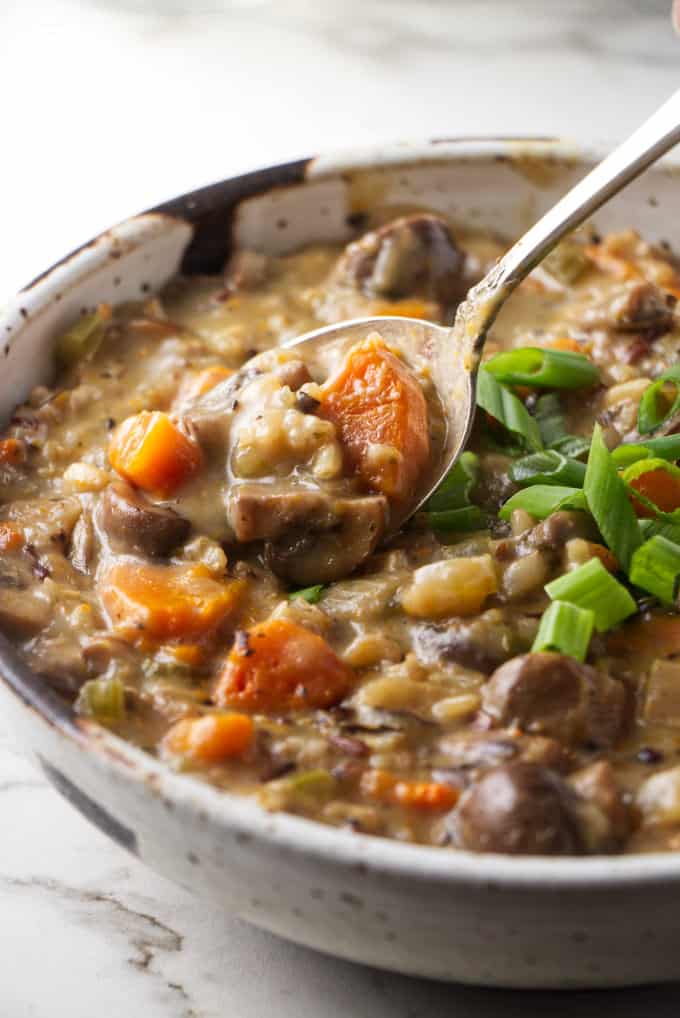 If you're a fan of wild blend rice, check out our instant pot wild blend rice recipe and our chicken vegetable soup with wild rice.
Why you will like instant pot wild blend rice and mushroom soup
We're always looking to create hearty, comforting foods as it starts to get cooler outside. Here's why we know you'll love this recipe:
It takes less than 1 hour to make
You can make a big batch and enjoy leftovers for lunch
The dish is delicious and nutritious, high in fiber and protein as a result of the wild blend rice, broth, and veggies
Ingredients needed for instant pot wild rice and mushroom soup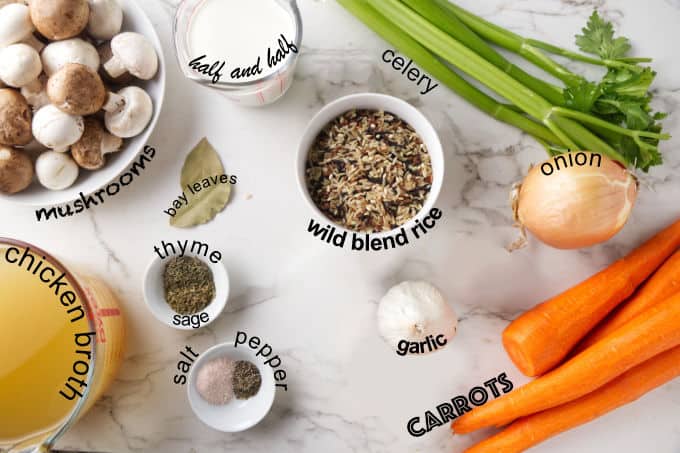 To make this delicious and hearty soup, here's what you'll need to add to your grocery shopping list:
Olive oil.
Yellow onion. White, red, or sweet onions will work as well.
Carrots and celery. Along with the onion, carrots and celery are an essential flavor base. We loaded this soup up with plenty of veggies.
Mushrooms. We used a blend of white and crimini mushrooms in the photos but any blend of mushrooms will work. It may seem like a lot of mushrooms when you put them in the Instant Pot but they will cook down.
Garlic. Flavor, flavor, flavor. We always add an extra clove or two but we are garlic fanatics. Have you seen our Lebanese garlic sauce? It is definitely for garlic lovers.
Chicken broth. You could use vegetable broth or beef broth as well.
Wild blend rice. We used Lundberg's Wild Blend rice in the photos but this soup works with any blend of wild rice. It also works with 100% wild rice (as in, not a blend of other rice).
Salt and pepper. Flavor enhancer. Don't skip these, especially the salt. It doesn't take much salt to bring out a ton of flavor.
Dried sage, thyme, and bay leaves. These herbs go so well with the earthy flavors of the mushrooms and wild rice.
Half and half. Adds creaminess and richness to the soup but if you want to reduce the fat you can skip this ingredient.
Cornstarch. The cornstarch is optional if you want to thicken the soup. If you use it, make sure you add it at the end.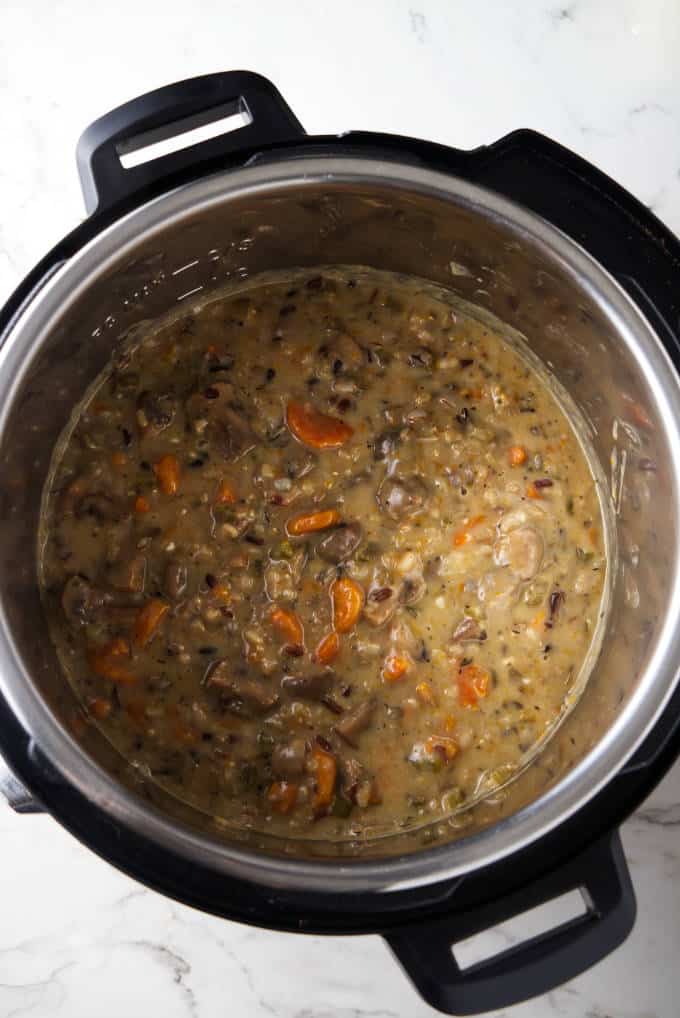 How to make instant pot wild blend rice and mushroom soup
The basic steps are as follows:
Sauté the aromatics: Set instant pot to sauté mode. Sauté the veggies in a little olive oil. When the veggies get soft, stir in the garlic.
Add broth: Deglaze the bottom of your instant pot with broth. Stir. (Since the veggies and mushrooms release a lot of liquid, you may not need to deglaze the pot.)
Add rice, herbs, and seasonings: Stir in the rice, herbs, and seasonings. Place the lid on top. Set the valve to the sealed position.
Cook: Cook on high pressure for 28 minutes, then let the pressure release naturally for 10 minutes. Turn the valve to release the rest of the steam.
Add the final touches: Remove the bay leaves and stir in the half and half.
Optional step to thicken the soup: Set the pot to sauté mode. Add a slurry of cornstarch and water. Cook for 4 to 5 minutes.
Serve!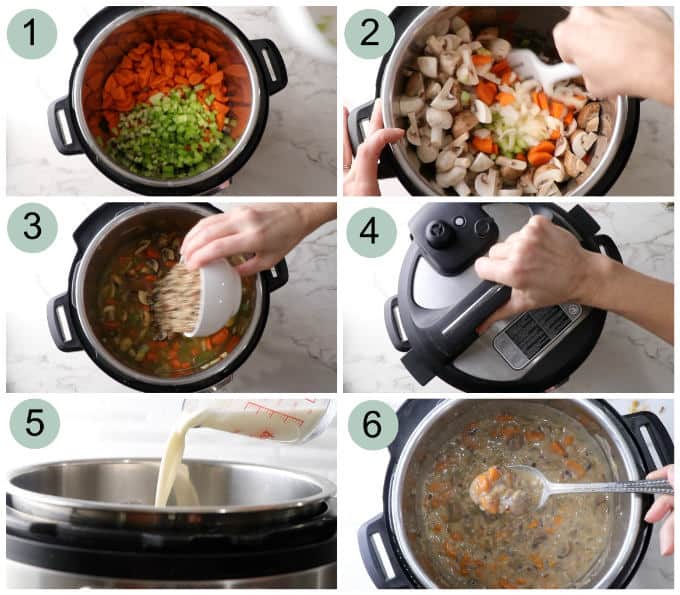 Tips for recipe success
To nail this recipe, keep these tips and tricks in mind:
The photos and video show the soup with Lundberg wild blend rice however, any standard wild rice will work beautifully
Wild rice blends will result in a thicker consistency, while 100% wild rice will result in a more brothy consistency. The thickness of your soup will vary depending on the types of rice in the blend you use. It is primarily because some types of rice are more starchy than others.
If you end up with a brothy consistency, you can take the optional step of adding a cornstarch and water slurry to thicken the soup if you wish
Do not use instant rice or white rice, as it will get mushy with this recipe.
Frequently asked questions
How long does this soup keep in the refrigerator?
This soup keeps for 3 to 4 days in the refrigerator. Store it in an airtight container. Let it cool to room temperature if you plan to store it in one big batch.
Do not let it sit out for more than 2 hours per FDA guidelines. Alternatively, you can portion out the hot soup in smaller containers and place them spaced out in the refrigerator.
Can you freeze this soup?
Yes! If you make a large enough batch that you won't be able to enjoy within a few days, freeze it. Portion out the soup into smaller airtight containers for easy thawing later. Freeze and enjoy within 3 months.
To thaw, you can microwave your container for several minutes, as long as it is heatproof. Alternatively, you can thaw in the refrigerator for a few hours and reheat on your cooktop.
What can you serve with wild rice and mushroom soup?
This dish is comforting, hearty, and filling. It can be enjoyed on its own for a satisfying lunch or dinner. However, you could also serve a small cup as an appetizer or side.
For lunch, enjoy this soup alongside a sandwich, green salad or a chunk of sourdough bread. For dinner, this soup makes a great appetizer. Follow up with grilled, roasted, or braised meats and vegetables.
If you do not have an instant pot, can you make this recipe?
Yes! You can make this recipe without an instant pot if you wish. It will take a little longer to cook. Once you add the rice, bring the broth to a boil and cover it with a lid. Reduce the heat to a simmer. Check the doneness of the rice in 45 minutes. Add cooking time as needed.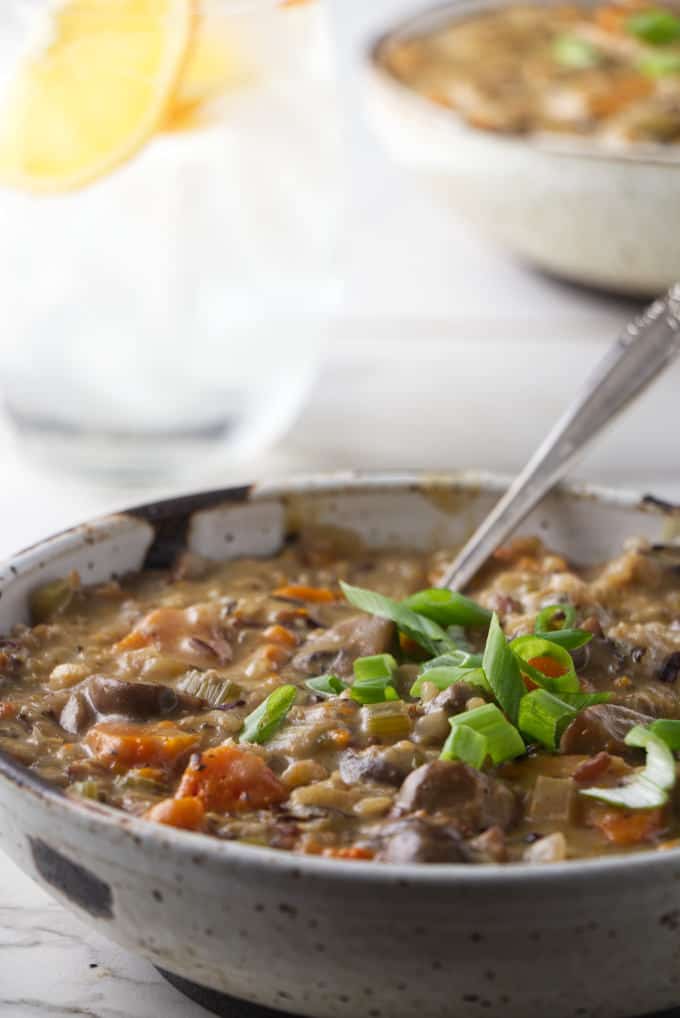 Helpful Tools
Some of the following links are affiliates. If you click on these links and purchase something, we may receive a small commission. You don't pay any extra but it will help us keep the lights on.
SOME OTHER RECIPES WE ARE SURE YOU WILL LOVE:
This chicken and rice bake is a delicious combination of the most basic ingredients. But don't let basic fool you. This is an absolutely delicious dinner and we know you will love it.
Instant Pot pork fried rice is a really fast take on the typical fried rice. It definitely isn't like traditional fried rice that uses leftover rice. We started with uncooked rice so you don't have to wait for tomorrow's leftover rice.
This hearty and comforting Instant Pot taco soup will jazz up your taco night. It's a breeze to make.
CONNECT WITH SAVOR THE BEST!
Be sure to follow us on our social media accounts
Facebook * Instagram * Pinterest * Twitter * Youtube
Did you make this recipe? We would love to hear from you. Drop us a comment below.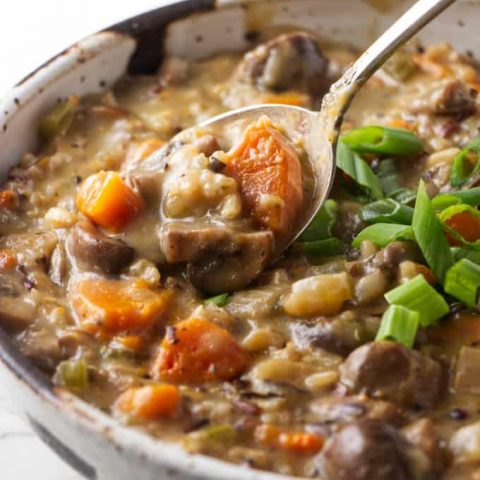 Instant Pot Wild Rice and Mushroom Soup
Yield: 6 servings
Prep Time: 15 minutes
Cook Time: 28 minutes
Additional Time: 10 minutes
Total Time: 53 minutes
This soup is loaded with mushrooms and veggies. If you use a wild rice blend it will be much thicker than if you use standard wild rice but either option works in this soup. Finish it off with the half and half at the end so the dairy doesn't curdle.
Ingredients
2 tablespoons olive oil
1 yellow onion, chopped
4 large carrots, chopped
4 stalks of celery, chopped
16 ounces fresh mushrooms, sliced
4 to 5 cloves of garlic, minced
5 cups chicken broth
1 cup uncooked wild blend rice
1 teaspoon salt
1/2 teaspoon pepper
1 teaspoon dried sage
1 teaspoon dried thyme
2 bay leaves
Add last
Optional step for thicker soup:
2 tablespoons cornstarch
1/4 cup cold water
Instructions
Set the Instant Pot to saute mode and pour in the olive oil.
When the pot is hot add the onion, carrots, celery, and mushrooms. Saute for 5 to 7 minutes until the veggies are softened. Stir in the garlic for 30 seconds.
Pour in the broth. Use a spatula or wooden spoon to scrape the bottom of the pot in case any bits of food got stuck.
Add the wild rice, salt, pepper, sage, and thyme.
Place the lid on and make sure the valve is in the sealed position. Cook on high pressure for 28 minutes.
Let the pressure release naturally for 10 minutes then turn the valve to release the rest of the steam.
Open the lid and remove the bay leaves. Stir in the half and half.
To thicken the soup:
If you want the soup thicker, set the pot to saute mode. Combine the cornstarch and water in a bowl and whisk until smooth. Stir into the instant pot and cook on saute mode for 4 to 5 minutes.
Notes
When you add the veggies and mushrooms to the pot it will appear very full. After you saute the veggies and mushrooms, they will cook down and leave room in the pot.
This recipe was originally written using Lundbergs Wild Blend rice. It also works well with standard wild rice. Do not use instant rice or white rice.
If you use a wild blend rice like Lundberg's Wild Blend, the soup will be pretty thick. If the rice is 100% wild rice (and not a blend), the soup will be more broth-like in consistency.
Cooking times for high altitudes:
Over 3000 feet= 30 minutes
Over 4000 feet = 32 minutes
Over 5000 feet = 33 minutes
Recommended Products
As an Amazon Associate and member of other affiliate programs, I earn from qualifying purchases.
Nutrition Information:
Yield: 6
Serving Size: 1
Amount Per Serving:
Calories: 197
Total Fat: 10g
Saturated Fat: 4g
Trans Fat: 0g
Unsaturated Fat: 6g
Cholesterol: 18mg
Sodium: 1196mg
Carbohydrates: 23g
Fiber: 4g
Sugar: 7g
Protein: 6g
Nutrition information is a guideline only, is calculated automatically by third-party software, and absolute accuracy is not guaranteed.