Chicken-Vegetable Soup with Wild Rice
My freezer will usually have several different kinds of soup in it at any given time, especially during the cold, gloomy days of winter. There are still some smokey split-pea soup containers and a couple of the big bean soup, but the supply is running low.
When I make a pot of soup, I don't mess around with small batches but use my largest soup pot. Today I made a nice batch of chicken-vegetable soup with wild rice.
This is a really flavorful and filling soup, as it is thick with chicken chunks, vegetables and wild rice and works for either lunch or dinner. I used a whole rotisserie chicken that I purchased at Costco. Their rotisserie chickens are one of the best buys at Costco and are so versatile.
They have saved me many times when I have not pre-planned dinner or come home late and too tired to do much cooking. Just add a quick salad and a steamed veggie and it is dinner. They are great for casseroles, sandwiches, pizza, salads and all sorts of good tasting recipes.
This pot of chicken-vegetable soup with wild rice is easy to prepare, removing the cooked chicken meat from the bones, skin and fat takes more time than chopping the veggies. Be sure to save the juices in the bottom of the chicken container to add to the soup pot as it is pure flavor.
Yield: 20
Chicken-Vegetable Soup with Wild Rice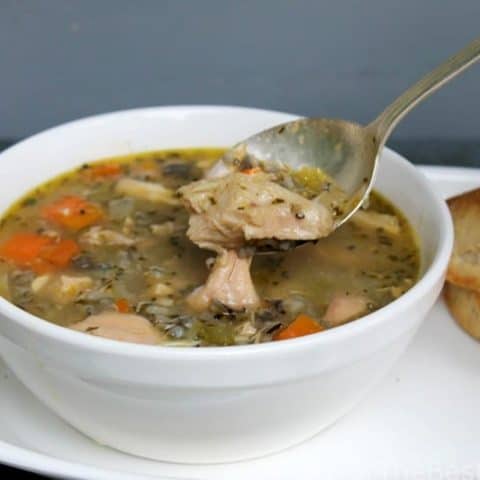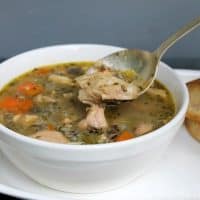 A hearty soup made with rotisserie chicken, vegetables and wild rice that is both nutritious and filling.
Prep Time 30 minutes
Active Time 1 hour
Total Time 1 hour 30 minutes
Ingredients
1 cup wild rice, rinsed
1-1/2 cup water
2 tablespoons olive oil
2 cups diced onion, about 1 large onion
4-5 cloves garlic, finely chopped
2 cups diced carrots
2 cups diced celery
6 cans, 14.5-ounces each, low-sodium chicken stock
4 cups water
1 cup white wine
1 teaspoons kosher salt
1/4 teaspoon freshly ground black pepper
1 whole rotisserie chicken, meat removed from bones, skin and fat and meat chopped, about 3 cups
2-3 bay leaves
2 tablespoons fresh thyme leaves, chopped
Instructions
To a medium-size saucepan, add the rinsed rice and water, and over medium heat bring it to a boil, reduce the heat to low and cook for 20 minutes. The rice will finish cooking after added to the soup.
While the rice is cooking:
In a large soup pot, over medium-high heat add the olive oil and onions, sauté for 2 minutes or until soft. Add the garlic, carrots and celery, chicken stock, water, wine, salt and pepper. Taste for seasoning and adjust if necessary.
Add the chopped chicken meat, partially cooked rice, bay leaves and chopped thyme. Bring the soup to a boil, reduce the heat to low and cook for 45 minutes. Remove bay leaves and serve.
Notes
The bones, fat and skin from the chicken have a lot of flavor and can be boiled separately and used as the stock in the soup.
Nutrition Information
Yield
20
Serving Size
1
Amount Per Serving
Calories 106
Total Fat 4g
Saturated Fat 1g
Trans Fat 0g
Unsaturated Fat 3g
Cholesterol 25mg
Sodium 221mg
Carbohydrates 7g
Fiber 1g
Sugar 2g
Protein 8g
Nutrition information is a guideline only, is calculated automatically by third party software, and absolute accuracy is not guaranteed.