There is nothing more comforting than warm, hearty, chicken soup on a cold day. This homemade chicken soup with wild rice and vegetables starts with a shortcut by using a pre-cooked rotisserie chicken. You could use any leftover chicken or even start completely from scratch by cooking a whole chicken or some chicken breasts.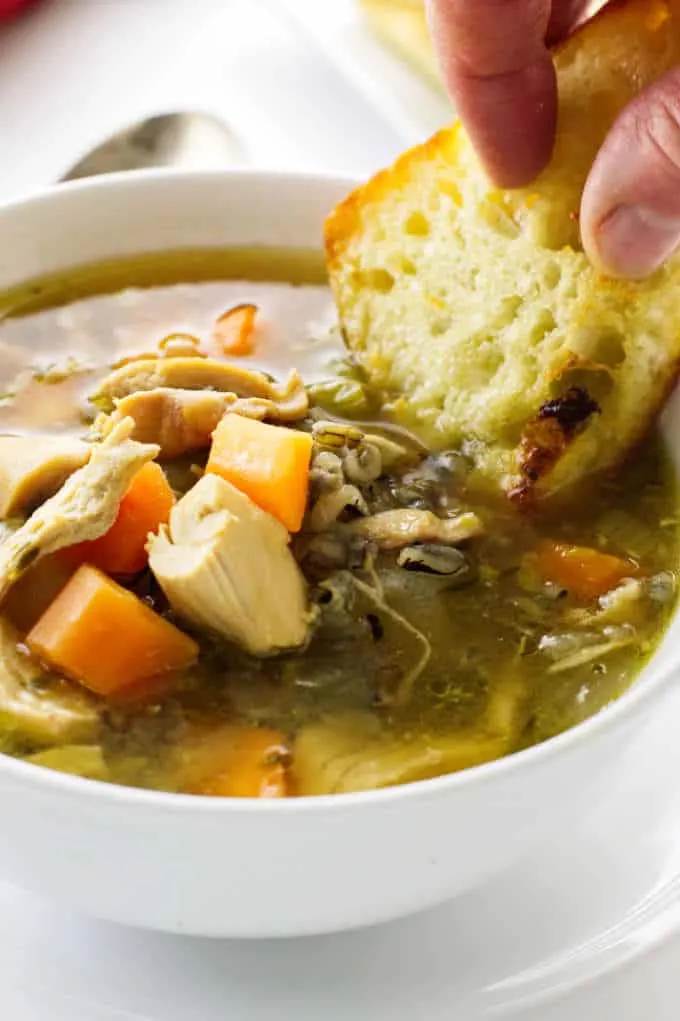 My freezer will usually have several different kinds of soup in it at any given time, especially during the cold, gloomy days of winter. There are still some smokey split-pea soup containers and a couple of the big bean soup, but the supply is running low.
When I make a pot of soup, I don't mess around with small batches but use my largest soup pot. Today I made a nice batch of chicken-vegetable soup with wild rice.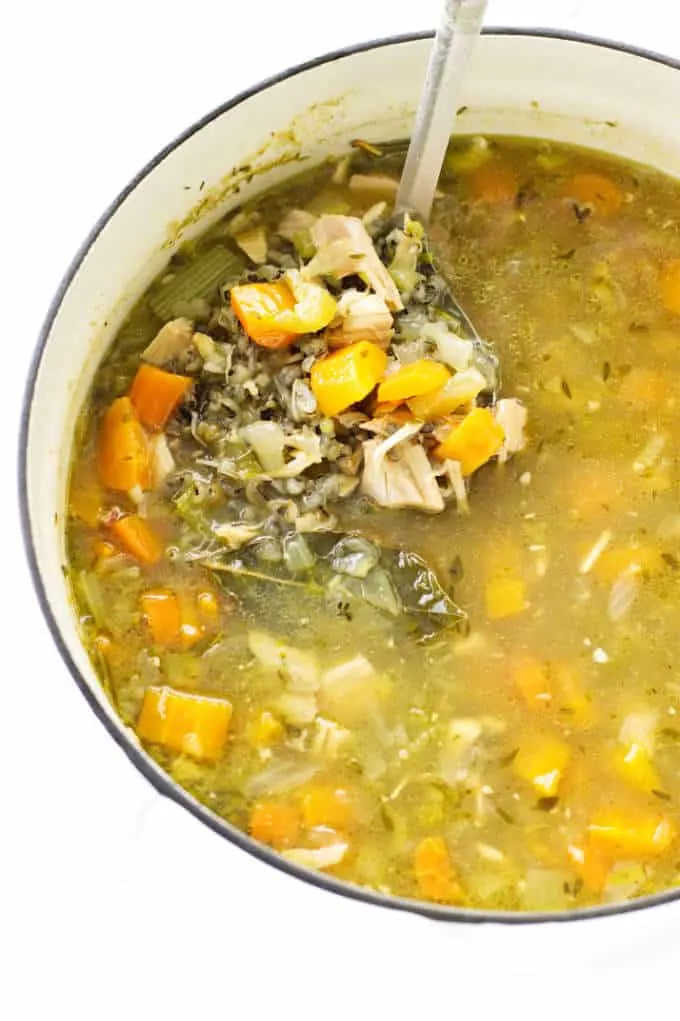 This is a really flavorful and filling soup, as it is thick with chicken chunks, vegetables and wild rice and works for either lunch or dinner. I used a whole rotisserie chicken that I purchased at Costco. Their rotisserie chickens are one of the best buys at Costco and are so versatile.
They have saved me many times when I have not pre-planned dinner or come home late and too tired to do much cooking. Just add a quick salad and a steamed veggie and it is dinner. They are great for casseroles, sandwiches, pizza, salads and all sorts of good tasting recipes.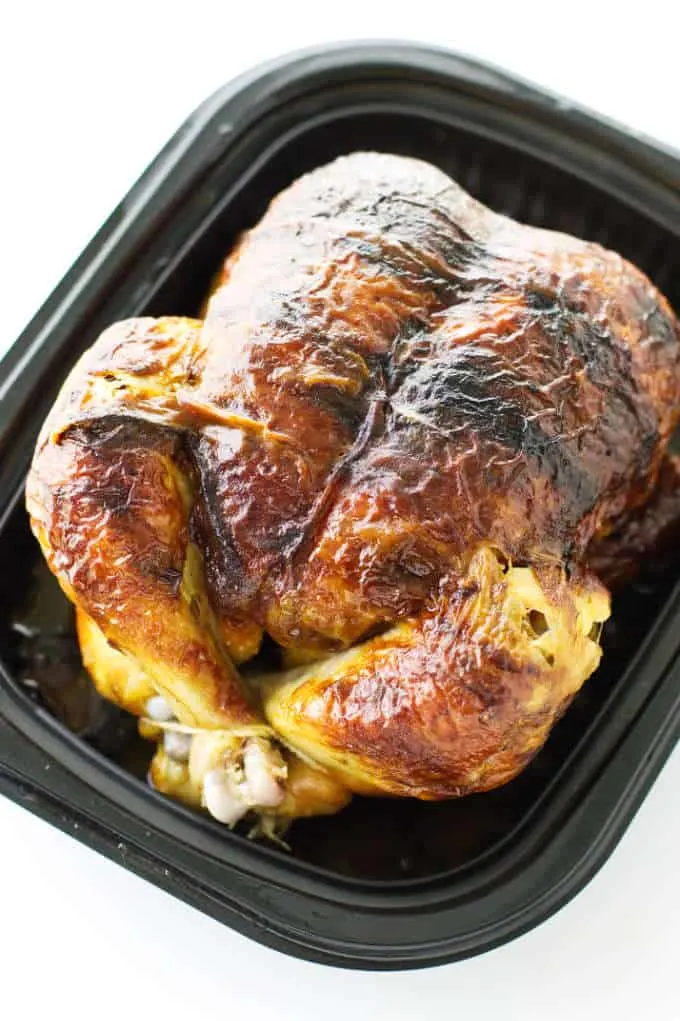 This pot of chicken-vegetable soup with wild rice is easy to prepare, removing the cooked chicken meat from the bones, skin and fat takes more time than chopping the veggies. Be sure to save the juices in the bottom of the chicken container to add to the soup pot as it is pure flavor.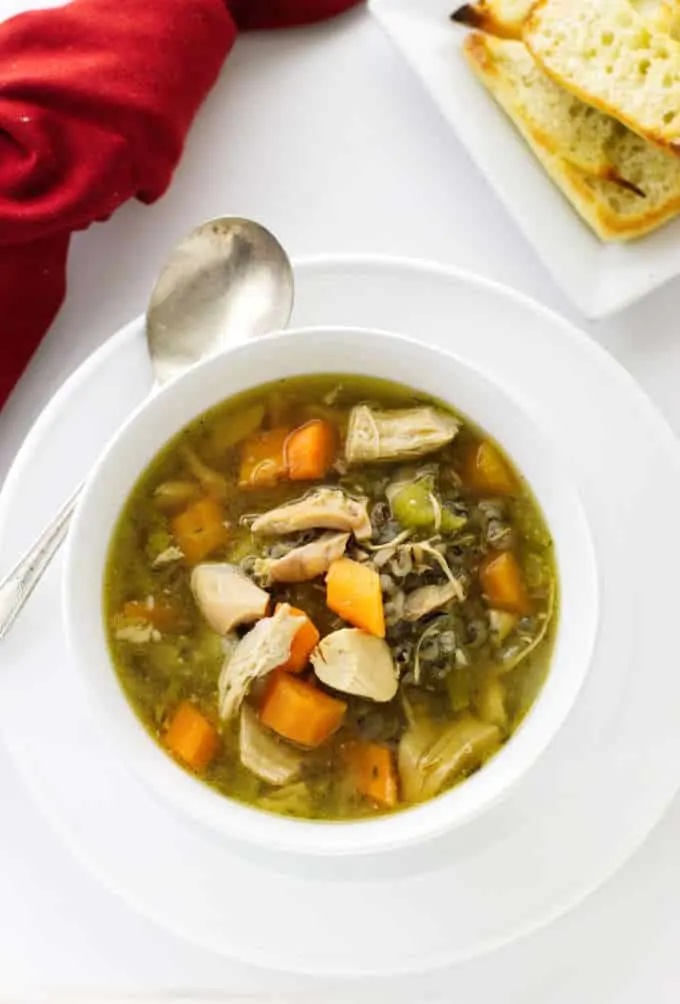 How to store leftover chicken and wild rice soup:
This soup will store in the fridge for up to 4 days. The rice will soak up some of the broth so keep some extra chicken stock on hand. When it is time to warm the soup up, you can add some additional broth if you would like.
If you want to store the soup longer then place it in a freezer-proof container and store it in the freezer for up to 6 months. To freeze large batches, I like to use heavy-duty freezer bags because they are not bulky and they stack easily.
When I freeze individual servings for my lunches, I like these Deli food storage containers. They are BPA-free and microwavable. It is easy to grab a container of soup in the morning while I head off to work. By the time lunch rolls around it is almost completely thawed and just needs a quick zap in the microwave.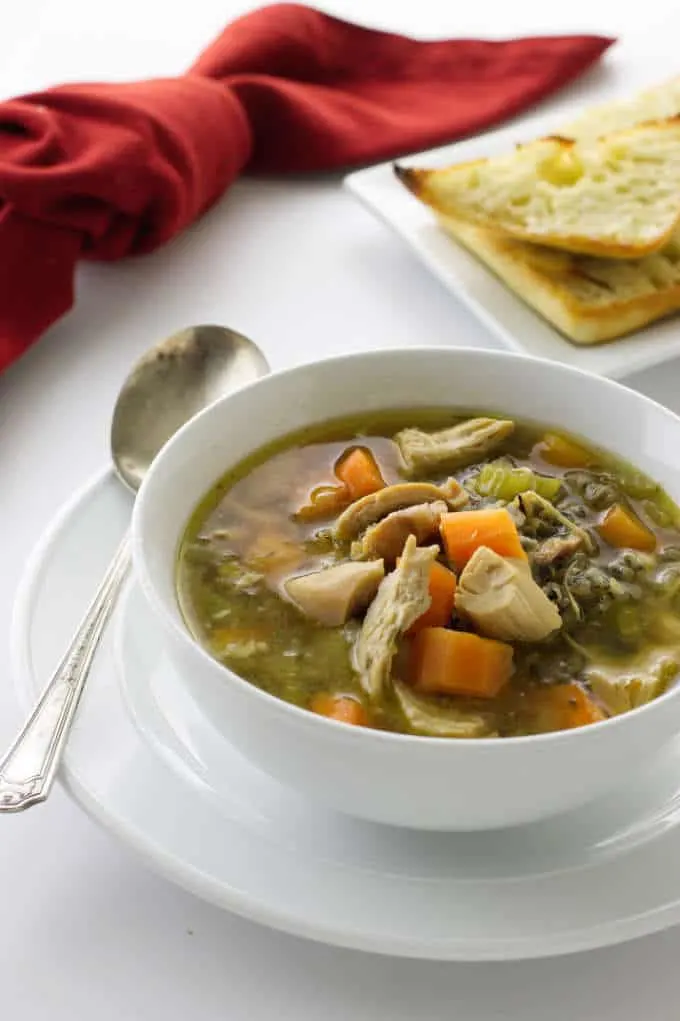 SOME OTHER RECIPES WE ARE SURE YOU WILL LOVE:
This spicy chipotle chicken tortilla soup has some serious flavors and a generous helping of chicken. The homemade tortilla strips are better than crackers and when they soak into the soup they thicken it up a bit.
This turkey vegetable farro soup is made with leftover turkey and tons of veggies. It is bursting with flavor and it is only 200 calories per serving. The farro gives the soup some great texture and a nutty bite.
Our Italian lentil soup with sausage is thick and hearty, packed with veggies, and full of flavor. This soup is filling enough to be a stand-alone main course dinner.
CONNECT WITH SAVOR THE BEST!
Be sure to follow us on our social media accounts
Facebook * Instagram * Pinterest * Twitter * Youtube
Did you make this recipe for chicken soup with wild rice? We would love to hear from you. Drop us a comment below.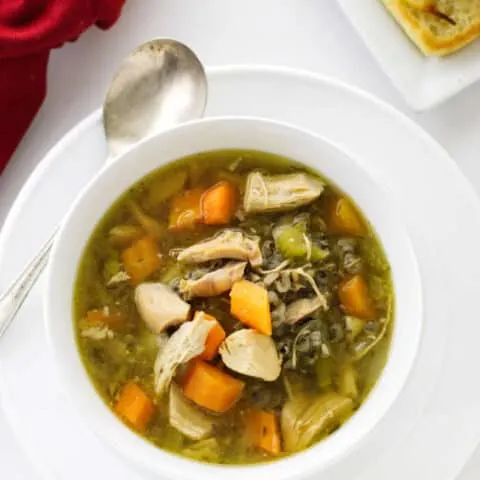 Chicken-Vegetable Soup with Wild Rice
Total Time:
1 hour
30 minutes
A hearty soup made with rotisserie chicken, vegetables and wild rice that is both nutritious and filling.
Ingredients
1 cup wild rice, rinsed
1-1/2 cup water
2 tablespoons olive oil
2 cups diced onion, about 1 large onion
4-5 cloves garlic, finely chopped
2 cups diced carrots
2 cups diced celery
6 cans, 14.5-ounces each, low-sodium chicken stock
4 cups water
1 cup white wine
1 teaspoons kosher salt
1/4 teaspoon freshly ground black pepper
1 whole rotisserie chicken, meat removed from bones, skin and fat and meat chopped, about 3 cups
2-3 bay leaves
2 tablespoons fresh thyme leaves, chopped
Instructions
To a medium-size saucepan, add the rinsed rice and water, and over medium heat bring it to a boil, reduce the heat to low and cook for 20 minutes. The rice will finish cooking after added to the soup.
While the rice is cooking:
In a large soup pot, over medium-high heat add the olive oil and onions, sauté for 2 minutes or until soft. Add the garlic, carrots and celery, chicken stock, water, wine, salt and pepper. Taste for seasoning and adjust if necessary.
Add the chopped chicken meat, partially cooked rice, bay leaves and chopped thyme. Bring the soup to a boil, reduce the heat to low, cover the pot and simmer for 45 minutes. Remove and discard the bay leaves and serve.
Notes
The bones, fat and skin from the chicken have a lot of flavor and can be boiled separately and used as the stock in the soup.
Nutrition Information:
Yield:

20
Serving Size:

1 Cup
Amount Per Serving:
Calories:

106
Total Fat:

4g
Saturated Fat:

1g
Trans Fat:

0g
Unsaturated Fat:

3g
Cholesterol:

25mg
Sodium:

221mg
Carbohydrates:

7g
Fiber:

1g
Sugar:

2g
Protein:

8g
Nutrition information is a guideline only, is calculated automatically by third party software, and absolute accuracy is not guaranteed.