This Turkey Vegetable Farro soup is the perfect recipe for your leftover turkey. It is bursting with flavor and it only has 200 calories per serving.
Made with a rich turkey bone broth, lots of leftover turkey chunks, a heap of fresh vegetables and just the right amount of healthy, high fiber farro.
A hot bowl of soup is just about my favorite lunch on these cold, wet and dreary days. It can lift my mood from ho-hum to a high-five in no time at all.
Turkey Bone Broth:
To make this soup I thawed out the turkey leftover chunks and the carcass that still had a lot of goodies on the bones. First I tossed those bones in a big kettle with some aromatics and simmered it overnight to give me a rich, yummy bone broth.
This bone broth is very similar to our Chicken Broth with the turkey bones substituted for the chicken bones. I also used the same typical aromatic vegetables:
Onion
Celery
Garlic
Carrots
Thyme
Rosemary
Whole Peppercorns
These ingredients make such a flavor-packed base for your soup and it is so easy to do. Break up the turkey carcass to fit into a large kettle, fill with cold water and add your aromatic vegetables and seasoning. No fancy chopping, even the garlic head isn't peeled, just cut in half, tie the fresh herbs of choice in a bundle and drop in the kettle. One caveat though….if you want a clear broth, just bring to a boil then reduce it to a simmer. Boiling will cause cloudiness in the broth.
The next day let it cool off, then strain it into a soup pot and discard the remains. That good, nutritious broth became the basis of this turkey vegetable farro soup.
Make the Turkey Vegetable Farro Soup:
To finish off the soup I added the meat picked from the bones, the leftover turkey chunks and a variety of vegetables, fresh herbs, and the uncooked farro grains. After simmering for an hour or so the flavors merged together for an amazing soup. Ladle the soup into big soup bowls and serve with some wholesome bread. We love the multi-grain bread from Costco!
More Soup Recipes: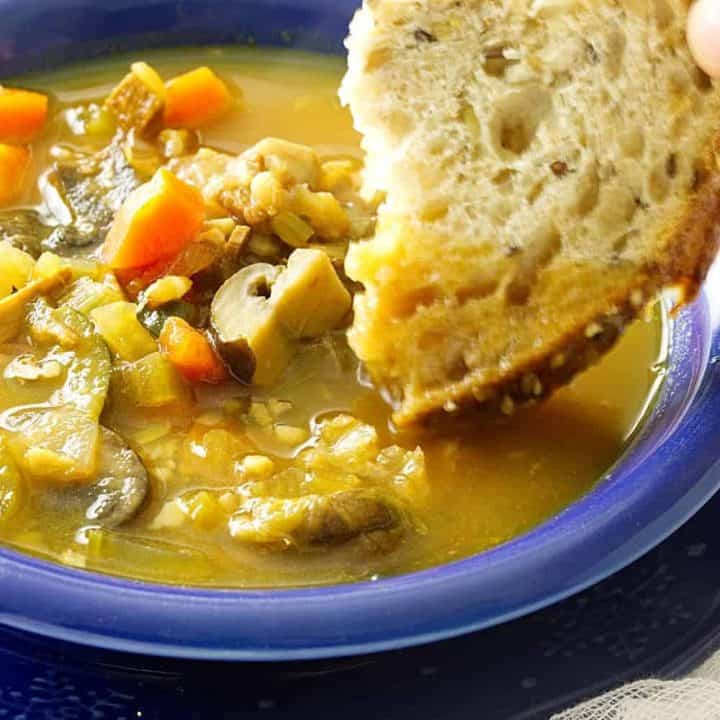 Turkey Farro Soup with Vegetables
Cook Time:
1 hour
15 minutes
It is hard to beat a good homemade soup on a cold winter day, especially when it is full of healthy ingredients. This Turkey Farro Soup starts with a rich turkey bone broth and makes use of leftover turkey. The vegetables and farro make this soup a hearty and filling meal.
Ingredients
2 tablespoons olive oil
1 large onion, chopped
3-4 celery ribs, sliced
4 large carrots, peeled and cut into 1/2-inch cubes
2 medium zucchini, cut into 1/2-inch cubes
3-4 cloves garlic, chopped
8-oz. sliced mushrooms
2 cans diced tomatoes (14.5 oz. each)
3 tablespoons tomato paste
4 cups cooked turkey, chopped inro large chunks
12 cups turkey or chicken bone broth or canned chicken broth
1 bundle of fresh herbs, thyme, rosemary, oregano, tied with string
3 bay leaves
2 teaspoons sea salt (or to taste)
1/2 teaspoon black pepper
2 cups un-cooked farro
Instructions
In a large Dutch oven or soup pot, set over medium-high, add the oil and when it is heated add the onion, celery, carrots and zucchini.
Cook until slightly softened, add the garlic and when it is fragrant stir in the mushrooms tomatoes, tomato paste and turkey. Add the turkey or chicken broth, bundle of fresh herbs, bay leaves, salt/pepper and the 2 cups of uncooked farro. Reduce the heat to low and simmer until the farro is cooked, about 1 hour.
Remove and discard the bay leaves and herb bundle. Ladle into soup bowls and enjoy!
Notes
Try our Chicken Bone Broth recipe and substitute the leftover turkey bones.
For a clear broth, just bring to a boil then immediately reduce the heat to low and simmer overnight.
Boiling the bone broth will cause the broth to become cloudy.
If using left over cooked farro add it at the end of the cooking time as it will only need to reheat in the hot soup.
Recommended Products
As an Amazon Associate and member of other affiliate programs, I earn from qualifying purchases.
Nutrition Information:
Yield:

14
Serving Size:

1-1/2 Cups
Amount Per Serving:
Calories:

202
Total Fat:

4.5g
Saturated Fat:

1.1g
Cholesterol:

14mg
Sodium:

800mg
Carbohydrates:

25g
Fiber:

5g
Sugar:

5g
Protein:

15g
Have you made this Turkey Vegetable Farro Soup? We would love to see a picture. Tag us on
Instagram
.