This Instant Pot taco soup has all the flavors you love about beef tacos in a hearty bowl of soup. This is comfort food at its best and it is so easy to make.
We used our homemade taco seasoning in the soup but you could use a seasoning packet if you want. Either way, this is a hearty soup that is full of zesty taco flavor.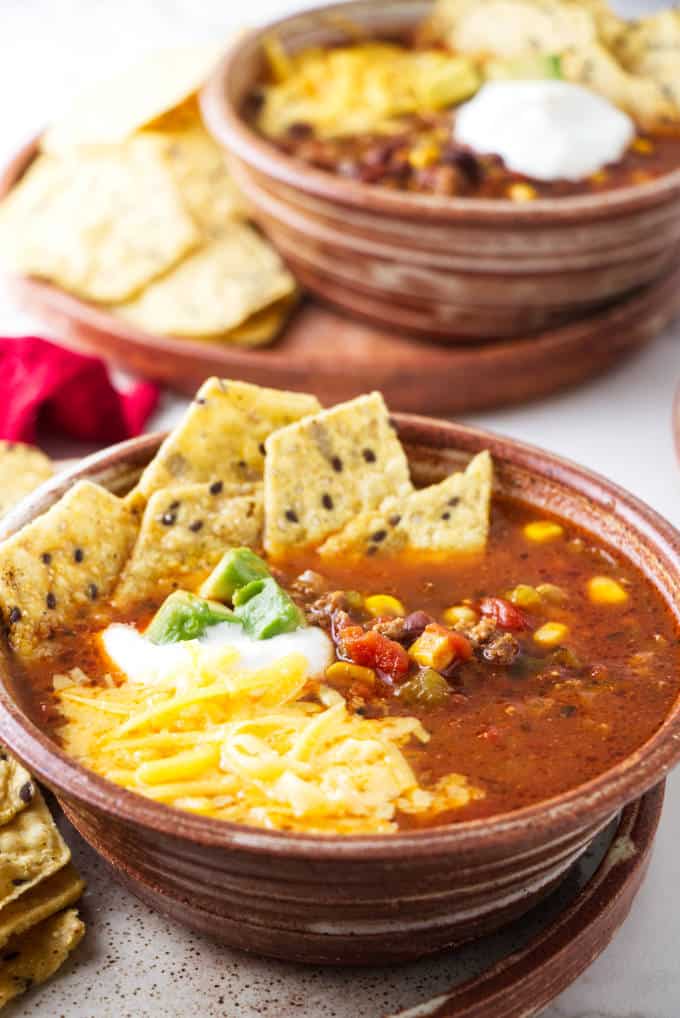 Most people might conjure up images of fish tacos, street tacos or taco salad from the word 'taco'. But how about some taco soup? It has all the Tex-Mex flavors of tacos but it is even easier to make than traditional tacos.
Load it up with plenty of toppings. The kind of toppings that you would use in your tacos. Instead of using tortilla shells, we use tortilla chips which will actually thicken the soup if you let them soak up the broth.
I like to go a little crazy with the toppings. Especially the tortilla chips and cheese. In case you are wondering why the tortilla chips in the photos have freckles on them, it's because they are multigrain tortilla chips and my latest obsession. They even have ancient grains in them. Good, healthy chips!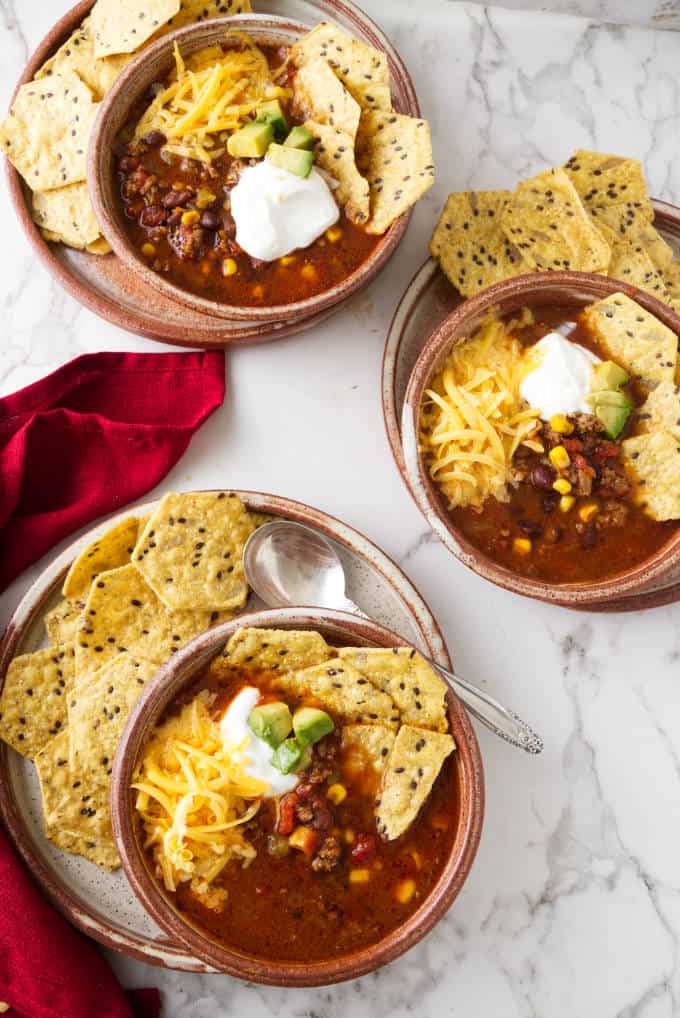 Ingredients for Instant Pot taco soup.
Onion and garlic. I used a sweet Walla Walla onion but you can use whatever you have on hand. Yellow, white or red onions will all work.
Ground beef. Use lean ground beef for the best results.
Taco seasoning. One seasoning packet or a homemade blend.
Beef or chicken broth. Either one will be tasty.
Canned crushed tomatoes. I used one large 28-ounce can. You can sub with two 15-ounce cans. The extra 2 ounces won't make a difference.
Canned corn. You can sub fresh or frozen corn.
Black beans. Or you can cook a batch of Instant Pot black beans to use in the soup.
Canned diced green Chiles. These are pretty mild but they add a great fire-roasted flavor.
Toppings. Add all your favorite taco toppings. Instead of a taco shell, use tortilla chips. See the list below for suggestions for toppings.
Here are some ideas for toppings.
Tortilla chips.
Chopped onions or scallions.
Cheese.
Avocado.
Cilantro.
Pico de Gallo.
Sour cream.
The nutrition value in the recipe card below does not include the toppings.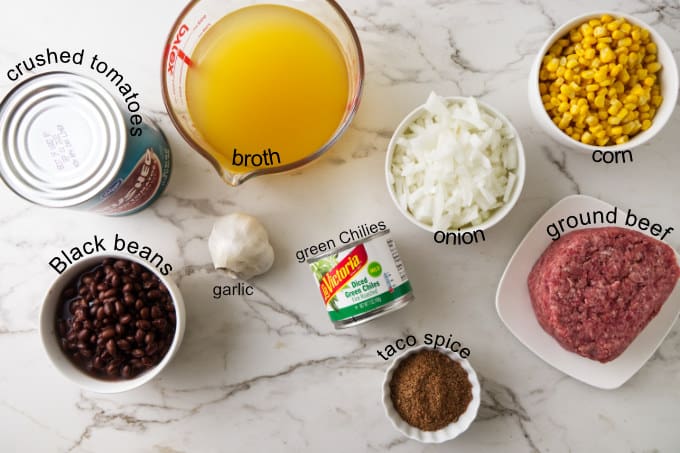 How to make Instant Pot taco soup.
Here is a quick summary of the process so you can see how easy this is to make. Make sure you scroll to the printable recipe card for all the deets.
Cook the onion and garlic on the sauté setting of the Instant Pot.
Add the ground beef and cook til brown then add the seasoning.
Pour in the broth and deglaze the bottom of the Instant Pot.
Add the rest of the ingredients, seal the lid, and cook on high pressure.
Let the Instant Pot release pressure naturally for 10 minutes then release the rest of the pressure and serve while still hot.
Tips for success.
If you don't have a very lean ground beef then you will want to remove some of the fat after you cook the ground beef. The best way to do that is to use a turkey baster (bulb syringe) to slurp up the greasy fat.
Drain the beans before you add them to the soup. If you want to cook your own black beans then substitute 1-1/3 cups of pre-cooked beans.
Drain the canned corn before you add it to the pot. You could also substitute 1-1/3 cups of fresh or frozen corn kernels.
Make sure you deglaze the Instant Pot after you brown the ground beef. Deglazing is just a matter of removing the cooked-on bits from the bottom of the pot. Adding liquid like the broth makes it so easy. If you skip this step you could have the Instant Pot give you a burn notice.
This is a brothy soup with a lot of chunky beef, veggies and beans. The broth will get slightly thickened if your taco seasoning has cornstarch. It will also thicken up quite a bit if you add crushed tortilla chips to the bowl. The chips give it body and a taco-esque feel.
Frequently asked questions.
Can I freeze this soup? Yes! This taco soup freezes well. Place it in freezer-proof containers and freeze it for up to 4 months.
Is taco soup healthy? This is a pretty healthy soup especially if you use lean ground beef. It is packed full of protein and has plenty of fiber with the beans and corn. We can't vouch for the toppings though. The cheese and corn chips will change the 'health factor' pretty quickly but you have complete control over how many toppings you use.
Can I use ground turkey? Yes! You can substitute ground turkey or ground chicken which will make the soup even leaner.
Is taco soup gluten-free? This soup is gluten-free. If you are serious about keeping the gluten out then make sure you choose gluten-free corn or tortilla chips for the toppings. Seriously it just doesn't say "taco soup" unless you have the chips. 😉
How long can I store this soup in the fridge? You can store your taco soup in the fridge for up to 4 days. It actually tastes better the next day after it has time for all the flavors to blend. If you have any left after 4 days, you should divide it into smaller portions and freeze it.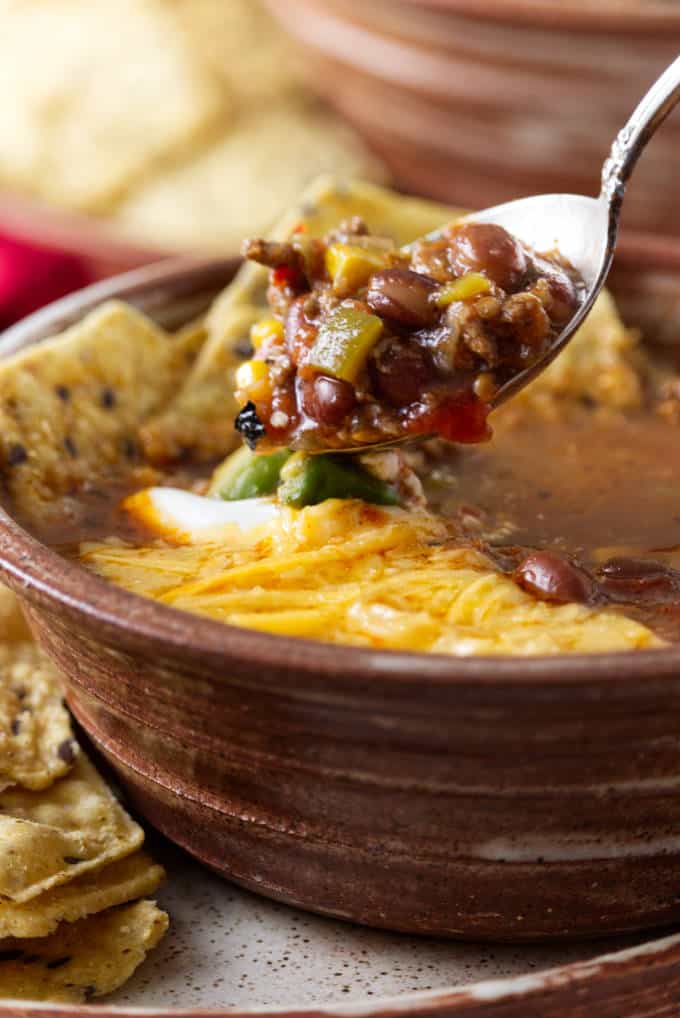 SOME OTHER RECIPES WE ARE SURE YOU WILL LOVE:
This chicken tortilla chip casserole is comfort food at its best. This is a cross between chicken nachos, enchiladas, and Mexican lasagna. Made with juicy shredded chicken and plenty of gooey shredded cheese, dinner is so good.
This easy, sheet pan chicken fajita bowl is a simple twist on fajita night! Cook it all together on one pan, assemble it in a bowl, and you will be crowned the champion of dinner.
This Chipotle black bean soup is the perfect go-to for that bag of dried black beans stashed in your pantry! It is a delicious and filling soup. From-scratch cooking has never been so delicious.
CONNECT WITH SAVOR THE BEST!
Be sure to follow us on our social media accounts
Facebook * Instagram * Pinterest * Twitter * Youtube
Did you make this recipe? We would love to hear from you. Drop us a comment below.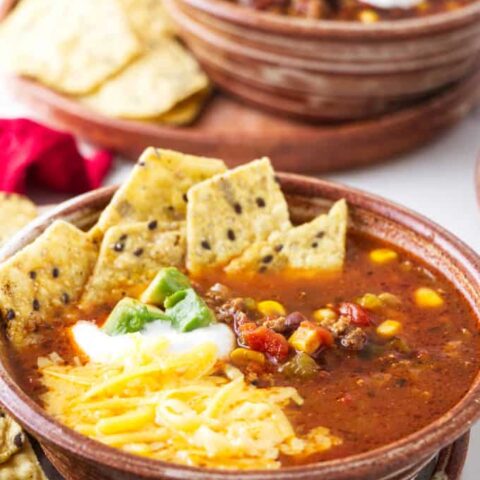 Instant Pot Taco Soup
Yield: 6 to 8 servings
Prep Time: 10 minutes
Cook Time: 4 minutes
Total Time: 14 minutes
All the flavors of tacos in a warm bowl of soup. This easy and fast recipe is even quicker in the Instant Pot. Top the brothy taco soup with all your favorite taco fixings and add some crushed tortilla chips for the full effect.
Ingredients
For the soup
1 tablespoon olive oil
1 onion, finely chopped
2 garlic cloves, minced
1 pound ground beef
3 tablespoons taco seasoning (or 1 packet)
3 cups beef or chicken broth
1 (28 ounce) can of crushed tomatoes
1 (15 ounce) can of corn
1 (15-ounce) can of black beans
1 (7-ounce) can diced green Chiles
Instructions
Set the Instant Pot to saute mode and heat the oil.
Add the onion and cook until soft then add the garlic and stir for 30 seconds.
Add the beef. Stir to break the meat up and cook until it is brown.
Stir in the taco seasoning.
Add the broth and scrape the bottom of the pot to remove any cooked-on bits. This will prevent the Instant Pot from giving you that burn message.
Add the rest of the soup ingredients. Do not stir.
Cancel the saute setting and place the lid on the pot. Lock the lid in place and make sure the valve is in the sealed position.
Set the Instant Pot to high pressure for 4 minutes. (It will take a few minutes to come up to pressure).
When finished cooking, allow the Instant Pot to release pressure naturally for 10 minutes then release the rest of the pressure manually.
Serve hot with plenty of toppings, especially corn chips and cheese.
Notes
When you cook the onions and ground beef, some of it will get stuck to the bottom of the pot. When you add the broth, it will loosen any of the cooked-on bits and make it easy to clean or deglaze the pot.This is an important step that will prevent the Instant Pot from giving you a burn message.
Nutrition does not include any of the toppings.
Instead of canned corn, you can substitute 1-1/3 cups of fresh or frozen corn.
Instead of canned black beans, you can substitute 1-1/3 cups of pre-cooked black beans.
Recommended Products
As an Amazon Associate and member of other affiliate programs, I earn from qualifying purchases.
Nutrition Information:
Yield: 8
Serving Size: 1
Amount Per Serving:
Calories: 483
Total Fat: 29g
Saturated Fat: 11g
Trans Fat: 0g
Unsaturated Fat: 14g
Cholesterol: 125mg
Sodium: 481mg
Carbohydrates: 13g
Fiber: 3g
Sugar: 3g
Protein: 41g
Nutrition information is a guideline only, is calculated automatically by third-party software, and absolute accuracy is not guaranteed.