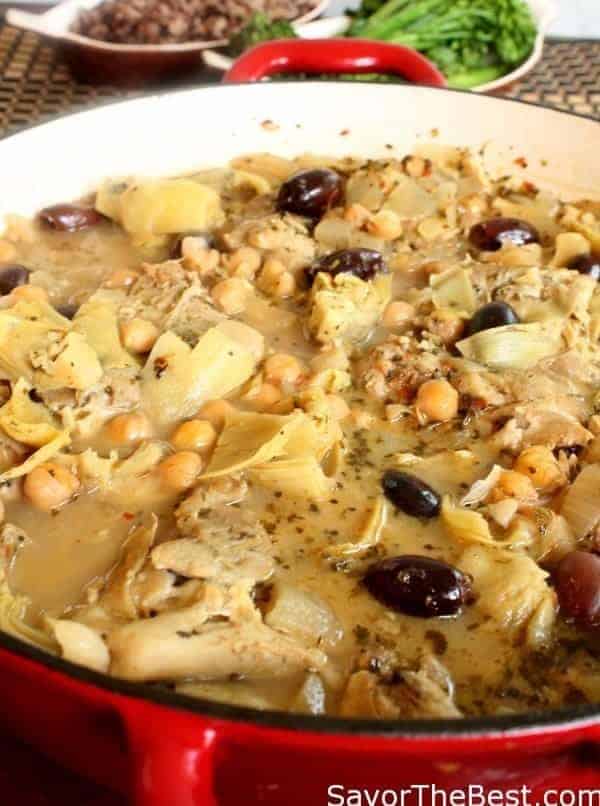 In my efforts to train for the Tour de Blast bicycle ride in September, I have been trying to build my endurance with long rides as well as fit in some hills for strength. I have done a couple of 30 mile rides and a 40 mile ride with plenty of punchy hills. Yesterday I rode with two friends in the Tour de Kitsap bicycle ride. The Tour de Kitsap is an organized bicycle ride in Kitsap County. We had an option to choose from a 34, 50, 74 or 100-mile ride. My friends and I choose to do the 74-mile ride. We missed a turn during the route and had to back-track a bit which brought our final milage up to 80 miles. This was the longest ride I have done and a tough one. There were several hills which turned the route into a very long interval ride and an intense workout. My sit-bones are still trying to get used to a bicycle seat and 80 miles on the narrow seat was a bit uncomfortable. The ride, however, was invigorating and I was elated to know I could complete it. It also gave me some confidence that I will be able to get ready for the Tour de Blast in seven weeks.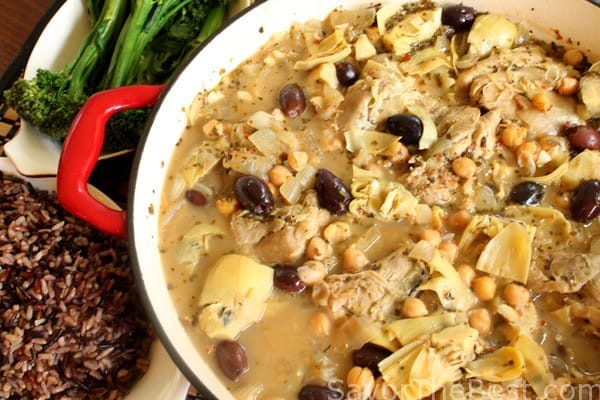 Now, the best part of this post is this amazing chicken dish. Chicken, artichokes and olives in a tangy lemony broth…this is dinner, an amazing dinner. Serve it with rice or some crusty bread or both because you're going to want to sop up the broth. It is just too good to leave behind. Adapted from Epicurious.com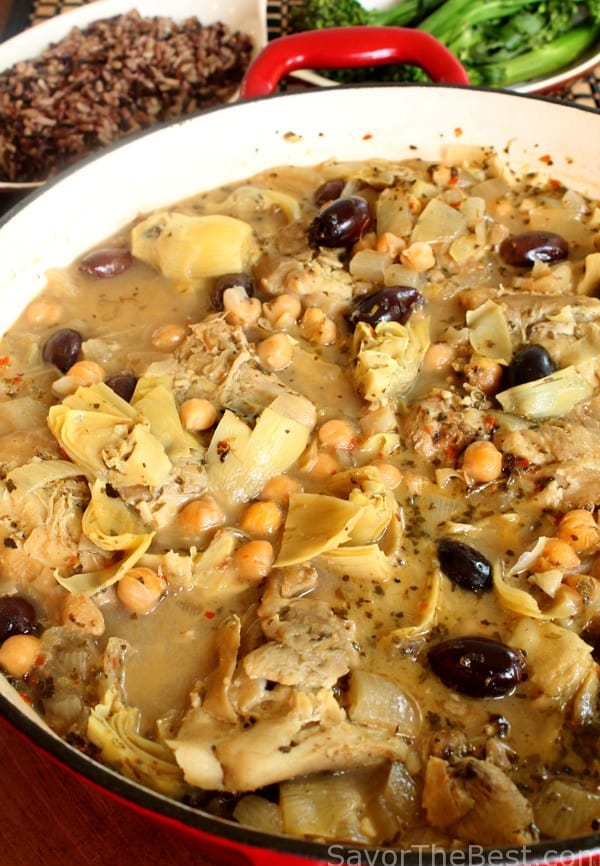 CONNECT WITH SAVOR THE BEST!
Be sure to follow us on our social media accounts
Facebook * Instagram * Pinterest * Twitter * Youtube
Did you make this recipe? We would love to hear from you. Drop us a comment below.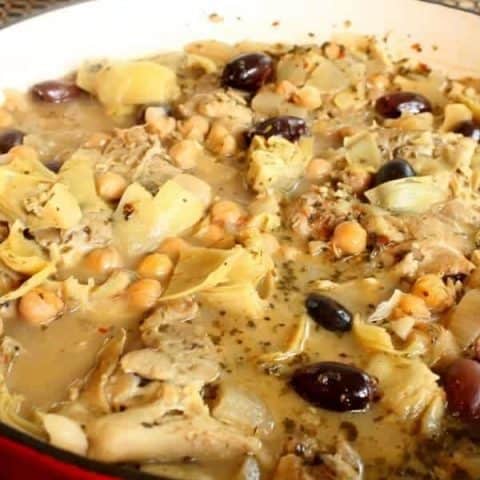 Chicken with Artichokes and Olives
Yield: 6 servings
Prep Time: 20 minutes
Cook Time: 30 minutes
Total Time: 50 minutes
Chicken, artichokes and olives in a tangy lemony broth.
Ingredients
2 pounds boneless, skinless chicken thighs, trimmed of excess fat
1 teaspoon salt
1 teaspoon freshly ground black pepper
2 tablespoons olive oil
2 yellow onions, roughly chopped
4 garlic cloves, minced
2 teaspoons ground oregano
1 teaspoon turmeric
1 teaspoon ground cumin
½ teaspoon salt
1/2 teaspoon ground coriander
½ teaspoon red pepper flakes
½ teaspoon ground cinnamon
1 bay leaf
½ cup white wine
1 (15 ounce) can of chicken broth
1 (15 ounce) can of chickpeas, drained
10 thawed frozen artichoke hearts, quartered
1/2 cup Kalamata olives
Juice and zest of 2 lemons
Instructions
Instructions
Season the chicken with salt and pepper then let sit for 20 to 30 minutes. Heat the olive oil in a large skillet over medium-high heat. Cook the chicken for about 3 minutes on each side until well browned (work in batches as adding all of the chicken at once will lower the heat of the pan and prevent the chicken from browning quickly) transfer the chicken to a plate.
Decrease the heat to medium. Add the onion and sauté about 5 minutes until soft. Add the garlic, oregano, turmeric, cumin, salt, coriander, red pepper flakes, cinnamon, and bay leaf then cook, stirring constantly, until fragrant, about 1 minute. Pour in the wine and stir the bottom of the skillet to loosen the cooked on bits. Stir in the chicken broth, chickpeas, artichoke hearts, olives and the juice and zest of 2 lemons. Add the browned chicken and decrease the heat to medium-low and simmer for 25 minutes.
Notes
Serve with rice or crusty bread to sop up the amazing broth.