Looking for a dinner dish that effortlessly combines simplicity and sophistication? This recipe for chicken with artichokes and olives is just the ticket! It's a skillet chicken dinner bursting with Mediterranean flavors, bringing together juicy chicken, tender artichoke hearts, briny olives, and sun-dried tomatoes in a tangy lemon-infused sauce.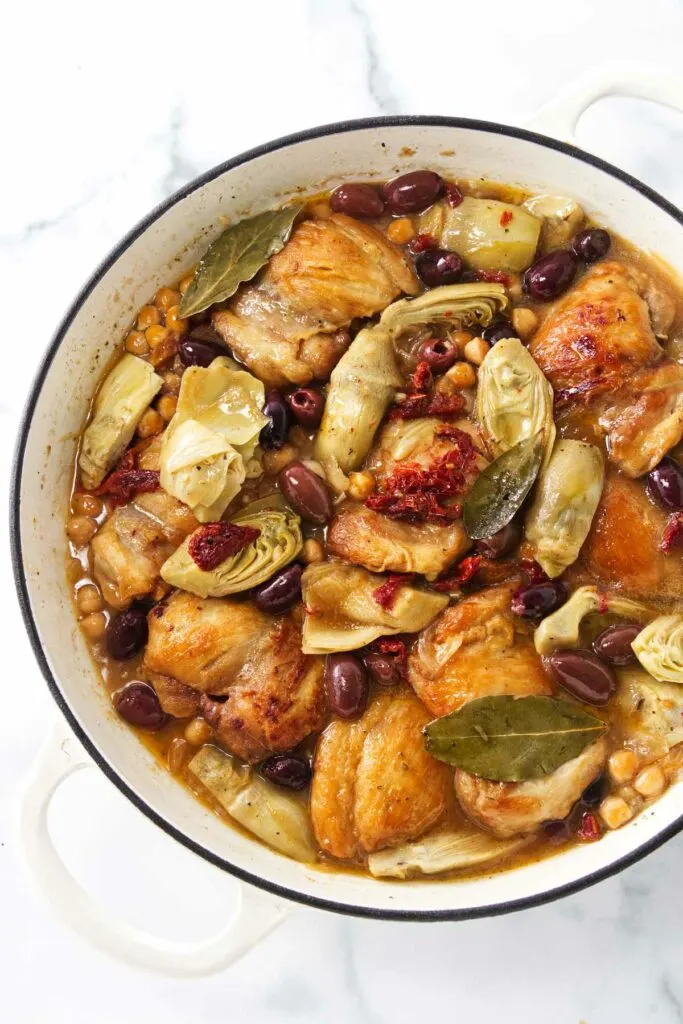 We all need some one-pot dinners in our recipe collection, right? Well, this Mediterranean chicken thigh recipe is budget-friendly and perfect for those hectic weeknights when you're short on time.
We have a few more one-pot recipes for you to consider that don't require hours of preparation or elaborate cooking techniques. Check out our Crockpot Goulash, a thick, set-it-and-forget-it-satisfying dinner. Our easy Coq Au Vin is a French chicken stew with tender chicken and veggies simmered in white wine and broth.
One-pot dinners can be a lifesaver when rushed! With minimal prep time, you can have a flavorful and satisfying meal on the table in no time, making it perfect for busy weeknights or last-minute gatherings.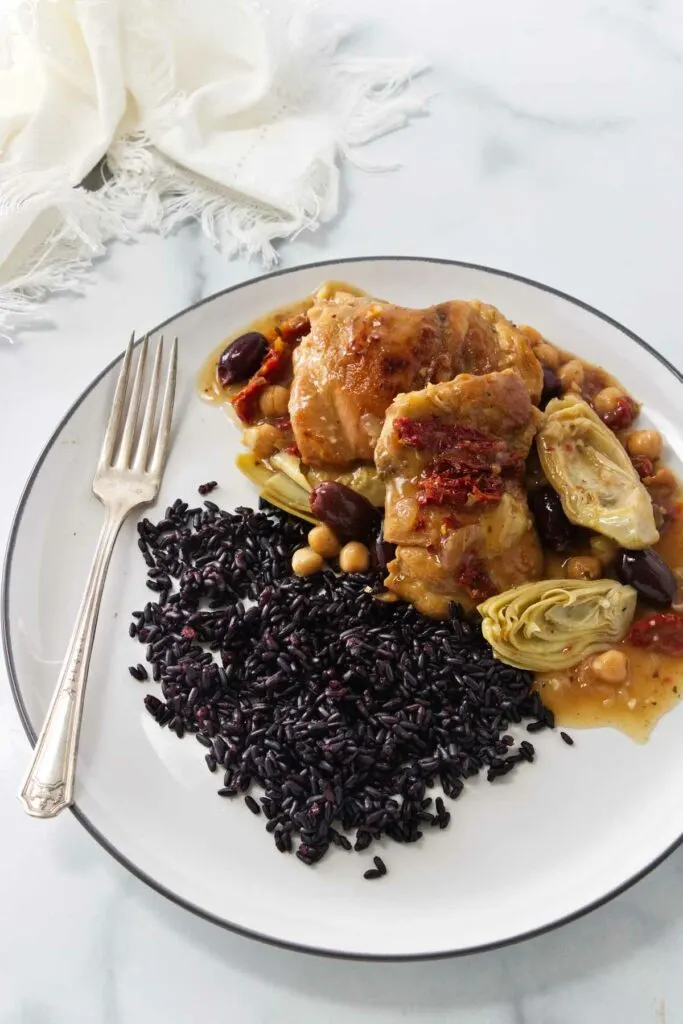 Here is Why This Recipe Works
Bursting with Mediterranean Flavors: This recipe combines the Mediterranean's essence with a perfect blend of ingredients.
Versatile: This easy, one-pot meal allows room for creativity and personal preferences.
Family-Friendly: With its balanced flavors and ingredients, this dish can bring everyone together around the dinner table, even those picky eaters.
Speedy Yet Flavorful: This chicken recipe lets you serve up big flavors without investing hours in the kitchen, making it an efficient choice for your weeknight meal rotation.
Ingredients for this Greek Chicken
Here is a list of the ingredients you will need for this recipe. Scroll down to the printable recipe card for all the details.
Chicken thighs: This recipe uses bonless, skinless chicken thighs for lower fat and calories.
Pantry: salt, pepper, olive oil, chicken broth, cornstarch, Kalamata olives, sun dried tomatoes, garbanzo beans, and artichoke hearts (or purchase them in the frozen section).
Produce: onions, garlic cloves, lemons.
Spices: Ground cumin, ground coriander, red pepper flakes, and bay leaves.
White wine (even a small portion boosts the flavor of the sauce).
Substitutions
You can use bone-in, skin-on chicken thighs or chicken breasts instead of thighs, but chicken breasts will require a cooking time adjustment.
If you don't want to cook with alcohol, substitute the same amount of chicken broth in place of the white wine.
You can use drained, canned, water-packed, or marinated artichokes instead of frozen artichoke hearts.
Choose your favorite olive, green, black, Spanish, or garlic-stuffed.
Use a Greek seasoning blend instead of the listed spices.
How to Make Artichoke Chicken with Olives
This dish is a one-pot meal that goes together quickly. You will love the Medeturreanan combination of tender chicken thighs, artichokes, olives, sun-dried tomatoes, and garbanzo beans, all simmered together and infused with a savory, lemony sauce.
Here is a brief overview to understand what to expect with the recipe. Scroll down to the printable recipe card for all the details.
Season the chicken and sear to a golden brown, then set aside.
Sauté the onions and garlic, then add the oregano, cumin, salt, coriander, and red pepper flakes.
Pour in the wine and chicken broth, then whisk in the cornstarch slurry and lemon juice, cooking until the sauce slightly thickens.
Add the garbanzo beans, artichoke hearts, olives, and sun-dried tomatoes.
Return the chicken and any accumulated juices to the pan, tuck the bay leaves into the sauce and let it simmer until tender.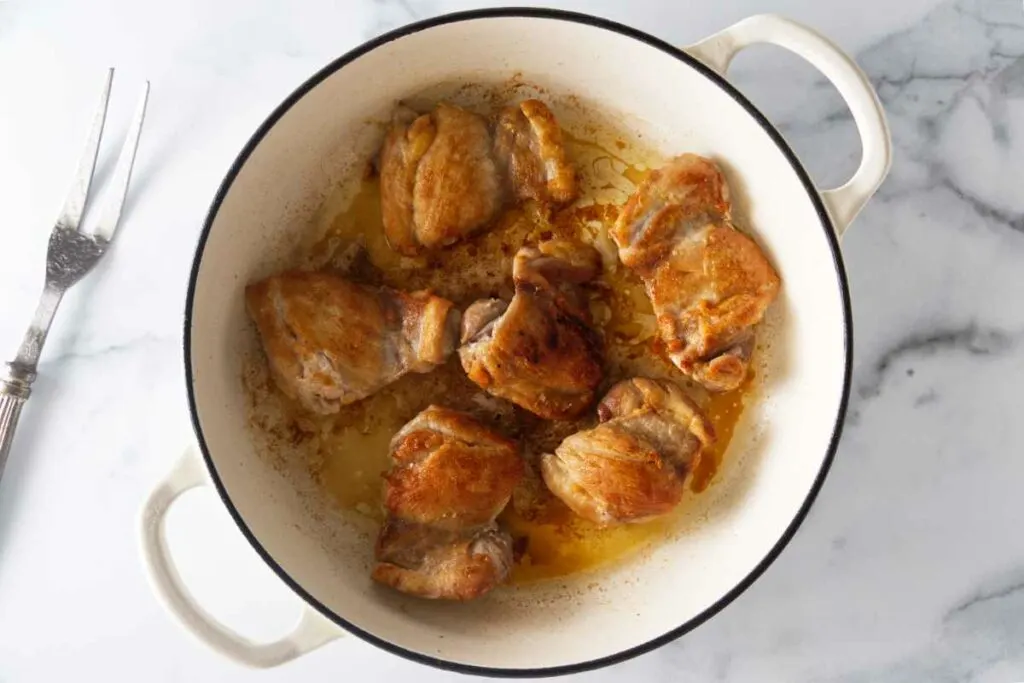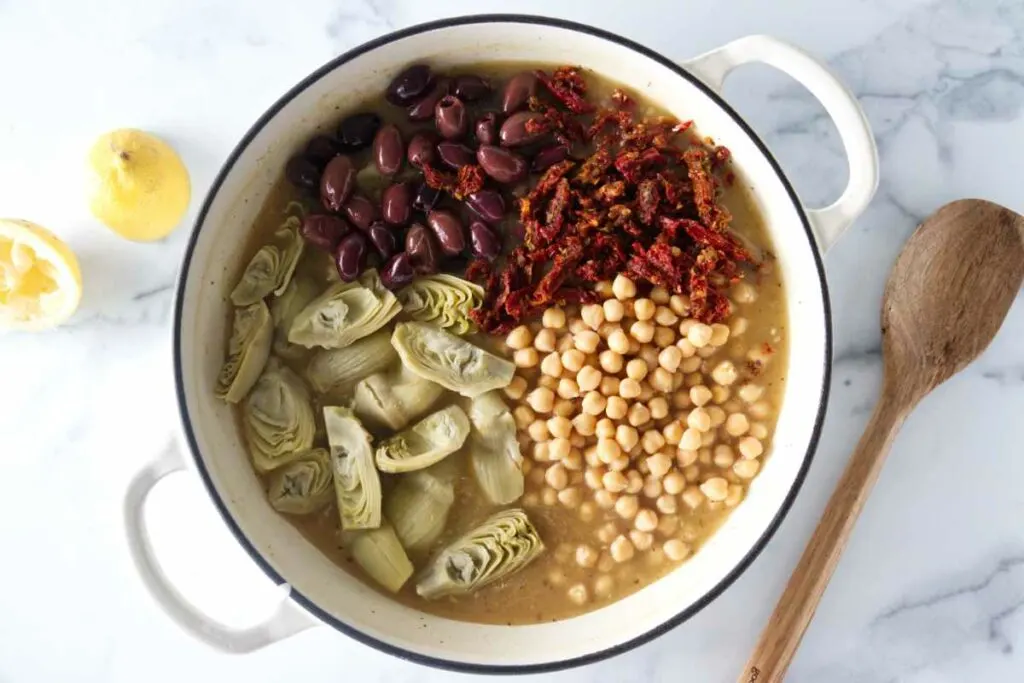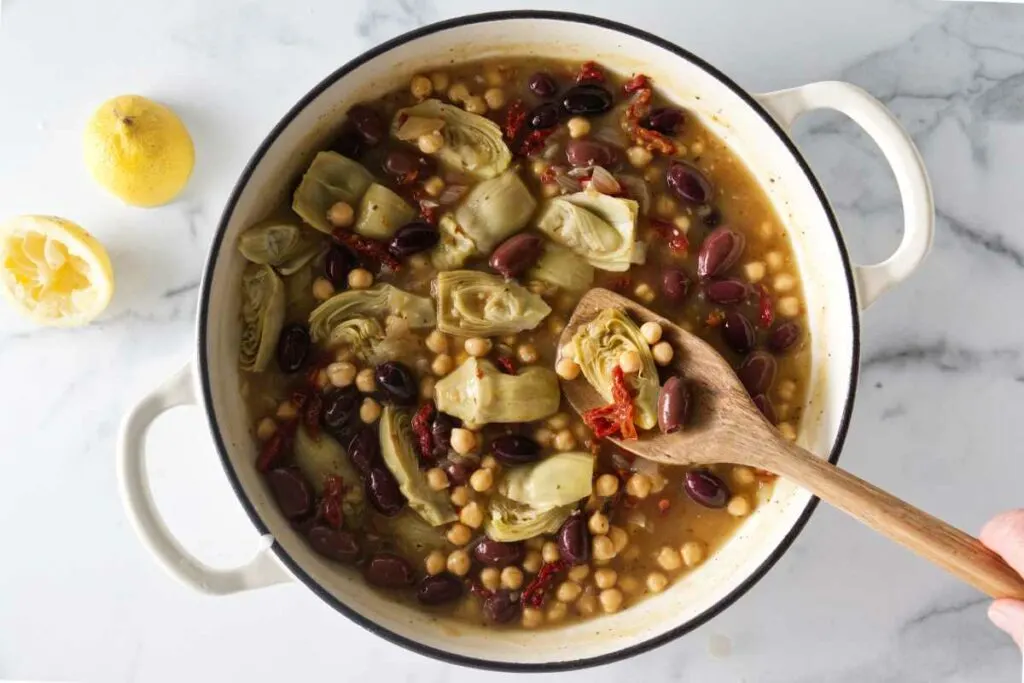 Variations
Creamy Mediterranean Chicken: Add a creamy twist by incorporating a 1/2 cup of heavy cream into the sauce. Reduce the lemon juice to 2 tablespoons to maintain a balance of flavors.
Tips for Success
Pat the chicken with a paper towel before searing. Removing the moisture will allow a good browning.
Drain the garbanzo beans in a mesh strainer, then rinse under cold tap water to rinse them off.
Drain the oil off of the sun-dried tomatoes in a mesh strainer, then save a few calories by holding the strainer under warm (not hot) tap water to rinse off additional oil.
Thaw the artichoke hearts completely before adding them to the pot.
What to Serve Alongside Olive Chicken with Artichokes
Whether you're hosting a dinner party or enjoying a casual family dinner, the right sides can transform a good meal into a great one. Here are a few suggestions.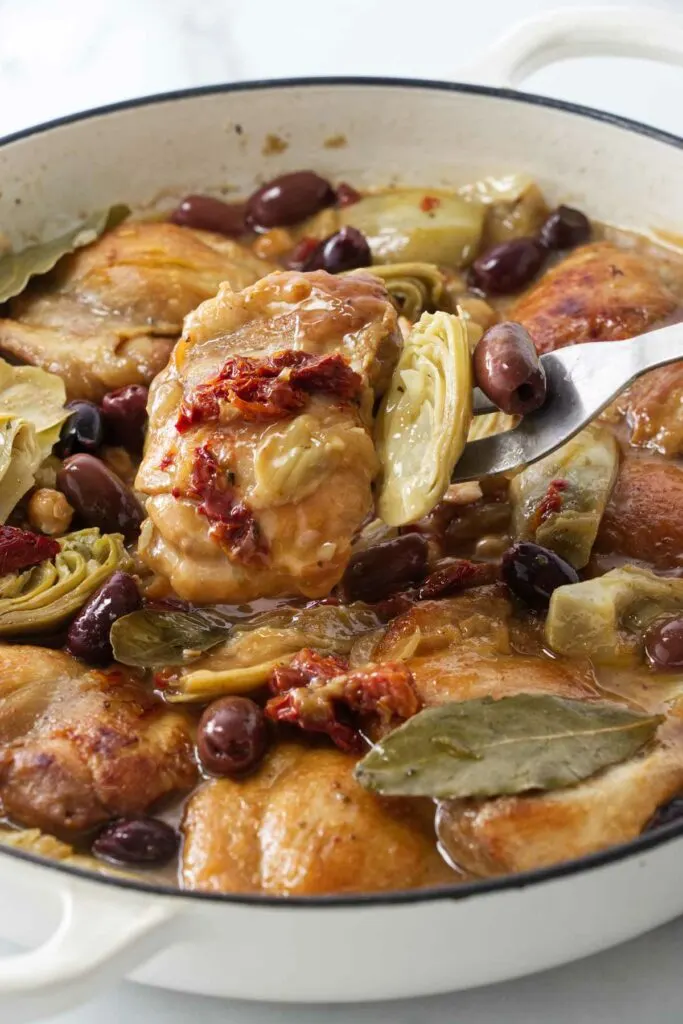 Storage and Reheating
In the fridge: Leftovers will last for up to 3 days. Store the chicken in an airtight container.
In the freezer: This chicken dinner freezes well. Place it in a freezer-proof container and freeze for up to 3 months. Thaw overnight in the fridge before reheating on medium heat until warmed through.
More Easy Recipes
Frequently Asked Questions
How hot will the red pepper flakes make this dish?
Our recipe uses 1/4 teaspoon of red pepper flakes and has a mild taste. If you don't like any spicy foods, you can leave it out.
Do I have to use wine?
No, you can substitute the wine with an equal amount of broth or water.
Can I prepare this dish and cook it in the oven?
Absolutely! Choose a large skillet or oven-proof casserole dish, cover with a lid or foil and bake in a 450°F oven for 25 to 30 minutes.
This recipe for lemon chicken with artichokes is not just a tasty meal, but also a perfect mix of Mediterranean flavors that'll add a lively touch to your dinner table.
It is ideal for a casual weeknight dinner yet elegant enough for entertaining. Best of all, it's a one-pan chicken casserole dinner that's loaded with flavor and nutrition, so you can feel good about serving it to your family!
More Recipes You Will Love: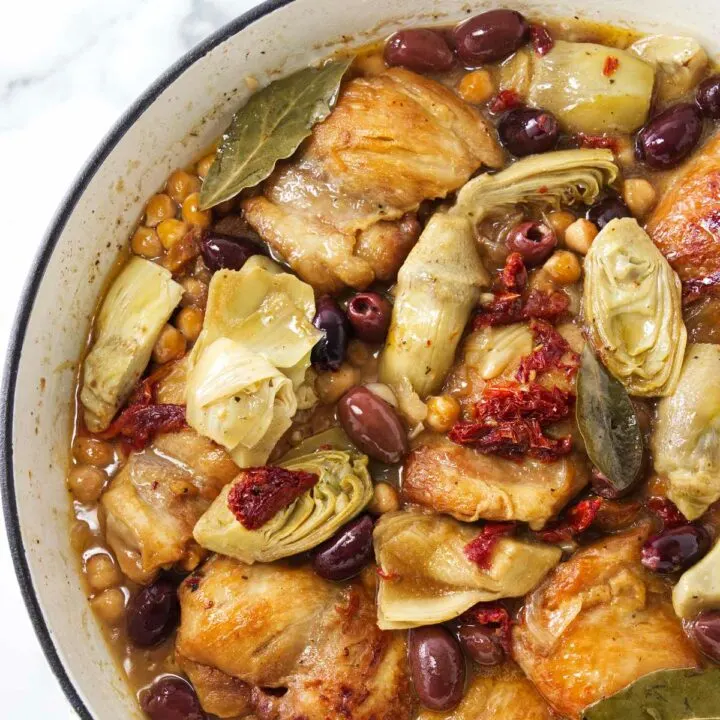 Chicken with Artichokes and Olives
Chicken, artichokes and olives in a tangy lemony broth.
Ingredients
2 pounds boneless, skinless chicken thighs, trimmed of excess fat
1 teaspoon salt
1 teaspoon freshly ground black pepper
2 tablespoons olive oil
2 yellow onions, roughly chopped
4 garlic cloves, minced
2 teaspoons ground oregano
1 teaspoon turmeric
1 teaspoon ground cumin
½ teaspoon salt
1/2 teaspoon ground coriander
½ teaspoon red pepper flakes
½ teaspoon ground cinnamon
1 bay leaf
½ cup white wine
1 (15 ounce) can of chicken broth
1 (15 ounce) can of chickpeas, drained
10 thawed frozen artichoke hearts, quartered
1/2 cup Kalamata olives
Juice and zest of 2 lemons
Instructions
Instructions
Season the chicken with salt and pepper then let sit for 20 to 30 minutes. Heat the olive oil in a large skillet over medium-high heat. Cook the chicken for about 3 minutes on each side until well browned (work in batches as adding all of the chicken at once will lower the heat of the pan and prevent the chicken from browning quickly) transfer the chicken to a plate.
Decrease the heat to medium. Add the onion and sauté about 5 minutes until soft. Add the garlic, oregano, turmeric, cumin, salt, coriander, red pepper flakes, cinnamon, and bay leaf then cook, stirring constantly, until fragrant, about 1 minute. Pour in the wine and stir the bottom of the skillet to loosen the cooked on bits. Stir in the chicken broth, chickpeas, artichoke hearts, olives and the juice and zest of 2 lemons. Add the browned chicken and decrease the heat to medium-low and simmer for 25 minutes.
Notes
Serve with rice or crusty bread to sop up the amazing broth.