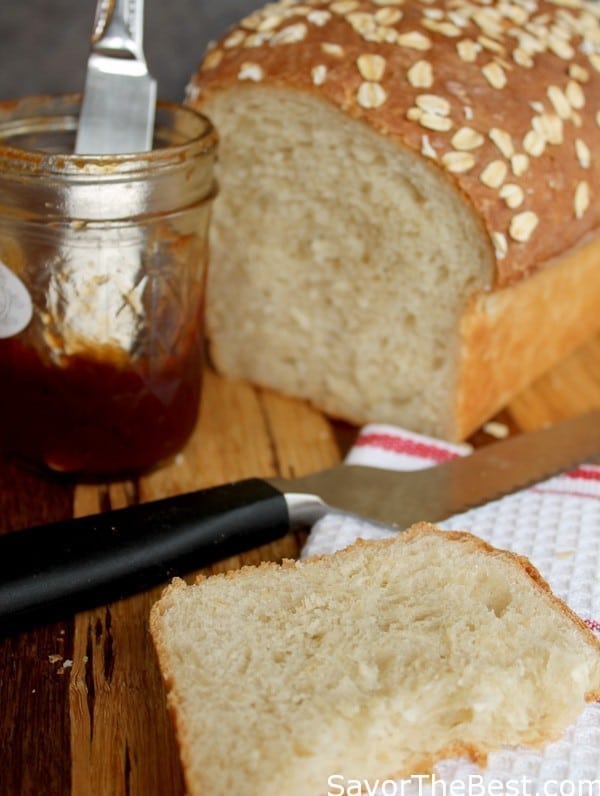 I love this oatmeal bread and make it fairly frequently. It is a quick recipe as far as yeast breads go and very easy. It makes great toast and wonderful sandwich bread with its soft crumb and slightly chewy texture from the oatmeal.
It has a fabulous flavor and tastes great toasted or used as sandwich bread. Try serving it with a dip like our herbed olive oil or garlic butter sauce.
Sometimes I enjoy taking the time to mix and kneed my bread by hand but today I had several tasks on my schedule so I threw the ingredients in my bread machine, punched in the "dough" setting, and walked away. Once the setting was complete I shaped the dough and placed it in a standard bread pan.
I don't care for the shape of the bread loaf that my bread machine has so I never finish my bread in the machine, however, this recipe would work just fine if you prefer to bake it in the machine.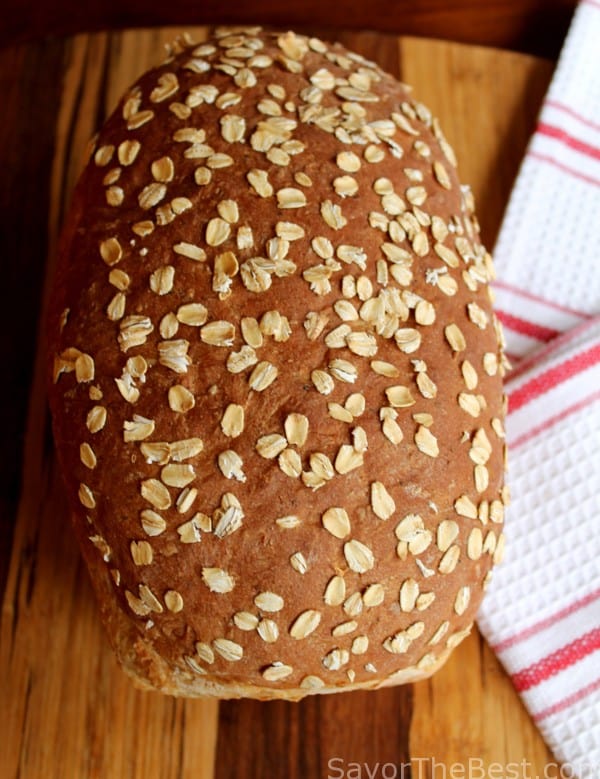 Adapted from James Beard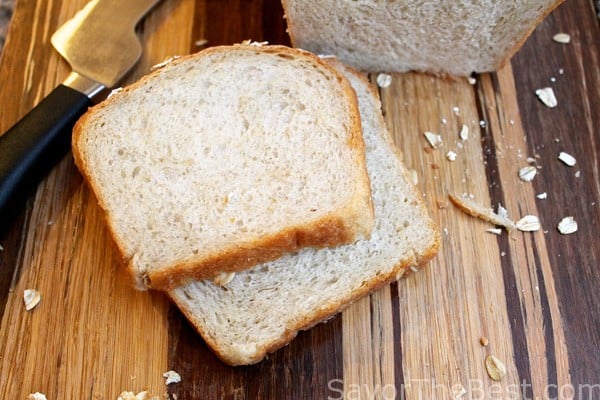 Connect With Savor the Best:
Please follow us on our social media accounts
Facebook * Instagram * Pinterest * Youtube * Twitter
Did you make this recipe? We would love to hear from you. Drop us a comment below.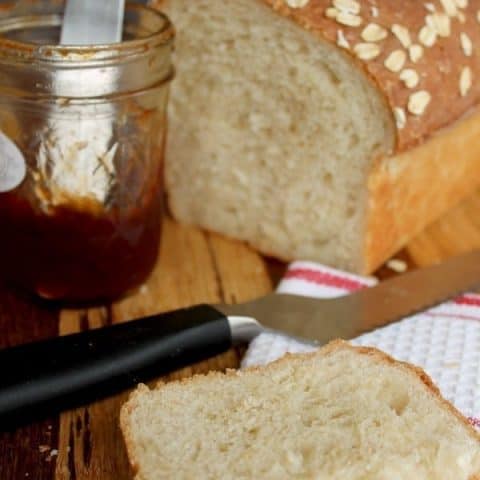 Oatmeal Bread
Yield:
16 slices (1 loaf)
Prep Time:
2 hours
30 minutes
Total Time:
3 hours
15 minutes
A perfect everyday sandwich bread with a light crumb and chewy texture from the oatmeal.
Ingredients
½ cup rolled oats (not instant)
½ cup boiling water
2 ¾ cup all purpose flour
2 ¼ teaspoons instant dry yeast
1 ½ teaspoons salt
¾ cup warm milk (see notes)
3 tablespoons honey
Topping
Instructions
Place the oats in a small bowl and pour the boiling water over them. Allow them to sit for 5 minutes to soften the oats and cool down until lukewarm.
Place the flour, yeast, and salt in a large mixing bowl and stir them together. Add the softened oats, warm milk, and honey then mix well until all the ingredients are combined (the dough will be sticky and lumpy). Cover the bowl with plastic wrap and allow it to rest for 15 to 20 minutes.
Either with an electric mixer, or by hand, knead the dough for 8-10 minutes until it is smooth and elastic (dough will be slightly sticky).
Form the dough into a ball and place it in a large bowl that has been coated in oil. Coat the top of the dough ball and cover it with plastic wrap then set it in a draft free place until it is doubled in size, about 1 to 1 ½ hours.
Turn the dough onto a lightly floured surface and gently pat it into a rectangle then shape it into a loaf. Oil an 8 X 4 inch bread pan and place the dough in the pan. Moisten the top of the dough with some water then sprinkle 1 tablespoon of oats over the dough. Cover the pan with a cloth and allow it to sit in a draft free place until the dough is about ½ inch above the top of the bread pan (about 45 minutes to 1 hour).
Pre-heat the oven to 350°. Bake for 35 to 45 minutes or until the loaf sounds hollow when tapped on top.
Remove the bread from the pan and allow it to cool on a wire rack.
Notes
Warm the milk to between 105°F to 110°F. If you don't have a thermometer then make it just slightly warmer than body temperature (check it by putting a drop on your wrist or the back of your hand).
If you prefer to use a bread machine, place the ingredients in the machine in the order recommended by the manufacturer and let the machine do its magic. This recipe works very well with a bread machine.
Nutrition Information:
Yield:

16
Serving Size:

1 slice
Amount Per Serving:
Calories:

106
Total Fat:

1g
Carbohydrates:

22g
Protein:

3g