We have added all the flavors and tastes of the Mediterranean in this recipe for Mediterranean freekeh salad. A creamy Italian dressing brings it all together in this easy one-bowl meal.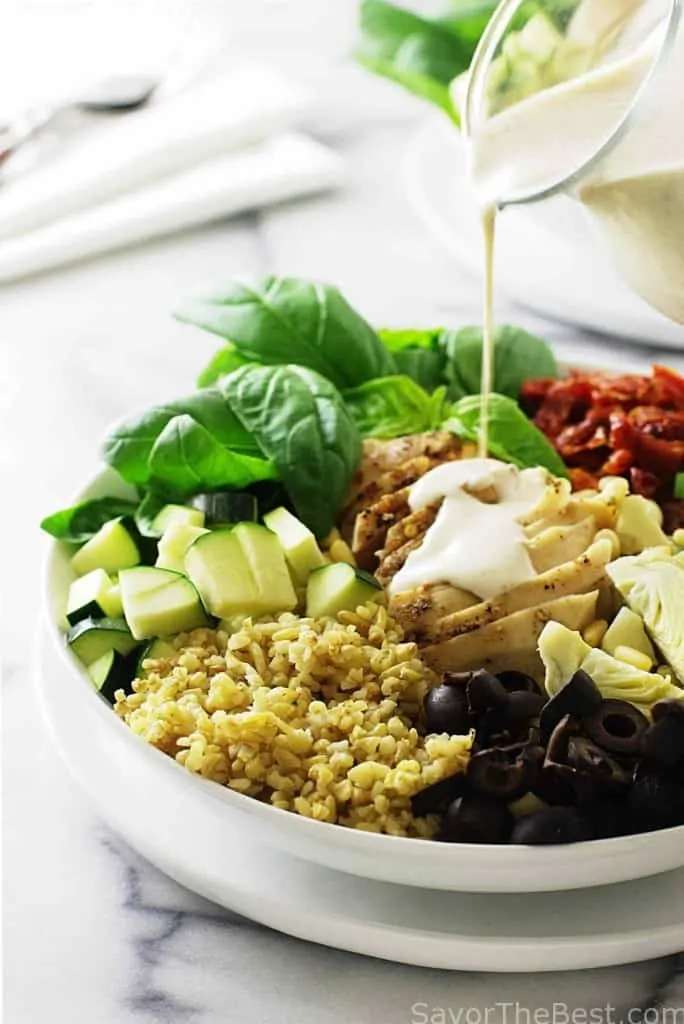 Freekeh has the staring roll in this grain salad and she really delivers on the flavor and texture. We love the subtle smokiness and the pleasant chewy texture of the grain. Add that to the flavors and crunch of the zucchini, pine nuts, artichokes hearts, basil, chicken, sun dried tomatoes and olives. Then top it all off with that creamy Italian dressing.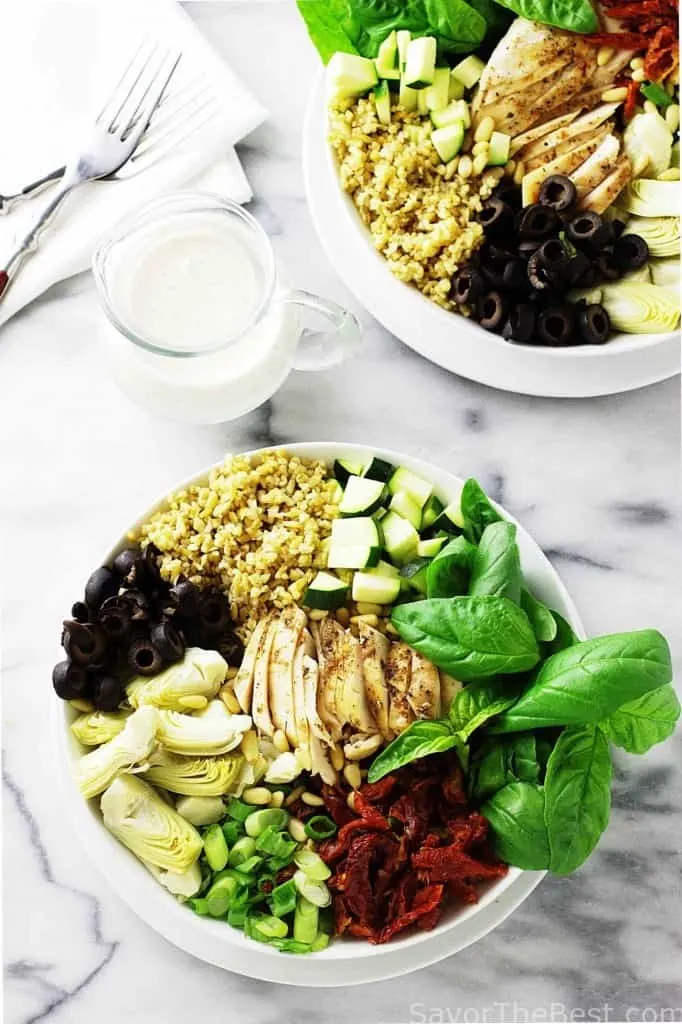 The freekeh cooks up in 20 minutes and we cooked it in advance and refrigerated it. We popped the chicken breasts in the oven and while they were roasting the salad was assembled. A rotisserie chicken would also work. We used fresh basil for the greens as there is a large pot planted on our deck that is growing like crazy. Besides, we love the taste of basil in salads. Spinach or kale would also taste great.
This is a great salad to fix for a hot day limiting your time in the kitchen, it is full of nutrition, easy to prepare and delicious.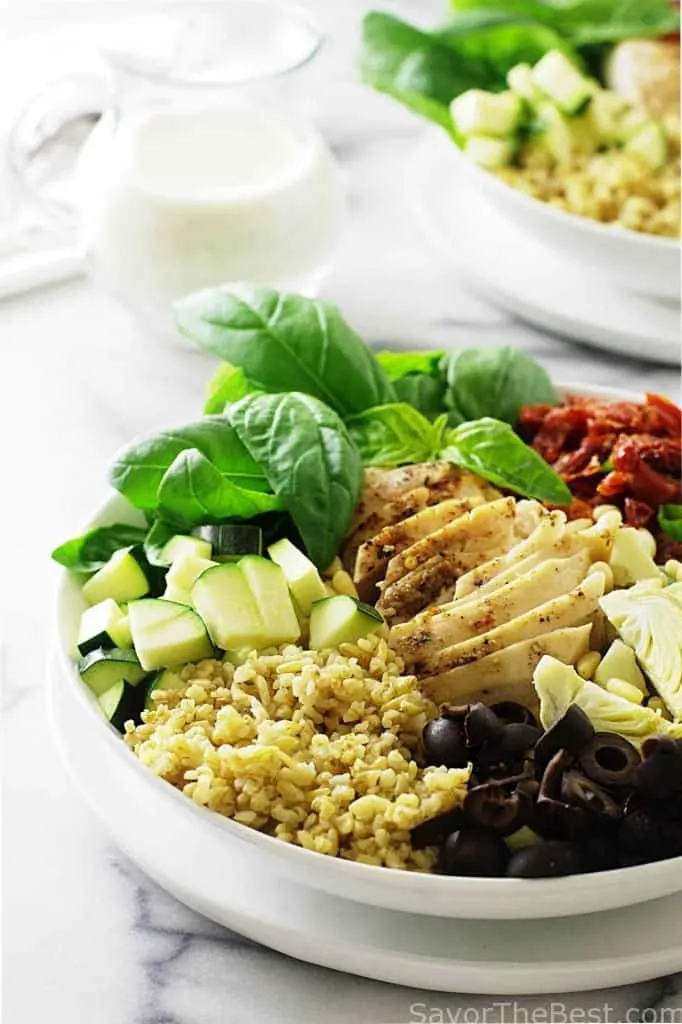 I bet you are thinking, 'what is freekeh'? Freekeh is an ancient grain that has been a staple of the Middle Eastern diet for centuries. It is a wheat and it is not gluten-free like quinoa but it does have more protein and fiber than quinoa. It is marketed in both the whole or cracked grain. It is similar to bulgur which is also a cracked wheat.
Freekeh is harvested while young and green. It is roasted over an open fire, then the straw and chaff are burned and rubbed off. The inner part of the grain does not burn but absorbs the smoke from the burning process which gives it the smoky flavor after it is cooked.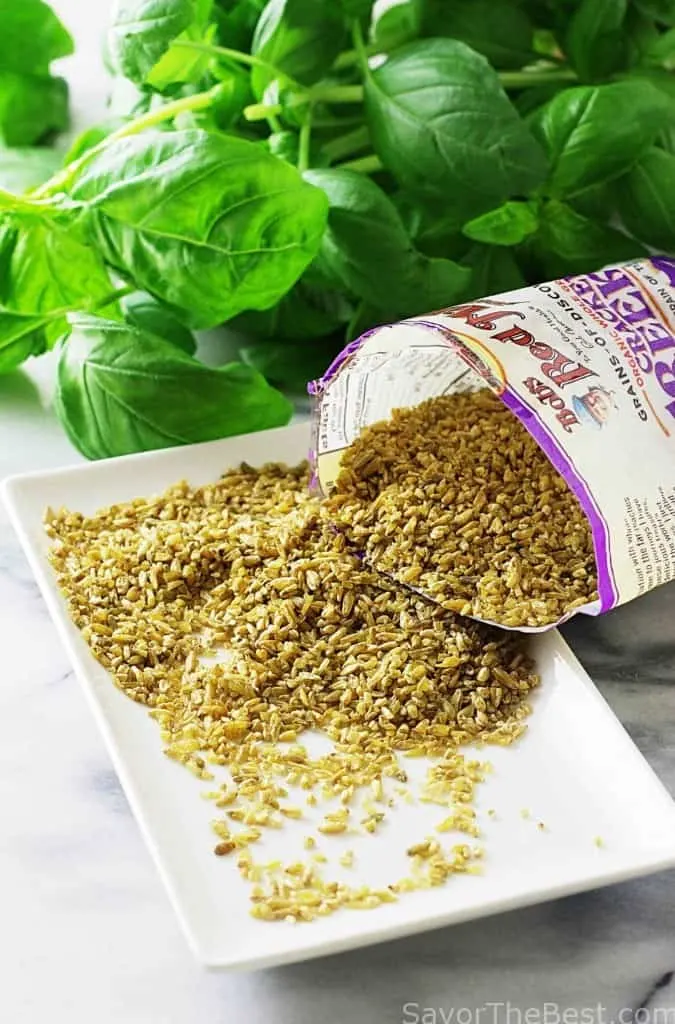 Although freekeh is an ancient grain it is gaining recognition in the USA and appearing on some fine dining restaurant menus. This salad is a great tasting example of the many uses of freekeh, it makes a great pilaf and a stuffing for chicken with mushrooms and herbs and vegetarians will love it in a meatless burger.
You can buy freekeh in the Bob's Red Mill section of the supermarkets or in bulk foods sections, some health food stores carry it and it is also available online.
More ancient grain recipes you may like: Kamut Grain Bowl with Roasted Chicken and Curry Sauce, Oatmeal Raisin Spelt Cookies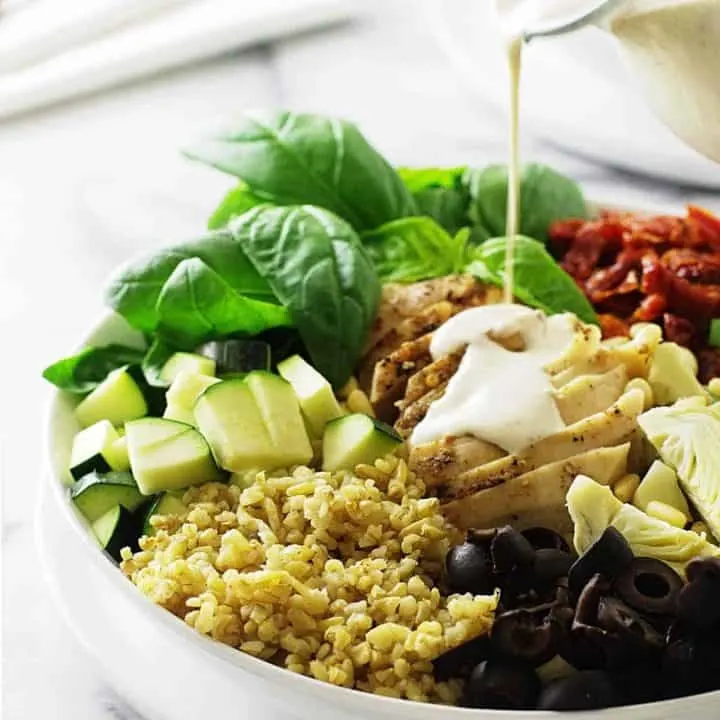 Mediterranean Freekeh Salad
The ancient grain, freekeh has a subtle smokey flavor and a chewy texture which is a perfect combination in this Mediterranean freekeh salad. We have added all the favors and tastes of the Mediterranean with a creamy Italian dressing that brings it all together in this easy one-bowl meal.
Ingredients
For the Freekeh
1 cup cracked Freekeh
2 cups water
1/2 teaspoon salt
For the Salad:
1 pound (4) chicken breasts, skinless and boneless
Italian seasonings
Salt/Pepper
2 cups fresh basil, spinach or similar greens
2 small zucchini, diced
1 can (14 oz.) artichoke hearts in water, quartered
1 cup sliced kalamata olives
1 cup sun dried tomatoes, oil drained off
1/2 cup roasted pine nuts
For the Creamy Italian Dressing:
1/2 cup mayonnaise
1/2 cup buttermilk
1/4 cup olive oil
1/4 cup white wine vinegar
1 teaspoon dried dill
2 teaspoons fresh oregano, minced
2 teaspoons fresh parsley, minced
1 clove garlic, minced
salt and pepper to taste
Instructions
Preheat the oven to 400°F. Coat an oven-proof dish with cooking oil spray
For the Freekeh:
Bring 2 cups of water and 1/2 teaspoon salt to a boil. Add the freekeh, reduce the heat to medium-low, cover and simmer for 20 minutes until the liquid is absorbed. Remove from heat and let stand for 5 minutes. Set aside or refrigerate until ready to use.
For the Chicken - while the freekeh is cooking:
Season the chicken breasts and place them in the prepared dish, transfer to the middle rack of the preheated oven and roast until the temperature reaches 165°F, and they are no longer pink. Transfer to a cutting board and allow to cool, then slice into bite-size pieces.
For the Creamy Italian Dressing:
In a small dish whisk together the mayonnaise, buttermilk, olive oil, vinegar, dill, oregano, parsley, and garlic. Season with salt and pepper, to taste. Makes about 1 1/2 cups dressing.
To assemble the salads:
In 4 salad bowls/plates divide equally, the cooled freekeh, basil, zucchini, artichoke hearts, olives, tomatoes and pine nuts. Place the chicken pieces in the center of each bowl and add a tablespoon of the dressing to each salad.
Notes
Nutrition for Creamy Italian Dressing, 1 tablespoon: Cals. 82, Fat 8.82, Sodium 47,Sugar 0.4, Fiber 0, Protein 0,32
Nutrition Information:
Yield:

4
Serving Size:

1
Amount Per Serving:
Calories:

334
Total Fat:

19g
Sodium:

776mg
Carbohydrates:

18g
Fiber:

8g
Sugar:

1g
Protein:

31g