San Marzano tomato sauce made with authentic San Marzano DOP tomatoes is a flavorful and versatile sauce that you can use in a variety of recipes. This easy San Marzano tomato recipe is simplicity at its best and highlights the amazing flavor of the "Crown Jewel" of tomatoes. You can use this recipe on pasta, as a base for stews or soups, or even as a dipping sauce.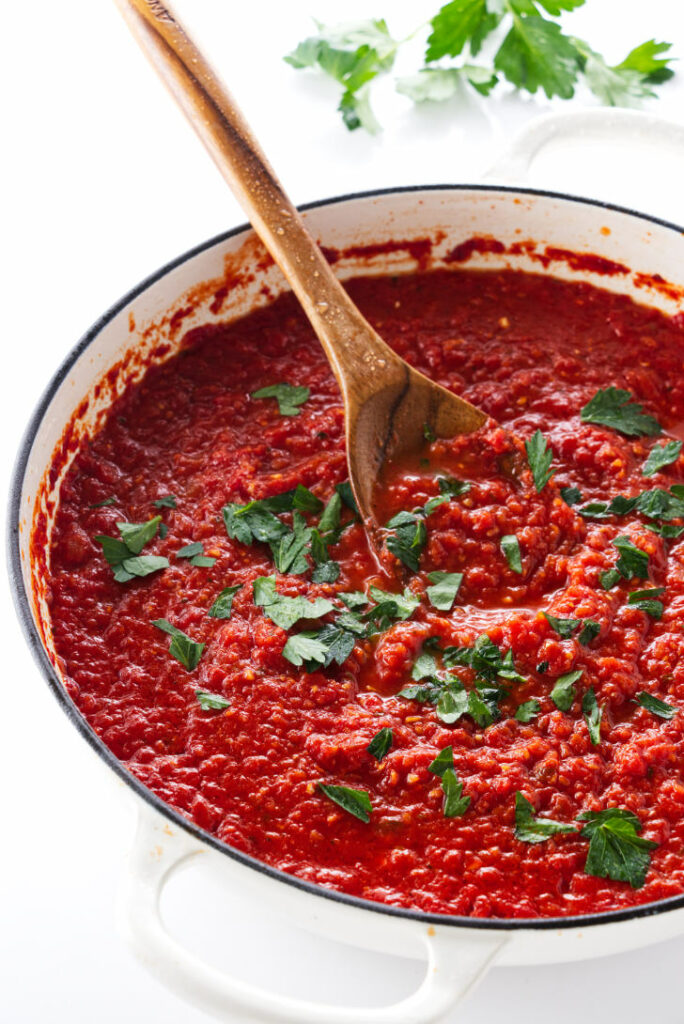 Disclosure: We are participating in an educational campaign for San Marzano DOP tomatoes. We were supplied with authentic San Marzano tomatoes by the consortium for Pomodoro San Marzano dell'Agro Sarnese-Nocerino DOP.
This sauce is perfect for making traditional Italian dishes like spaghetti and meatballs, lasagna, and pizza. San Marzano tomato sauce is also great for dipping breadsticks or adding to chicken or fish, like our halibut Provencal.
This quick and easy sauce features the unique flavor of San Marzano DOP tomatoes. We didn't add an excess of ingredients because we wanted the flavor of the tomatoes to shine in this authentic Italian tomato sauce.
Here is Why This Recipe Works:
Starting with real San Marzano DOP tomatoes offers exceptional flavor and texture.

Only a few ingredients are needed to complement the flavor and keep the tomatoes the star of the show.

Since oregano is fat-soluble, we saute it in olive oil to release its flavors before adding the tomatoes.

This recipe doesn't call for sugar or carrots because San Marzano DOP tomatoes are sweet and low in acid. They don't need the additional ingredients.

A short simmer brings out richness and depth of flavor and allows the herbs time to infuse into the sauce.

Spread it on a quick pizza dough, add your favorite toppings, and bake for a delicious pizza night at home.
What's So Special About San Marzano DOP Tomatoes?
Many cans of San Marzano tomatoes do not have the DOP emblem on them, which means they do not meet the quality standards of the Italian government. You might even be purchasing tomatoes grown in the U.S.
San Marzano DOP tomatoes are a variety highly prized for their flavor, color, and texture. They are grown in the rich volcanic soils in the Agro Sarnese – Nocerino area, just south of Naples, Italy.
Even though San Marzano tomatoes can be grown anywhere globally, there is something special about the tomatoes grown in this small volcanic region of Southern Italy.
The volcanic soil, the climate, and the processing method all contribute to these tomatoes' unique, sweet flavor, aroma, and low acidity. Only tomatoes that meet specific quality standards can be labeled as San Marzano DOP tomatoes.
Look for the red and gold DOP mark on the label (see the photo below).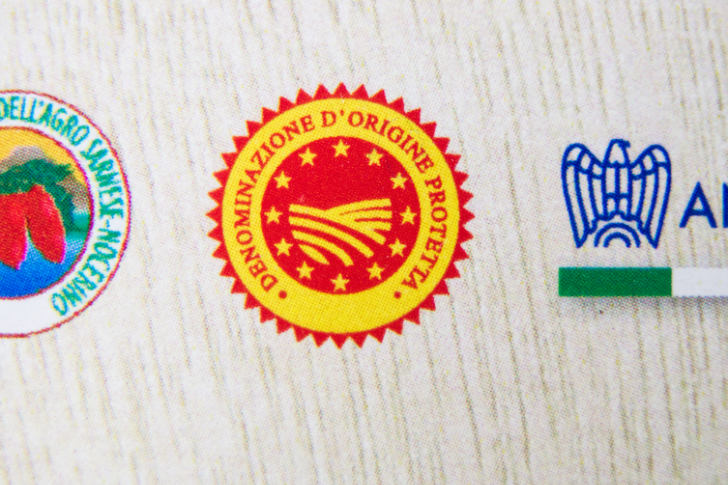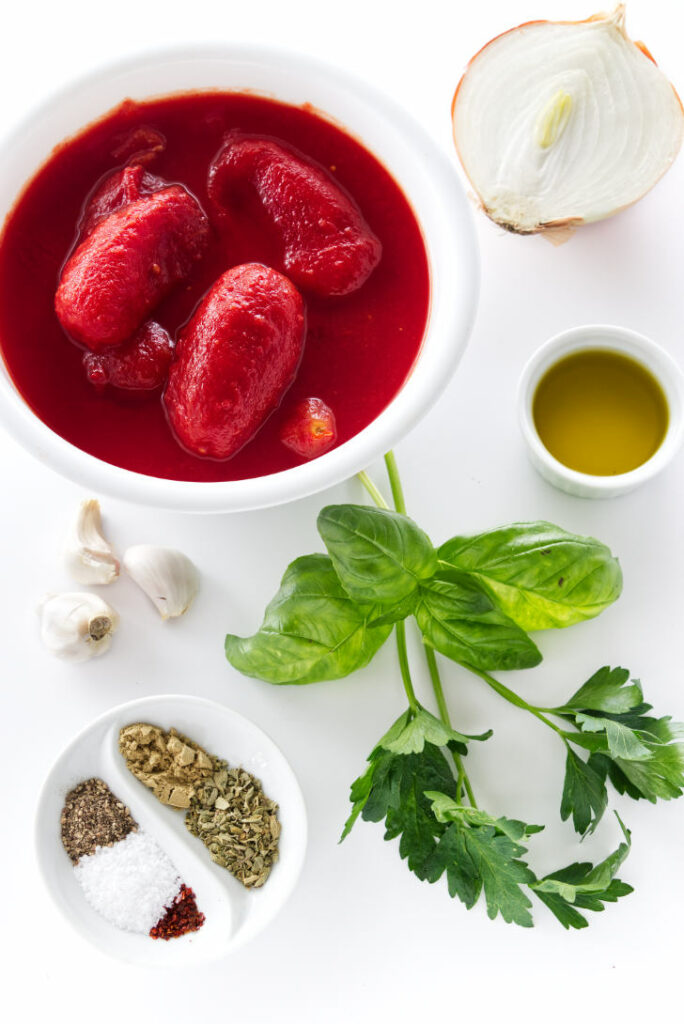 The Ingredients:
Here is a list of the ingredients you will need for San Marzano tomato sauce. Scroll down to the printable recipe card for all the details.
San Marzano DOP tomatoes
Olive oil
Onion, diced
Garlic cloves
Dried pepperoncini or a pinch of red pepper flakes
Dried oregano
Salt
Black pepper
Fresh basil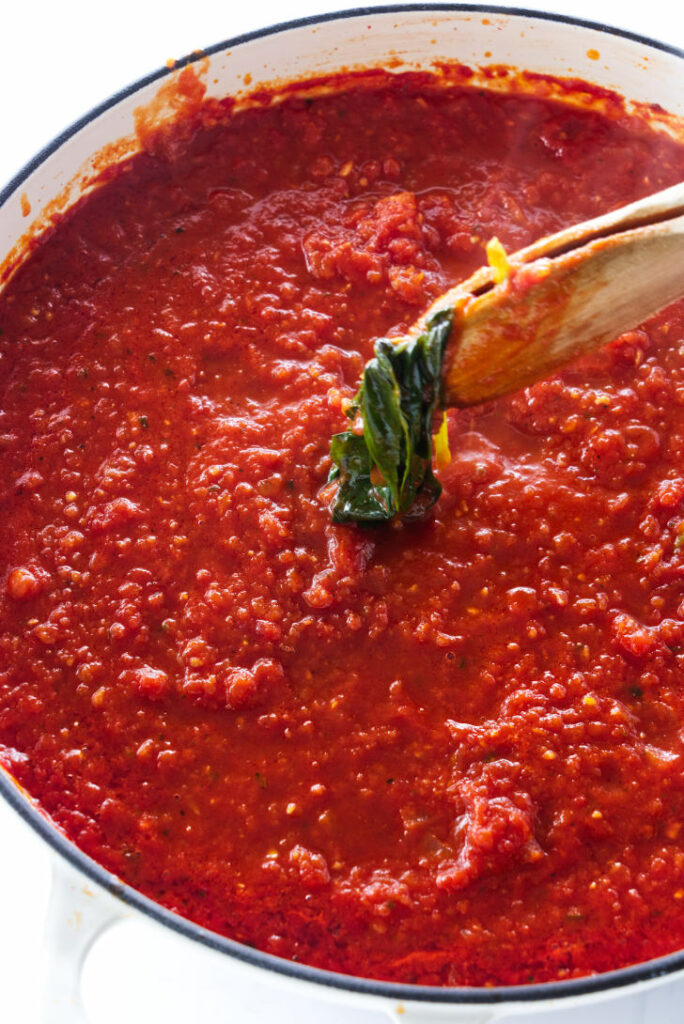 How to Make San Marzano Tomato Sauce:
Here is a brief overview to get an idea of what to expect with this San Marzano sauce. This is an authentic Italian tomato sauce recipe adapted from Il Fornio Pasta Book. Scroll down to the printable recipe card for all the details.
Pour the tomatoes into a bowl and break them up with your hands.

Saute the onions until soft. Add the garlic and pepper flakes and stir until fragrant.

Add the tomatoes, herbs, salt, and pepper. Bring to a boil, then simmer for about 20-30 minutes until thickened.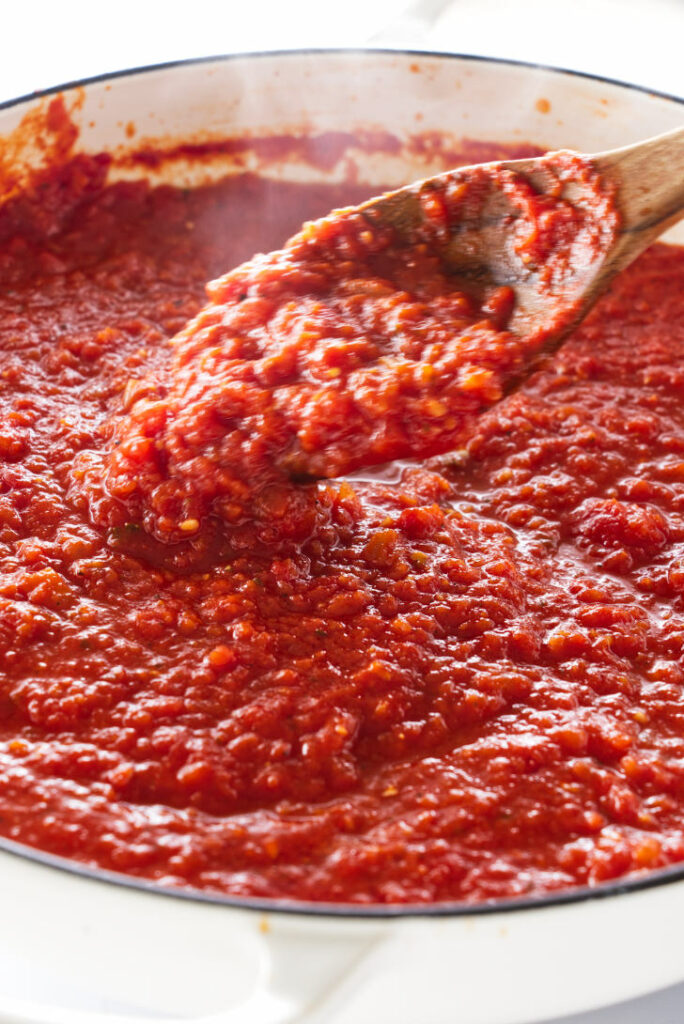 Tips for Success:
Are you getting real Italian San Marzano tomatoes? Check the label. It should say "DOP" and have a red and gold seal. A couple of examples of brands of San Marzano DOP tomatoes include this can and this can (affiliate links).

San Marzano DOP tomatoes are always sold as whole, peeled tomatoes and never have salt or preservatives added. That is another way you can tell if you are getting what you paid for.

If you want a smooth sauce, toss it in a blender or food processor and puree the sauce until smooth.

For a thicker sauce, simmer it uncovered for an hour.
Purchasing San Marzano DOP Tomatoes:
Not all cans of San Marzano tomatoes come from the volcanic soils of Southern Italy in the Agro Sarnese – Nocerino area.
When looking for San Marzano tomatoes, you may see cans that say "Product of Italy" or "Imported from Italy" or even "certified." These are not the same as DOP tomatoes, but they are often priced the same.
If you want to make sure you have the real deal, look for the DOP certification seal on the can.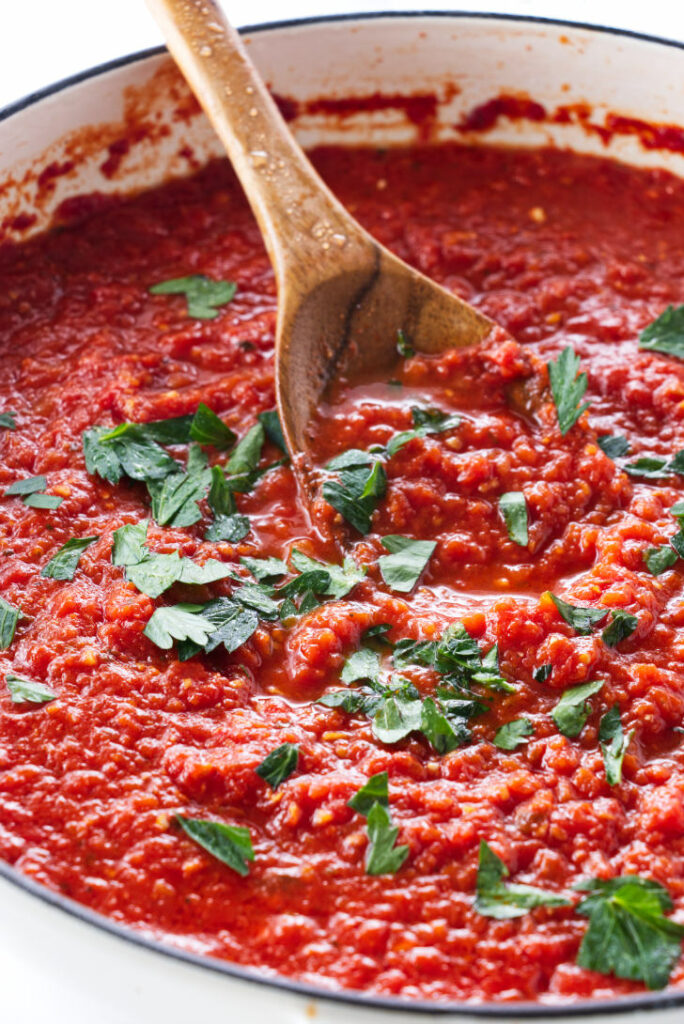 Frequently Asked Questions:
Why are San Marzano tomatoes good for sauce?
San Marzano tomatoes make a great sauce because of their low acidity and extra sweetness. They also have a firm, meaty flesh with fewer seeds.

All these qualities let the authentic flavor of the tomato shine in this tomato sauce recipe.
What's the difference between San Marzano and San Marzano DOP tomatoes?
They are the same type of tomato, but San Marzano DOP tomatoes are grown in a specific region of Southern Italy and must adhere to strict guidelines.

The soil, climate, and processing of DOP tomatoes contribute to a superior flavor and texture. DOP tomatoes are definitely worth seeking out for this recipe!
Can I grow my own San Marzano tomatoes?
Yes. San Marzano tomato seeds can grow almost anywhere in the world. However, they will not taste the same as the tomatoes grown in the volcanic soils of the Agro Sarnese – Nocerino area.
Can I add extra flavors to San Marzano sauce?
Yes. Feel free to add a splash of wine after you saute the onion. You can even add a cheese rind as we did in our beef pasta. We intentionally kept the ingredient list and instructions simple in order to highlight the sweet, low acidic taste of authentic San Marzano tomatoes.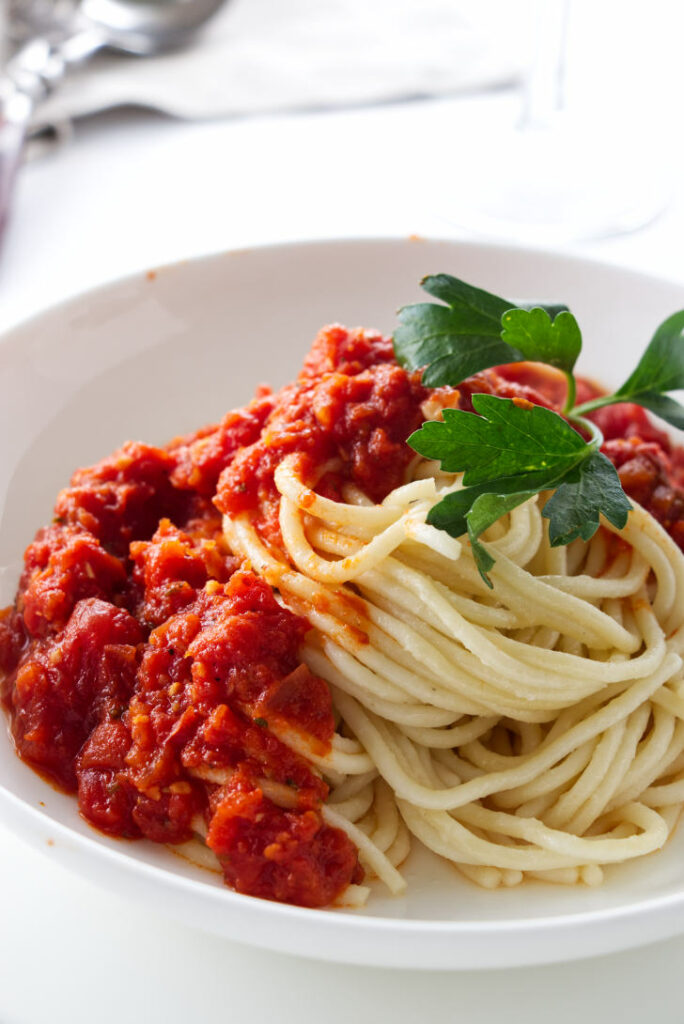 Helpful Tools:
Some of the following are affiliate links. If you click on these links and purchase something, we may receive a small commission. You don't pay any extra, but it will help us keep the lights on.
Some Other Recipes We Are Sure You Will Love:
Our cheese-stuffed pasta shells and malfatti dumplings are fantastic with this San Marzano sauce. Serve them with a Caprese salad for a quick, easy dinner.
This Bucatini alla Carbonara only uses a few ingredients but tastes rich and hearty! It's the perfect weeknight meal and can be on your table in less than 30 minutes.
This Italian Penne Arrabiata with smoked sausage is made with a rich, spicy, tomato-based sauce. It's a quick and easy weeknight dinner that the whole family will love!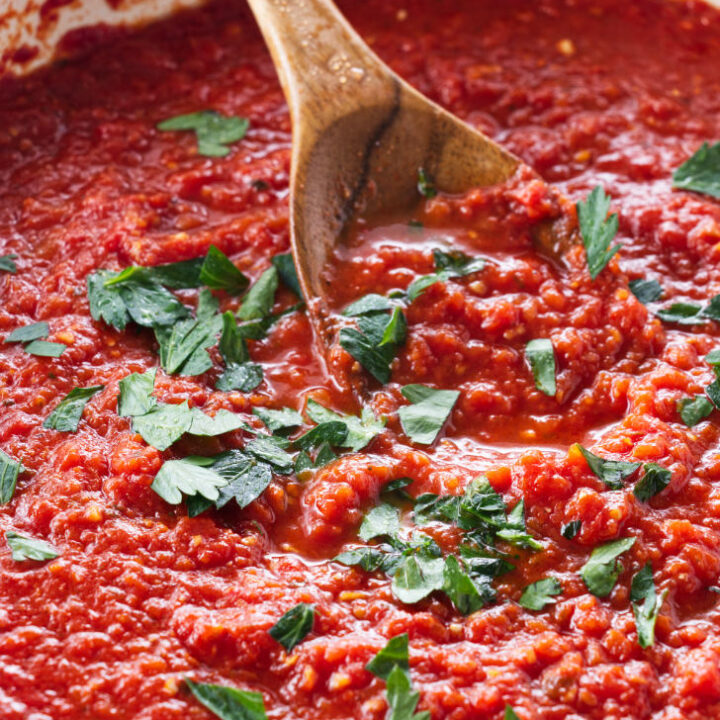 San Marzano Tomato Sauce
This thick, flavorful tomato sauce is made from San Marzano DOP tomatoes. This is a variety of plum tomato that is meatier, sweeter, and less acidic than the average plum tomato. Our San Marzano tomato sauce highlights the pure flavors of these exceptional tomatoes through a short ingredient list and a short simmer.
Ingredients
1 can (28 ounces) San Marzano DOP tomatoes
3 tablespoons olive oil
1/2 medium onion, diced
3 garlic cloves, crushed
1/2 teaspoon red pepper flakes or dried peperoncini
1/2 teaspoon dried oregano
1/2 teaspoon ground fennel seed
1/2 teaspoon salt
1/4 teaspoon freshly ground black pepper
Large sprig of fresh basil
2 tablespoons chopped parsley
Instructions
Pour the tomatoes and their juices into a large bowl and break them up with your hands. Set aside.
Heat the oil in a large shallow pot or skillet set over medium heat. Add the onions and sauté until tender and soft, about 2-3 minutes. Add the garlic, pepper flakes, oregano, and fennel and stir until fragrant, about 30 seconds.
Add the tomatoes, salt, and pepper. Bring to a boil, stirring frequently, then immediately reduce the heat to low. Add the fresh basil sprig, immersing it into the sauce.
Simmer the sauce, uncovered, for 25-30 minutes until thickened. With tongs or a fork, remove and discard the basil sprig. Transfer the sauce from the heat and stir in the chopped fresh parsley.
Serve with your favorite recipes.
Notes
If possible, use San Marzano certified D.O.P. canned tomatoes
For a smooth sauce, pour the tomatoes into a food processor or blender.
If you want a thicker sauce, simmer uncovered for 1 hour.
Nutrition Information:
Yield:

10
Serving Size:

1/4 cup
Amount Per Serving:
Calories:

43
Total Fat:

4g
Saturated Fat:

1g
Trans Fat:

0g
Unsaturated Fat:

3g
Cholesterol:

0mg
Sodium:

150mg
Carbohydrates:

2g
Fiber:

0g
Sugar:

1g
Protein:

0g
Nutrition information is a guideline only, is calculated automatically by third-party software, and absolute accuracy is not guaranteed.
You can view our Web Story here.