Oh, those Italians! They do have the most innovative, delicious food! This recipe for Malfatti in Tomato-Garlic Sauce is so easy to make and classy enough for dinner guest. The delicate little dumplings are soft, pillowy, and loaded with spinach, cheese and served in a puddle of tomato-garlic sauce. Yum!
Soon after we moved from the Philippines to Washington State in 1980, one of Don's friends, Angelo, invited us to his home for dinner. He and Don had worked together when we lived in Napa, California.
Coincidentally, here they were working together again. It was great to listen to Angelo and Don as they reminisced their past lives and experiences in California.
Angelo prepared an Italian dish that he called malfatti in tomato-garlic sauce, and he served it in a puddle of delicious sauce.
He said that he used ricotta cheese and that was the secret to the soft texture of the little dumplings. I regretted for years for not asking for his recipe as it was shortly after this great dining experience that Angelo passed away.
What is a Malfatti?
Don often asked if I could make malfatti's for him but I was never able to find a recipe in any of the Italian cookbooks. Those were the days before the world-wide-web so there wasn't even a Google search I could go to. Eventually, we both forgot about our interest in malfatti's. Until today!
Making Malfatti in Tomato-Garlic Sauce:
I was watching the Anne Burrell show, Secrets of A Restaurant Chef and she was preparing a spinach and ricotta gnocchi and she explained that this was also called malfatti by some Italians. Aha…, I immediately stopped what I was doing and ran to the computer and found her recipe.
Malfatti's are basically small dumplings with chopped spinach, ricotta and parmesan cheese. After the ingredients are combined they are scooped into balls or, shaped into small logs, and dropped into boiling water to cook. Typically they are served in a shallow dish with several spoons full of tomato sauce and garnished with fresh basil leaves.
History of the Malfatti:
What I learned was in the late 1920's at the historic Depot Restaurant in Napa, California the owner/chef, Theresa Tamburelli was all out of ravioli and with a hungry San Francisco baseball team in the restaurant, she rolled small balls of ravioli filling through flour, boiled them and doused them in tomato pasta sauce.
The team loved them and since it wasn't exactly a ravioli she called them Raviolini! Malfatti is slang for 'mistake' and the name of the dish was later changed to reflect it's origination.
So, I finally have a recipe for malfatti's…..thank you Anne Burrell and Google! I have adapted this recipe from Anne Burrell's Gnocchi recipe. I made this for Don last week and he really, really enjoyed it!
Yield: 4 to 6 servings
Malfatti in Tomato-Garlic Sauce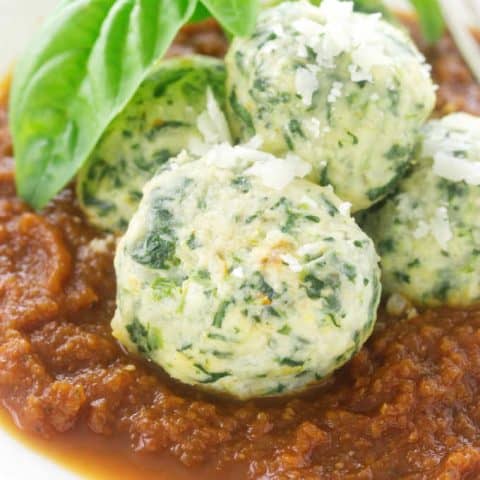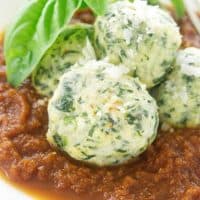 A light and delicate cheese-spinach pillow, served in a puddle of garlic-tomato sauce and garnished with fresh basil.
Prep Time 1 hour 30 minutes
Active Time 40 minutes
Total Time 2 hours 10 minutes
Ingredients
Tomato-Garlic Sauce
Malfatti:
1 pound fresh ricotta cheese, drained overnight in the refrigerator (see notes)
1 (9-ounce box) frozen spinach, defrosted and water squeezed out
2 cloves garlic, finely chopped
2 eggs
1 cup grated Parmigiano-Reggiano, plus more for sprinkling
1/4 teaspoon fresh nutmeg
zest from one lemon
Kosher salt
1/4 cup all-purpose flour, plus more for dusting the outside of the malfatti's
Extra:
Semolina, for holding the malfatti's (or substitute regular flour)
Grated Parmigiano-Reggiano, for garnish
Basil leaves for garnish
Instructions
Prepare the Tomato-Garlic sauce or pour a store-bought sauce into a sauce pan and let it warm up while you make the malfatti.
To Make the Malfatti's:
Unwrap the ricotta cheese from the cheesecloth; the texture should be pretty dry and crumbly. Put the cheese into a large bowl and break it up with a fork.
Finely chop the squeezed spinach and the garlic and add it to the ricotta.
In a small dish, add the eggs and whip them briefly with a fork, add the eggs, grated Parmigiano-Reggiano, nutmeg and lemon zest to the ricotta mixture. Mix until well combined.
Taste and season with salt, the cheese is salty so you may not need to add additional salt. Stir in the flour.
Dust a pie plate generously with all-purpose flour. Coat a sheet tray generously with semolina flour (or all-purpose flour).
Using a small 1-1/2 inch cookie/ice cream scoop place balls of the cheese mixture onto the flour dish. Roll the balls around to coat them in flour. Roll each flour coated cheese ball around in your hand to slightly firm up the ball. Do this gently so as to not squish the cheese balls. Arrange them on the semolina lined tray.
To cook and assemble:
Bring a large pot of well-salted water to a boil over medium heat, then reduce the heat until the water is at a simmer.
Carefully add the malfatti to the simmering water. Cook until the malfatti float and have begun to swell, 3 to 5 minutes. Do this in small batches.
Using a spider or slotted spoon, carefully remove the malfattii from the cooking water, blot on paper towels and place on an oven-proof serving platter. You can keep the cooked and drained malfatti, on an oven-proof dish, in the oven on the lowest setting, to stay warm while cooking the remaining batches.
On individual serving plates, spoon some sauce on each plate and spread it out until it becomes a 4 to 5-inch circle. Arrange 5 or 6 malfatti on each circle of sauce. Sprinkle with Parmigiano-Reggiano cheese, garnish with basil and serve immediately.
Notes
To drain the ricotta, line a fine mesh strainer with cheesecloth and place the ricotta in the cheesecloth. Set the strainer with the ricotta in it over a bowl and place it in the fridge to drain overnight.
Nutrition Information
Yield
6
Serving Size
1
Amount Per Serving
Calories 329
Total Fat 13g
Saturated Fat 7g
Trans Fat 0g
Unsaturated Fat 5g
Cholesterol 100mg
Sodium 518mg
Carbohydrates 33g
Fiber 2g
Sugar 1g
Protein 20g
Nutrition information is a guideline only, is calculated automatically by third party software, and absolute accuracy is not guaranteed.