Malfatti are tender, plump dumplings that are incredibly easy to make. This is a recipe that is easy enough for a weeknight dinner but classy enough for a special guest. The delicate little ricotta dumplings are pillowy soft and loaded with spinach and cheese then served in a puddle of tomato-garlic sauce. Yum!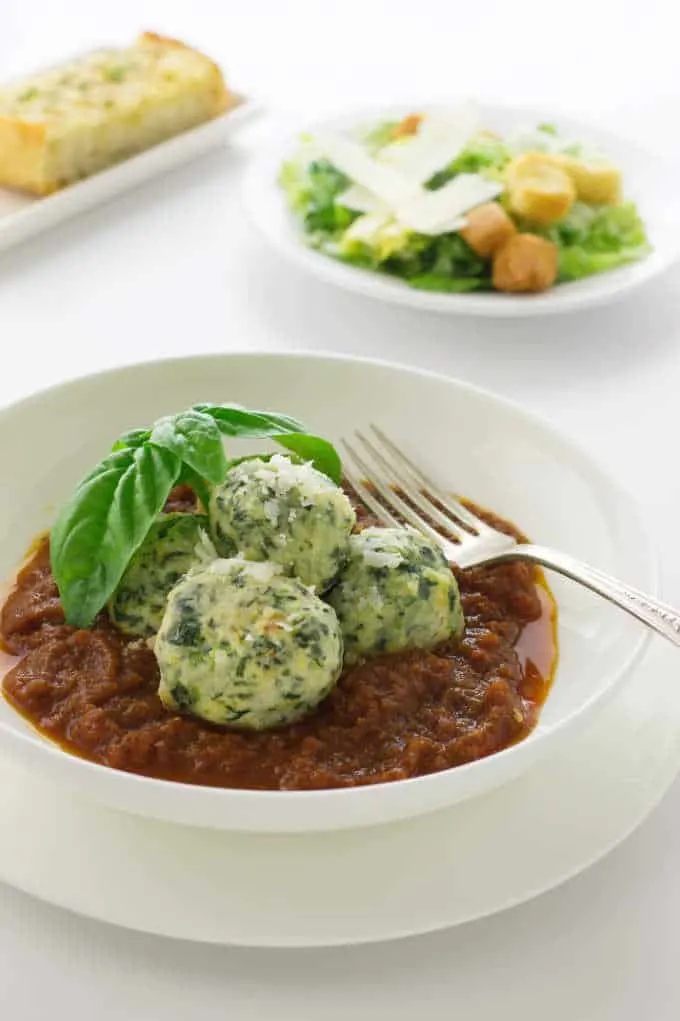 I received this recipe several years ago from our dear Italian friend, Angelo who prepared it for us created a memorable dinner. The secret to the delicate, soft texture of these little dumplings is the ricotta cheese and just a small amount of flour.
The easiest dumplings you will ever make.
Malfatti is so easy to make you will want to put this recipe on your regular dinner rotation. The only thing you need to keep in mind is that you need time for the ricotta to drain. Getting as much liquid out of the ricotta and spinach will keep these dumplings pillowy soft.
Watch our video to see how easy this recipe is.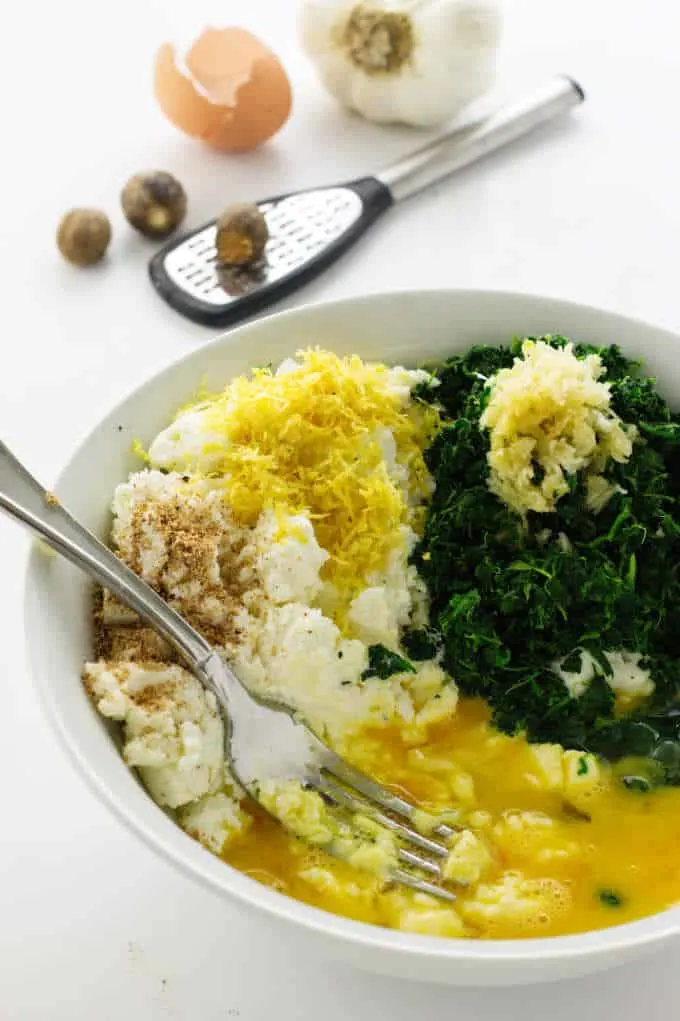 WHAT IS MALFATTI?
Malfatti is an Italian dish that is a variation of gnocchi. It is basically a small dumpling made with drained ricotta cheese, chopped spinach, garlic, eggs, and parmesan cheese. The ricotta makes them pillowy soft, delicate and irresistible.
They are quite easy to make. You simply stir the ingredients in one bowl, form them into balls, then drop them into simmering water. Read the post below for all the details and tips.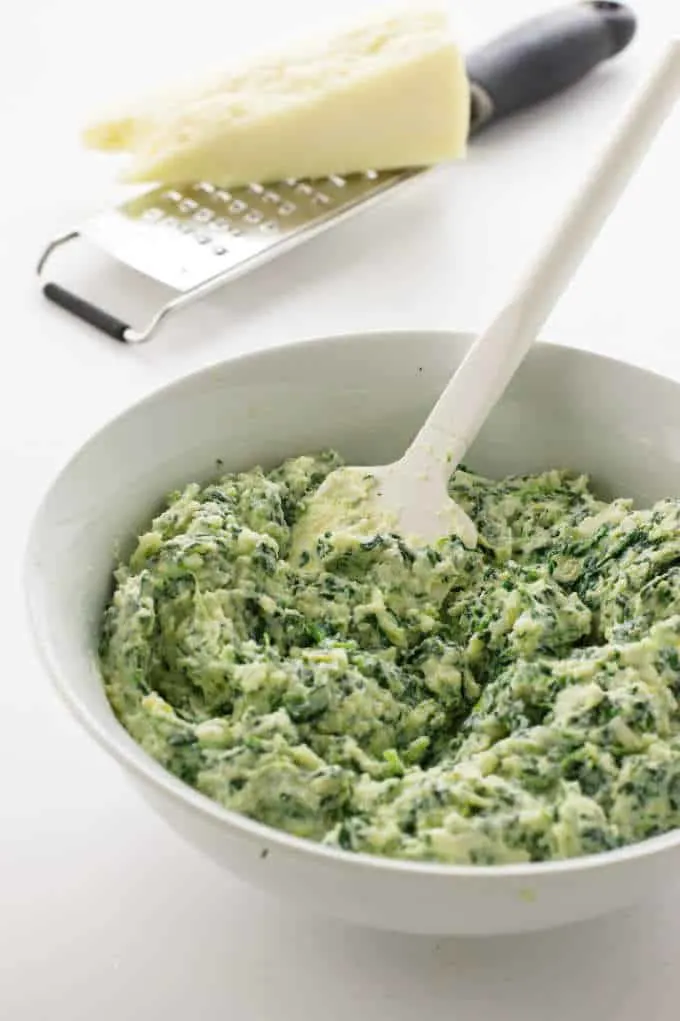 What you need.
Here is what goes in malfatti.
Ricotta cheese
Spinach
Garlic
Eggs
Parmigiano-Reggiano cheese
Nutmeg
Lemon zest
Salt
Flour
How to make Malfatti
There are only a few steps to making the best malfatti ever. We will give you some tips and try to explain all the how-tos. Make sure you scroll all the way to the printable recipe card at the bottom.
Drain the ricotta. Some brands of ricotta have more moisture in them. Depending on the brand, it may take several hours so plan ahead. Use some cheesecloth in a strainer and set it in the fridge overnight.
Squeeze the water out of the spinach.
Chop the spinach and add it to the ricotta along with the rest of the ingredients.
Roll balls of dough into some flour and set on a floured plate.
Drop the balls into boiling water and cook until they float.
Serve with marinara sauce.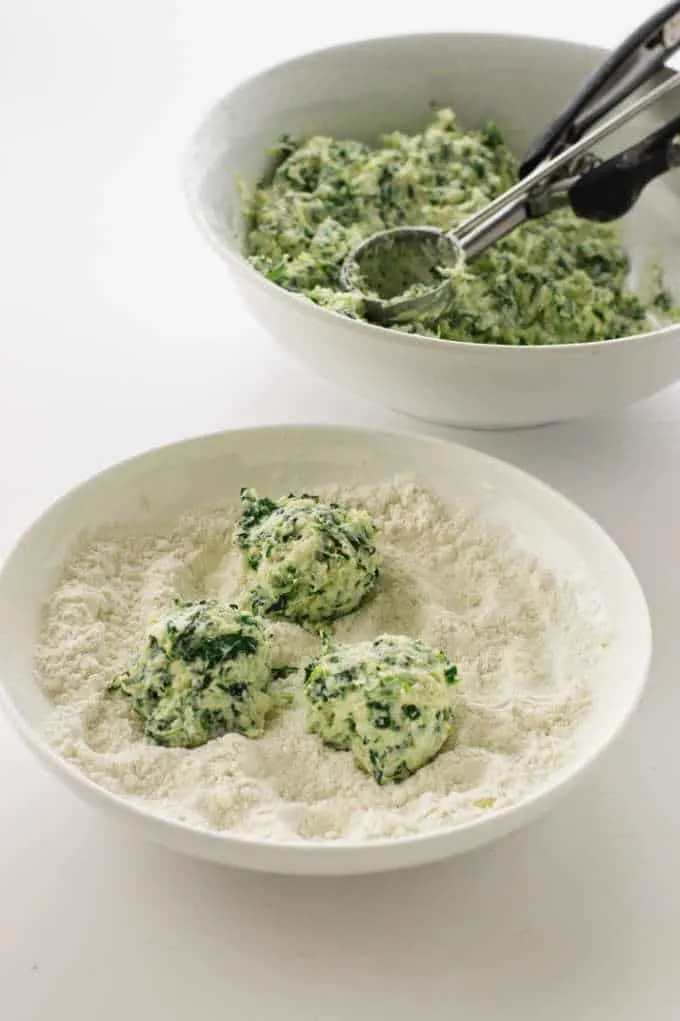 Tips for Success.
If you don't drain the ricotta first, your malfatti will end up too wet and will fall apart when you place it in the simmering water. You could combat the moisture by adding more flour to the mixture but that will change the texture and they won't be as tender. If you wait for the ricotta to drain, the texture will be perfectly delicate and cheesy.
To make this recipe super easy use frozen, pre-cooked spinach. If you want to use fresh spinach, you will need about 10 to 12 cups of fresh spinach leaves and cook it down.
Whether you use frozen or fresh spinach, you need to chop it up pretty well. If you don't chop the spinach, the little malfatti dumplings will end up with large fibrous strands of spinach.
Use Good Parmigiano-Reggiano. Parmigiano-Reggiano has an aged, complex flavor that just can not be beaten. You can use cheaper substitutes but the flavor won't compare to the real thing.
Use fresh nutmeg and lemon zest for the best flavor. Nutmeg and lemon zest are two more of the secret ingredients that add so much flavor and freshness to the malfatti.
To get a nice, fine dusting of nutmeg and lemon zest, use a zester like this one that has a small grate. Don't use a zester like this one or you will end up with large chunks of bitter lemon zest and nutmeg. The goal is to disperse very tiny bits of flavor throughout the malfatti.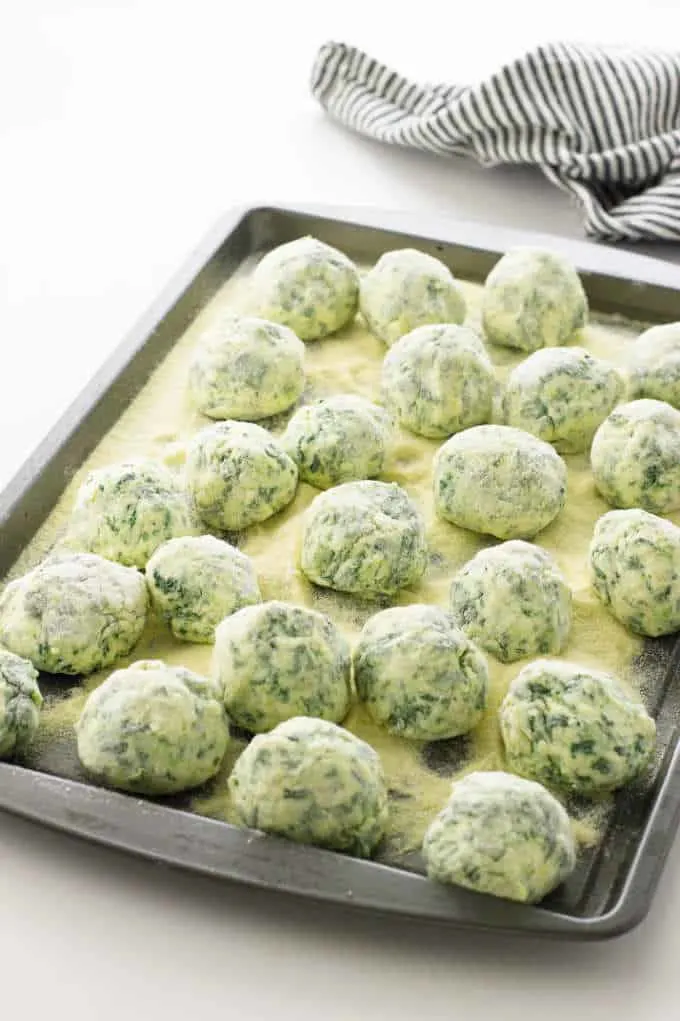 More helpful tips.
Taste the batter BEFORE adding salt. The Parmigiano-Reggiano is already fairly salty so you MIGHT not need any salt. It is easier to add a bit of salt after you taste the mixture than to remove the salt. I have noticed the pre-grated cheese has less salty flavor than a fresh block of cheese.
Set the balls of raw dough on a bed of flour. If you lay them on a plate without flour, they will stick to the plate. We used semolina flour because it does not absorb as much moisture as all-purpose flour. However, if you do not have semolina flour, you could use all-purpose flour or even cornmeal.
Cook the malfatti in batches. You only want to cook about 6 malfatti at a time. If you crowd the pot of water with too many, the water will cool down and they won't cook as fast.
You will know they are finished cooking when they float to the top. Use a slotted spoon to remove them from the water and set them aside while you cook the rest.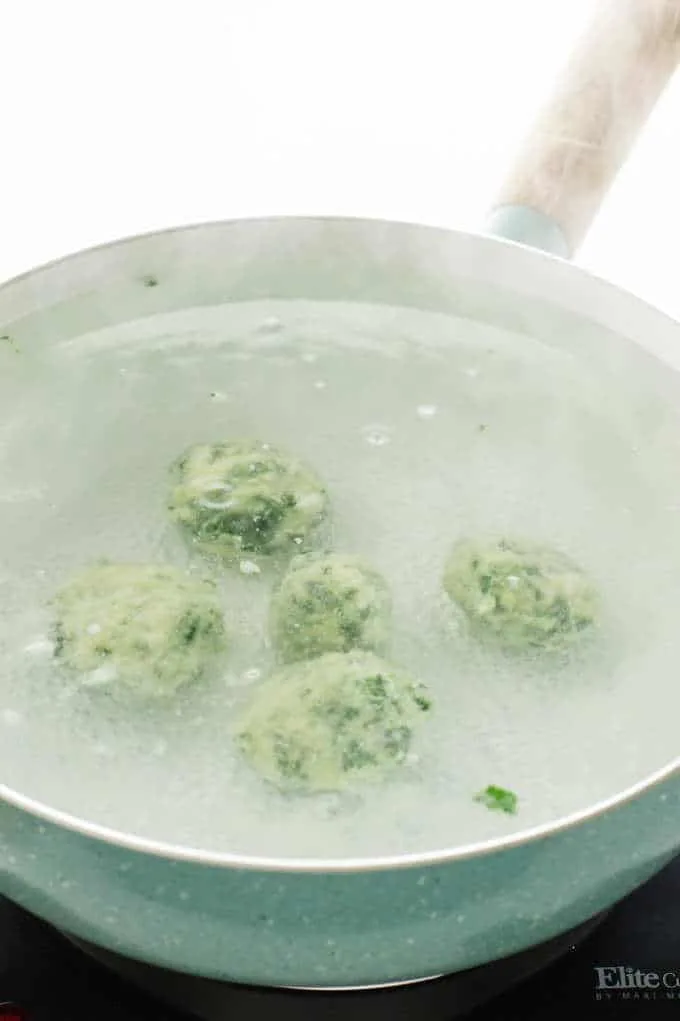 What to serve with malfatti.
Serve these delightful ricotta dumplings with a green salad and some sourdough bread or warm garlic bread.
Can you freeze malfatti?
You can freeze malfatti for up to 6 months as long as you store them in a freezer-proof container.
The sauce:
We used our recipe for Tomato-Garlic Sauce to serve with the malfatti. It is a delicious made-from-scratch recipe that gets a lot of flavor from a long simmer. If you don't want to take the time to make a sauce, just grab your favorite store-bought marinara sauce.
Another option is to toss them in some brown butter and fresh herbs.
HISTORY OF THE MALFATTI:
Here is what I have learned of the creation of malfatti: It all began in the late 1920's at the historic Depot Restaurant in Napa, California. It was late in the day and Theresa Tamburelli, the owner/chef, was all out of prepared ravioli. Enter….a hungry San Francisco baseball team ordering….you guessed it, ravioli.
Ms. Tamburelli quickly rolled small balls of ravioli mixture through flour, then boiled them up. She served them to her hungry guests in a puddle of tomato sauce and garnished with fresh herbs.
The team loved them and since it wasn't exactly a ravioli she called them Raviolini! Malfatti is slang for 'mistake' or 'poorly made'. The name of the dish eventually changed to reflect it's origination.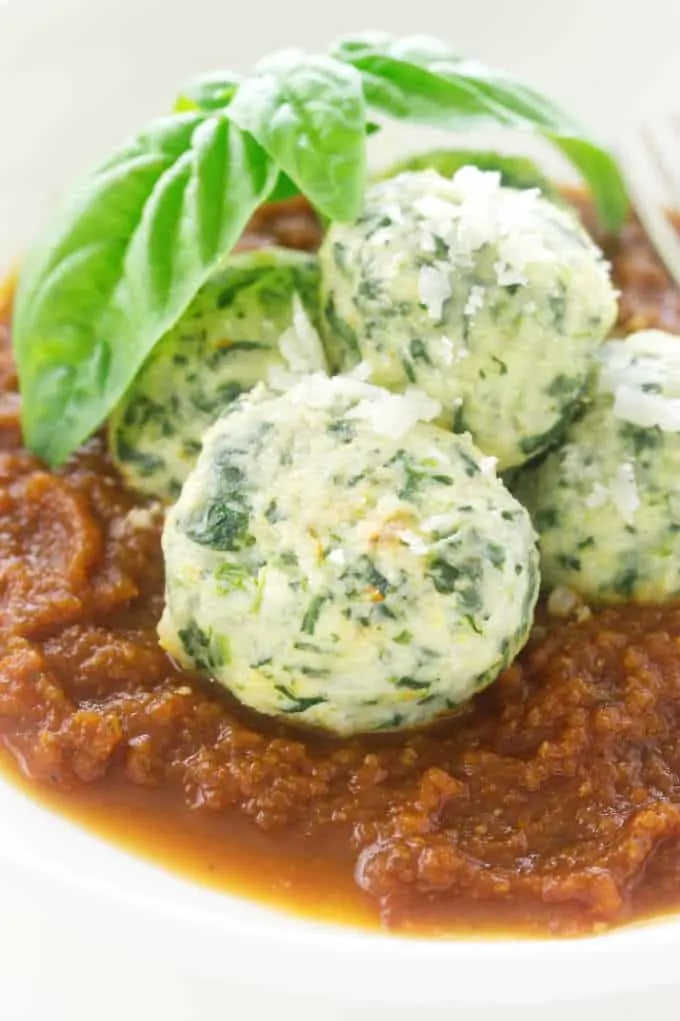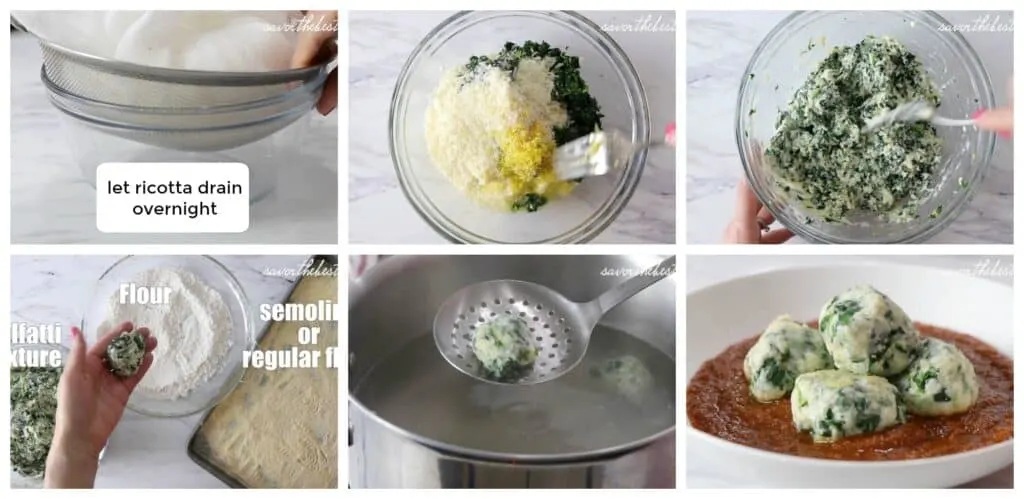 SOME OTHER RECIPES WE ARE SURE YOU WILL LOVE:
Connect With Savor the Best:
Please follow us on our social media accounts
Facebook * Instagram * Pinterest * Youtube * Twitter
Did you make this recipe? We would love to hear from you. Drop us a comment below.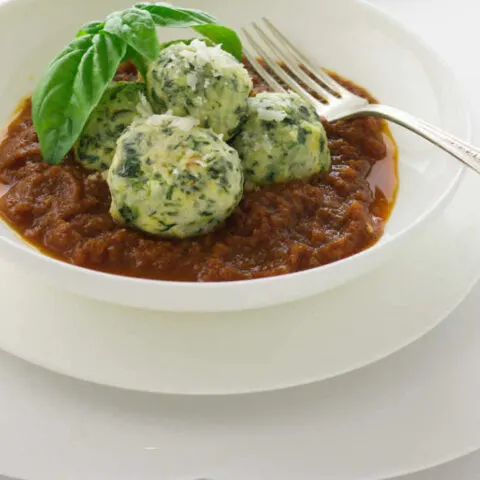 Malfatti in Tomato-Garlic Sauce
Prep Time:
1 hour
30 minutes
Total Time:
2 hours
10 minutes
A light and delicate cheese-spinach pillow, served in a puddle of garlic-tomato sauce and garnished with fresh basil.
Ingredients
Tomato-Garlic Sauce
Malfatti:
1 pound fresh ricotta cheese, drained overnight in the refrigerator (see notes)
1 (9-ounce box) frozen spinach, defrosted and water squeezed out
2 cloves garlic, finely chopped
2 eggs
1 cup grated Parmigiano-Reggiano, plus more for sprinkling
1/4 teaspoon fresh nutmeg
zest from one lemon
Kosher salt
1/4 cup all-purpose flour, plus more for dusting the outside of the malfatti's
Extra:
Semolina, for holding the malfatti's (or substitute regular flour)
Grated Parmigiano-Reggiano, for garnish
Basil leaves for garnish
Instructions
Prepare the Tomato-Garlic sauce or pour a store-bought sauce into a sauce pan and let it warm up while you make the malfatti.
To Make the Malfatti's:
Unwrap the ricotta cheese from the cheesecloth; the texture should be pretty dry and crumbly. Put the cheese into a large bowl and break it up with a fork.
Finely chop the squeezed spinach and the garlic and add it to the ricotta.
In a small dish, add the eggs and whip them briefly with a fork, add the eggs, grated Parmigiano-Reggiano, nutmeg and lemon zest to the ricotta mixture. Mix until well combined.
Taste and season with salt, the cheese is salty so you may not need to add additional salt. Stir in the flour.
Dust a pie plate generously with all-purpose flour. Coat a sheet tray generously with semolina flour (or all-purpose flour).
Using a small 1-1/2 inch cookie/ice cream scoop place balls of the cheese mixture onto the flour dish. Roll the balls around to coat them in flour. Roll each flour coated cheese ball around in your hand to slightly firm up the ball. Do this gently so as to not squish the cheese balls. Arrange them on the semolina lined tray.
To cook and assemble:
Bring a large pot of well-salted water to a boil over medium heat, then reduce the heat until the water is at a simmer.
Carefully add the malfatti to the simmering water. Cook until the malfatti float and have begun to swell, 3 to 5 minutes. Do this in small batches.
Using a spider or slotted spoon, carefully remove the malfattii from the cooking water, blot on paper towels and place on an oven-proof serving platter. You can keep the cooked and drained malfatti, on an oven-proof dish, in the oven on the lowest setting, to stay warm while cooking the remaining batches.
On individual serving plates, spoon some sauce on each plate and spread it out until it becomes a 4 to 5-inch circle. Arrange 5 or 6 malfatti on each circle of sauce. Sprinkle with Parmigiano-Reggiano cheese, garnish with basil and serve immediately.
Notes
To drain the ricotta, line a fine mesh strainer with cheesecloth and place the ricotta in the cheesecloth. Set the strainer with the ricotta in it over a bowl and place it in the fridge to drain overnight.
Recommended Products
As an Amazon Associate and member of other affiliate programs, I earn from qualifying purchases.
Nutrition Information:
Yield:

6
Serving Size:

1
Amount Per Serving:
Calories:

329
Total Fat:

13g
Saturated Fat:

7g
Trans Fat:

0g
Unsaturated Fat:

5g
Cholesterol:

100mg
Sodium:

518mg
Carbohydrates:

33g
Fiber:

2g
Sugar:

1g
Protein:

20g
Nutrition information is a guideline only, is calculated automatically by third party software, and absolute accuracy is not guaranteed.