Bucatini alla Carbonara is a classic Italian pasta dish that features a rich, velvety smooth sauce made with egg yolks, cheese, and pork. A hint of garlic gives this dish an extra layer of flavor, making it irresistible and swoon-worthy.
If you're looking for an easy yet impressive pasta dish to add to your repertoire, you need to grab this recipe.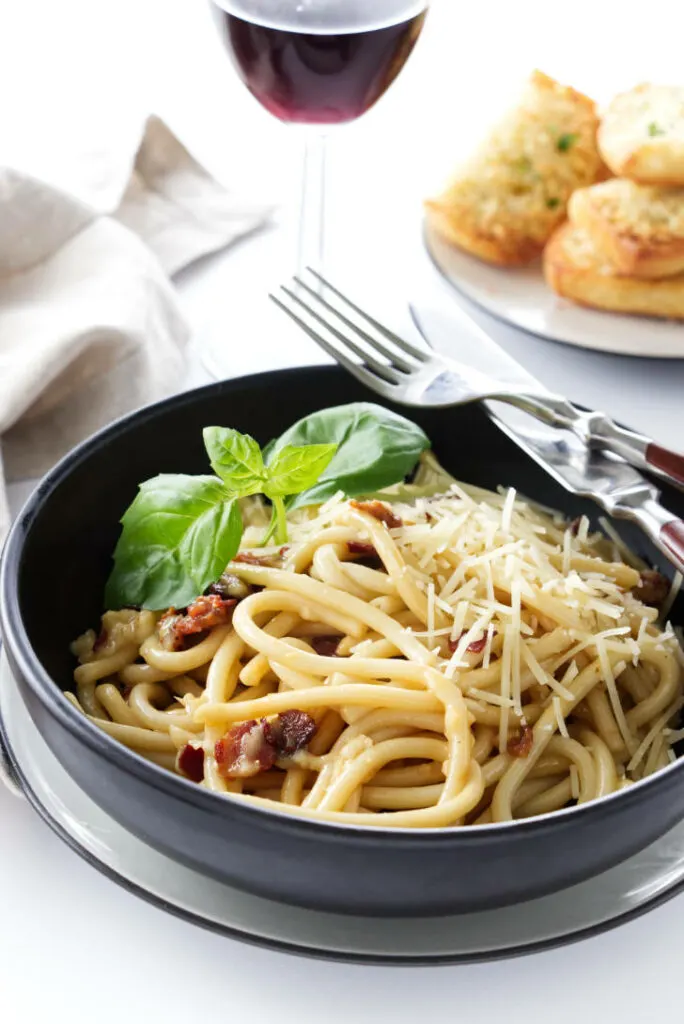 I have been wanting to make this bucatini alla carbonara for a very long time and have finally overcame my intimidation and just did it.
Some recipes have special tips for success. In the case of this bucatini alla carbonara, the tip we always hear is to "be careful and don't let the eggs get too hot or they will scramble". We simplified the technique in this recipe so it will come out perfect every time.
I have several Italian cookbooks and some of them list spaghetti as the pasta while others list the bucatini. Also, there is a mix between them with the addition of cream and garlic.
One of my favorite recipe books is The Il Fornaio Pasta Book which is full of pasta recipes from Italy. It is from the restaurant owner of Il Caminetto in Whistler, BC that I mentioned in the post of Grilled Rack of Lamb.
I adapted the recipe in his book to include garlic and I sometimes use bacon or guanciale in place of the pancetta. The result is this amazing dish of bucatini alla carbonara. It is so creamy and delicious.
What is Bucatini alla Carbonara?
Bucatini alla carbonara is a simple Italian dish that originated in Rome, Italy. It consists of perfectly cooked hollow string pasta that is tossed together with a mixture of eggs, and cheese, with porky guanciale, pancetta, or bacon mixed with it.
Finally, as a finishing touch, Parmigiano-Reggiano cheese is grated on top. The heat of the pasta and other ingredients will lightly cook the raw eggs.
This is bacon and eggs pasta and it is so delicious.
Here is Why This Recipe Works
Mixing the pasta and carbonara sauce in a warm bowl instead of a hot skillet helps prevent the eggs from being scrambled.

A combination of whole eggs and egg yolks creates a rich, creamy sauce that clings perfectly to the pasta.

Residual heat from the hot noodles gently cooks the eggs and creates a velvety smooth sauce.

Using both Pecorino and Parmesan cheese creates a more complex flavor. Pecorino has salty, earthy notes, and Parmesan has a more aged, nutty flavor.
Traditionally, there is no cream in a pasta carbonara recipe. Sometimes you will see cream included in a recipe because it makes the pasta dish easier to prepare and helps the sauce stay creamy longer. But this is not how it is supposed to be made. If you want a truly authentic carbonara recipe, do not add cream.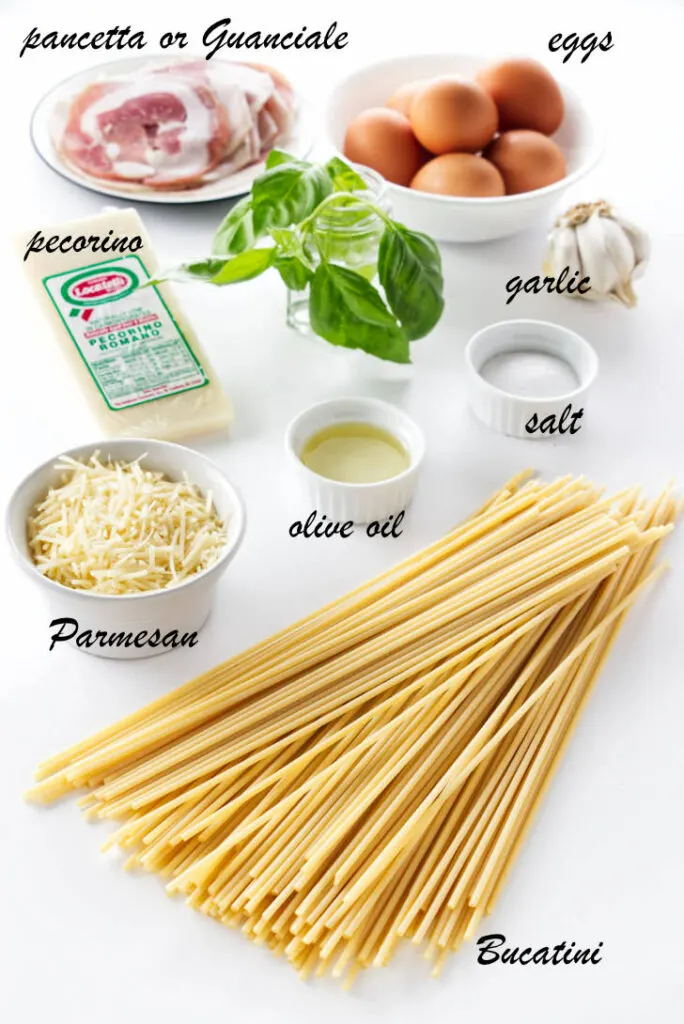 The Ingredients
Here is a list of the ingredients you will need for this classic Italian pasta dish. Scroll down to the printable recipe card for all the details.
The base of the carbonara sauce is made with eggs, Guanciale (or pancetta), and Pecorino cheese. A little black pepper gets added to the sauce, which rounds out the flavor nicely. These ingredients are combined to create a rich and flavorful sauce that clings perfectly to bucatini pasta.
Here are the ingredients
Olive oi
Garlic
Guanciale, bacon or pancetta
Eggs
Pecorino and Parmigiano-Reggiano
Bucatini
Ingredient Notes
Traditional recipes use Guanciale which is cured pork cheek. Since Guanciale is a little more challenging to find, we included an option for pancetta or bacon in the recipe.
Bucatini looks similar to spaghetti noodles, but it is hollow or tubular. The tube-like pasta soaks up more of the sauce than spaghetti and holds on to all the flavor. If you can't find bucatini noodles, you can use spaghetti noodles or rigatoni.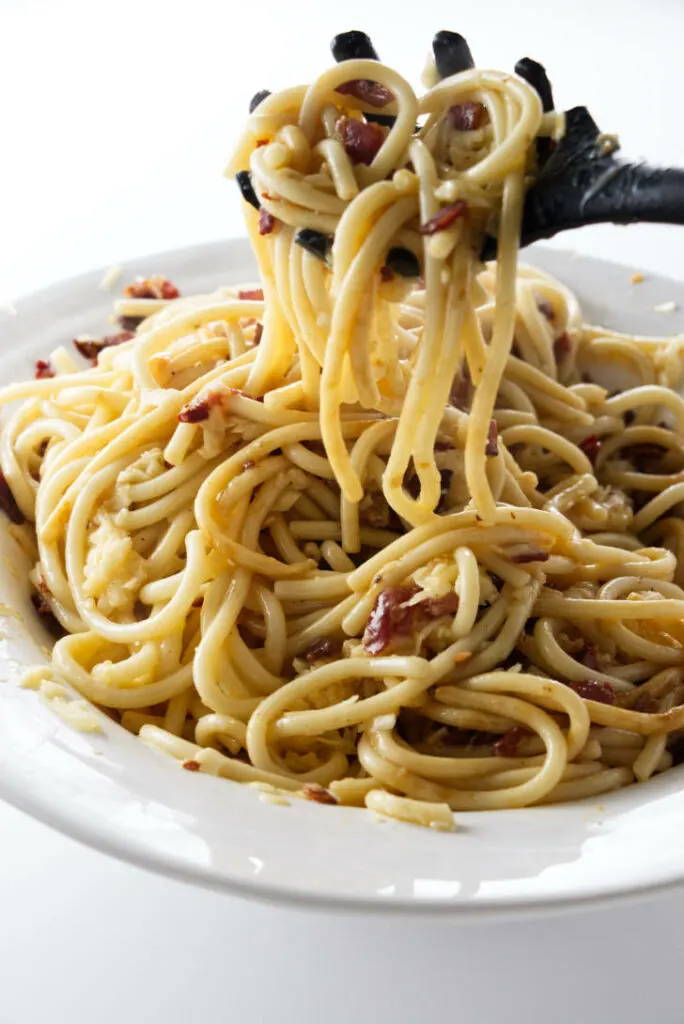 How to Make Pasta Carbonara
Here is a brief overview to get an idea of what to expect with the recipe. Scroll down to the printable recipe card for all the details.
Stick a large dish in a warm oven. You will use the warm dish to mix the carbonara sauce with the hot noodles.
Cook the pork (guanciale, pancetta, or bacon) until the fat renders and the outside becomes crisp.
Whisk the eggs, egg yolks, seasonings, and cheese in a bowl.
Cook the pasta.
Transfer the past to the warm bowl then add the pork and egg mixture. Toss constantly until well coated and the sauce looks glossy.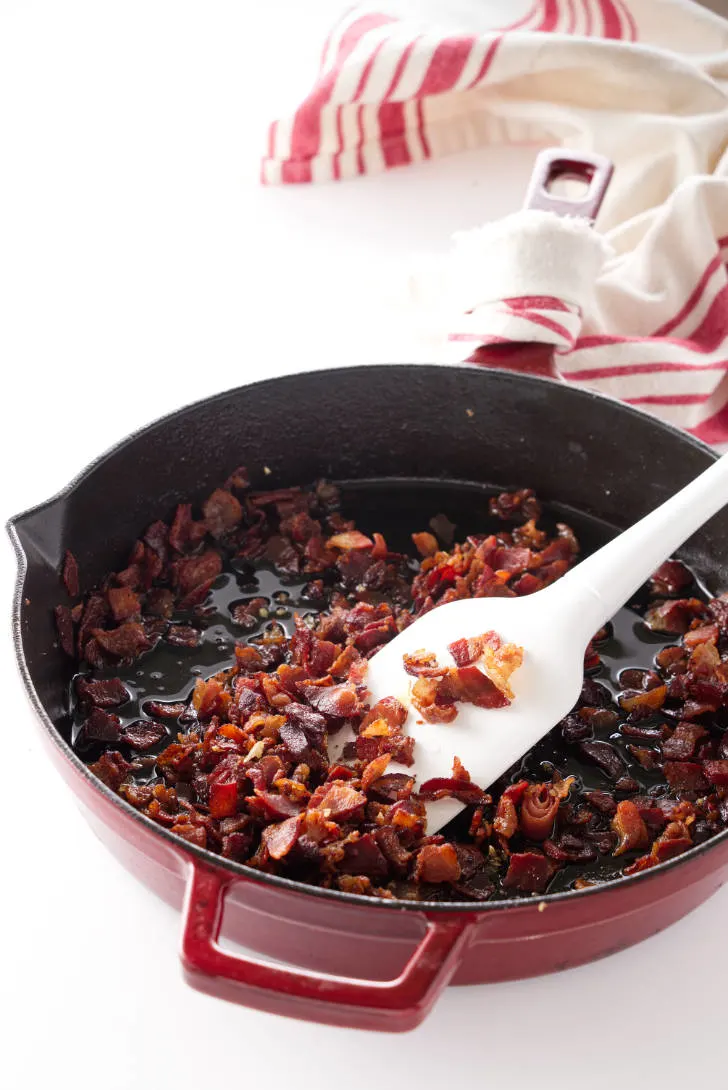 Tips for Success
Cook the pancetta or Guanciale slowly to give time for the fat to render down.

Use plenty of salt in the pasta water. If you don't season the pasta water, you will have a delicious sauce with bland noodles.

Don't rinse the pasta after it finishes cooking. Just drain it and transfer it to the warm bowl. Rinsing the pasta will wash off the extra starch that is needed in the sauce.

Cook the pasta last. You want the pasta to be hot when you add the egg and cheese mixture.

Use room temperature eggs.

Save some pasta water before you drain the noodles.

Stir the dish continually when you combine the eggs with the pasta.

If the eggs start to curdle, stir in a little of the pasta water.
More Pasta Recipes
If you love pasta as much as we do, we have a lot more recipes on this site that you will want to try. Here are some more pasta recipes.
Frequently Asked Questions
What is carbonara sauce made of?
Carbonara sauce consists of eggs, cheese, pork, and plenty of pepper. A little starchy water gets added when you toss the sauce with the pasta and it results in a creamy, velvety smooth sauce.
Does cream go in carbonara?
No. Some recipes use cream but if you want to make a traditional carbonara pasta, do not add cream. This recipe is the real deal.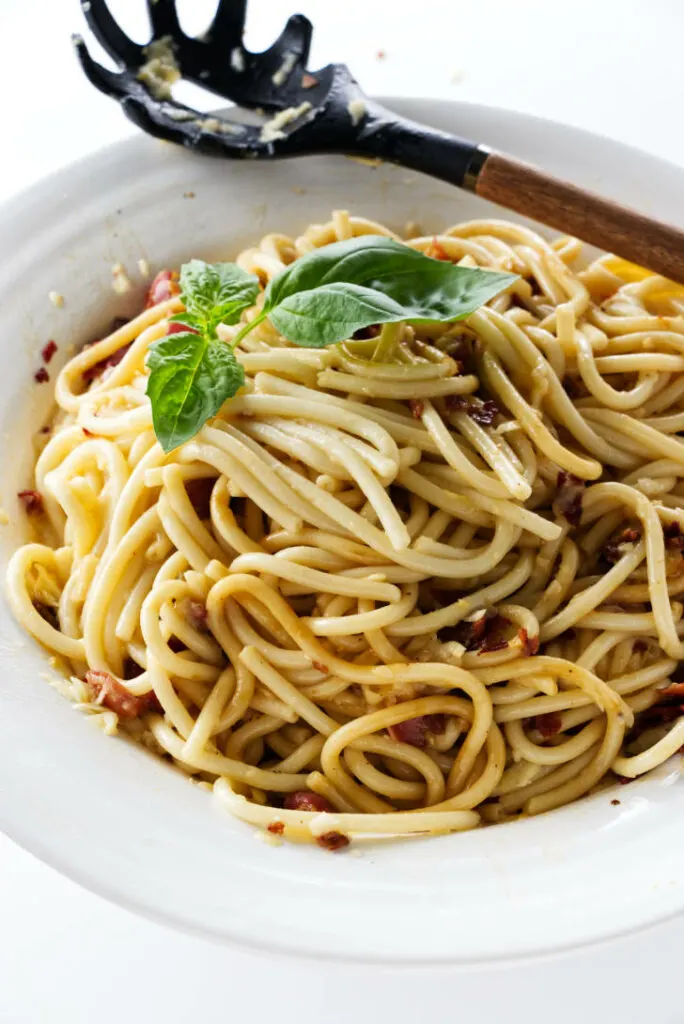 About the Eggs
If you are concerned that the eggs may not be cooked enough to be safe, you could use pasteurized eggs in either liquid form or in the shell. I buy my pasteurized eggs at Albertsons and the name says it all, Safe Eggs.
Egg pasteurization eliminates the risk of Salmonella bacteria and viruses like Avian influenza. If you are interested, Nicole Weston, over at Baking Bites gives instructions on how to pasteurize eggs in your own kitchen.
There is an old Italian proverb that says, "When the stomach is full the heart is happy", and this bucatini alla carbonara will do both. I would also be happy to have a nice glass of Zinfandel wine with this amazing meal.
Helpful Tools
Some of the following are affiliate links. If you click on these links and purchase something, we may receive a small commission. You don't pay any extra, but it will help us keep the lights on.
Some Other Recipes We Are Sure You Will Love:
Our duck pasta is made with sous vide duck meat and topped with a creamy, flavorful sauce. It's a delicious meal that the whole family will love!
This classic tuna casserole is just like grandma's recipe. It is made from scratch and feeds a large crowd. Serve it with some crusty garlic bread and a wedge salad.
Our pasta with black truffles is simple yet so elegant. It is a dish that is perfect for date night and sure to please any pasta lover.
This Creamy Garlic Butter Chicken Pasta is easy to prepare and will be ready in less than 30 minutes. Throw in some steamed broccoli and Dutch oven bread for a full meal.
Connect With Savor the Best:
Please follow us on our social media accounts
Facebook * Instagram * Pinterest * Youtube * Twitter
Did you make this recipe? We would love to hear from you. Drop us a comment below.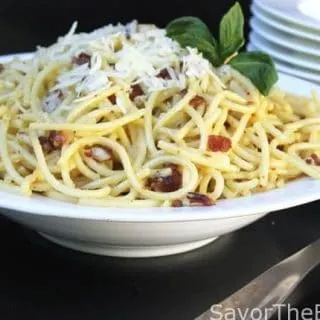 Bucatini alla Carbonara
A traditional Italian pasta dish with a creamy egg sauce. Hot pasta and a warm bowl will gently cook the egg mixture and turn it into a velvety smooth sauce.
Make sure you cook the pasta last so it is hot when you mix it with the egg mixture.
Ingredients
1 tablespoon olive oil
2 cloves garlic, minced
10 ounces guanciale, bacon or pancetta, diced
3 large eggs
3 large egg yolks
1 cup freshly grated pecorino
5 teaspoons sea salt
1 pound dry bucatini
1/2 cup freshly grated Parmigiano-Reggiano
Instructions
Preheat the oven to 200° F
Place a large ovenproof serving bowl or casserole dish into the oven to heat. You will use the warm dish to toss the pasta with the carbonara sauce.
Heat the olive oil in a sauté pan over medium-high heat. Add the bacon or pancetta and cook until browned and crispy, about 10 minutes. Add the minced garlic and cook just until it is soft and fragrant, do not let it brown. Remove from heat and set aside.
Whisk together the whole eggs and egg yolks in a medium bowl. Add the grated pecorino, pepper and 1/4 teaspoon of the salt. Set aside.
Bring 5 quarts of water and the 5 teaspoons of salt to a boil over high heat. Add the pasta and cook according to package directions or until al dente. Transfer the pasta to a colander and drain, reserving 1/2 cup of the cooking water.
Transfer the cooked pasta to the heated serving bowl and add the reserved bacon or pancetta, lifting and tossing the bucatini with two forks. Then, working quickly, add the eggs and cheese, continuing to lift and toss to coat the strands thoroughly. If the dish seems too dry add a tablespoon or two of the reserved cooking water. Sprinkle with the 1/2 cup of grated cheese and serve immediately.
Notes
Traditional recipes use Guanciale which is cured pork cheek. Since Guanciale is a little more challenging to find, we included an option for pancetta or bacon.
Bucatini looks similar to spaghetti noodles, but it is hollow or tubular. If you can't find bucatini noodles, you can use spaghetti noodles or rigatoni.
If you want more sauce, add an extra egg or two egg yolks. The egg yolks will give the sauce a richer flavor.
Nutrition Information:
Yield:

8
Serving Size:

1
Amount Per Serving:
Calories:

411
Total Fat:

25g
Saturated Fat:

9g
Trans Fat:

0g
Unsaturated Fat:

14g
Cholesterol:

216mg
Sodium:

2233mg
Carbohydrates:

20g
Fiber:

1g
Sugar:

1g
Protein:

25g
Nutrition information is a guideline only, is calculated automatically by third-party software, and absolute accuracy is not guaranteed.
This recipe was originally published on November 21, 2014. We updated the photos and included some helpful tips.