Spicy Tilapia with wild rice is a fast, healthy and easy dinner entree and if you already have some leftover rice in the fridge it is even faster. There is a ton of flavor from the peppery taste of tomatoes and chiles that balances deliciously with the fish and rice.
There are some days that I am too busy or too distracted to even think of what's for dinner. Or, maybe I am guilty of poor planning and we have breakfast for dinner. Can anyone relate?
Well, this recipe for spicy Tilapia is definitely easy and fast, plus it is a low-fat, low-calorie entree. This recipe can easily be adapted with different species of fish or rice.
Tilapia is a fresh water fish and likes the warmer waters, such as in the Mediterranean. It is one of the main fishes in the Sea of Galilee and is also known as St. Peter's fish from the story in the bible of Peter taking the coin from the fish. (Matthew 17:27)
Tilapia is most often sold as loins or fillets of about four or five ounces each. The fillets are boneless, firm, light, and slightly sweet without that oily or fishiness taste.
Wild rice is actually a grass and is native to North America, a lot of what is on the market is grown in the Great Lakes area and Canada. Wild rice has a little more protein and fiber than rice and it is cooked the same as rice, taking about as long to cook as brown rice.
We like our wild rice best when it is still a little firm, more like al-dente, but if you prefer softer rice just cook it a little longer as the longer it is cooked the softer it becomes.
I like to cook up a big batch of wild rice, portion it into sealable containers and freeze it. That makes a big timesaver when I need some, especially when I am rushed!
Wild rice will also keep in the refrigerator for about one week. Wild rice has a chewy texture that pairs well with the spiciness of the tomatoes and chilies and the creaminess of the Tilapia.
The Tilapia will cook in the oven for about 20 minutes, or until it flakes easily with a fork. While it is baking and the rice is cooking all that is needed is a side veggie or a salad. Easy peasy!
More fish recipes:
Sake-Red Miso Sablefish with Wasabi Emulsion,
Grilled Swordfish with Lemon-Dill Aioli Sauce ,
Honey-Lemon Glazed Salmon Fillets with Lemon-Dill Butter
Yield: 4 servings
Spicy Tilapia with Wild Rice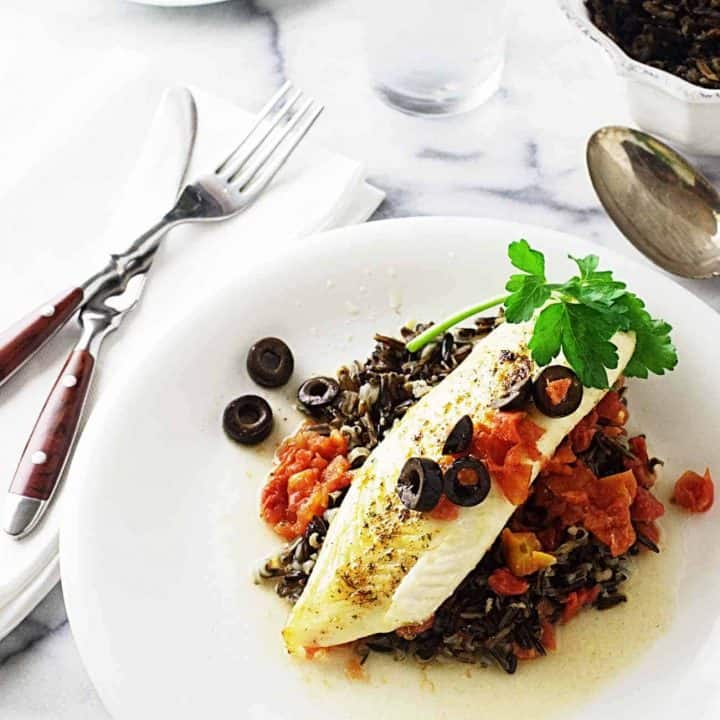 Our spicy Tilapia with wild rice is a low-fat, low-calorie, easy to prepare main entree that has a ton of flavor from the peppery taste of tomatoes and chiles that balances with the fish and rice.
Prep Time 10 minutes
Cook Time 20 minutes
Total Time 30 minutes
Ingredients
For the Tilapia:
2 cans (10.5 oz each) Rotel Original Diced Tomatoes & Green Chilies
4 Tilapia fillets
2 tablespoons olive oil
1/2 fresh lime
1/4 teaspoon dried oregano
1/4 teaspoon dried ground cumin
pinch of ground chipotle
1/2 teaspoon kosher salt
1/4 freshly ground black pepper
2 tablespoons chopped fresh cilantro
1/2 cup sliced black olives for garnish
Fresh cilantro sprigs for garnish
For the Wild Rice:
1 cup wild rice
1 3/4 cups chicken broth
1/2 cup reserved liquid from drained tomatoes/chiles
1 clove garlic grated or finely chopped
1/2 teaspoon kosher salt
Instructions
For the Tilapia:
Spray an oven-proof baking dish, large enough to hold four fillets, with cooking oil.
Open both cans of the tomatoes with green chilies and add the contents of one can to the baking dish. Using a mesh strainer set over a bowl, drain the other can of tomatoes and add the solids to the baking dish. Reserve the liquid from this can as it will be used in the rice.
Arrange the Tilapia fillets on the bed of tomatoes/chiles and squeeze the juice of the lime over them. Brush each fillet with olive oil. In a small dish, combine the oregano, cumin, chipotle, salt and pepper and sprinkle the spices over the fish. Cover and refrigerate for 30 minutes.
To Cook the Wild Rice:
Add the chicken broth and the reserved liquid from the tomatoes to a medium saucepan set over medium-high heat and when it begins to boil add the rice, garlic and salt. Reduce the heat to low, cover and simmer for about 45-60 minutes, or according to your taste preference. Remove from the heat, drain off any remaining liquid, fluff, keep covered and reserve until ready to serve.
Preheat the oven to 400°F
Remove the cover from the fish and transfer to the middle rack of the oven and bake for 18-20 minutes or until the fish flakes easily. Transfer from the oven, cover with foil and allow to rest for five minutes, then sprinkle with chopped cilantro.
To serve:
Arrange 3/4 of a cup of rice in the center of each plate and add a Tilapia fillet, garnish with the sliced olives and a sprig of fresh cilantro.
Notes
If you are using pre-cooked rice there is no need to refrigerate the tilapia, go directly to the oven. Just reheat the rice in the microwave or stove top when the fish is removed from the oven.
Nutrition Information:
Yield:
4
Serving Size:
1
Amount Per Serving:
Calories: 363
Total Fat: 12g
Sodium: 749mg
Carbohydrates: 34g
Fiber: 3g
Protein: 32g