This Instant Pot Spanish rice is super easy and fast. It makes a great side dish for any meal and the rice comes out perfectly cooked and delicious.
This recipe really only takes less than 10 minutes of your hands-on time. That's including 3 to 5 minutes to sauté the onions and another 5 minutes to sauté and toast the rice.
Technically, you could just dump and run and still have great Spanish rice but I'm giving you some tips to make it better. If you take just a few minutes to soften the onions and toast the rice, you will make this recipe good enough to rival your local Mexican restaurant.
Tips for Making Perfect Instant Pot Spanish Rice
There are a few things that will take this side dish from good to perfect. If you are on the run and can't even spare 10 minutes to saute all the things (been there), then just dump everything in the pot and turn it on. It will still be good. But if you aren't stressed for time, follow these tips and you won't regret it.
This Spanish rice dish is low in fat and has less than 120 calories per serving but it is packed with flavor. I'm sure you will want to make it on repeat. It isn't just for Cino de Mayo, it is a healthy side dish for every occasion.
Watch our video above and see how easy this is.
Soften the onions.
The diced onions will cook just fine in the pressure cooker if you don't sauté them first. However, if you take some time to sauté them, they will get a more concentrated flavor and become a bit sweeter.
It's a small thing but it makes a difference and it only takes 3 to 5 minutes.
Toast the rice.
The other tip for the best Instant Pot Spanish Rice is to toast the rice. While the Instant Pot is still on sauté mode, toss in the rice and stir until you smell a toasty aroma. It gives the rice another layer of flavor.
Deglaze the pot!
Deglazing is just a fancy term that means your loosening cooked-on, caramelized food in the bottom of a pan by adding a liquid.
Once you finish cooking the veggies and rice on the sauté mode, there will be stuck on bits of food in the bottom of the pot. It is really important to get those stuck on bits of food unstuck. If you don't do this, the Instant Pot will give you a 'burn' warning.
That's where the chicken broth comes in handy. You can use vegetable broth or even water but you need the liquid to loosen the food that sticks to the pan.
This is really a good thing. All the caramelized browned bits of food will add yet another layer of flavor to this Spanish rice. Seriously, after you take these steps, you will have the BEST Instant Pot Spanish rice ever!
Use homemade or store-bought salsa:
Salsa is the star ingredient in this recipe. It makes the recipe super easy with a zippy punch of flavor! You can use your favorite store-bought variety or your best homemade recipe. The spice level of your salsa will determine how spicy your Spanish rice will taste.
The thing to keep in mind with the salsa is that you should just layer it on the top. Do not stir it into the rice or it will make the liquid too thick and the Instant Pot could give you a 'burn' warning.
Liquid to rice ratio:
Normally when you cook rice, some of the liquid will evaporate so you have to take that into account when you measure the liquid. Since the Instant Pot is tightly sealed, the liquid does not evaporate so you don't need as much.
Traditional methods usually require a 2:1 ratio of water to rice. So you will need 2 cups of water for ever cup of rice. Some types of rice only need 1.5 cups of water for every cup of rice. However, you always need a little bit more water than rice to account for the evaporation.
Things change with a pressure cooker. Since there is no evaporation from the pressure cooker, you don't need as much liquid. Use a 1:1 ratio of liquid to rice for the Instant Pot.
Variable times depending on the rice variety and the altitude.
The printable recipe card has some variable cook times. Some varieties of rice take a little bit longer to cook but the biggest factor affecting cook time is the altitude.
If you live at or above 3,000 feet, you may need to increase the cooking time. If you live over 8,000 feet you will definitely need to increase the cooking time, but most likely, only by 1 minute.
Use natural release:
Make sure you let the Instant Pot release pressure naturally for a minimum of 10 minutes. Allowing the pressure to release naturally will let the rice finish cooking properly.
It will also keep the rice from sticking to the bottom of the pot.
If you release the pressure sooner than 10 minutes, the starchy liquid will spurt out of the valve and the rice will be under-cooked.
A recap of helpful tips:
Sauté the onions, it makes them sweeter
Sauté the rice to give it a toasty flavor (optional step but worth doing)
Scrape the cooked-on bits off the bottom of the pot before you start the pressure mode
Don't stir the salsa into the rice, just let it sit on top
Use natural release so the rice cooks completely and will not stick to the pot.
Should you rinse rice?
Rinsing your rice before cooking is always a good idea but it isn't necessary for this recipe. If you rinse the rice it will rinse the surface starches and make fluffier rice. The rice might be a bit stickier if you don't rinse it first.
What about brown rice?
We love this recipe with brown rice, it is delicious. If you want to use brown rice you need to increase the pressure cook time all the way to 22 minutes. Nothing else needs to change in the recipe for an amazing Instant Pot Spanish brown rice.
Do you love Sprouted Brown Rice? Since sprouted brown rice is already germinated, it takes less time to cook than regular brown rice. We have directions for how to cook sprouted brown rice in three different ways. It only takes 16 minutes in the Instant Pot.
Good for Weight Watchers and Slimming World
If you are looking for a recipe that will go with your Slimming World or Weight Watchers meal plan, save this recipe, it's perfect! One serving has 4 WW SmartPoints. If you use use a spray of non-stick spray then it is Syn Free if you are following the Slimming World plan.
SOME OTHER RECIPES WE ARE SURE YOU WILL LOVE:
If you like this recipe, check out our Spicy Tilapia with Wild Rice. The spicy tomato sauce goes so well with the tilapia and wild rice.
This Basmati Rice Pilaf has a touch of cinnamon and cumin that really jazzes up the flavor. Crunchy toasted almonds really takes it away.
Don't have time to thaw your turkey breast? Did you know you can cook a frozen turkey breast in the Instant Pot? This recipe for Instant Pot frozen turkey breast will walk you through the process.
CONNECT WITH SAVOR THE BEST!
Be sure to follow us on our social media accounts
Facebook * Instagram * Pinterest * Twitter * Youtube
Did you make this recipe? We would love to hear from you. Drop us a comment below.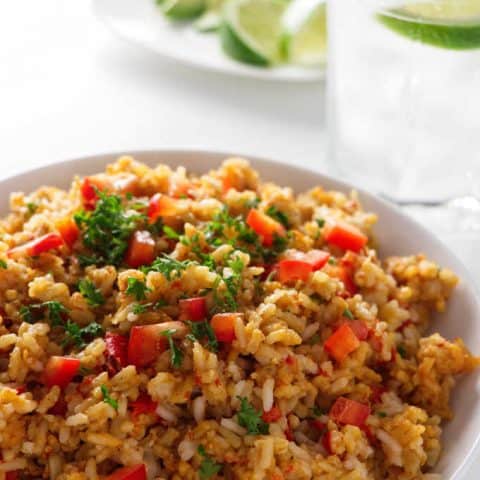 Easy Instant Pot Spanish Rice
Yield: 4 servings
Prep Time: 5 minutes
Cook Time: 13 minutes
Additional Time: 10 minutes
Total Time: 28 minutes
Easy and fast Spanish rice in the Instant Pot. This recipe uses salsa to heighten flavor and make the recipe fast and convenient.
Ingredients
1 tablespoon olive oil
1 onion, diced
3 garlic cloves, minced
1 red bell pepper, seeded and chopped
1 cup white rice
1 cup chicken broth
1/2 cup prepared salsa
1/2 teaspoon salt
GARNISH:
chopped parsley or cilantro
Instructions
Set the instant pot to sauté and get the olive oil hot. Add the diced onion and cook until it is soft and browned.
Add the garlic, red pepper, and rice and sauté for 4 to 5 minutes to toast the rice. Add the chicken broth then scrape the bottom of the pot to remove any cooked on bits. (This is important to prevent a burn notice.)
Pour the salsa on top (do not stir it in) and add the salt then lock the lid in place.
Cook on High Pressure for 3 to 8 minutes based on the type of rice you use (see notes).
Let the IP do a natural pressure release for at least 10 minutes then release the rest of the pressure manually.
Notes
Adjust the cooking time depending on the type of rice you use and the altitude. Higher altitude will require more cook time. If you are below 3,000 feet, you only need the lower cook time provided.
Arborio rice is high in starch and will make a sticky, creamy texture.
Cooking time:
Arborio rice= 5-6 minutes
Jasmine rice= 3-5 minutes
Basmati rice= 4-8 minutes
"Generic" un-named long grain rice= 3-5 minutes (these are usually varieties like Carolina or Texmati.
Brown Rice: Yes, this recipe works with brown rice, just increase the cooking time to 22 minutes.
Weight Watchers
SmartPoints= 4
Slimming World
If you replace the olive oil with cooking spray this recipe is Syn Free
Nutrition Information:
Yield: 4
Serving Size: 1
Amount Per Serving:
Calories: 117
Total Fat: 4g
Saturated Fat: 1g
Trans Fat: 0g
Unsaturated Fat: 3g
Cholesterol: 1mg
Sodium: 729mg
Carbohydrates: 19g
Fiber: 2g
Sugar: 4g
Protein: 3g
Nutrition information is a guideline only, is calculated automatically by third party software, and absolute accuracy is not guaranteed.