This hearty butternut squash salad makes a filling meal or an exciting side dish. The chewy, nutty barley gives it a delightful texture and adds some healthy whole grains to the mix.
This salad tastes even better the next day after the flavors mingle so make enough to pack for lunch.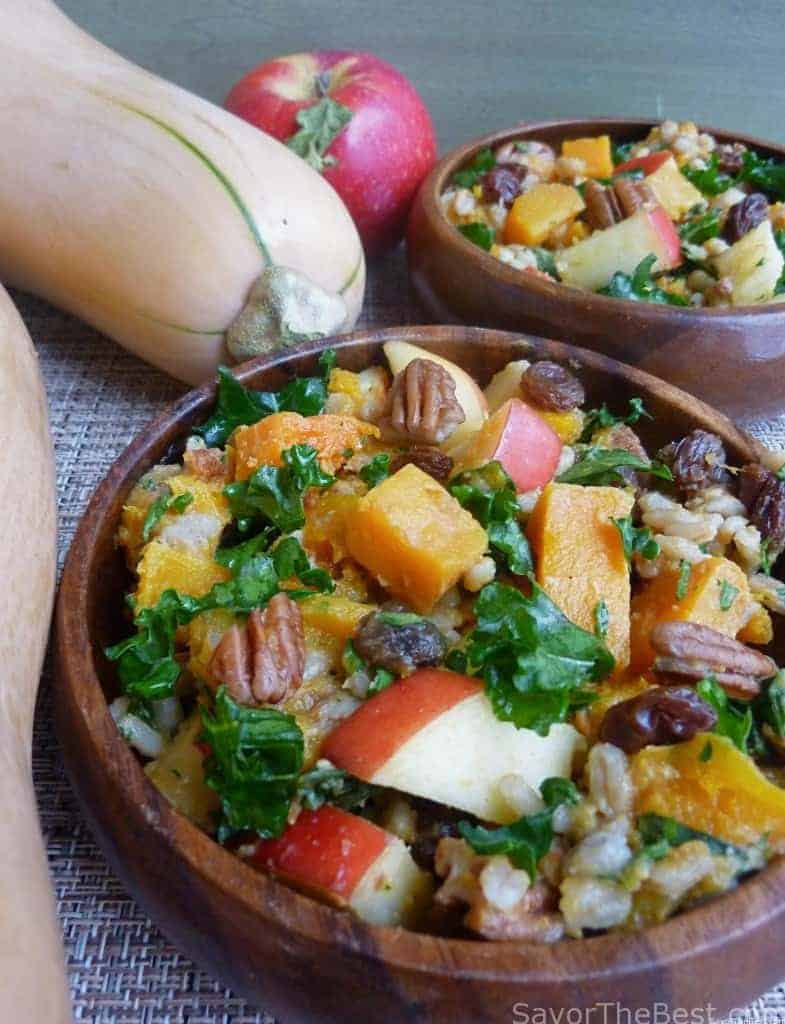 I love the versatility of barley. It has a nutty flavor and chewy texture when cooked al dente. I love that it interchanges well with pasta or rice for a unique variation of a dish.
It is high in fiber and particularly high in a type of soluble fiber called beta-glucan that helps reduce cholesterol levels and boost the immune system.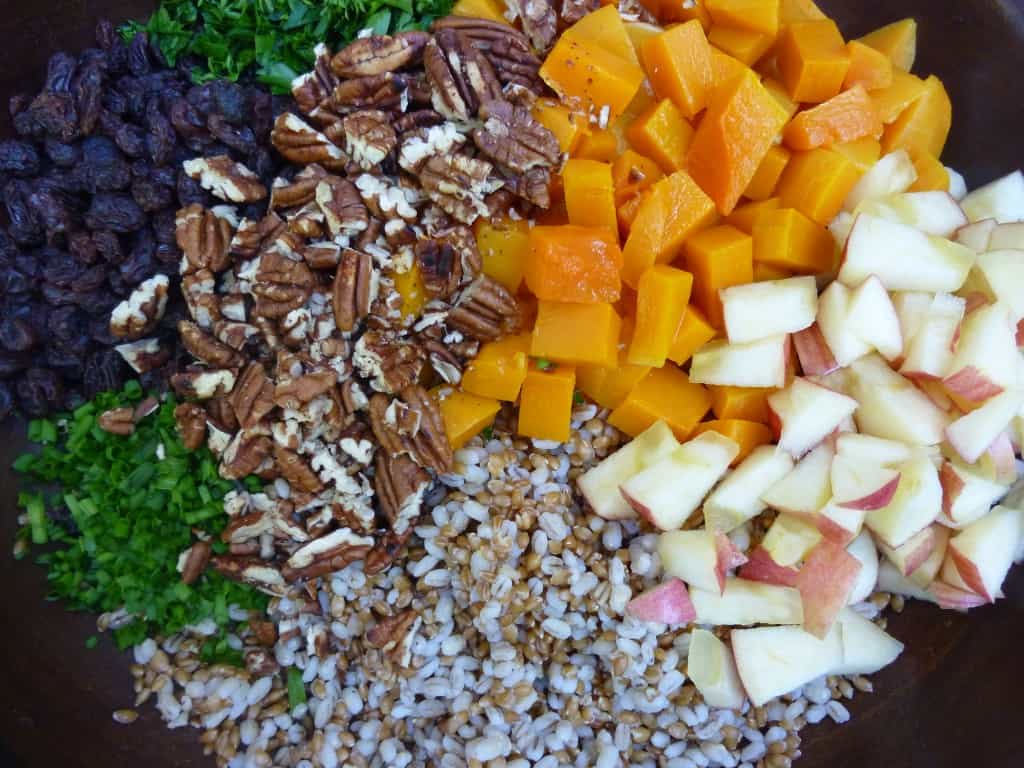 Butternut squash salad
With the nutty chew of the barley, creamy smooth butternut, crisp apple, plump raisins, leafy kale, and toasted pecans, this salad has a pleasant mix of textures and flavors and offers a powerhouse of nutrients.
It stores well for several days so save the leftovers for lunches or even breakfast the next day. I know that may sound a bit odd, salad for breakfast but it works. Especially when I wake up at 4:30 am and don't have time to make anything before rushing off to work. Just a moment in the microwave and I have a quick warm barley-butternut salad turned cereal.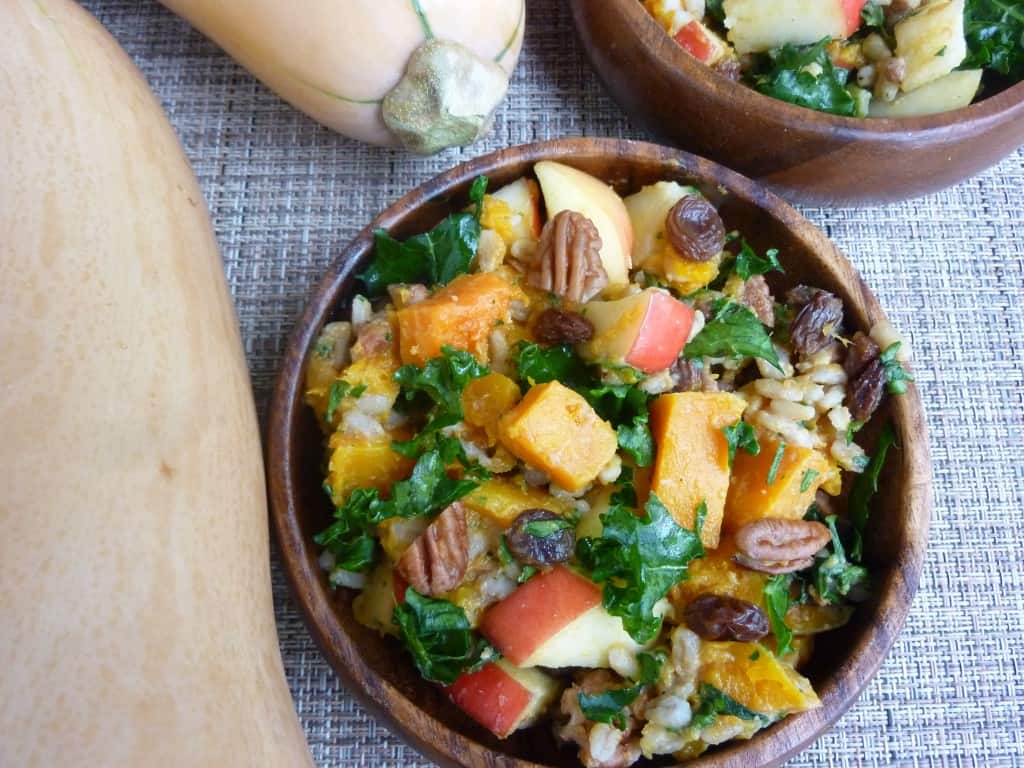 CONNECT WITH SAVOR THE BEST!
Be sure to follow us on our social media accounts
Facebook | Twitter | Youtube | Pinterest | Instagram
If you make one of our recipes, snap a photo and tag it @savorthebest on Instagram and hashtag it #savorthebest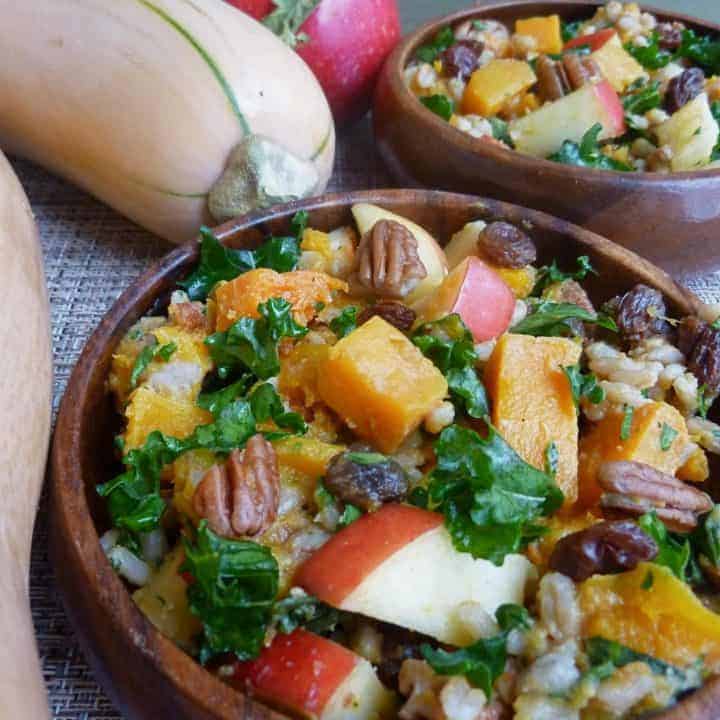 Autumn Barley-Butternut Squash Salad
Yield: 10
Prep Time: 15 minutes
Active Time: 25 minutes
Total Time: 40 minutes
Barley, butternut squash, apples, pecans and kale combine for an outstanding autumn salad chock-full of nutrients.
Ingredients
1 cup (200 g) pearled barley
2 pounds (900 g) butternut squash peeled and cut into ½ inch cubes
1 cup (100 g) pecans
4 kale leaves, stems removed, leaves roughly chopped
2 apples, cored and diced
1 cup (165 g) raisins
½ cup (30 g) chopped parsley
¼ cup (12 g) chopped chives
For Sweet Shallot Dressing:
2 garlic cloves
½ small shallot, peeled
1/3 cup orange juice
1/4 cup apple cider vinegar
¼ cup honey
zest from one organic orange
3 tablespoons olive oil
½ teaspoon salt
½ teaspoon pepper
Instructions
Place the barley in a large pot with a pinch of salt and cover with 3 cups of water. Bring to a boil then reduce to a simmer. Cook for 25 minutes until cooked through but still has a slight chew to it. Drain any remaining water and set barley aside to cool.
Meanwhile, Place the butternut squash cubes on a baking sheet. Bake at 350°F for 15 to 20 minutes or until tender.
Place the pecans on a baking sheet and bake in a 350° oven for 5 minutes to toast. Roughly chop the pecans
When the barley, squash, and pecans are cooled, place them in a large bowl and add the kale, diced apples, raisins, parsley and chives.
For the dressing, place all the ingredients in a blender and blend on high until smooth.
Pour the dressing over the salad. Toss and serve.
Nutrition Information:
Yield: 10
Serving Size: 1
Amount Per Serving:
Calories: 327
Total Fat: 14g
Carbohydrates: 49g
Fiber: 8g
Protein: 5g