If you're a fan of big flavors and all the extras, this loaded Shrimp Louie Salad will be a dinnertime dream!
Seasoned, spiced shrimp, creamy avocado, goat cheese, and crispy fried onion rings are just some of the fixings on top of this salad that give it a bold punch of flavor. Shrimp Louie isn't just for eating out anymore- it's simple enough to make at home.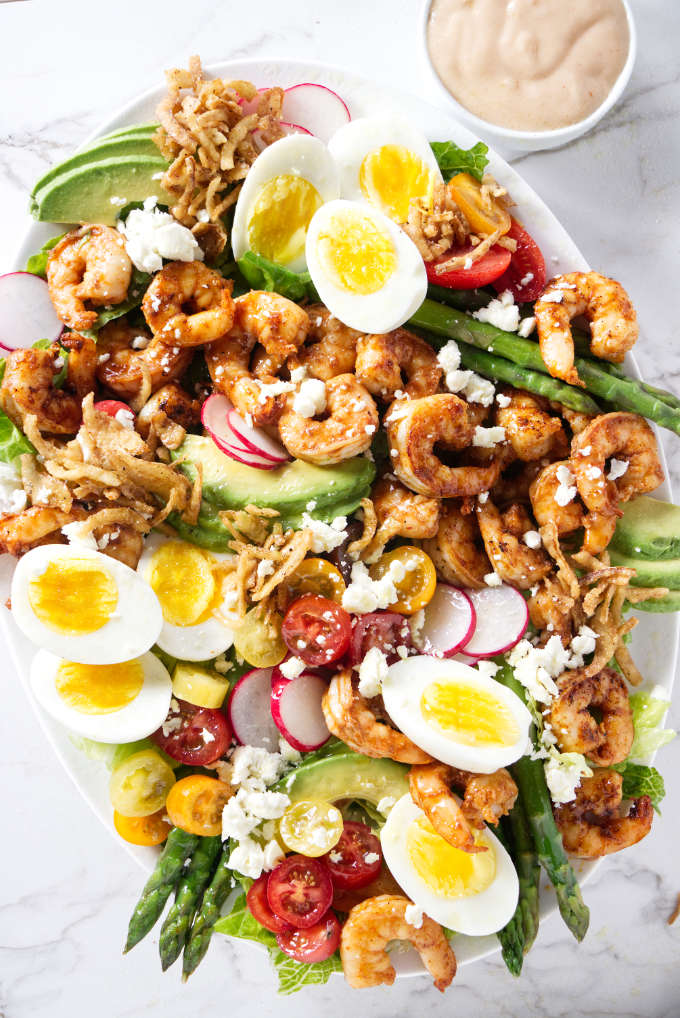 Why this Shrimp Louie Recipe Works
Our Shrimp Louie salad is a hearty and filling meal, and we've upped the ante when it comes to the delicious salad toppings! Fried onion rings are a yummy, savory extra, and they add a whole new layer of crunch and texture.
And the shrimp? They are incredible on their own! We changed the game with Spiceology's Chile Margarita seasoning but you can certainly use your favorite shrimp seasoning of choice for a different flavor profile in this salad.
Our Shrimp Louie salad is:
fresh and flavorful
easy to make and ready in under 30 minutes
a versatile dish that's perfect for brunch, lunch or dinner
This salad is a complete meal and it is guaranteed to fill you up. You don't need any extras but it is good with our homemade rye bread. If you want a soup and salad combo, we recommend a light soup like our lemon broccoli soup or our fire-roasted tomato soup.
Ingredients for Shrimp Louie Salad
For this easy shrimp Louie salad recipe, you will need:
For the Shrimp Louie Salad Dressing
This dressing is good on any salad but it is especially great on shrimp Louie salads. The dressing is creamy, sweet, and tangy with just a hint of smokey spiciness. Whip up a double batch of the salad dressing and use it as a dip for French fries, chicken tenders, raw vegetables, or fried fish.
Mayonnaise
Sour cream
Ketchup
Lemon juice
Garlic clove, minced
Prepared horseradish
Smoked paprika
Brown sugar
Worcestershire sauce
Salt
For the Salad
Spiceology Chile Margarita Rub (or your seasoning of choice)
Medium shrimp, peeled and deveined
Asparagus spears, ends trimmed
Romaine lettuce, rinsed and chopped
Ripe avocado, sliced
Cherry tomatoes, halved
Radishes, sliced
Hard boiled eggs, peeled and sliced
Crispy fried onion rings
Crumbled goat cheese
We went all out with the toppings for this salad. There is a medley of flavors and textures and the creamy shrimp Louie salad dressing ties them together. Our dressing recipe makes a little more than you need so don't despair if you like your salad swimming in dressing.
If you prefer a different flavor for the salad dressing, try our buttermilk ranch dressing, feta dressing, or blue cheese dressing. If you want something on the lighter side, go with our orange champagne dressing. Even a lemon vinaigrette like we have on our tabbouleh salad would be delicious.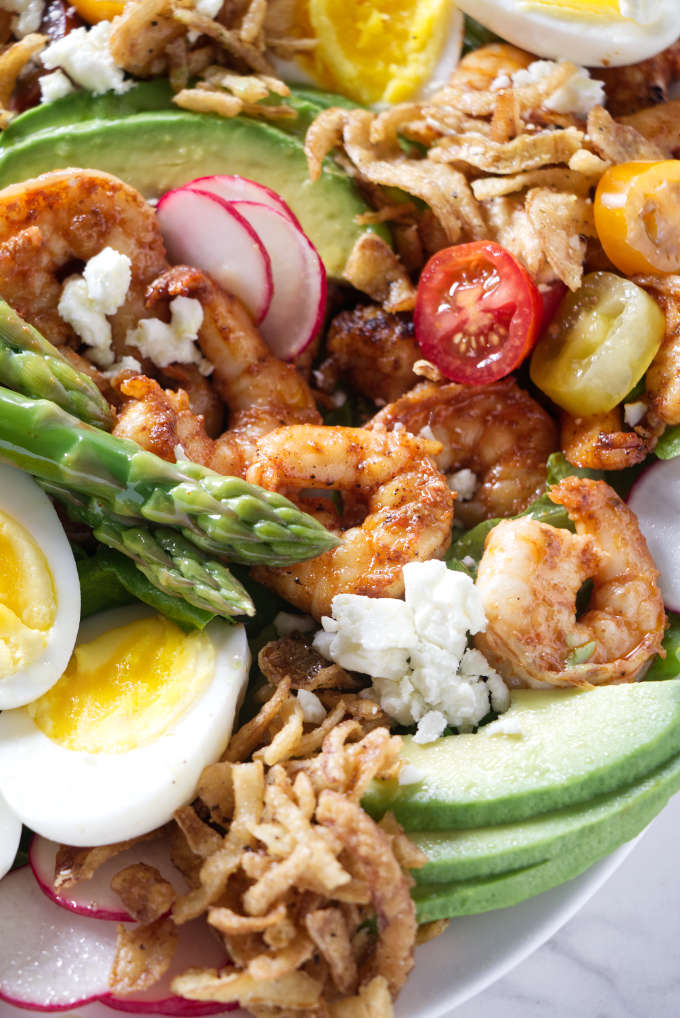 How to Make Shrimp Louie Salad
While there are a few steps to preparing and assembling this Shrimp Louie salad, each step is easy and no-fuss.
Here's a quick look at how to make the salad but for the full, printable recipe card, scroll to the bottom of the page.
Prepare the salad dressing: Combine all of the dressing ingredients in a medium bowl and whisk well. Store it in the fridge until it's time to serve.
Cook the shrimp: Season the shrimp and cook them in a skillet.
Steam the asparagus: After you steam the asparagus, transfer them to a bowl of ice water to stop them from cooking. Alternatively, you can use roasted asparagus.
Assemble the salad: Add the lettuce to a large bowl and assemble all of the salad ingredients on top. Serve with the creamy Louie salad dressing on the side.
Don't forget, our printable recipe card is at the bottom of the page.
What to Serve with Shrimp Louie Salad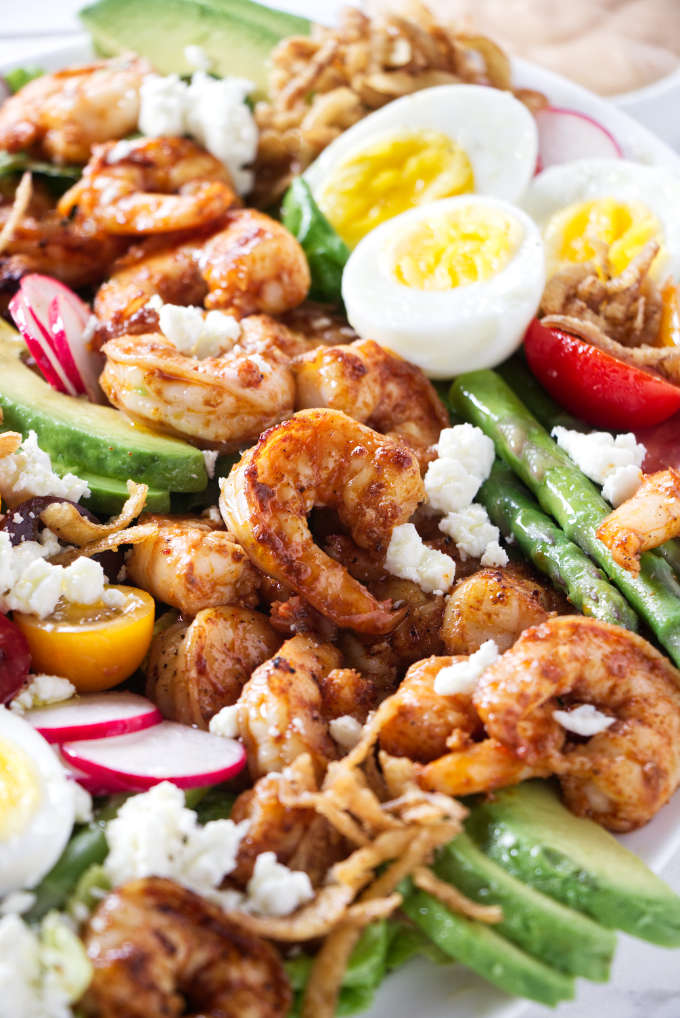 From the zesty dressing to the goodies piled on top of this shrimp Louie salad, every bite is sure to please! There's nothing better than a loaded salad for lunch, and we love this version of a classic Shrimp Louie. We know you will love it too. 🙂
Helpful Tools
Some of the following are affiliate links. If you click on these links and purchase something, we may receive a small commission. You don't pay any extra but it will help us keep the lights on.
Some Other Recipes We Are Sure You Will Love:
Our Shrimp Fajitas is a fast and easy dinner. This 30-minute meal is packed with flavor and topped with a creamy chipotle sauce that adds a yummy, smokey heat! This spin on traditional fajitas takes it to a whole new level. Serve it with our Instant Pot Pinto beans and some fresh mango salsa.
Colorful, tri-colored pasta with shrimp is a delightful blend of flavors and textures. Crisp veggies, chilled shrimp, and tender pasta are served in a light vinaigrette with herbs. This recipe is perfect for a light, summery lunch, barbecue, or brunch. Serve it for lunch with a pulled pork sandwich.
Sweet and savory ingredients are a dream in this pineapple chicken salad. Our version includes sweet pineapple, a flavorful curry dressing, tender chicken and almonds for a satisfying crunch. This Hawaiian-inspired salad makes a delightful lunch or special occasion meal. Serve it in a pineapple bowl for added flare.
Connect With Savor the Best:
Please follow us on our social media accounts
Facebook * Instagram * Pinterest * Youtube * Twitter
Did you make this recipe? We would love to hear from you. Drop us a comment below.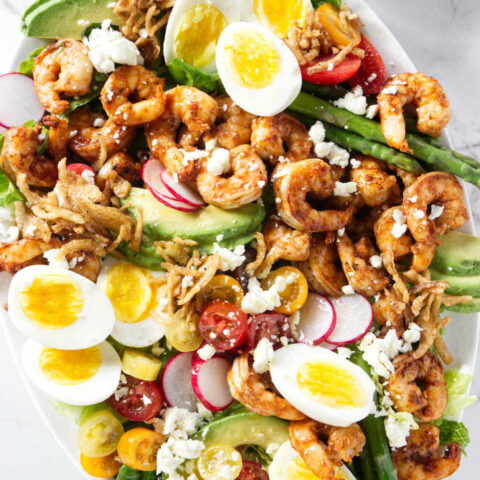 Shrimp Louie Salad
Our shrimp Louie salad is LOADED with extra toppings and big flavors. It makes a hearty and filling meal. The shrimp get seasoned with a chile margarita seasoning but you can use your favorite seasoning to change up the flavor profile.
We got adventurous with the toppings to give the salad an updated look and flavor. Crispy fried onion rings add a sweet, salty flavor and crisp crunch that contrasts with the creamy avocado and goat cheese.
Ingredients
Dressing
1 cup mayonnaise
1/4 cup sour cream
1/4 cup ketchup
1 to 2 tablespoons lemon juice
1 garlic clove, minced
2 teaspoons prepared horseradish
2 teaspoons smoked paprika
1 teaspoon brown sugar
1 teaspoon Worcestershire sauce
1/2 teaspoon salt
Salad
3 tablespoon olive oil, divided
1 tablespoon Spiceology Chile Margarita Rub or seasoning of choice
1 pound medium shrimp, peeled and deveined
1 bunch asparagus spears, ends trimmed
1 head romaine lettuce, rinsed and chopped
1 ripe avocado, sliced
8 ounces cherry tomatoes, halved
5 radishes, sliced
4 hard boiled eggs, peeled and sliced
1/2 cup crispy fried onion rings
1/4 cup crumbled goat cheese
Instructions
Make the Dressing
Combine all the ingredients for the dressing in a medium bowl and whisk well. Cover the dish and store it in the refrigerator.
Cook the shrimp.
Coat the shrimp in 2 tablespoons of olive oil, then sprinkle the seasoning over them. Stir well to coat all the shrimp in the seasoning.
Heat some olive oil in a sauté pan over medium heat. Add the shrimp and cook for 2 minutes on each side then transfer to a plate. Don't crowd the shrimp. If your pan is small then cook them in batches.
Set the shrimp aside to cool while you steam the asparagus.
Steam the asparagus.
Put some ice water in a large bowl and set it aside.
Place one inch of water in the bottom of a large pot. Place the asparagus inside a collapsable steamer basket and set it in the pot. Bring the water to a boil then cover with a lid.
Steam the asparagus for 4 to 5 minutes or until tender yet still crisp. Transfer them to a bowl of ice water to stop them from cooking.
Assemble the Salad
Add the lettuce to a large bowl and assemble all the ingredients on top.
Serve with the dressing on the side.
Recommended Products
As an Amazon Associate and member of other affiliate programs, I earn from qualifying purchases.
Nutrition Information:
Yield:

6
Serving Size:

1
Amount Per Serving:
Calories:

660
Total Fat:

50g
Saturated Fat:

10g
Trans Fat:

0g
Unsaturated Fat:

37g
Cholesterol:

309mg
Sodium:

1528mg
Carbohydrates:

22g
Fiber:

6g
Sugar:

10g
Protein:

27g
Nutrition information is a guideline only, is calculated automatically by third-party software, and absolute accuracy is not guaranteed.