If you're looking for a cute and creative way to serve fruit at your next party, you're in luck because we're sharing all the details on how to make a pineapple bowl!
It's quick, easy, and will allow you to repurpose the pineapple rind into a fun serving bowl. Use a pineapple bowl (also called a pineapple boat) to hold fruit, salad, or even a main dish.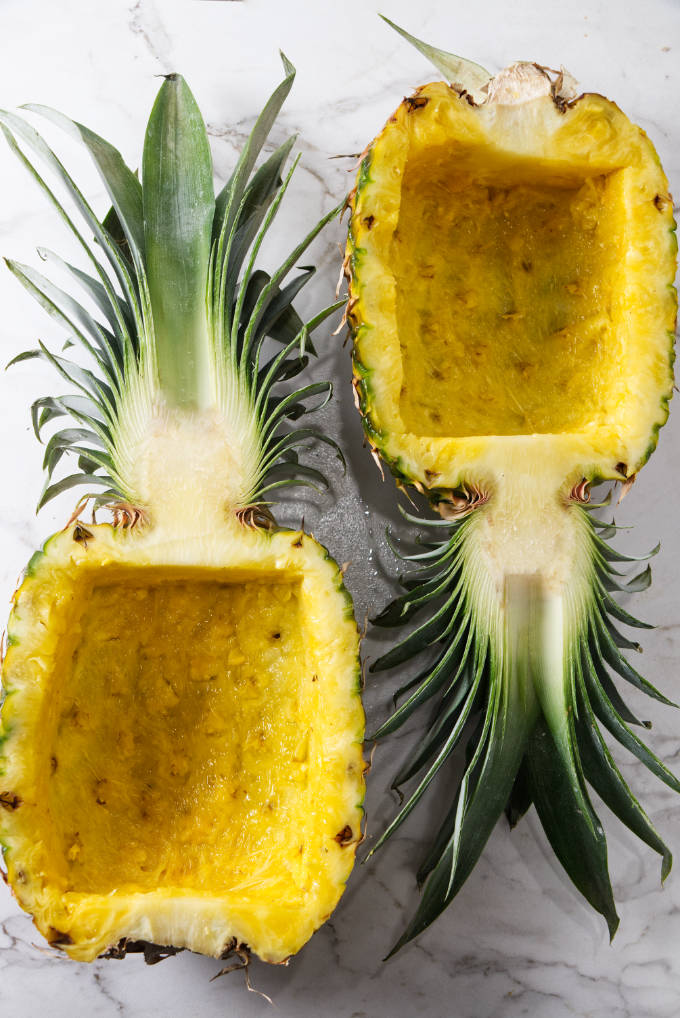 This pineapple bowl recipe is super simple and adds a special touch to any brunch, lunch or dinner party spread.
We've stuffed pineapple boats to hold a Winter Fruit Salad, our Pineapple-Chicken Salad with Curry Dressing, and our Saigon chicken salad. They are a fun, finishing touch that will jazz up any dish.
Why We Love Them
If you have a recipe that calls for fresh pineapple, consider serving it in a pineapple bowl! Stuffed pineapple bowls are:
ready in 10 minutes
a pretty and creative way to use discarded rind
a tasty serving vessel that adds even more pineapple flavor to your dish
How to Make a Pineapple Bowl
So, how do you cut a pineapple for a pineapple bowl? This simple tutorial will walk you through the steps to creating two pineapple bowls that are pretty and decorative.
They're so easy to prep, ready in minutes, and makes a couple of fun serving bowls.
Here is a brief overview to get an idea of what to expect when you make a pineapple bowl. Scroll down to the printable recipe card for all the details.
Cut the pineapple in half, lengthwise. You can either keep the crown (pineapple stem) attached or slice it off.

Cut the perimeter with a paring knife. Angle the knife slightly toward the center.

Slice the center. Make some slices in the center of the pineapple.

Scoop out the fruit. Scoop out the chunks of pineapple with a spoon and place it in a bowl to use later.

Stuff the pineapple bowls. Your pineapple boats are now ready to use! Stuff them with the dish of your choice or place them in the refrigerator (for up to two days) to use at a later time.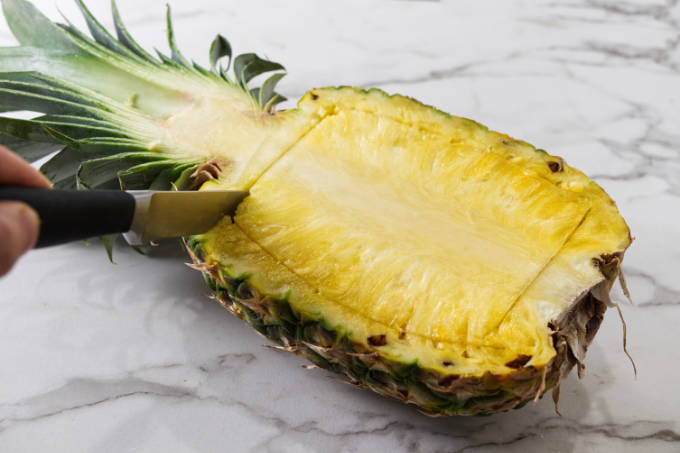 How to Use a Pineapple Bowl
Now that you've learned how to make a pineapple bowl, we're sharing a few ideas on how to use this pretty serving vessel.
Use it to hold tasty sandwich fillings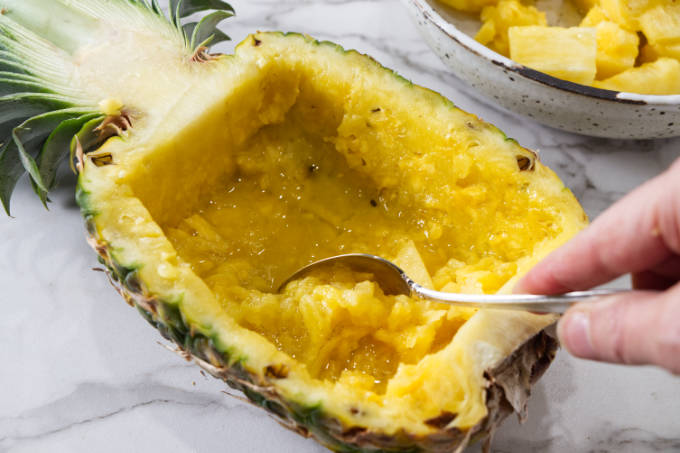 These fresh and decorative pineapple bowls will make your dish look completely Pinterest-worthy!
Dress up your next party, brunch or special occasion with pretty, no-cost serving bowls that will make you feel like the host extraordinaire that you are. 🙂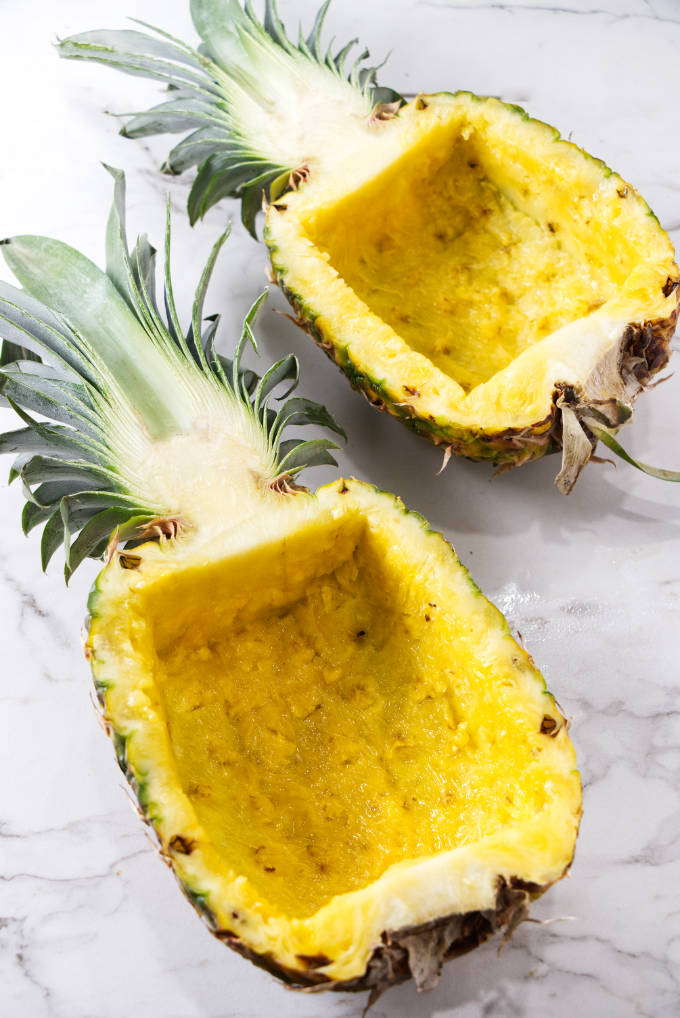 Helpful Tools
Some of the following are affiliate links. If you click on these links and purchase something, we may receive a small commission. You don't pay any extra but it will help us keep the lights on.
Some Other Recipes We Are Sure You Will Love:
Juicy, seasoned shrimp fajitas stuffed into a fresh tortilla with sautéed peppers and onions is delightful. But the creamy, flavorful chipotle sauce takes this dish to a whole new level.
Fresh and fruity, this grapefruit and fennel salad is a medley of bold flavors and incredible textures. Enjoy this refreshing salad at peak citrus season!
We're turning halved Little Gem lettuce heads into the perfect, personal-sized Caesar salads! A creamy, homemade Caesar dressing, shaved parmesan cheese and crunchy croutons top them off for Caesar salad perfection.
This multi-purpose stir fry sauce is great for fried rice, but can also work as a marinade or stir-fry sauce! It's easy to make and we recommend keeping some in the fridge to make dinnertime a breeze.
Connect With Savor the Best:
Please follow us on our social media accounts
Facebook * Instagram * Pinterest * Youtube * Twitter
Did you make this recipe? We would love to hear from you. Drop us a comment below.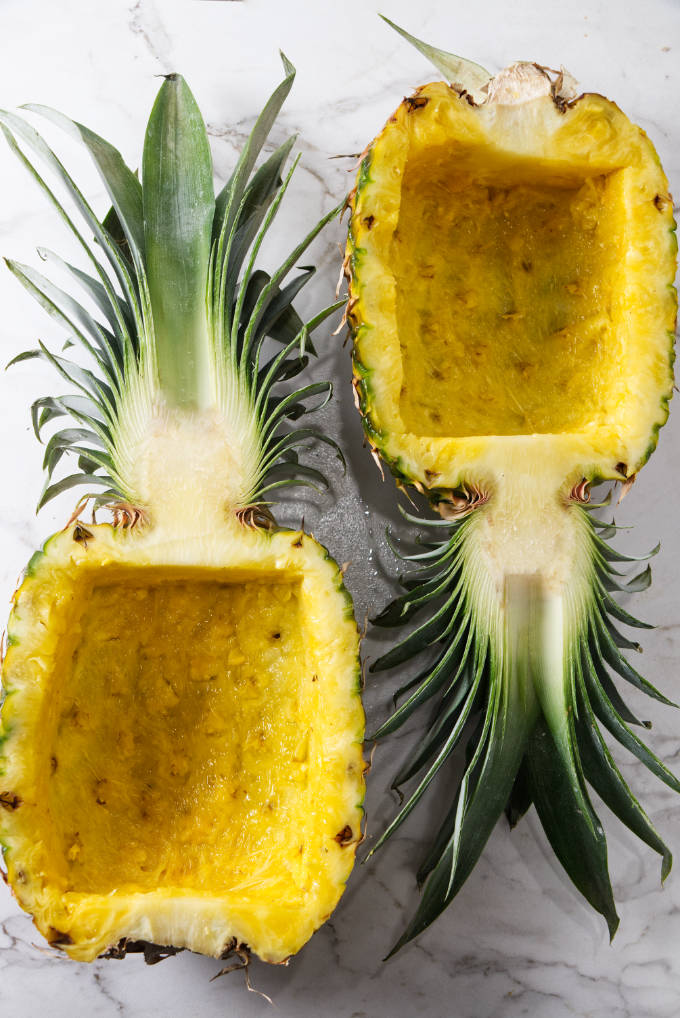 How To Make A Pineapple Bowl
Yield:
two pineapple bowls
Looking for a creative way to serve fruit at your next party? Try making pineapple bowls! This tutorial will show you how to easily hollow out a pineapple and turn it into a fun serving bowl.
Ingredients
1 whole pineapple
Lemon juice
Instructions
Use a large chefs knife to cut a pineapple in half, lengthwise. You can either keep the crown (stem) attached or slice it off.
Use a small paring knife to cut around the perimeter, about 1/4 inch in from the edge. Angle the knife slightly toward the center as you cut. Make sure you don't cut all the way through the skin.
Make 4 to 5 vertical slices from edge to edge, being careful not to slice through the skin.
Make 2 lengthwise cuts on either side of the core of the pineapple. At this point the pineapple should look like a grid of small squares.
Use a spoon to scoop out the chunks of pineapple. Toss the chunks from the core and save the rest of the fruit to eat or use in your recipes.
If there are any small chunks left inside the pineapple bowl, scrape them out with a spoon.
Brush the pineapple bowl with lemon juice to help it last longer and keep it from turning brown.
Notes
You can store the pineapple bowls in the fridge for up to two days.
Nutrition Information:
Yield:

2
Serving Size:

1
Amount Per Serving:
Calories:

41
Total Fat:

0g
Saturated Fat:

0g
Trans Fat:

0g
Unsaturated Fat:

0g
Cholesterol:

0mg
Sodium:

1mg
Carbohydrates:

11g
Fiber:

1g
Sugar:

8g
Protein:

0g
Nutrition information is a guideline only, is calculated automatically by third-party software, and absolute accuracy is not guaranteed.