Our Panko Baked Chicken Tenders are an easy, healthy alternative to deep-friend tenders, and are coated in a crisp, crunchy layer that is irresistibly good. This easy, baked chicken tenders recipe makes the perfect finger food appetizer served with your favorite dip or sauce (we're looking at you, buffalo sauce!). Or, enjoy these healthy baked chicken strips as a main course with a side of mashed creamer potatoes and kimchee slaw.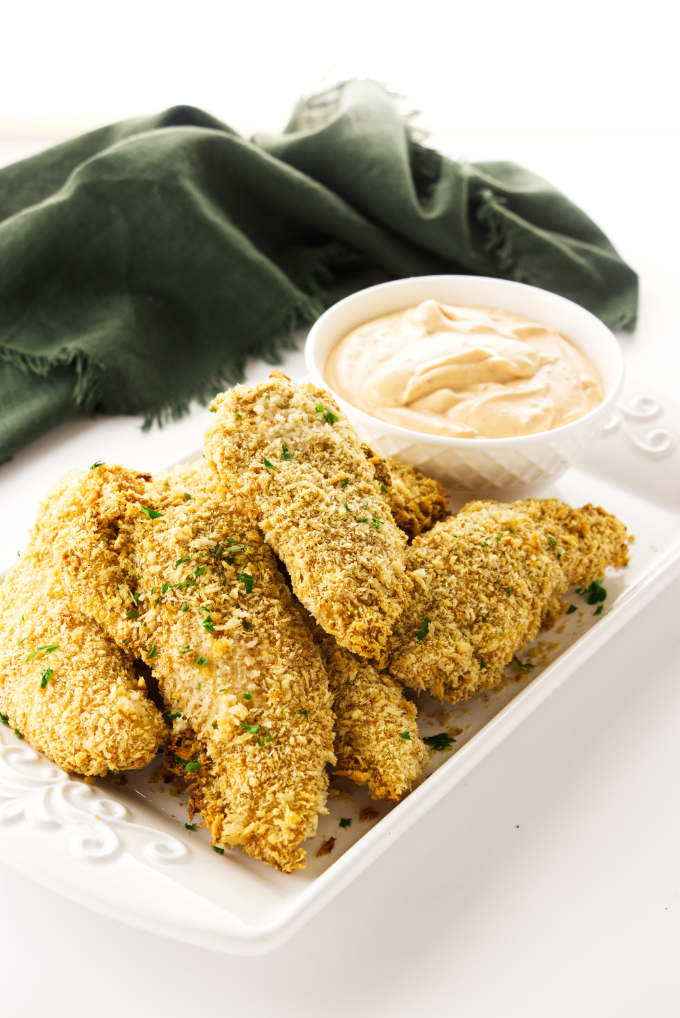 There are so many reasons to try our baked chicken tenders recipe! If you have kiddos, they'll love these for dinner – oh, and you can also score a few extra mom points by serving them with our air fried french fries.
Even better, that tender, flavorful strip of chicken baked in a crunchy Panko coating is comfort food to the core, but the guilt-free kind. 😉 And if you like this recipe you will like our parmesan-crusted chicken.
Our Panko Baked Chicken Tenders Are:
Easy to make with no deep-frying required
Kid-friendly (and of course, adults love them too!)
A quick weeknight dinner to add to your rotation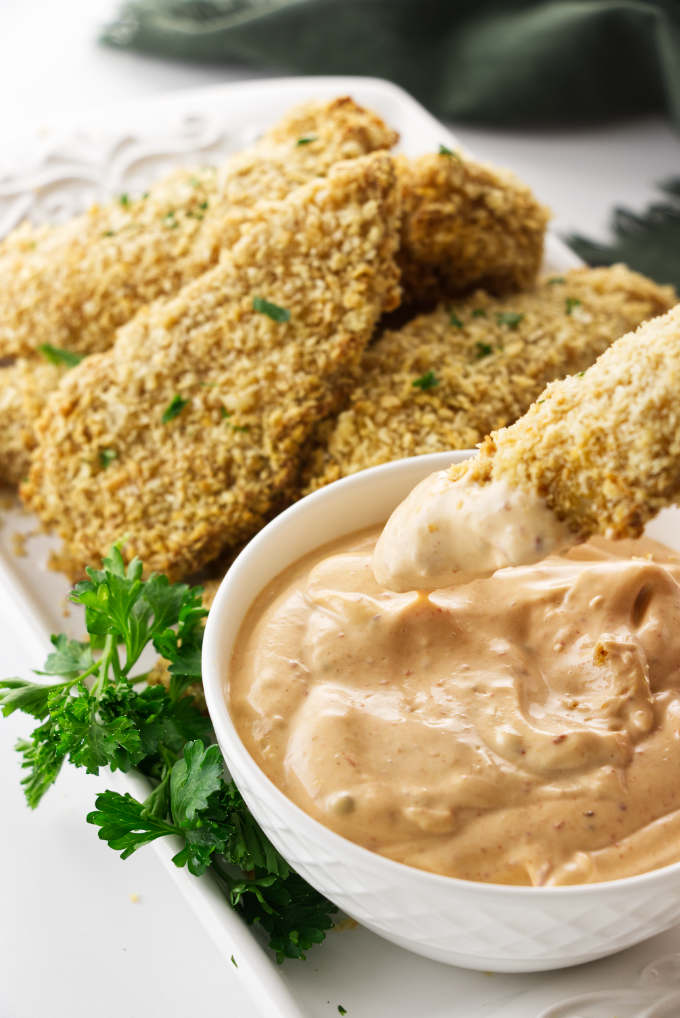 Ingredient List:
These chicken tenders in the oven get their crispy coating from a mix of Panko breadcrumbs tossed with flour and seasonings. It's a basic recipe that you can easily adapt. Try our panko chicken breast for a different variation.
To make them, some of the main ingredients include:
Panko breadcrumbs – The base of our breading substitute! It's what makes these perfectly crisp on the outside. We like to toast them for a few minutes before using.
Egg and mayonnaise – We use it to make a special mixture that the chicken tenders are dipped in before coating in breadcrumbs. This is like a glue for the Panko and is what makes them stick.
Spices – You will need salt, black pepper, garlic powder, ground dry thyme, and paprika for this baked chicken tenders recipe. The blend is salty-savory goodness that pairs perfectly with chicken.
Chicken tenderloins – Use pre-cut chicken tenderloins to simplify things. If your local grocery store doesn't carry them, you can also cut thin strips from a piece of chicken breast.
Some other ingredients you will need are: flour and parsley, an optional garnish.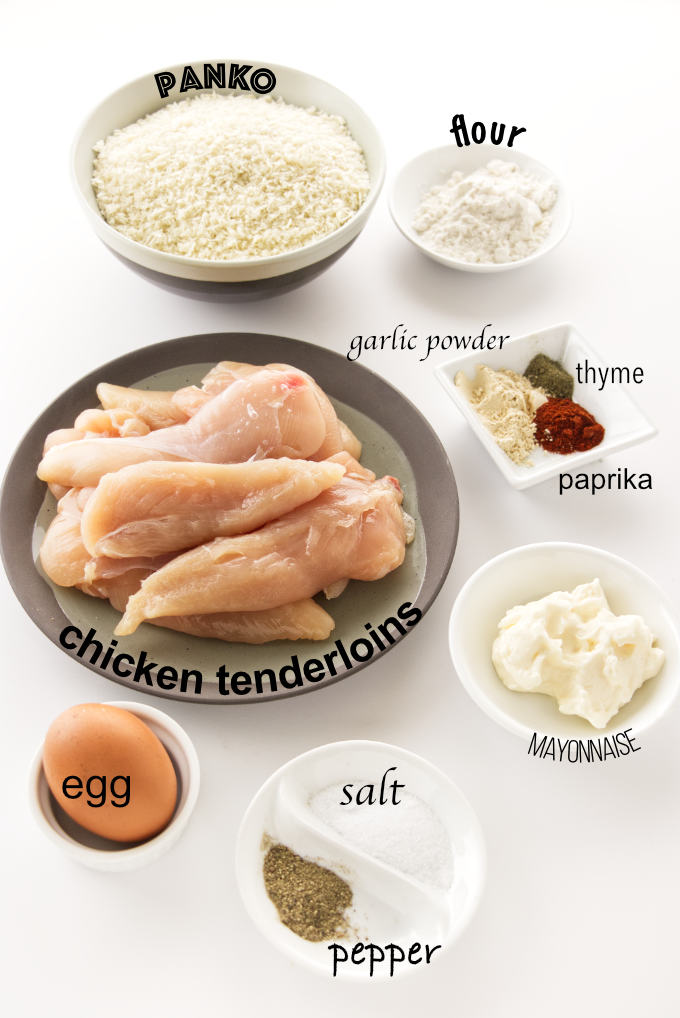 Let's Make Panko Baked Chicken Tenders:
Take a look at how easy these are to make! Don't forget to scroll down to the printable recipe card for all the details.
Toast the breadcrumbs: Spread the Panko breadcrumbs in a baking sheet. Bake in the oven until light gold in color.
Coat the chicken tenders: Combine the ingredients for the egg coating in a bowl. It will be thick and gooey. Add the chicken tenders and stir to coat them with the mixture. Trasfer the tenders to the breadcrumbs and press the Panko into the chicken. Set each piece on a wire rack on a baking sheet.
Bake the chicken tenders: Transfer the baking sheet to the oven and bake until golden brown.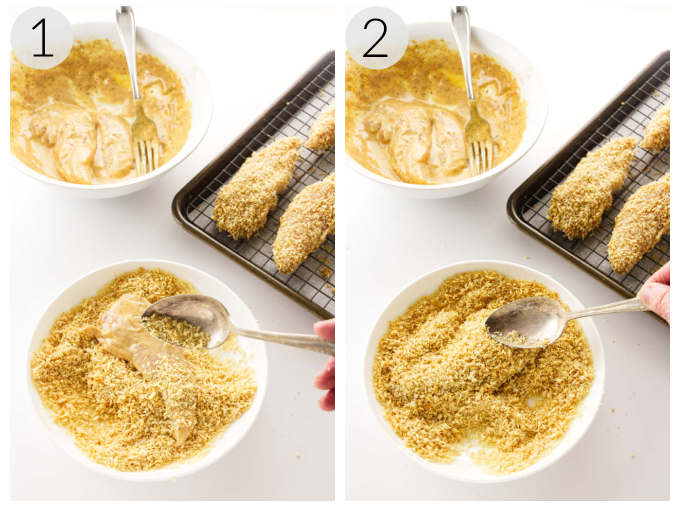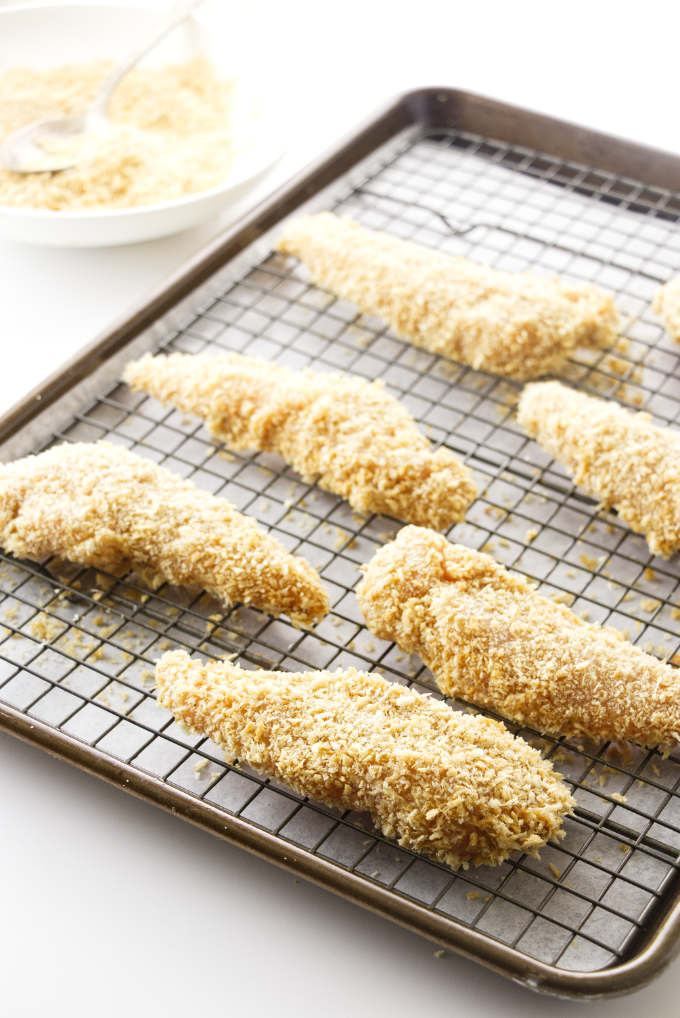 Pro Tips and FAQs:
What temperature should chicken tenderloins be cooked at? We find that the best temperature for our oven baked chicken tenders is 400°F- a higher temperature but for a shorter amount of time (15 minutes max). This gives the chicken enough time to reach an internal temperature of 165°F but leaves them moist on the inside and crispy on the outside.
How do you get Panko to stick to chicken? The beauty of our baked chicken tenders recipe is that the chicken doesn't need to be dredged in several dishes of ingredients to get the coating to stick! The mayonnaise-egg-flour-seasoning mixture is thick enough to thoroughly coat the chicken. Gently coat it with the breadcrumbs and the Panko will stay put.
One pound of chicken tenders will have about eight pieces.
You can use this recipe to make smaller, bite-sized appetizers by cutting the tenders before coating them with the mixture and breadcrumbs.
Watch the breadcrumbs closely when toasting them since once they begin to color, they'll go quickly.
We find that baking the chicken tenders on a wire rack helps ensure that the top and bottom gets crispy since it allows heat circulation all around each piece.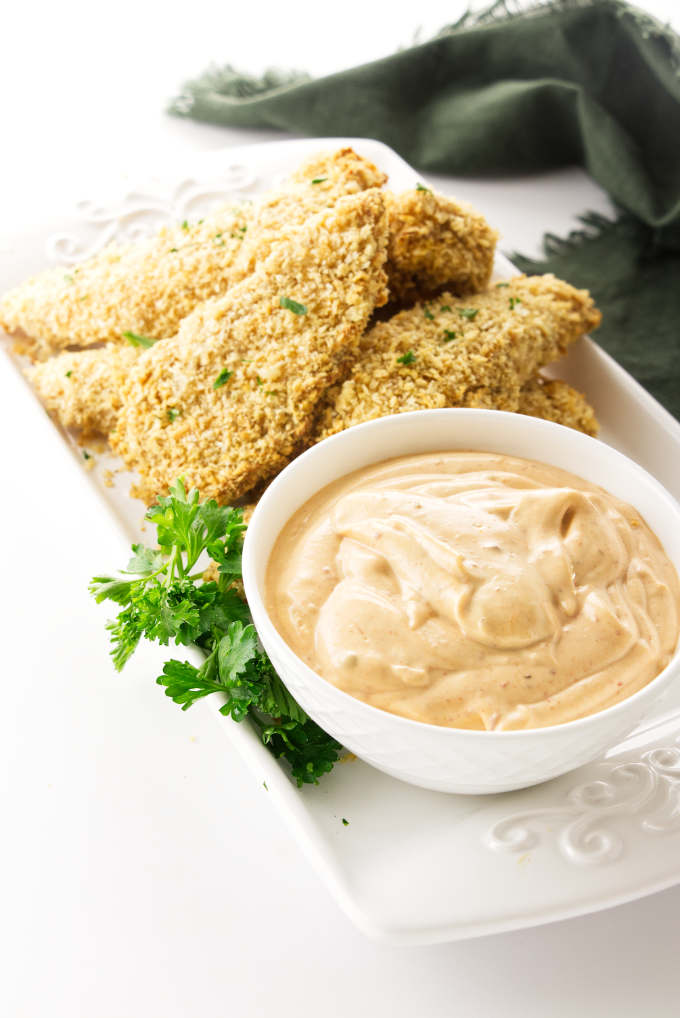 Our oven baked chicken tenders recipe is as easy as it is delicious! Each little strip is full of flavor, crunch, and -let's face it- this classic finger food is just FUN. Enjoy!
Helpful Tools:
Some of the following links are affiliates. If you click on these links and purchase something, we may receive a small commission. You don't pay any extra but it will help us keep the lights on.
Some Other Recipes We Are Sure You Will Love:
Chicken in Mushroom Cream Sauce: Your family will love the flavor of these meaty chicken thighs swimming in a rich, creamy mushroom sauce. Spoon that sauce over a mound of mashed potatoes or rice.
Oven Roasted Chicken Thighs: A quick glaze of olive oil, honey and seasoning transforms chicken thighs into a sensational treat! This is an easy weeknight dinner with tender, moist chicken thighs with a crisp skin.
Chicken and Rice Bake: We love one-pot meals and this chicken-rice bake is often on repeat! Place the seasoned chicken thighs on top of lemony basmati rice, cover the pot, pop it into the oven to bake. A quick tossed salad will complete your dinner.
Traeger beer can chicken: We smoked this chicken on a Traeger but you can use a regular grill if you have a smoke tube.
Connect With Savor the Best:
Please follow us on our social media accounts
Facebook * Instagram * Pinterest * Youtube * Twitter
Did you make this recipe? We would love to hear from you. Drop us a comment below.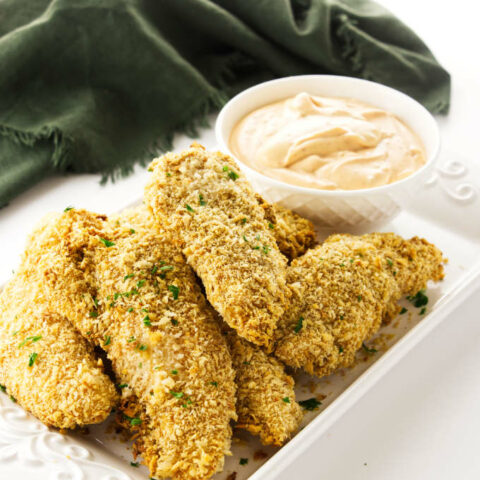 Panko Baked Chicken Tenders
No deep-frying for these chicken tenders! They are oven baked with a crunch, crisp Panko breadcrumb mixture! Serve as an appetizer with a spicy dip or serve a couple of these as a main entrée with sides.
Ingredients
1-1/2 cups Panko breadcrumbs
1 large egg
3 tablespoons mayonnaise
2 tablespoons flour
1/2 teaspoon salt
1/4 teaspoon black pepper
1 teaspoon garlic powder
1/2 teaspoon ground dry thyme
1/4 teaspoon paprika
1 pound chicken tenderloins
Parsley for garnish (optional)
Instructions
Preheat the oven to 400°F and line a rimmed baking sheet with parchment paper.
Spread the breadcrumbs in an even layer over the parchment paper and transfer to the oven. Bake the breadcrumbs until lightly golden in color, about 5 minutes. Remove from the oven and allow to cool then transfer them to a shallow dish.
Place a wire rack over the same baking sheet and set it near your work space.
Crack the egg into a large mixing bowl and whisk briefly. Add the mayonnaise, flour, salt, pepper and the spices. Mix with a fork until well combined. The mixture will be thick and gooey.
Add the chicken tenders and stir to coat each one with the mixture.
With a fork or tongs, lift one chicken tender and lay it in the dish of breadcrumbs. Scoop up some of the breadcrumbs with a spoon and coat the top of the chicken breast and when completely covered, press the crumbs firmly to adhere. Place on the wire rack and repeat the process until all the chicken tenders have been breaded.
Transfer the baking sheet to the heated oven and bake for 12 to 15 minutes. The time will depend upon the size of the chicken tender. Note: the chicken tenders in the photos averaged 2 to 2-1/2 ounces each and they baked for 13 minutes.
Remove the baking sheet from the oven and transfer them to a serving plate.
Notes
A pound of chicken tenders will have approximately eight (8) tenders.
For smaller bite-size appetizers, cut the chicken tenders before coating with the mixture and breadcrumbs.
Serve with your favorite dip, sauce or aioli.
To get an even layer of breadcrumbs on the baking sheet, spread them out then lift the baking sheet and tap it on the work surface.
The breadcrumbs will bake to a golden color without an oil spray. Watch them closely as once they begin to color the go quickly.
The wire rack is optional, however, the chicken tenders will back evenly and be crispy top and bottom on the wire rack as the heat will circulate over and under.
The chicken tenders in the photos averaged 2 to 2-1/2 ounces each and they baked for 13 minutes.
If you are unable to find chicken tenders you can cut small portions of chicken breasts as a substitute.
Nutrition Information:
Yield:

4 Servings
Serving Size:

1
Amount Per Serving:
Calories:

507
Total Fat:

16g
Saturated Fat:

3g
Trans Fat:

0g
Unsaturated Fat:

11g
Cholesterol:

147mg
Sodium:

828mg
Carbohydrates:

43g
Fiber:

3g
Sugar:

4g
Protein:

45g
Nutrition information is a guideline only, is calculated automatically by third-party software, and absolute accuracy is not guaranteed.