Lemon and broccoli make a wonderful combination in this lemon broccoli soup. Lemon adds a bright flavor to the broccoli while the potatoes lend extra body and creaminess. Hearty vegetables make this soup incredibly filling. It's a healthy broccoli soup recipe that your taste buds will love! Top it off with sourdough croutons (or these homemade garlic croutons) for extra flavor and crunch.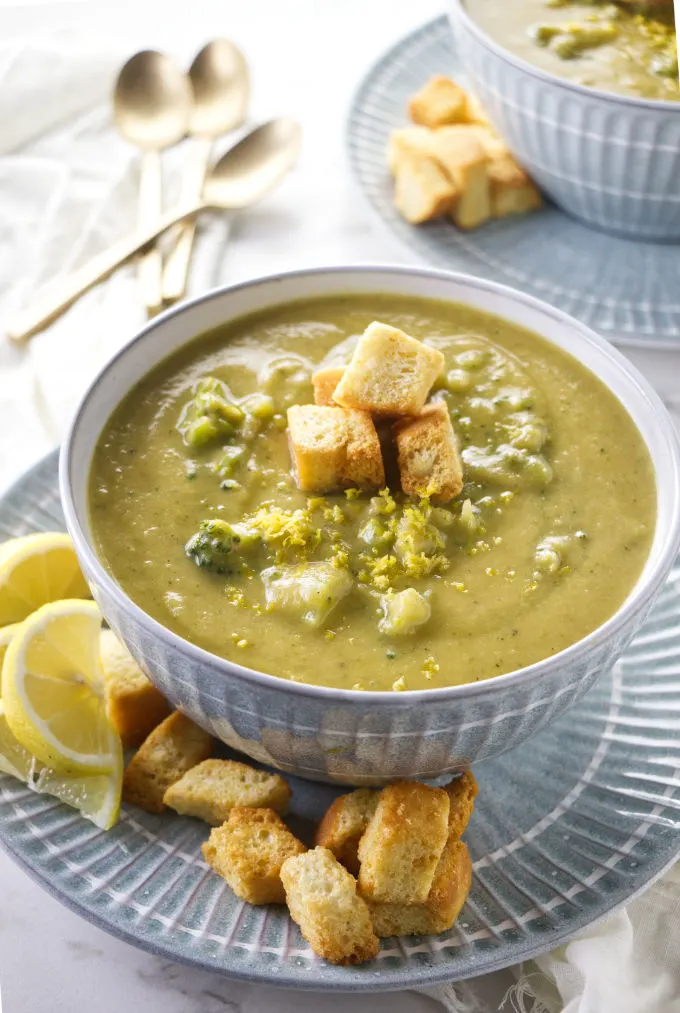 Similar to our Potato Broccoli Cheddar Soup, this soup recipe uses broccoli and potato for thickness but skips out on the cheese. It's perfect if you're looking for a dairy-free option that is still just as creamy. Want a vegan or vegetarian broccoli soup? Simply substitute the chicken broth for vegetable broth and you're good to go.
Our Lemon Broccoli Soup Is:
Full of flavor
A healthy broccoli soup recipe
Easy to make
Low-fat but very filling
Gluten-free
Vegetarian/vegan with one simple swap
If you love this recipe you will love our roasted broccoli with chili and lemon. For more healthy, low-fat soups, try our carrot soup and our healthy tomato soup.
The Ingredient List:
For this healthy broccoli soup recipe, you will need:
Olive oil
Vegetable mirepoix: onions, carrots, celery
Garlic cloves, minced
Dijon mustard
Salt and pepper
Potatoes, peeled and diced
Chicken broth (or substitute vegetable broth for a vegan/vegetarian broccoli soup)
Broccoli florets
Lemons. We used the zest and juice plus extra for garnish
As for equipment, you will need a large soup pot or Dutch oven and a blender or hand-held stick blender. We leave some chunkiness to the soup but you can purée the entire batch if you'd prefer the lemon broccoli soup to be more smooth in consistency.
Let's Make Lemon Broccoli Soup!
We love this broccoli soup recipe because it calls for healthy and hearty vegetables that combine for the most flavorful soup! Here's how to make it (scroll to the bottom of the page for the full recipe which will include all the ingredient amounts and details):
Sauté: Sauté the onions, carrots and celery, then add the garlic, Dijon, salt, pepper, potatoes, and broth.
Simmer: Cover and simmer for 10 minutes. This will cook the potatoes and make them tender. Add the broccoli florets and simmer until tender.
Blend: Use a slotted spoon to remove about 1 cup of the broccoli florets (reserve on a plate for later). Blend the soup until smooth, then transfer it back into the pot and add the lemon zest, lemon juice, and the reserved broccoli. Cook until heated through. Serve with lemon wedges, croutons, or homemade bread.
You can serve this soup with a hearty steak salad for a filling meal or serve it as a starter to a multi-course dinner.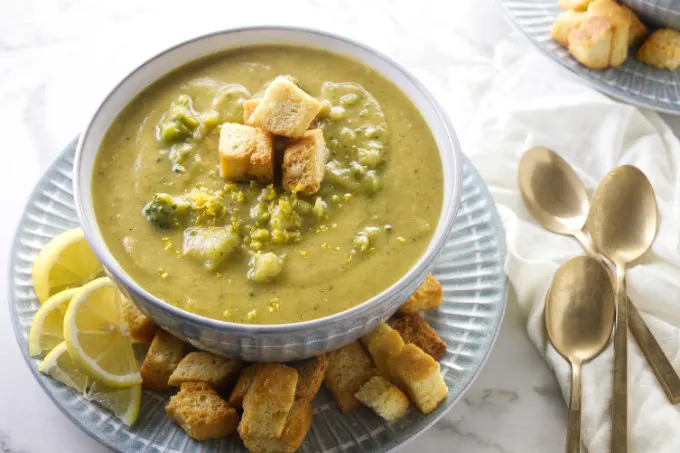 For the Best Results:
If you're using Yukon Gold potatoes, skip a step and don't peel them! You can get away with leaving the skin on since Yukons have skin so thin that it is barely noticeable if you don't peel them.
You can purée this soup in a standard blender or with an immersion blender. If using a regular blender, we recommend blending the soup in batches to prevent over-filling it. Make sure you vent the lid while blending hot soup. You can even leave the lid off and place a dish towel over the top of the blender.
How do you thicken broccoli soup? If your soup appears too thin, you can easily thicken it by adding a roux to the soup, blending in the additional broccoli that you reserved, or whisking in a mixture of cornstarch or water. Finally, shredded cheese stirred into the hot soup is another tasty thickener.
Check out our soup cookbook. It is filled with wholesome and hearty soups. Each soup recipe is from scratch with real ingredients and filling enough to be enjoyed as a main-course meal.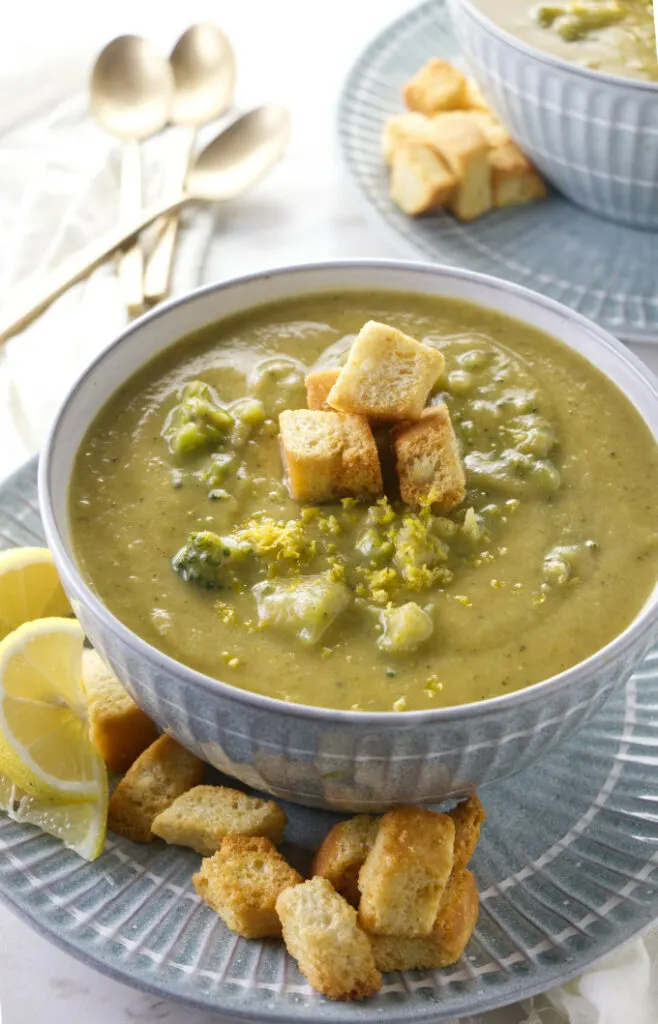 Our lemon broccoli soup is a delicious, satisfying and simple-to-make broccoli soup recipe that the entire family will love! The lemon adds a light, summery note to this otherwise hearty soup, which means you can enjoy it year-round!
Helpful Tools:
Some of the following links are affiliates. If you click on these links and purchase something, we may receive a small commission. You don't pay any extra but it will help us keep the lights on.
Some More Recipes We Are Sure You Will Love:
Homemade Condensed Cream of Mushroom Soup: Skip the canned stuff and make your own condensed cream of mushroom soup! This easy recipe is simple to follow and makes a much healthier version than what you'd find on store shelves.
Roasted Romanesko with Parmesan Panko: This simple, savory side dish is slightly sweet and nutty, with a Parmesan panko that adds extra saltiness, crunch, and pizazz!
Instant Pot Taco Soup: Everything there is to love about beef tacos, but in soup form (and in the Instant Pot!). Our homemade taco seasoning makes this dish more wholesome and adds zesty taco flavor.
Broccoli casserole: Loaded with cheese and topped with a crunchy Ritz cracker topping, this casserole is a comfort food classic.
Connect With Savor the Best:
Please follow us on our social media accounts
Facebook * Instagram * Pinterest * Youtube * Twitter
Did you make this recipe? We would love to hear from you. Drop us a comment below.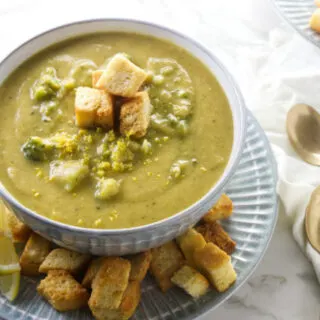 Lemon Broccoli Soup
Lemon brightens the flavors of the broccoli and potatoes give it some extra body and creaminess that tricks the taste buds. This soup is low in fat but very filling. We left some chunkiness to the soup but you can puree the entire batch if you want a smooth soup.
Ingredients
2 tablespoons olive oil
2 medium onions, diced
3 carrots, diced
3 celery stalks, diced
3 to 4 garlic cloves, minced
1 teaspoon Dijon mustard
1/2 teaspoon each of salt and pepper
2 potatoes, peeled and diced
5 cups chicken broth
1 pound broccoli florets (about 5 cups)
zest of 1 lemon
1/4 cup lemon juice
1 lemon, sliced into wedges for garnish
Instructions
Heat the oil in a large pot or Dutch oven. Add the onions, carrots, and celery. Cook until the onions are soft.
Add the garlic, Dijon, salt, and pepper. Cook for 30 seconds until the garlic is fragrant then add the potatoes and chicken broth. Bring to a boil then reduce the heat to a simmer. Cover and cook for 10 minutes or until the potatoes are tender.
Add the broccoli florets and simmer, uncovered for 5 minutes or until the broccoli is tender.
Use a slotted spoon to remove a cup of broccoli florets and set them aside.
Blend the soup in a blender or with a hand-held stick blender. If you use a blender, work in batches and cover the blender with a kitchen towel.
Return the soup to the pot and add the lemon zest, lemon juice and the broccoli florets that you set aside. Cook over medium heat until heated through. Taste and season with salt and pepper. Serve with lemon wedges.
Notes
If you use Yukon Gold potatoes, you can get away with leaving the skin on. Since the skin on Yukon potatoes is so thin it is barely noticeable if you don't peel them.
If you puree the soup in a blender, make sure you vent the lid while you blend the hot soup. You can even leave the lid off and just place a towel over the top of the blender.
Recommended Products
As an Amazon Associate and member of other affiliate programs, I earn from qualifying purchases.
Nutrition Information:
Yield:

8
Serving Size:

1
Amount Per Serving:
Calories:

128
Total Fat:

4g
Saturated Fat:

1g
Trans Fat:

0g
Unsaturated Fat:

3g
Cholesterol:

3mg
Sodium:

721mg
Carbohydrates:

21g
Fiber:

5g
Sugar:

5g
Protein:

4g
Nutrition information is a guideline only, is calculated automatically by third-party software, and absolute accuracy is not guaranteed.