This carrot soup is silky smooth and thick. It is thick enough that you might think there is cream in the soup but there isn't a drop of cream. It is low in fat, high in fiber, and only has 120 calories per serving. Check out the surprising ingredient that makes this soup really special.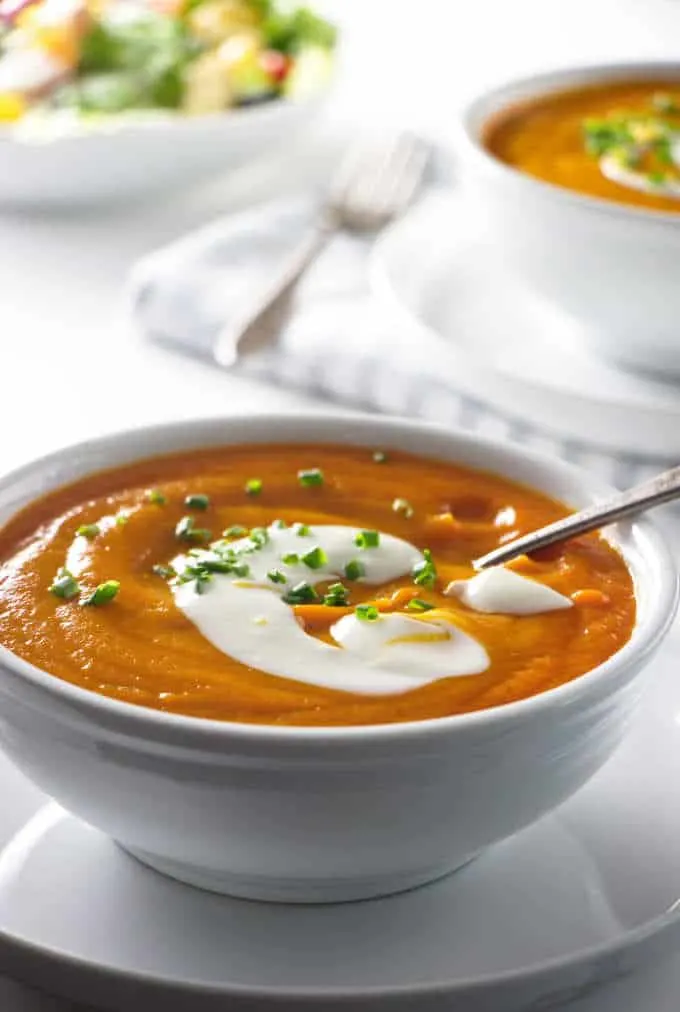 This is one of the easiest, most budget-friendly soups you can make. I made this entire batch of soup for less than $5.00 and it makes 6 healthy sized servings. All you need is a quick salad and lunch is done.
Whether you looking for a detox recipe, following a healthy diet like Slimming World for weight loss or you just want to eat more veggies, this carrot soup is perfect.
Perfect for Slimming World or Weight Watchers
This healthy carrot soup is perfect if you're watching your weight and trying to eat more nutrient-dense foods.
If you are following a Slimming World or a Weight Watchers plan, you will recognize that everything on the ingredient list is Syn Free (for Slimming World) or ZeroPoint foods (for Weight Watchers).
Well, that is with the exception of a tablespoon of olive oil. However, the olive oil is a healthy fat and you do not need very much. If you want to eliminate all the fat then you could sauté the onions with a dab of water but I will encourage you to keep some healthy fat in your diet. After all, healthy fat is good for brain function.
Things you need to make this healthy carrot soup
I love my immersion blender. It makes blending hot soup incredibly easy and fast. It is also easy to clean and does not take up a lot of space in the kitchen. That's my idea of the perfect kitchen appliance.
If you don't have an immersion blender, you can use a regular blender or even a food processor. Keep in mind, if you use one of these tools to puree your soup, you will want to let the soup cool down a bit before blending it.
If you watch our video you will see the soup is pretty hot and steaming when I scooped it into the blender. I was short on time and did not want to wait for the soup to cool down so I gave the hot carrots a whir in the blender.
I don't recommend putting hot liquid in your blender and I also don't listen to my own advice. ?
The reason it is not safe to blend hot liquids is that the heat causes pressure to build up and that will blow the top off your blender. Once that happens, hot liquid will explode all over you and your kitchen.
If you're like me and just can not listen to reasonable advice, then do not put the lid on your blender if hot liquid is inside.
A great trick is to place a kitchen towel over the opening of the blender. The kitchen towel will not trap the hot air inside the jar and it will catch the splatters and keep them from landing on you or your counter.
I placed the lid on my blender but I removed the center portion of the lid so that air could escape. That technique is a little trickier because splatters can still spurt out of the small opening but it let me get a shot of the soup inside the blender.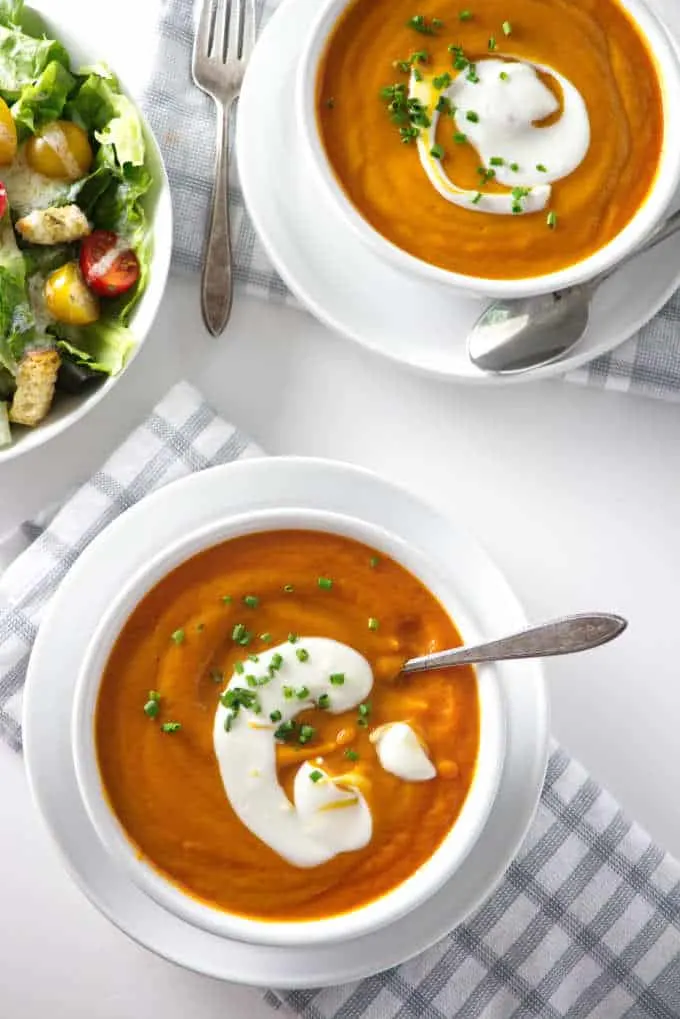 How to make healthy carrot soup
Check out our printable recipe card for complete instructions but first, gather all your ingredients. Here is a quick list of the ingredients you will need. I am sure most of them are already in your pantry.
olive oil

onion

garlic

tomato paste

carrots

chicken broth

salt

fresh nutmeg

lemon
As I mentioned above, with the exception of the olive oil, everything in the ingredients is ZeroPoints or Syn Free for Weight Watchers or Slimming World readers. If you want to make this recipe completely Syn Free, just eliminate the olive oil and saute the onions in a splash of water.
If you want to add a delicious garnish to the soup, add some plain low-fat yogurt or sour cream and some chopped chives. They compliment the flavor of the carrot soup very well. Non-fat yogurt will keep the soup Syn Free or ZeroPoints.
This soup really is incredibly easy to make. Just cook everything in the pot until the carrots are soft then give the whole thing a whirl in the blender. If you have a hand-held immersion blender it makes things even easier and reduces the mess and clean up.
Special ingredients that make a big difference
This carrot soup has all the bright, fresh flavors of carrots and a couple of special ingredients that really round it all out.
Lemon
The lemon gives the soup a vibrant, bright flavor. Use both the zest and the juice of the lemon.
It adds a refreshing zing to the soup and is one of the secret ingredients that sends this recipe over the top. Wait until the soup is ready to serve before adding the lemon juice. That will keep the flavor bright and fresh.
Nutmeg
Nutmeg gives an incredible richness and depth to this soup. It really is a great addition but I recommend using freshly grated nutmeg over the pre-ground type. Pre-ground nutmeg just doesn't do the same thing as fresh nutmeg. Pre-ground nutmeg loses its potency pretty quickly.
All you need to get freshly grated nutmeg is a whole nutmeg seed and a microplane. It takes just a few seconds longer than using the jar of ground nutmeg and it makes a big difference.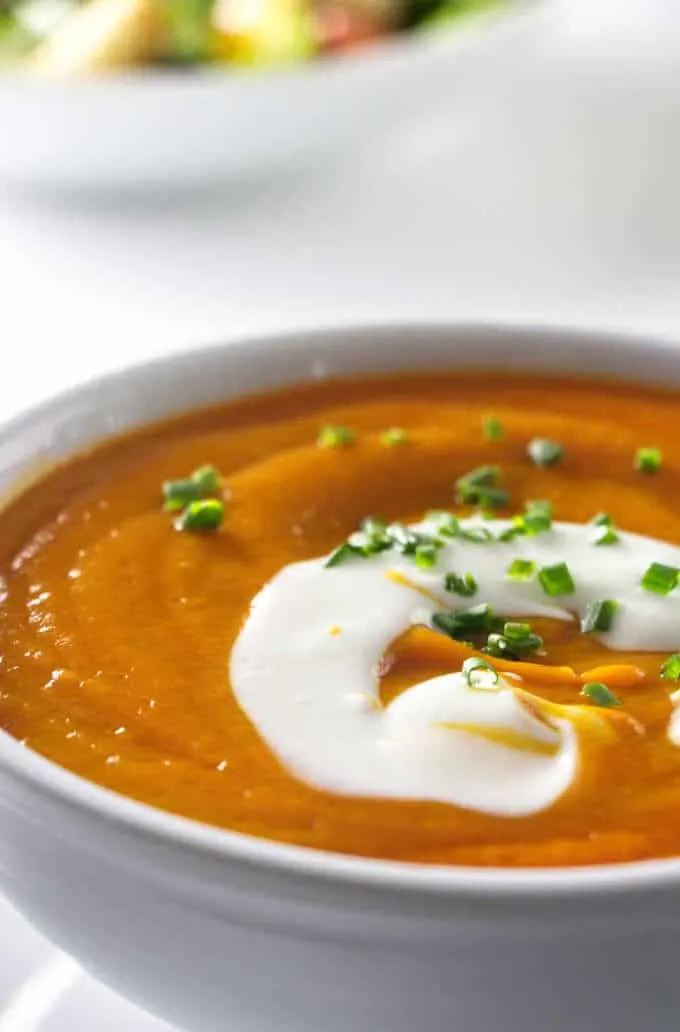 Some Other Recipes You Will Love:
This Spicy Tomato Fennel Soup is full of warm, zesty spices and a ton of flavor. It is another delicious low-fat soup that is great for your Slimming World or Weight Watchers meals.
This Tomato Basil Soup is comfort food in a bowl. But this is healthy comfort food and 1 serving is less than 60 calories. Add this to your Slimming World or Weight Watchers recipe box.
This Sriracha Carrot Hummus makes a zippy dip for your veggies. It is low in fat and calories and compliant for Slimming World or Weight Watchers.
Connect With Savor the Best:
Please follow us on our social media accounts
Facebook * Instagram * Pinterest * Youtube * Twitter
Did you make this recipe? We would love to hear from you. Drop us a comment below.
WWSP=0 / Slimming World Syns=0
Check out our soup cookbook. It is filled with wholesome and hearty soups. Each soup recipe is from scratch with real ingredients and filling enough to be enjoyed as a main-course meal.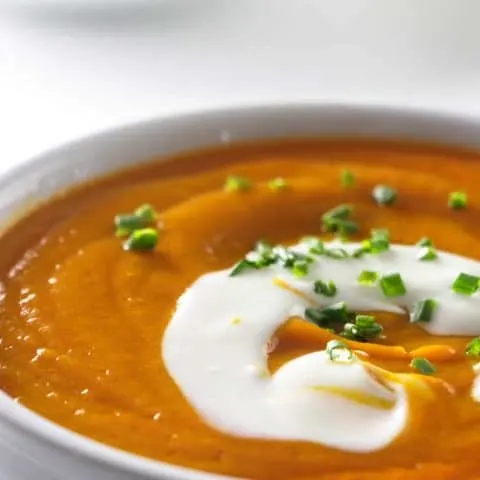 Carrot Soup
A smooth and creamy carrot soup that is low in fat and high in flavor. Adding lemon brightens the flavor and makes a fresh, delicious soup.
Ingredients
1 tablespoon olive oil (or 1 spray of cooking oil)
1 large onion, chopped
2 garlic cloves, minced
1 tablespoon tomato paste
2 pounds carrots, cleaned and cut in 1/2 inch segments
3-1/2 to 4 cups chicken broth
1 teaspoon salt
1 teaspoon freshly ground nutmeg
zest of 1 lemon
juice of 1 lemon
Garnish
Plain low-fat yogurt or sour cream
chopped chives
Instructions
Heat the olive oil in a large pot over medium heat. Add the onion and cook for about 5 minutes until soft then add the garlic, tomato paste, carrots, chicken broth, nutmeg and lemon zest.
Bring to a boil then reduce the heat to medium low. Cover the pot and cook for about 30 or 40 minutes until the carrots are tender. Remove from heat.
Add the lemon juice to the pot and either use an immersion blender to puree the soup or scoop the soup into a blender and blend until smooth. (if you use a blender allow the soup to cool down first before blending it)
If you prefer a thinner soup just add a bit more broth until it is thin enough.
Serve with a dollop of yogurt or sour cream and some chopped chives.
Notes
Slimming World or Weight Watchers:
SW Syn Free
WW Zero Points (if you use 1 spray of cooking oil)
Nutrition value does not include the garnishes.
We are not authorized Slimming World or Weight Watchers consultants. This information should not replace your authorized consultants advice.
Nutrition Information:
Yield:

6
Serving Size:

1
Amount Per Serving:
Calories:

117
Total Fat:

3.2g
Saturated Fat:

0.6g
Trans Fat:

0g
Unsaturated Fat:

2g
Cholesterol:

0mg
Sodium:

877mg
Carbohydrates:

18g
Fiber:

5g
Sugar:

9g
Protein:

4g
Nutrition information is a guideline only, is calculated automatically by third party software, and absolute accuracy is not guaranteed.