Let's have a party! One of the most popular uses of a slow-roasted pork shoulder is to make Pulled Pork Sandwiches. There is enough shredded tender pork here to make a dozen pulled pork sandwiches for a party.
We roasted a bone-in pork shoulder then shredded it up to make these pulled pork sandwiches. That tough, muscle-bound hunk of pork oven roasted, low and slow to fork-tender and delicious.
After shredding the warm tender pork shoulder we moistened the meat well with the smoke-flavored drippings.
We made these juicy, smoke-flavored pulled pork sandwiches with brioche hamburger buns. We slathered each side of the buns with our own fresh horseradish aioli sauce. You can get the recipe for the horseradish aioli sauce here.
We cheated a little and bought a bag of coleslaw mix to include in our sandwiches. This mix is a huge time saver without having to shred cabbage and carrots. A quick mix of mayo, sugar vinegar and seasoning and it is ready to go. Some little shortcuts just make life easier!
After slathering each side of the brioche buns we added a portion of slaw. Then we heaped on a generous portion of that shredded pork over the slaw and added the top portion of the bun. Yum! All that was needed was a fat dill pickle and salty, thick potato chips.
Check Out These Recipes:
CONNECT WITH SAVOR THE BEST!
Be sure to follow us on our social media accounts
Facebook * Instagram * Pinterest * Twitter * Youtube
Did you make this recipe? We would love to hear from you. Drop us a comment below.
Yield: 12 servings
Pulled Pork Sandwiches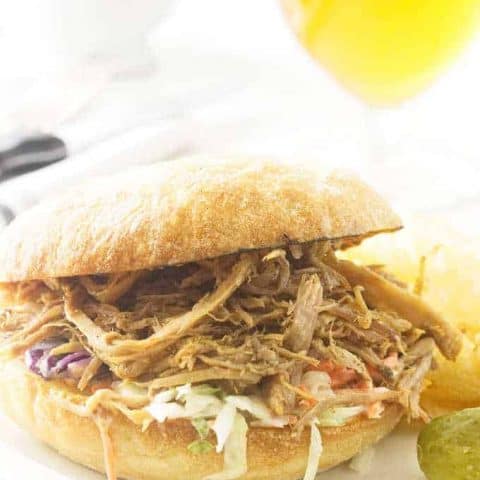 One of the most popular uses of a slow-roasted pork shoulder is to make pulled pork sandwiches. There is enough shredded tender pork here to make a dozen pulled pork sandwiches for a party.
Prep Time 10 minutes
Active Time 10 minutes
Total Time 20 minutes
Ingredients
For the Coleslaw:
1/3 cup mayonnaise
1 tablespoon sugar
1 tablespoons apple cider vinegar
Salt and pepper to taste
14 ounce bag of coleslaw mix
For the Pulled Pork Sandwiches:
5-7 pound Slow-Roasted Pork Shoulder-(Link)
1/2 to 1 cup of pork drippings
12 Brioche hamburger buns
Instructions
Directions:
For the Coleslaw:
Add the mayonnaise, sugar, vinegar salt and pepper to a large bowl and whisk to combine. Add the coleslaw mix and toss well.
Assembling the Pulled Pork Sandwiches:
Using two forks, shred the warm pork shoulder and moisten with the drippings.
Slather each side of the Brioche buns with the horseradish sauce.
Add a half-cup of the coleslaw to the bottom of the bun, then heap a generous portion of the shredded pork over the coleslaw.
Add the top of the bun. Serve with tangy dill pickles and crunchy potato chips.
Notes
A bag of coleslaw mix will usually include a package of dressing which can be used rather than mixing your own.
The pork will shred easier while still warm
Pour drippings over shredded pork. This will add flavor and keep the pork moist.
Use just enough of the drippings to moisten the pork
Regular hamburger buns, Ciabatta rolls, Focaccia buns or Ciabatta roll are options for the Brioche buns
Toasting or grilling the buns will crisp them and prevent sogginess.
Nutrition Information
Yield
12
Serving Size
1 Sandwich
Amount Per Serving
Calories 551
Total Fat 13.8g
Saturated Fat 3.6g
Cholesterol 197mg
Sodium 424mg
Carbohydrates 29.3g
Fiber 1.5g
Sugar 5.4g
Protein 48g
Nutrition information is a guideline only, is calculated automatically by third-party software, and absolute accuracy is not guaranteed.