This green onion and goat cheese tart is perfect for brunch or served as an appetizer. Store-bought frozen puff pastry makes this recipe fast and easy.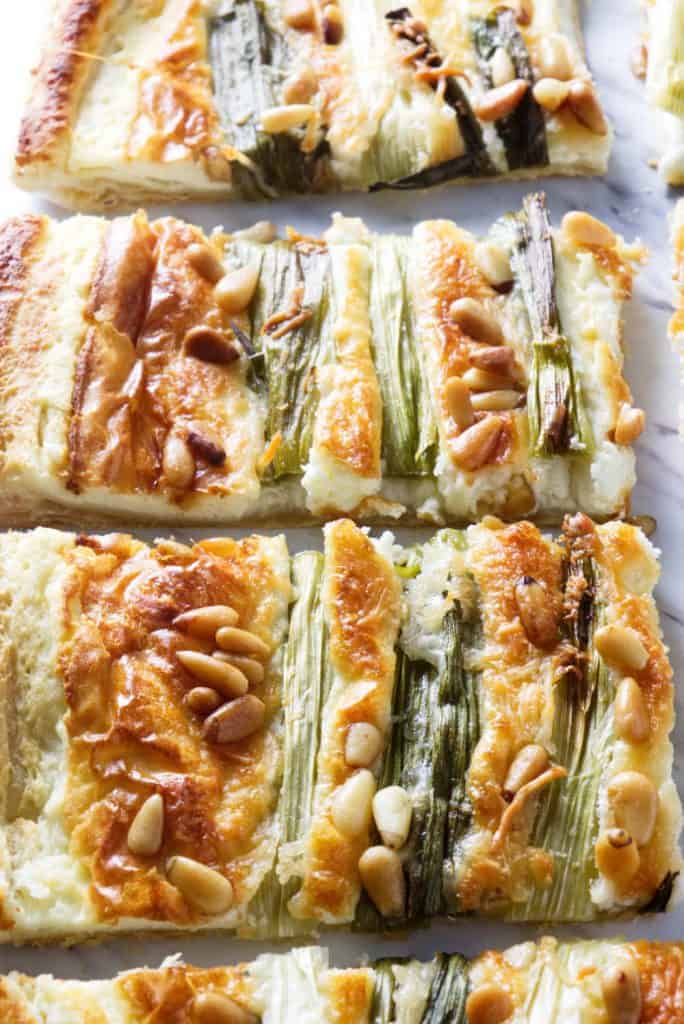 Green Onions
Usher in Spring with this easy green onion tart using the first of the delicate onion harvest. Green onions are available throughout most of the year but they are especially delicious at the peak of the season. Although they can have a spicy bite to them when they are raw, once cooked they become mild, delicate and slightly sweet.
Green onions are also called scallions….then there are the Spring onions which are a little larger and have a small onion bulb at the base. The Spring onion can easily be interchanged for the green onions in this tart.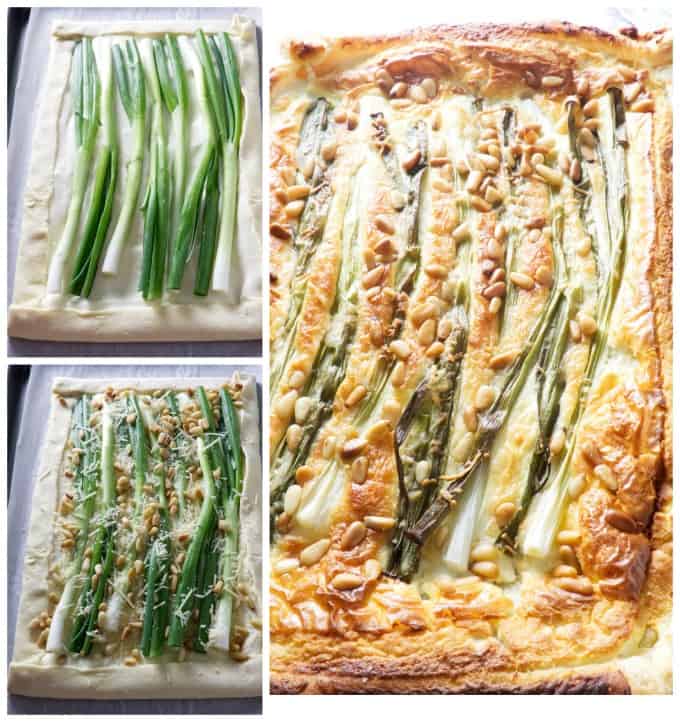 Making the Green Onion and Goat Cheese Tart
Frozen puff pastry makes this recipe easy yet delivers a special decadence. Let the pastry thaw just enough so that it is pliable then roll it out slightly. Blend some soft goat cheese with an egg and a dash of salt then spread it on the pastry. Leave a two-inch border all around and fold the border over for an instant "crust".
Next, you will place the green onions on the filling and dust it lightly with salty parmesan cheese. Pine nuts are sprinkled on top and give the tart a delightful texture. The pine nuts were not part of this recipe the first time I made it but I saw how Jamie Oliver used them in his Spring Onion Tart and love the addition.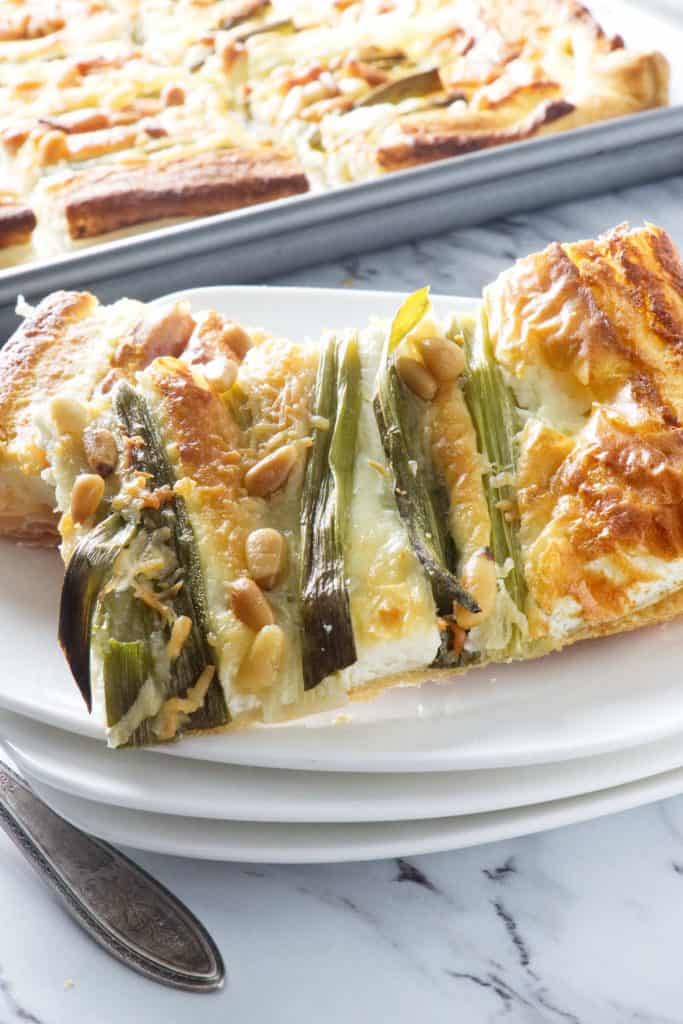 Some other recipes you might enjoy:
These recipes would be a great addition to any menu. Pick a soup, a pasta dish and a salad for a complete menu.
Soups:
Pasta Dishes:
Salads:
Have you made this Green Onion and Goat Cheese Tart or a similar Spring onion tart? We would love to hear from you. Drop us a comment below.
CONNECT WITH SAVOR THE BEST!
Be sure to follow us on our social media accounts
Facebook | Twitter | Youtube | Pinterest | Instagram
If you make one of our recipes, snap a photo and tag it @savorthebest on Instagram and hashtag it #savorthebest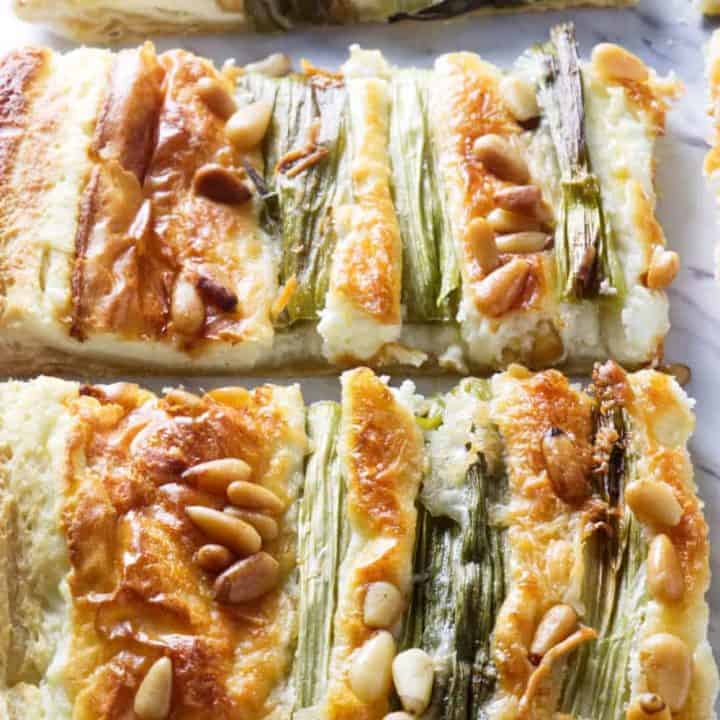 Green Onion and Goat Cheese Tart
Yield: 10 servings
Prep Time: 10 minutes
Cook Time: 30 minutes
Total Time: 40 minutes
A creamy goat cheese filling is spread on a pre-made frozen puff pastry then topped with green onions, parmesan cheese, and pine nuts. This is a fast and easy recipe that works well as an appetizer or brunch item.
Ingredients
1 sheet of puff pastry, thawed
4 ounces goat cheese
1 egg
pinch of salt
6 to 8 green onions, roots trimmed
1/2 cup grated parmesan cheese
1/4 cup toasted pine nuts
Instructions
Preheat the oven to 400°F.
Roll out the puff pastry to about a 12-inch by 14-inch rectangle and place it on a baking sheet. Prick the middle of the pastry with a fork.
In a medium bowl, combine the goat cheese, egg and a pinch of salt. Mix with a fork or an electric mixer until smooth.
Spread the goat cheese mixture onto the pastry leaving a 1 to 2-inch border all around the edges then fold the edges over onto itself to create a raised crust.
Arrange the green onions on top of the cheese.
Sprinkle with parmesan cheese and pine nuts then bake for 25 to 30 minutes.
Nutrition Information:
Yield: 10
Serving Size: 1
Amount Per Serving:
Calories: 117
Total Fat: 9.2g
Cholesterol: 35mg
Sodium: 135mg
Carbohydrates: 2.7g
Fiber: 0.5g
Protein: 6g