What do you do with a neglected bunch of asparagus? Make Asparagus-Pea Soup with Parmesan Cheese! This delicate soup has an almost velvety texture and a fine taste of asparagus and peas. Shards of Parmesan, asparagus tips and lime garnish the top of the soup.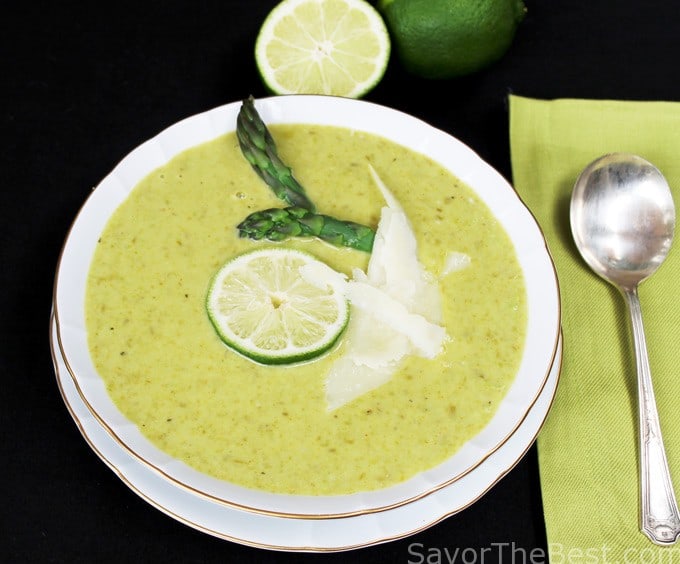 I bought a package of fresh asparagus from Costco, put it in the refrigerator and promptly forgot about it. By the time it was discovered it looked a little sad, not good enough to serve for dinner but too good to trash so I made this asparagus-pea soup with parmesan cheese.
This was my first attempt at making asparagus soup and I was really quite pleased with it. I served it as a first course for Gillian's birthday dinner of meatloaf and mashed baby red potatoes with horseradish and everyone cleaned up their soup bowls.
I adapted a recipe of asparagus-pea soup with parmesan from my cookbook, The Soup Bible as well as suggestions from Daniel Humm, chef of New York's Eleven Madison Park that is listed in my Flavor Bible.
According to Daniel Humm, asparagus soup needs a hefty dose of acid and he recommends lime juice rather than lemon juice. He also recommends adding cayenne pepper which was a surprise but it was really delicious. I will make this soup again!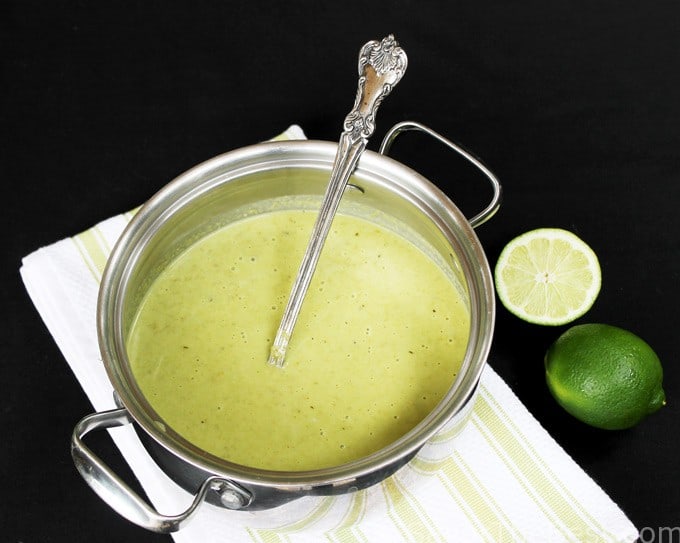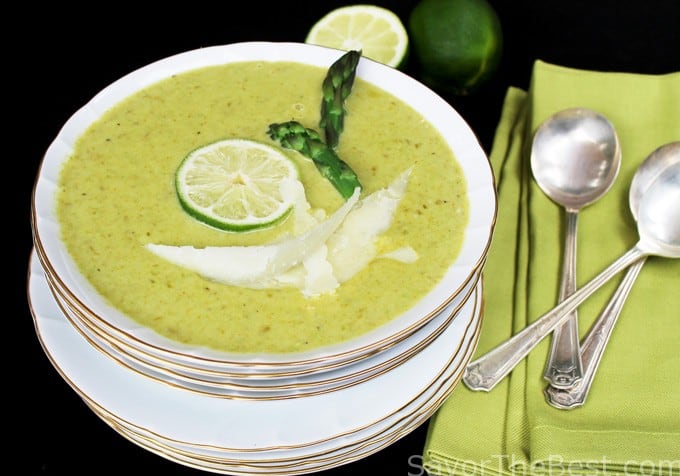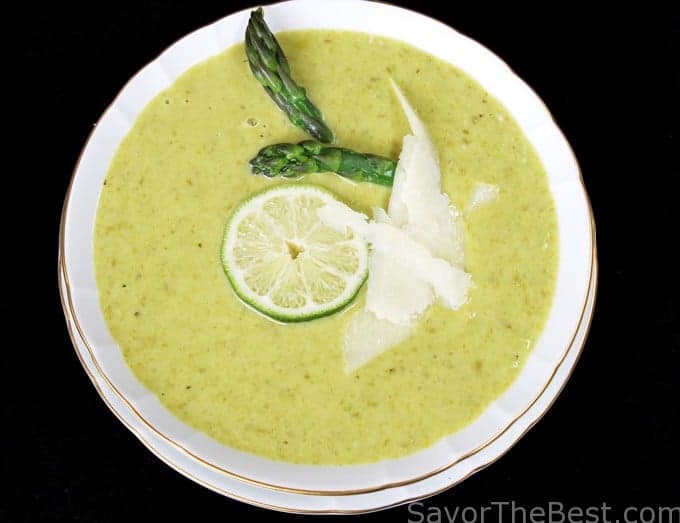 CONNECT WITH SAVOR THE BEST!
Be sure to follow us on our social media accounts
Facebook * Instagram * Pinterest * Twitter * Youtube
Did you make this recipe? We would love to hear from you. Drop us a comment below.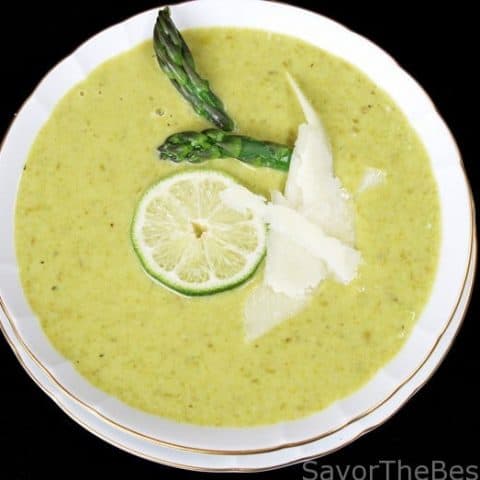 Asparagus-Pea Soup with Parmesan Cheese
Yield: 8 servings
Prep Time: 30 minutes
Cook Time: 1 hour 30 minutes
Total Time: 2 hours
This bright green soup is made by simmering the asparagus and vegetables into a rich stock. Adding white wine, lime juice and cayenne pepper and a little cream make this an elegant and flavorful first course.
Ingredients
3 pounds of fresh asparagus
2 celery stalks (8-inches each), rough chopped
1 large white or yellow onion, rough chopped
3 cans, 14.5 ounces each, chicken broth
2 tablespoons olive oil
2 tablespoons butter
1 shallot, finely chopped
2 cloves garlic, finely chopped
1-12 ounce package frozen peas, thawed
grated zest from one lime
2 tablespoons chopped fresh thyme
1 teaspoon sea salt
1/4 teaspoon freshly ground white pepper
1 cup white wine
1/2 teaspoon cayenne pepper
1 cup heavy cream
3 limes, juiced
1/2 cup shavings of parmesan cheese
2 limes, quartered
Instructions
Wash the asparagus under cold water and cut off the tough, woody ends. Cut off enough of the tips to reserve for garnishment and cut the remaining green tender spears into 1-inch pieces and reserve.
To the bowl of a food processor with the chopping blade, add the asparagus ends and coarsely chop the asparagus. Transfer them to a large saucepan, and add the chopped celery, onion, salt and the chicken broth. Over medium-high heat bring the chopped vegetables to a boil, reduce the heat and simmer for 30 minutes. Remove from the heat and allow to cool, then strain the stock over a bowl, mashing with the back of a wooden spoon to get as much flavor as possible from the cooked vegetables. Discard the strained vegetables. You should have about 5 cups of stock.
Melt the butter and oil in a heavy-bottomed pot such as a Dutch oven and add the shallot and garlic, cook for 1 minute until fragrant. Add the reserved cut asparagus spears, the peas, wine, lime zest, thyme, the asparagus/vegetable stock, salt and pepper. Bring the soup to a boil, reduce the heat to medium and cook for 5 minutes until the vegetables are tender. Remove from the heat and allow to cool slightly.
Add the cooled soup, in batches, to a food processor or blender and puree. Return the processed soup to the pot and bring the soup to a boil. Reduce the heat to low and add the cayenne pepper and the cream and simmer for 2-3 minutes. Do not allow the soup to boil once the cream has been added. Remove from the heat and stir in the lime juice.
Bring a small pan of water to boil and cook the asparagus tips for 1-2 minutes, remove and plunge them into a dish of ice water to stop the cooking. Drain them on paper towels to be used as a garnishment on the individual soup dishes.
To serve, ladle the soup into eight shallow soup bowls, garnish with the asparagus tips and shavings of parmesan cheese. Pass a dish with the lime quarters for each guest to squeeze on top of their soup.
Nutrition Information:
Yield: 8
Serving Size: 1
Amount Per Serving:
Calories: 309
Total Fat: 17g
Saturated Fat: 10g
Trans Fat: 1g
Unsaturated Fat: 8g
Cholesterol: 47mg
Sodium: 590mg
Carbohydrates: 24g
Fiber: 7g
Sugar: 8g
Protein: 10g
Nutrition information is a guideline only, is calculated automatically by third party software, and absolute accuracy is not guaranteed.