Have you noticed the increase of the superfood purslane in your local farmer's markets recently? This herb has been around a long time and it is finally getting noticed for its power-house nutrition. Our Garden Purslane Salad is made with the tiny leaf-heads and tender leaves of this succulent, nutrient-packed delicate herb.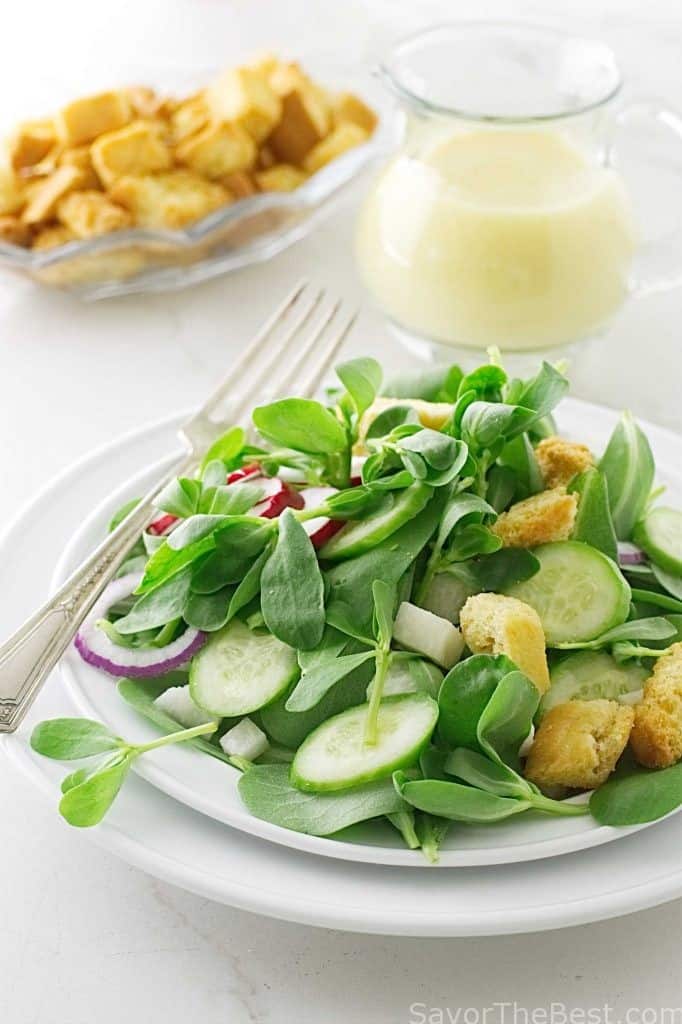 Purslane is by far one of the most nutritious and healthy greens that you can add to your vegetable list. Purslane is a succulent plant that is a nutrient-dense herb with a huge dose of Omega-3 fatty acids making it a heart-healthy superfood. That is the same Omega-3 that you get when eating salmon or sardines!
Try Purslane sautéed with bacon, add some to a stir-fry or chopped and added to an omelet. Toss a handful of this lemony herb in the blender when you make that healthy green smoothie.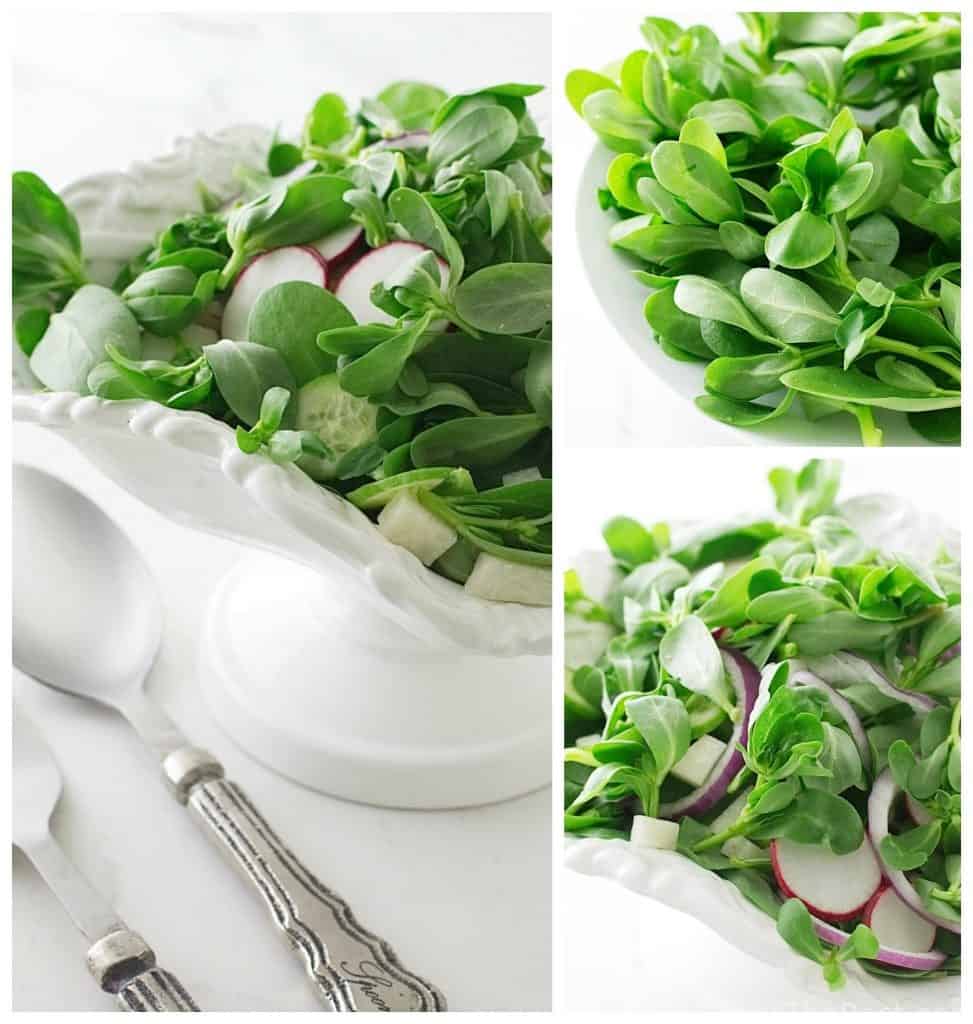 Our backyard garden is a virtual salad bowl with purslane, red and green leaf lettuce, baby kale, spinach, radishes, green onions and tomatoes.
The garden is thriving and we recently used a picking of our garden-fresh green peas to post a pot of Fresh Pea Soup St. Germain. It will be a while yet for the sweet corn to be ready to pick, but what a garden! All organic and fresh!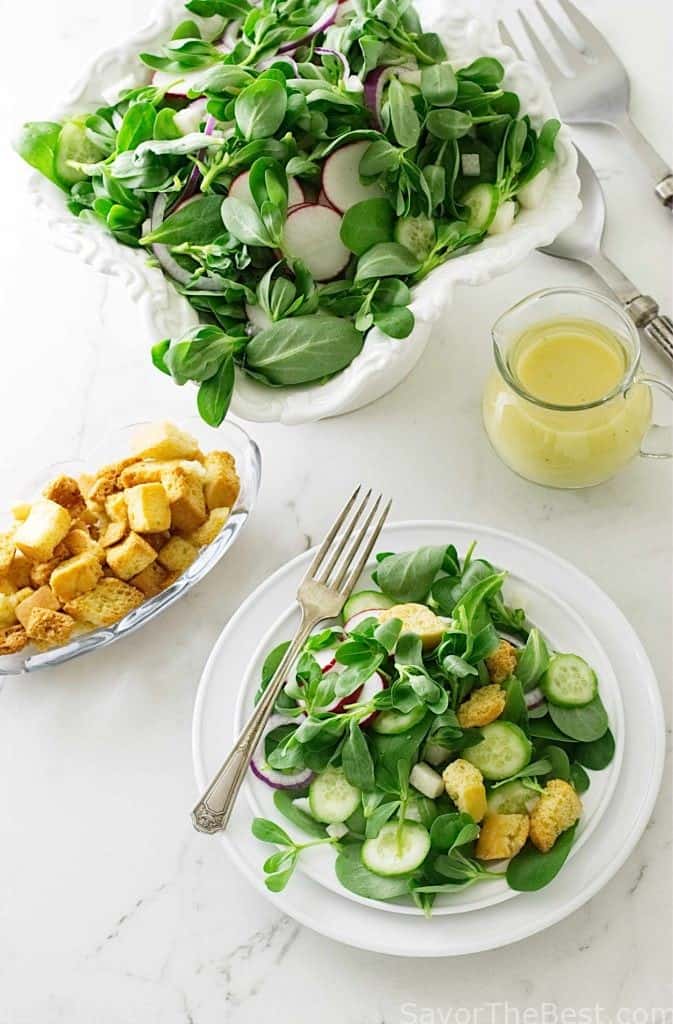 We chose purslane with its slightly lemon flavor for our salad, we removed the tender leaves and tiny tips off of the stem and added a crunchy mix of sliced cucumbers, radishes, red onions, and diced sweet jicama.
A simple creamy lemony-garlic vinaigrette dresses up this salad for the party.
You might like these salads also: Salade Lyonnaise with Poached Duck Egg Butter Lettuce, Strawberries and Cocoa Nibs Heirloom Tomato Salad with Aged Goat Cheese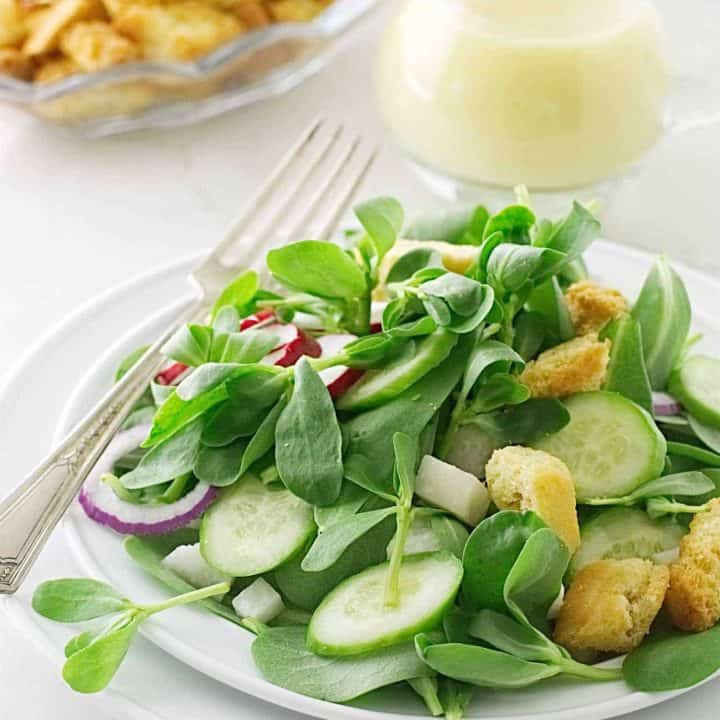 Garden Purslane Salad
Yield: 4 servings
Prep Time: 30 minutes
Total Time: 30 minutes
Our Purslane Salad uses the tender leaves and tips of the herb and includes crunchy cukes, radishes, onion, jicama and a creamy lemon-garlic dressing.
Ingredients
12 ounces fresh purslane leaves and tips
1/2 red onion, thinly sliced
1/2 long green cucumber, thinly sliced
4-5 red radishes, thinly sliced
1 small jicama, diced-about 1 cup
1 cup crunchy salad croutons
Creamy lemon-garlic vinaigrette
1/2 cup fresh lemon juice
2 teaspoons Dijon mustard
2 cloves garlic, grated or crushed
3/4 cup olive oil
Sea salt and freshly ground black pepper
Instructions
Remove the leaves and leaf tips from the purslane stems and add to a salad bowl, discard stems.
Add the sliced red onion, cucumber, radishes and diced jicama to the salad bow, toss to combine.
For the Creamy Lemon-Garlic Vinaigrette:
In a small dish, add the lemon juice, Dijon mustard and garlic, whisk to combine. Slowly add the olive oil in a thin stream while continuing to whisk until creamy.
Notes
Nutritional values are for the salad only.
The creamy lemon-garlic vinaigrette will make 1 1/2 cups (24 tablespoons) Nutritional Values per tablespoon are: Cals: 56, fat: 6.4, Sat.Fat: 0.9,
Fresh purslane will keep several days in the refrigerator with the stems inside a mason jar.
The creamy lemon-garlic vinaigrette can also be made in a blender.
Recommended Products
As an Amazon Associate and member of other affiliate programs, I earn from qualifying purchases.
Nutrition Information:
Yield: 4
Serving Size: 1
Amount Per Serving:
Calories: 91
Total Fat: 0.7g
Saturated Fat: 0.1g
Sodium: 97mg
Carbohydrates: 19g
Fiber: 5.4g
Sugar: 19g
Protein: 3g