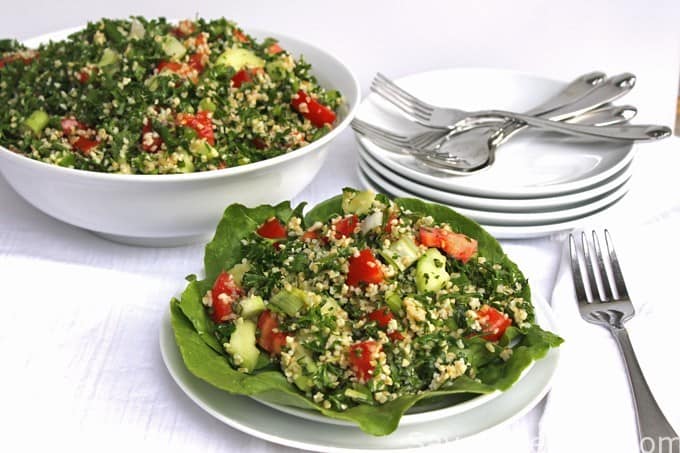 I first became acquainted with tabbouleh salad in the early 1970's when we received our bi-monthly Time Life Foods of the World cookbook on Middle Eastern Cooking. Tabbouleh originated in Turkey and migrated to the entire Middle Eastern countries. I would say it is probably all over the world now. It's that good!
The main ingredient in tabbouleh is bulgur, which is a whole-wheat grain that has been cracked and ground fine. Bulgur is high fiber, low-fat and low-calorie. With the addition of fresh vegetables, herbs and a lemon vinaigrette it is a filling and satisfying dish that is both healthy, nutritious and delicious.
Tabbouleh was a family favorite when our kids were growing up and I always had to make a large batch of it so there would be leftovers. I guess that has not changed as when I told Dahn I was going to make tabbouleh and do a post on it she asked me to make a big batch so she could have some.
Personally, I think the curly-leaf parsley works better in this recipe as it is sturdier and holds up much better than the flat-leaf parsley, also, I really like cucumber in my tabbouleh and have included it in this recipe which I have adapted from my Time Life cookbook.
Tabbouleh also makes a terrific sandwich by stuffing it into a pita bread pocket along with a slice of tomato and crisp romaine lettuce.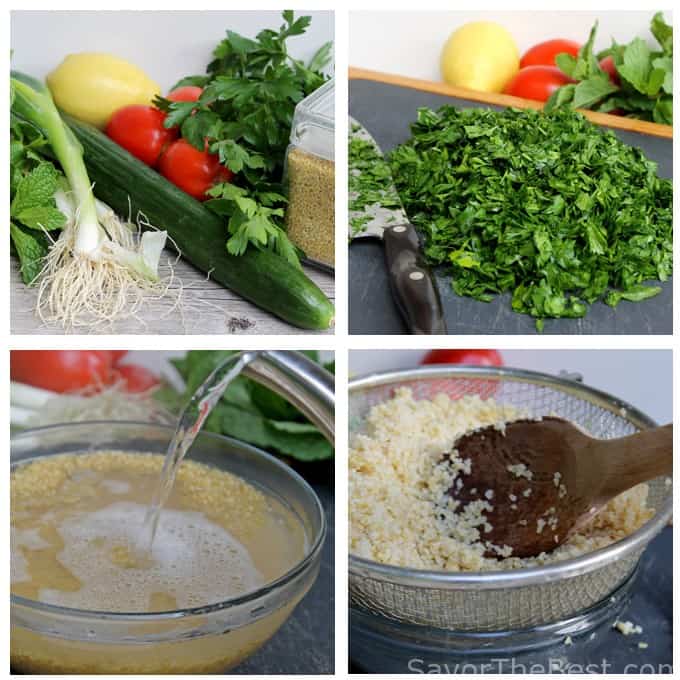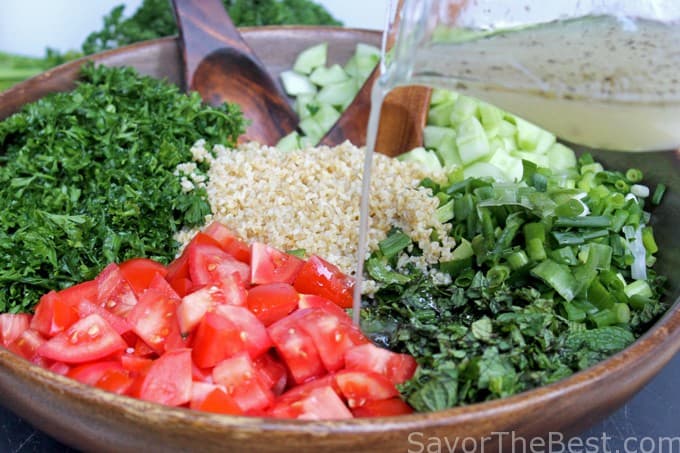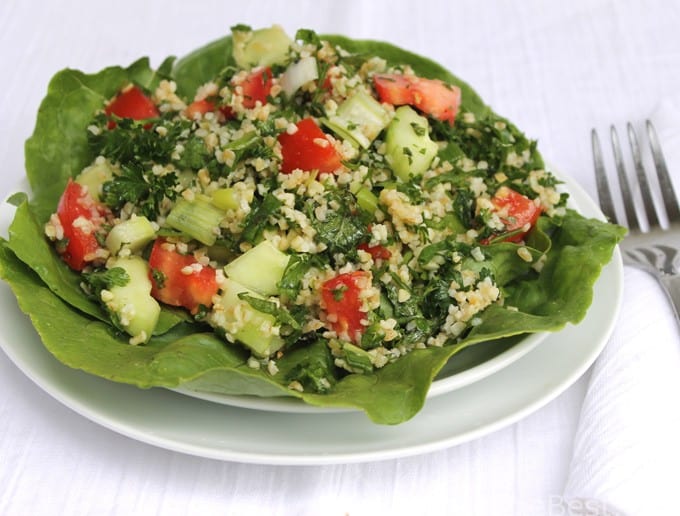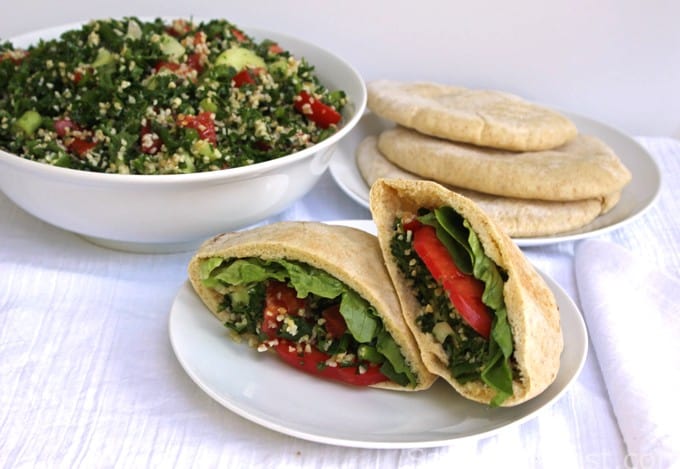 CONNECT WITH SAVOR THE BEST!
Be sure to follow us on our social media accounts
Facebook * Instagram * Pinterest * Twitter * Youtube
Did you make this recipe? We would love to hear from you. Drop us a comment below.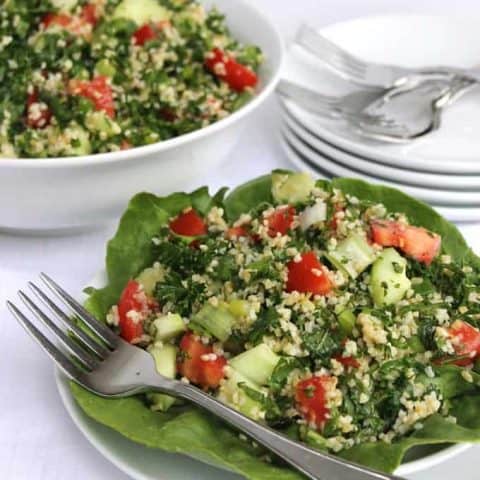 Tabbouleh
Yield: 8 servings
Prep Time: 40 minutes
Cook Time: 5 minutes
Total Time: 45 minutes
Tabbouleh is a low-calorie, low-fat salad with bulgur as the main ingredient with vegetables of parsley, mint, tomatoes and cucumber. This is a healthy, nutritious salad.
Ingredients
1 cup fine bulgur
1 cup chopped fresh mint
1-1/2 cups chopped curly-leaf parsley
1 cup, (about 1 bunch green onions, coarsely chopped)
4 or 5 Roma tomatoes, cut into 1/2-inch dice
2 medium cucumbers, peeled, seeded and cut into 1/2-inch dice
1/2 cup extra-virgin olive oil
1/2 cup fresh squeezed lemon juice
1 teaspoon sea salt
1/2 teaspoon black pepper
Instructions
Place the bulgur in a bowl and pour in enough boiling water to cover it completely. Let the bulgur soak for 5 minutes, then drain through a sieve, pressing down and then fluffing with a fork to get as much of the moisture drained out as possible. Reserve and allow to cool completely.
Add the cooled bulgur to a large shallow bowl and add the mint, parsley, onions, tomatoes and cucumber.
In a small dish, add the olive oil, lemon juice, salt and pepper and whisk until well combined. Pour the dressing over the bulgur and vegetables and toss gently to combine. Refrigerate for 15-20 minutes before serving to allow the flavors to meld together. Serve over romaine lettuce leaves with pita bread
Notes
Tabbouleh is a great make-ahead salad for a planned event. Prepare the ingredients in separate covered containers and when ready to serve, add to a large serving bowl, toss with vinaigrette, allow to sit a few minutes for the flavors to meld before serving.
Nutrition Information:
Yield: 8
Serving Size: 1
Amount Per Serving:
Calories: 220
Total Fat: 14g
Carbohydrates: 23g
Protein: 4g