Our authentic Lebanese tabbouleh salad is a refreshing side that goes with virtually any entree. Fresh parsley, mint, tomatoes, and onion combine with the nutty flavor of bulgur. The salad gets tossed with a vibrant, lemony vinaigrette to create a salad that is healthy and full of flavor.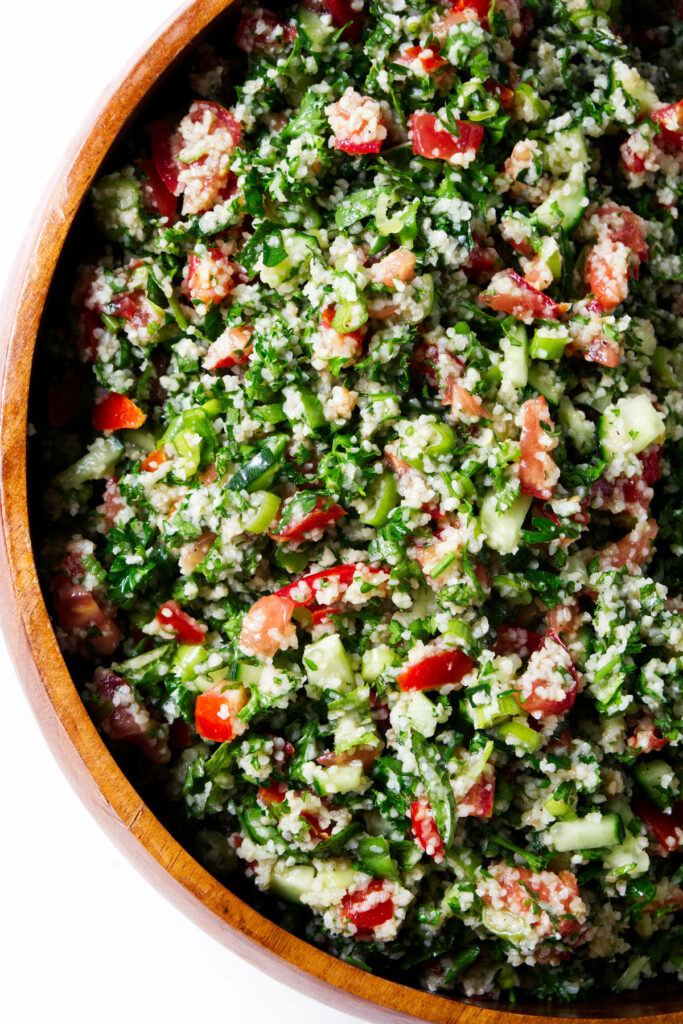 All you need is ten ingredients to make this classic Lebanese salad. It is light, refreshing, and perfect for a summer meal. I like to serve it as a side dish, but it would also be great as a main course. Serve it with our Lamb Pita or halibut Provencal for an excellent Mediterranean meal.
It also makes a fantastic lunch served alongside our einkorn naan and homemade hummus or labneh.
Why This Recipe Works
Parsley adds a bright, peppery flavor that highlights the salad.

The nuttiness of the bulgar blends perfectly with the zesty lemon and fresh herbs.

Allowing the tomatoes to drain over a sieve and scraping out the cucumber seeds reduces the wateriness of the salad.

Using finely ground bulgur stays true to an authentic Lebanese tabbouleh recipe.

Since bulgur is pre-cooked wheat grains, it is fast and easy to prepare.

The ratio of bulgur to fresh herbs is what makes this a traditional Lebanese tabbouleh (as shared by Yotam Ottolenghi and Sami Tamimi in Jerusalem: A Cookbook.
Ingredients Needed
Here is a list of the ingredients you will need for this Lebanese tabbouleh salad. Scroll down to the printable recipe card for all the details.
Bulgur wheat
Roma tomatoes
Parsley
Fresh mint
Green onions
Cucumbers (see below)
Extra virgin olive oil
Fresh lemon juice
Sea salt
Black pepper
As with any cuisine, each region, family, and cook will have their own unique spin on a national dish.
My niece's great-grandmother arrived in the U.S. from Lebanon when she was 12 and passed her mother's recipes down to the family.
Although some Lebanese families do not include cucumbers in their tabbouleh, my niece's family does. You can certainly leave them out if you like.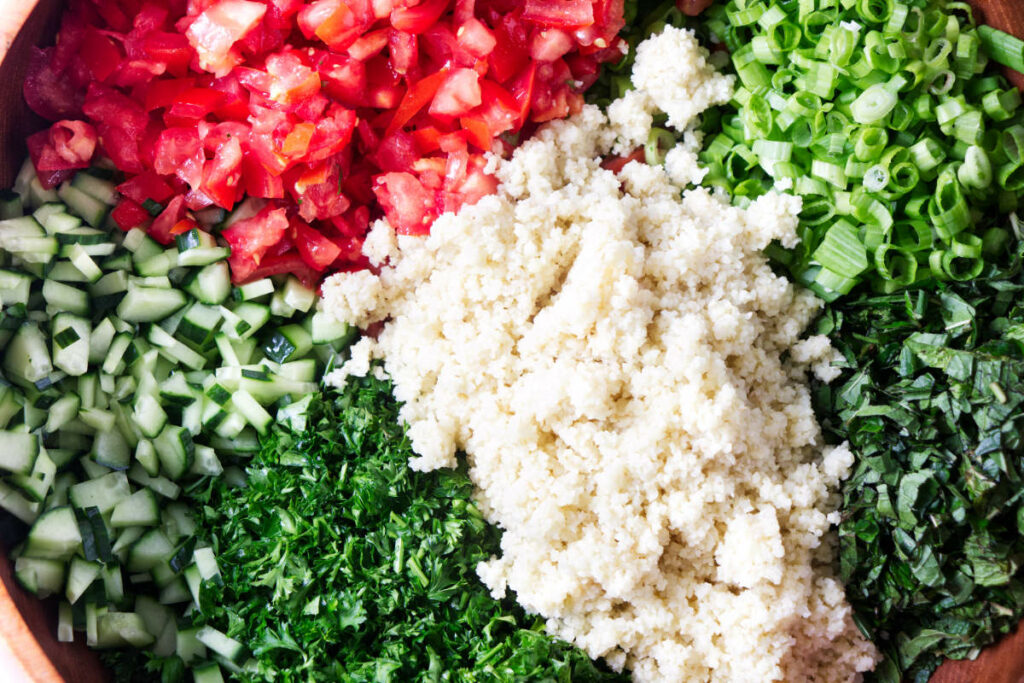 How to Make Lebanese Tabbouleh Salad
Here is a brief overview to give you an idea of what to expect when making our recipe for authentic tabbouleh salad. Scroll down to the printable recipe card for more details.
Cut your tomatoes and sprinkle salt on top. Place the tomatoes in a sieve and let the juices drain.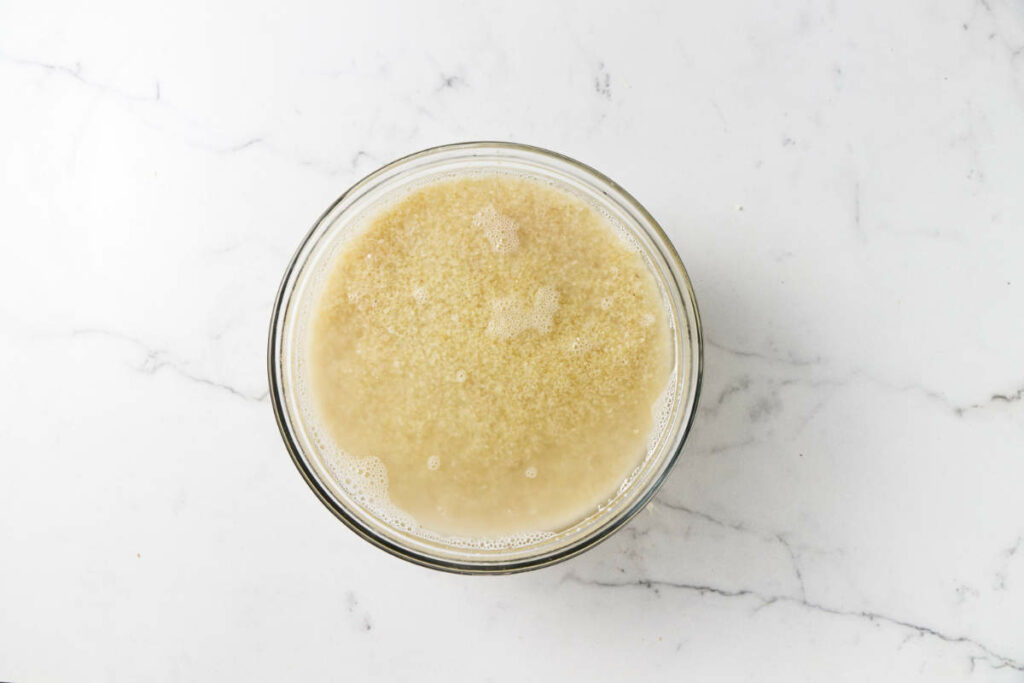 Soak the bulgur wheat in a bowl by covering it with boiling water. Finely ground bulgur only needs to be soaked for a few minutes.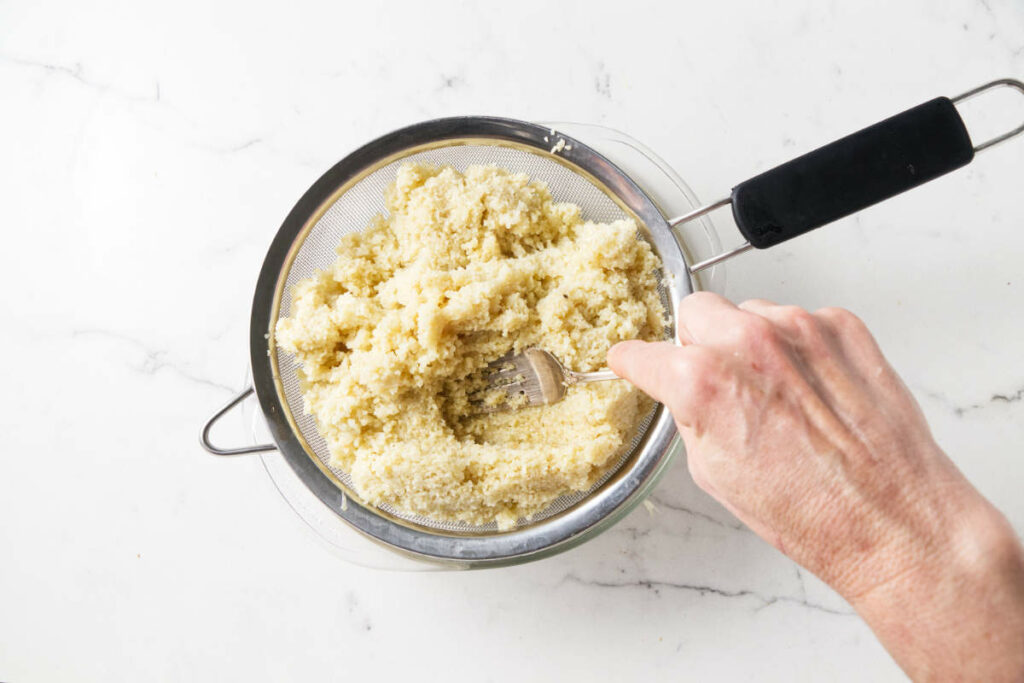 Strain the bulgur through a sieve. Fluff it with a fork and set it aside to cool down.
Tip: While the bulgur is soaking and cooling, prep the veggies and herbs. Use this time to let the juices drain off the tomatoes.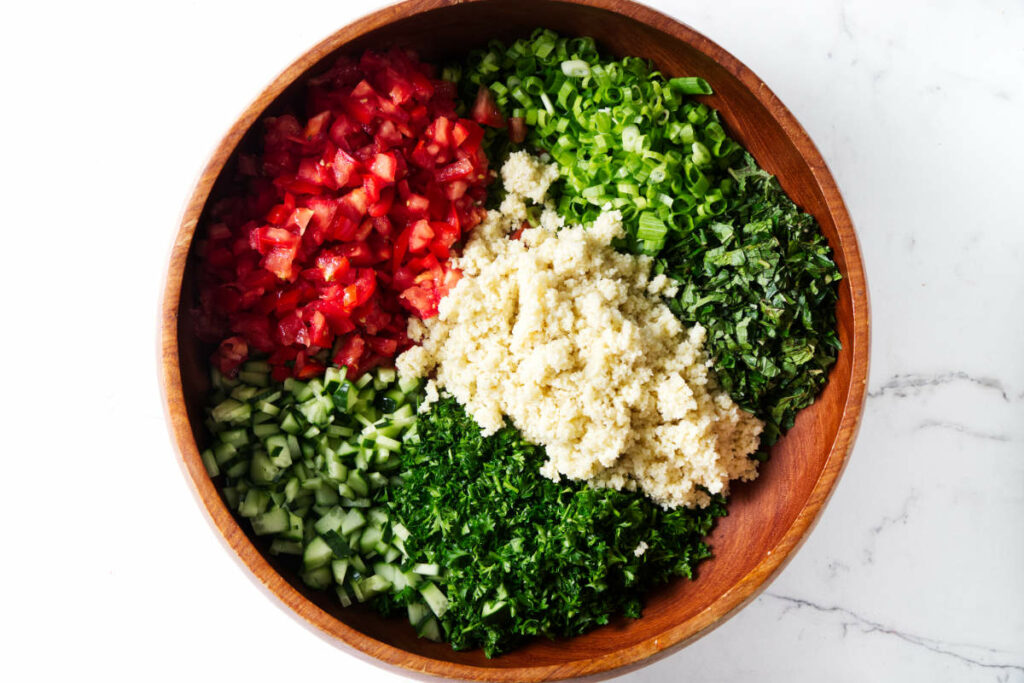 Add the veggies, herbs, and bulgur to a large salad bowl.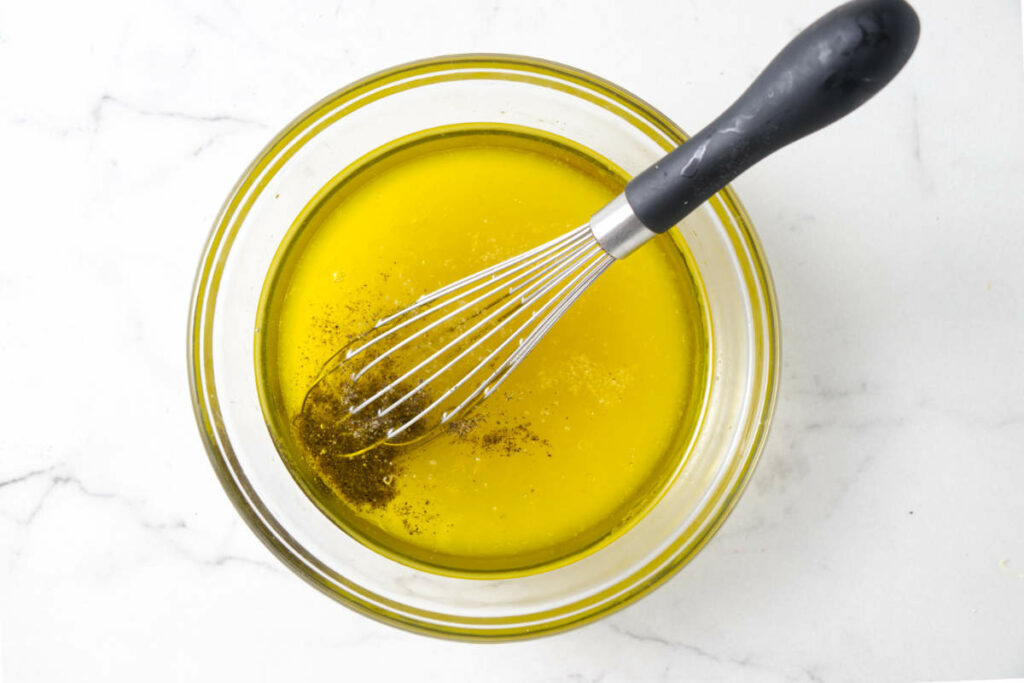 Whisk the lemon vinaigrette and toss it with the salad.
Refrigerate your tabbouleh for 15 to 20 minutes and serve over a bed of romaine lettuce.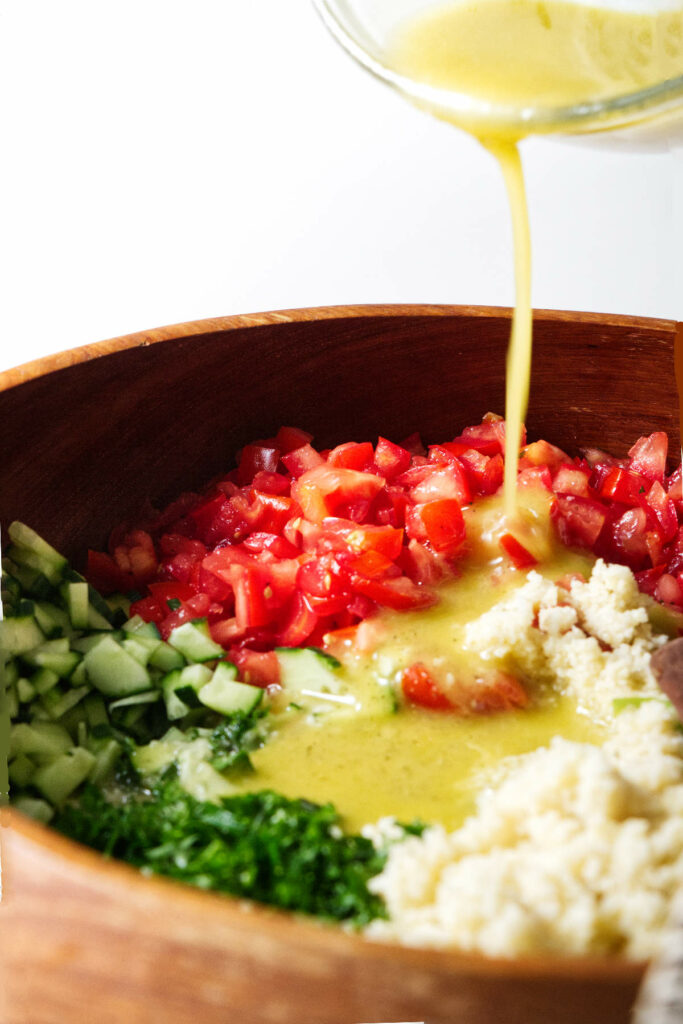 Tips for Success
Remove the seeds from the cucumber to reduce the excess moisture.

For best results, peel the skin off of the cucumber. Sometimes cucumber skin has a bitter taste and a tough, fibrous texture.

Prepare all the vegetables and bulgur in advance for an easy, throw-together side.

You can use flat leaf parsley, but curly leaf parsley is preferable because it holds up better.

Make a handheld version of this authentic tabbouleh salad by stuffing it into a pita pocket or folding it into naan bread.

Lebanese tabbouleh uses less bulgur than other versions of this salad, but you can add more bulgur if you like.

Use fine bulgur if you want a classic Lebanese tabbouleh. Coarse bulgur and cracked wheat are grittier and take longer to soften.
Frequently Asked Questions
What is tabbouleh made of?
It is a salad consisting of fresh herbs with plenty of parsley, tomatoes, and bulgur. It has a simple but flavorful vinaigrette made with fresh lemon juice and olive oil.
How do you keep tabbouleh from getting soggy?
Draining the tomatoes and removing the seeds from the cucumber reduces the excess juices that can make the salad soggy.
Is tabbouleh healthy?
Yes. This salad is loaded with fresh herbs and vegetables. The whole grain bulgur is high in fiber and provides a source of protein.
What is the difference between tabbouleh and tabouli?
There is no difference except for the spelling.
How long can you store cooked bulgur in the fridge?
After you soak bulgur, you can store it in the fridge for up to three days.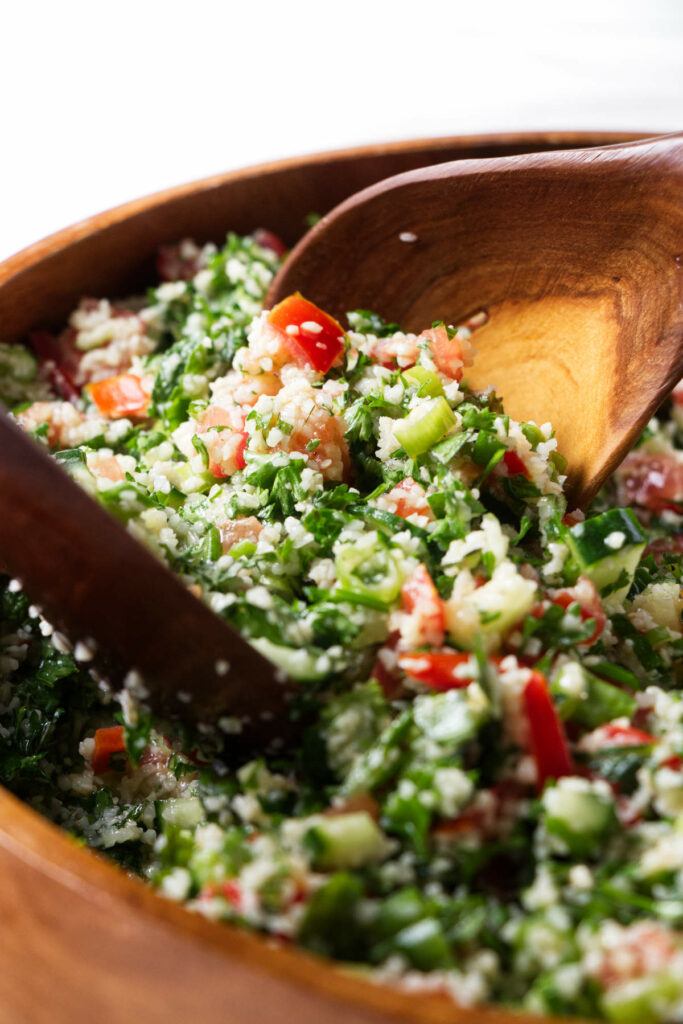 Our Lebanese tabbouleh salad was adapted from a recipe by my Lebanese niece and Jerusalem: A Cookbook.
More Recipes You Will Love
If you're into Mediterranean flavors, you should also try our Lebanese braised green beans. We used the Instant Pot for this recipe to reduce the braising time.
Try our beef shawarma sandwich with some Lebanese garlic sauce which gives it a bold garlic flavor. It's one of our favorites.
Our Greek salad dressing is creamy and rich. It goes well with any tossed green salad as well as our Greek salad.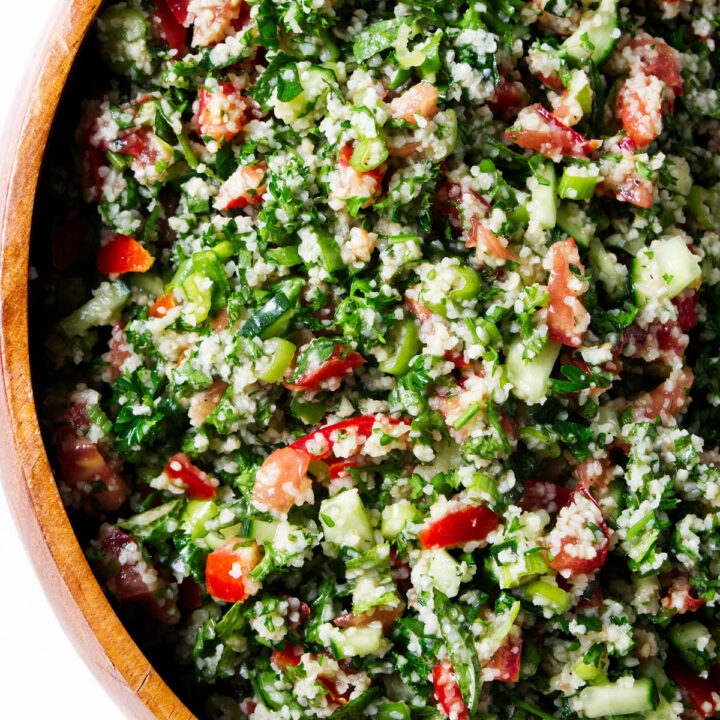 Lebanese Tabbouleh Salad
This authentic tabbouleh recipe is a Lebanese classic that is sure to brighten up any meal. The lemon and parsley give it a refreshing flavor, while the bulgur wheat makes it hearty and satisfying.
Ingredients
1/4 to 1/2 cup fine bulgur
4 or 5 Roma tomatoes, diced
1-1/2 cups chopped parsley (flat or curly leaf)
1 cup chopped fresh mint
1 cup chopped green onions (about 1 bunch)
2 cucumbers, peeled, seeded, and diced (see notes)
1/2 cup extra-virgin olive oil
1/2 cup fresh squeezed lemon juice
1 tablespoon pomegranate molasses (optional)
1 teaspoon sea salt
1/2 teaspoon black pepper
Instructions
Place the bulgur in a bowl and pour in enough boiling water to cover it completely. Let the bulgur soak for 5 to 10 minutes, then drain through a sieve, pressing down to drain all the water. Fluff the bulgur with a fork. Reserve and allow to cool completely.
After you chop the tomatoes, add them to a sieve and let the juices drain for 5 minutes. If you sprinkle the tomatoes with a bit of salt, they will drain better.
Add the cooled bulgur to a large shallow bowl and add the mint, parsley, onions, tomatoes and cucumber.
In a small dish, add the olive oil, lemon juice, pomegranate molasses (if using), salt, and pepper. Whisk until well combined. Pour the dressing over the bulgur and vegetables and toss gently to combine.
Refrigerate for 15-20 minutes before serving to allow the flavors to meld together. Serve over romaine lettuce leaves or with pita bread
Notes
Flat leaf parsley has a bolder flavor than curly leaf parsley, but either one will work in this salad.
Tabbouleh is a great make-ahead salad for a planned event. Prepare the salad and vinaigrette in separate bowls. When ready to serve, add to a large serving bowl, toss with vinaigrette, and allow it to sit a few minutes for the flavors to mingle before serving.
As with any cuisine, each region, family, and cook will have their own unique spin on a national dish. After receiving reader feedback and input from our Lebanese family members, we updated the recipe to reflect a Lebanese tabbouleh more accurately.

Although some Lebanese families do not include cucumbers in their tabbouleh, our family members do, and we love the addition.


We also included a reader suggestion for pomegranate molasses. It adds a tart-sweet-sour-tangy flavor and a lovely dimension to the salad. A little goes a long way, so measure carefully.
Nutrition Information:
Yield:

8
Serving Size:

1
Amount Per Serving:
Calories:

220
Total Fat:

14g
Carbohydrates:

23g
Protein:

4g
This recipe was originally published on October 27, 2014. We updated the photos and added some helpful tips.