Swap out your burger night for a Greek-style Lamb Pita with Tzatziki Sauce! Thin slices of lean leg of lamb marinated in a simple concoction of garlic, lemon, oil, and fresh herbs. The tender lamb slices are browned in a skillet, wrapped in a warm pita flatbread with a tangy tzatziki sauce, cucumber, tomatoes, and feta cheese.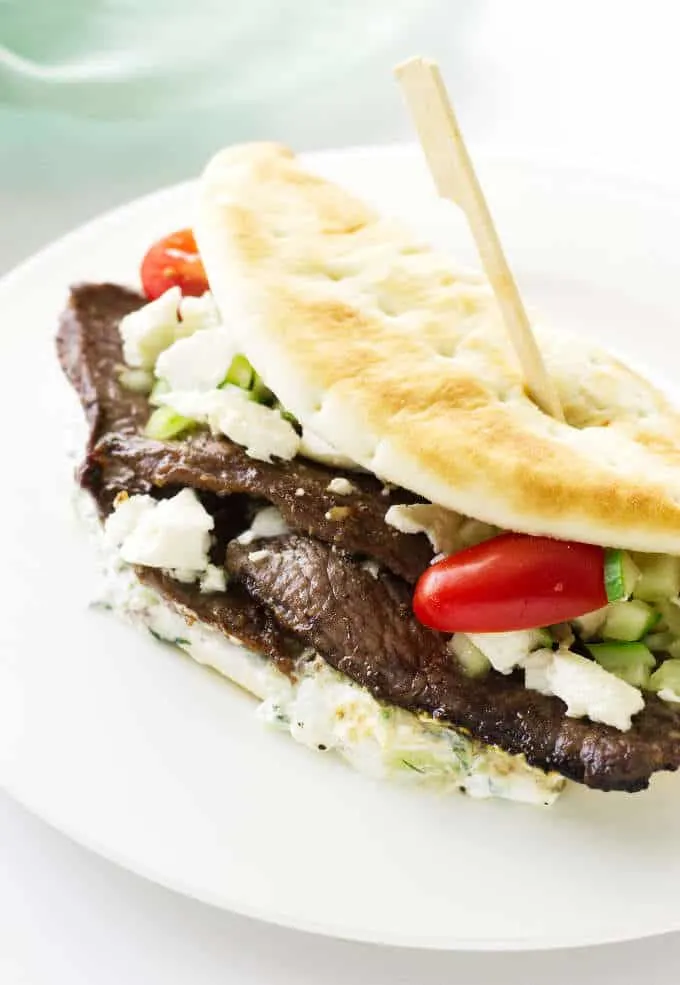 This flavorful lamb pita sandwich is for those warm summer days when you just need a light dinner and you are not in a mood to fire up the grill.
I bought a large boneless leg of lamb at Costco and it was a heavy hit on my budget. I divided that big boy into three meal-size portions which made the cost less painful. These Greek lamb pita sandwiches use one pound of that lean, tender lamb.
Ingredients for this Lamb Pita:
One pound lamb
Fresh lemon juice
Olive oil
Salt/pepper
Fresh oregano
English cucumber
Plain Greek yogurt
Fresh dill
Red wine vinegar
Pita flatbread round
Grape tomatoes
Feta cheese
How to Make these Greek Lamb Pita with Tzatziki Sauce Sandwiches:
There are three components for these yummy Greek lamb sandwiches.
Marinade
Tzatziki sauce
Condiments
And of course, some pita flatbread to wrap it all up. I will break it all down for you in easy steps but please scroll to the bottom of the post for the full recipe and instructions.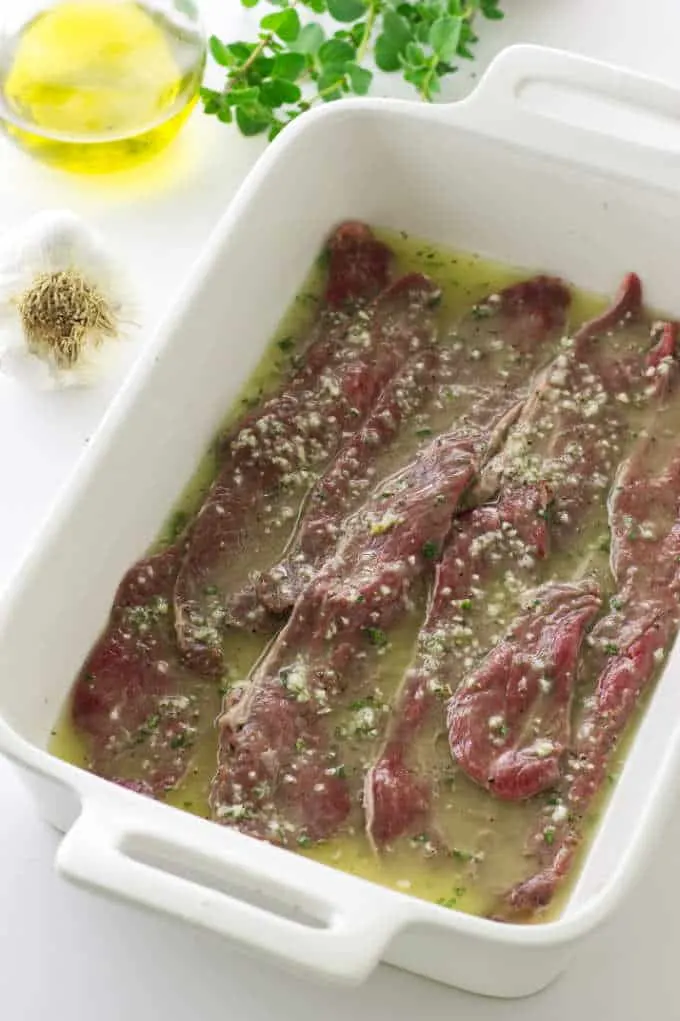 The Marinade:
It only takes a few minutes to infuse the thin slices of lamb with an incredible flavor.
Combine the marinade ingredients in a dish then lay the slices of lamb in the marinade turning to coat each slice
Cover the dish and refrigerate it for 30 minutes. While the marinade does it's magic to the lamb slices you will have time to prepare the remaining components.
The Tzatziki
Tzatziki is a traditional Greek sauce made from thick strained yogurt, cucumbers, garlic, herbs and seasoning. Cucumbers are full of water which causes the sauce to be thin and soupy. The secret to a thick, dip-like sauce is to squeeze the liquid from the grated cucumber.
Line a bowl with a double thickness of cheesecloth and grate the cucumber into the bowl. Gather the edges of the cheesecloth up and squeeze the heck out of that cuke.
Mix the squeezed cucumber into the yogurt, garlic, oil, vinegar, salt and pepper.
Set it aside and it will develop a delicious flavor by the time you are ready to use it in the sandwiches.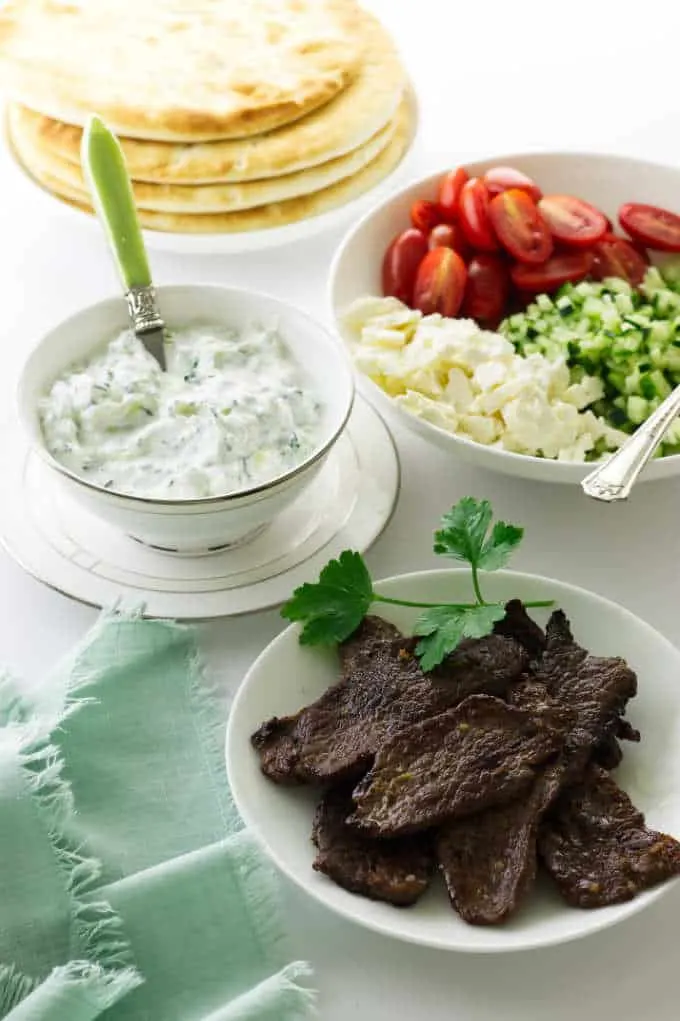 The Condiments:
This will take about five minutes to prep. You can make the toppings ahead of time and store them in the fridge until you are ready to assemble the lamb pita pockets.
Slice the tiny tomatoes, dice more cucumber and crumble the feta cheese.
Place them on a plate, or if you choose, in separate small dishes to be used when assembling the sandwiches.
Putting it all Together:
Warm the pita flatbread.
Cook the lamb.
Assemble the sandwiches. Stuff the warm pita bread with the tzatziki sauce, hot lamb, and the condiment sides.
This recipe for a Greek-style lamb pita is just the thing to make for a Mediterranean-themed dinner! It's quick enough to get dinner ready in less than 30 minutes (if the meat is already marinated) and healthy enough so that you don't have to feel guilty about indulging. Whip up one of these tasty wraps tonight–you won't regret it!
Some Other Recipes We Are Sure You Will Love:
Tri Tip sandwich: Grilled Tri Tip beef makes a delicious full-meal sandwich! Pile thin slices of medium-rare beef on a soft Kaiser roll spread with spicy chipotle aioli. Add a generous amount of grilled onions and Gouda cheese and enjoy with some crunchy potato chips.
Chicken Bahn Mi Sandwich: This is a sandwich you will love and make again and again! It is sweet, spicy and crunchy in every bite. Ground chicken, crunchy pickled and fresh veggies on a soft bun. This incredible Vietnamese sandwich tastes like authentic street food.
Pulled Pork Sandwich: This spicy pulled pork sandwich really hits the spot anytime and is filling enough to be a complete meal! Spread a soft Brioche bun with a fresh horseradish aioli, add some crunchy coleslaw then pile on a hefty amount of pulled pork. What could be better than this!
Connect With Savor the Best:
Please follow us on our social media accounts
Facebook * Instagram * Pinterest * Youtube * Twitter
Did you make this recipe? We would love to hear from you. Drop us a comment below.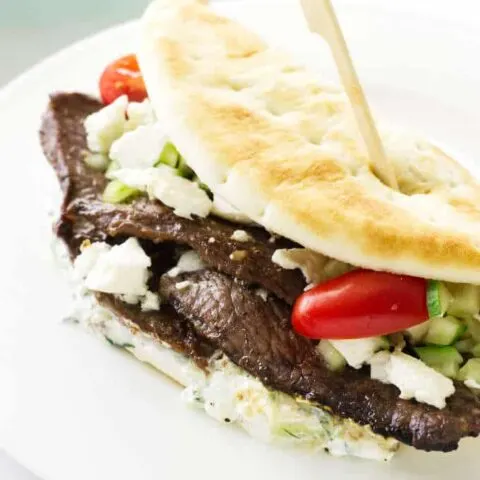 Lamb Pita with Tzatziki Sauce
Additional Time:
30 minutes
Swap out your burger night with a Greek-style Lamb Pita with Tzatziki Sauce! Thin slices of lean leg of lamb marinated in a simple concoction of garlic, lemon, oil and fresh herbs. The tender lamb slices are browned in a skillet, wrapped in a warm pita flatbread with a tangy tzatziki sauce, cucumber, tomatoes and feta cheese.
Ingredients
For the Lamb Marinade:
3 garlic cloves, grated or minced
1/4 cup lemon juice, freshly squeezed
1/4 cup olive oil
1 teaspoon salt
1/4 teaspoon pepper
2 tablespoons chopped fresh oregano
1 pound boneless lamb, cut into 1/4-inch slices
For the Tzatziki Sauce:
1 English Cucumber, grated and squeezed dry
4 garlic cloves, grated or minced
8 ounces plain Greek yogurt
1 tablespoon olive oil
2 tablespoons finely chopped fresh dill
1 teaspoon red wine vinegar
1/2 teaspoon salt
1/4 teaspoon white pepper
For the Pita Flatbread:
4 (6-inch) Pita Flatbread rounds
For the Condiments:
1/2 cup grape tomatoes, halved
1 cup finely diced cucumber
1/2 cup crumbled feta cheese
Instructions
For the Lamb Marinade:
Add the garlic, lemon juice, olive oil salt/pepper, and oregano to a dish 9x13-inch dish and stir to combine.
Lay the lamb slices in the marinade, turning to coat both sides. Cover the dish with plastic wrap and refrigerate for 30 minutes. While the lamb is marinating, prepare the tzatziki sauce and relish.
Tzatziki Sauce:
In a small dish, add the grated/squeezed cucumber, garlic, yogurt, olive oil, dill and vinegar. Stir to combine, taste and season with salt and pepper if needed. Reserve.
The Condiments:
Place the chopped tomatoes, cucumber, and crumbled feta cheese in a dish or in separate small dishes and reserve.
For the Pita Flatbread Rounds:
While the lamb slices are cooking, wrap the pita rounds in aluminum foil and place in a 350° oven. Warm for 10-12 minutes.
Transfer to the work space and keep wrapped until ready to assemble the sandwiches.
Cook the Marinated Lamb Slices:
Heat a large un-oiled skillet set over medium-high. Working in batches, remove slices of lamb and place in the hot skillet. Brown for 3-4 minutes, flip slices and brown under side. Transfer to a plate and repeat with remaining lamb slices. Discard remaining marinade.
Assemble the sandwiches:
Unwrap the foil and place the warm pita bread rounds on separate plates.
Spread a generous amount of the tzatziki sauce on the exposed side of each pita round.
Add 1/4 of the lamb slices on 1/2 of each pita.
Spoon the relish on top of the lamb, add feta cheese crumbles and fold the pita over the filling.
Notes
These sandwiches can also be made with slices of beef
We used the pocketless pita rounds for these sandwiches. You can also substitute with 8-inch flour tortillas or another type of thin flatbread.
Greek yogurt is best for the tzatziki sauce as it is thicker than regular yogurt.
English cucumbers or regular cucumbers can be used for the tzatziki sauce. Squeeze as much water from the grated cucumber for a thick sauce.
Chopped green onions can also be included in the relish.
Nutrition Information:
Yield:

4
Serving Size:

1
Amount Per Serving:
Calories:

656
Total Fat:

45g
Saturated Fat:

15g
Trans Fat:

0g
Unsaturated Fat:

27g
Cholesterol:

130mg
Sodium:

1189mg
Carbohydrates:

22g
Fiber:

2g
Sugar:

5g
Protein:

39g
Nutrition information is a guideline only, is calculated automatically by third-party software, and absolute accuracy is not guaranteed.