Our Mint Sauce for Lamb has a bright, mint-y and herbaceous flavor that enhances the grassy and savory taste of meaty lamb. Tangy lemon, Parmesan cheese, herbs and pine nuts give this sauce a fresh and aromatic burst of flavor. Even better, it takes just a few minutes to make!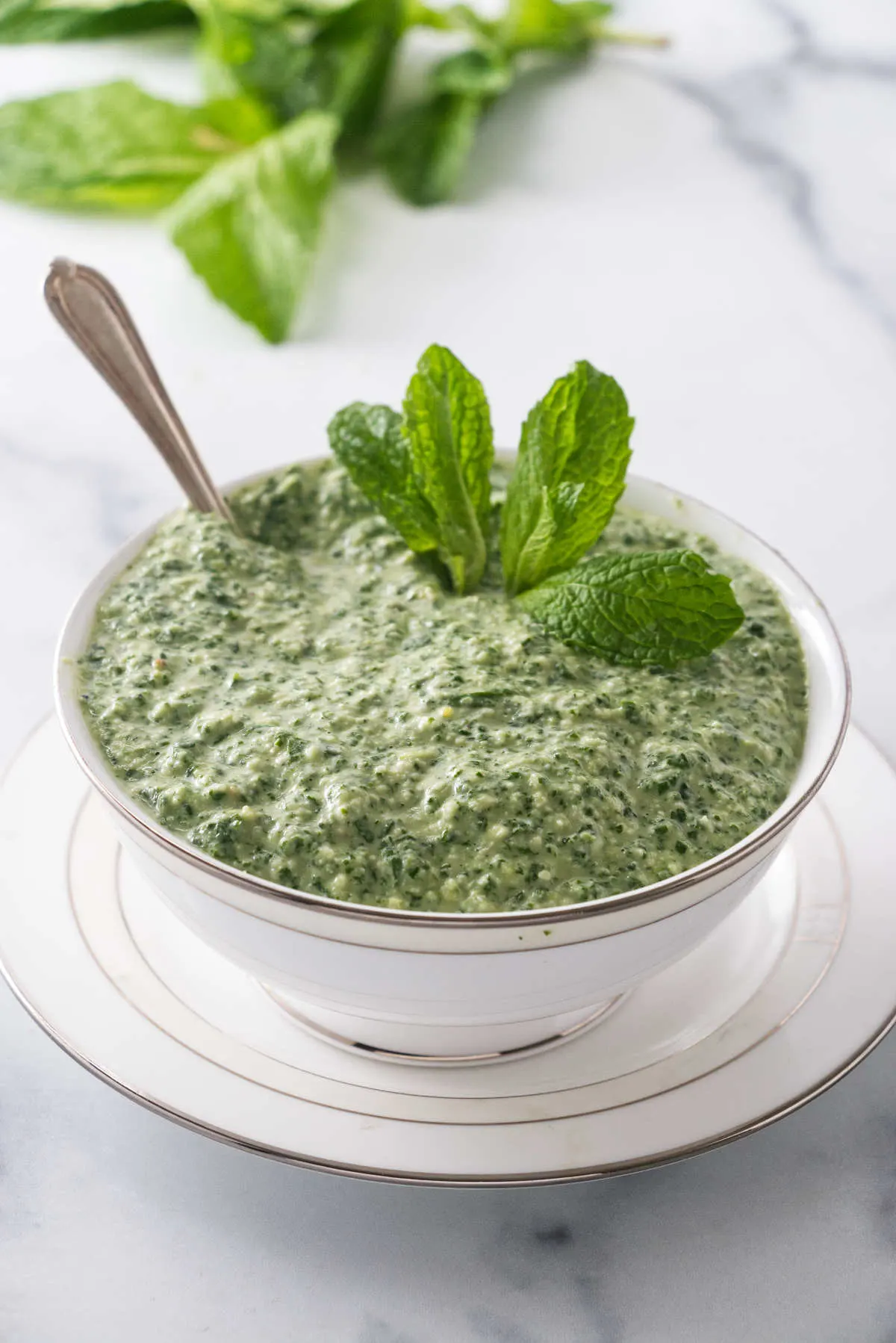 This classic mint sauce will work with nearly any kind of prepared lamb- from roast lamb to lamb chops to a beautiful roasted rack of lamb. It's the side sauce you need for any special occasion, with lamb as the main course.
But the great thing about this homemade mint sauce recipe is that it not only works for lamb, it's also a versatile sauce that tastes great with a variety of other dishes!
Serve it alongside duck pasta, roasted Brussels and carrots, grilled swordfish or roast beef for a pop of unique flavor.
Why This Recipe Works
I'm a big lamb fan and we have all sorts of lamb recipes you can pair this sauce with!
Mint sauce and lamb is one of those flavor combinations you can't knock until you try, and this is the perfect mint sauce for nearly all cuts of lamb.
​It is:
easy to make with just a few basic ingredients required
quick to pull together- it's ready in just a few minutes!
a great accompaniment to an elegant dish like Crown Rack of Lamb
The Ingredients
Simple ingredients are all you need to make this fresh mint sauce.
Along with fresh mint leaves, herbs like basil and oregano are added to complement the flavor. You will need:
Mint leaves. It's not mint sauce without this main ingredient!
Fresh basil and oregano. ​Additional herbs that complement the cooling taste of mint.
Garlic cloves. ​A little bit of a garlicky bite gives this sauce a delicious savory flavor.
Fresh lemon juice. ​The juice of half a lemon is all you need to brighten up the sauce.
Pine nuts. ​Neutral in flavor, pine nuts add a rich, creaminess to the sauce and a consistency that resembles pesto.
Parmesan cheese. The nuttiness of Parmesan tames the fresh herbs.
Black pepper. ​For just a tiny amount of peppery bite!
Olive oil. This helps thin the mixture to a sauce consistency.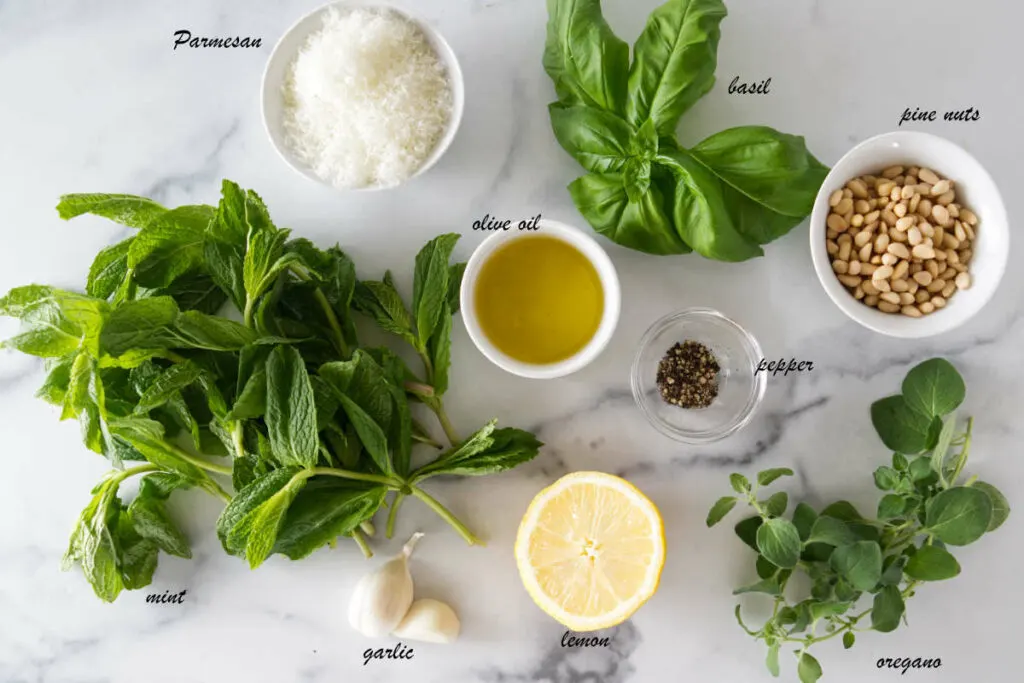 How to Make Mint Sauce for Lamb
While it's not quite a traditional English mint sauce since we've added a few other items, it still has a bright flavor that cuts through the richness of lamb.
Another bonus? There's no cooking or boiling water required! This easy mint sauce is ready in just as long as it takes to gather the ingredients and process them together.
Here's a quick look at the steps involved in the process but, as always, don't forget to scroll to the bottom of the page to view our printable recipe card.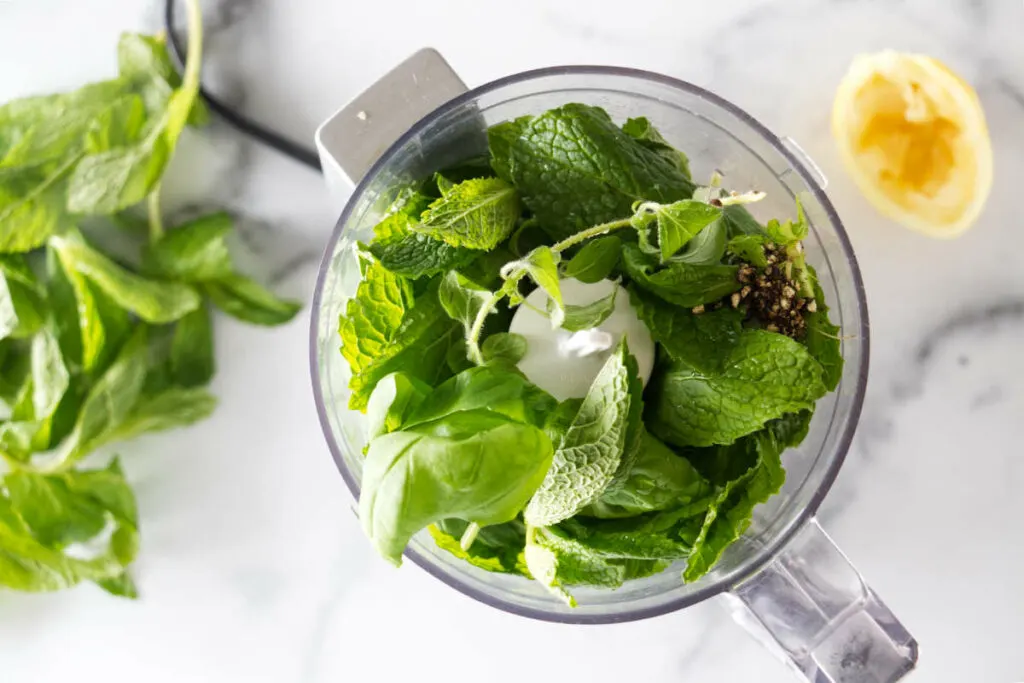 Place the mint, basil, oregano and garlic in a mini food processor or blender. Process briefly.
Stop the motor and scrape down the bowl. Add the lemon juice, pine nuts, Parmesan and pepper. Process again until well combined.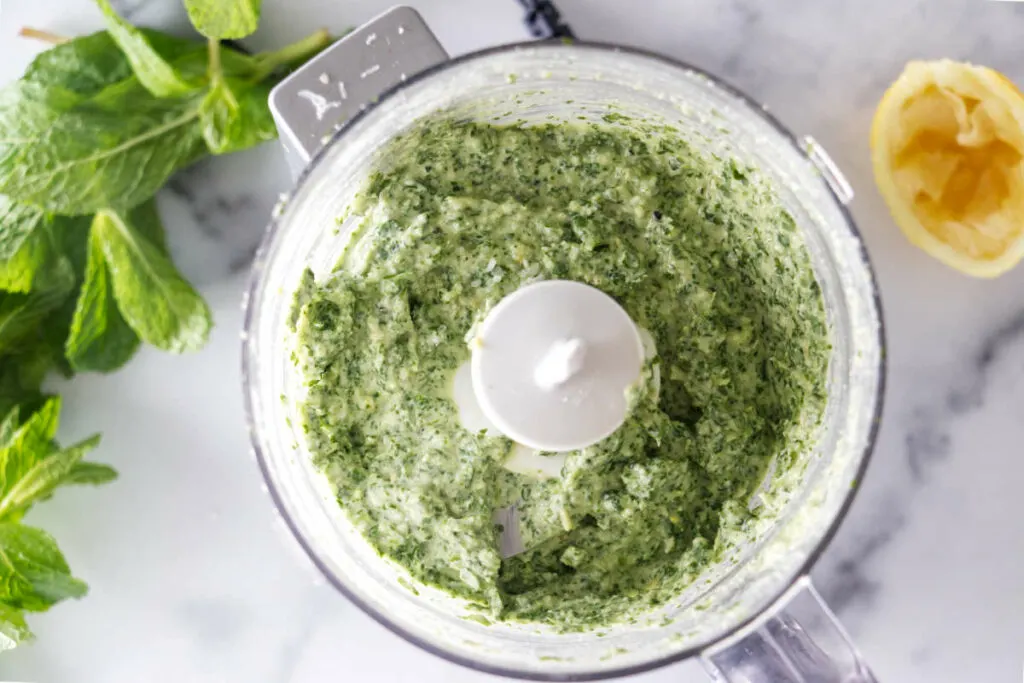 While the motor is running, slowly drizzle in the oil until the sauce reaches the desired consistency. Add salt to taste.
Transfer the sauce to a small bowl or small dish to serve alongside the lamb.
Pro Tips for Success
This recipe will give you about 3/4 cup of mint sauce. It's easy to double so feel free to scale up as needed!

Since Parmesan cheese has its own natural saltiness, hold off on adding salt until the very end. You may not need it.

Store any leftover mint sauce in an airtight container in the refrigerator for 4-5 days or until the sauce loses its freshness.
What to Serve With Mint Sauce
This is a good mint sauce for nearly any main course lamb dish, but similar to pesto, it also works as a minty and savory sauce for fish, pastas and veggies, too!
Here are a few suggestions on what to pair it with: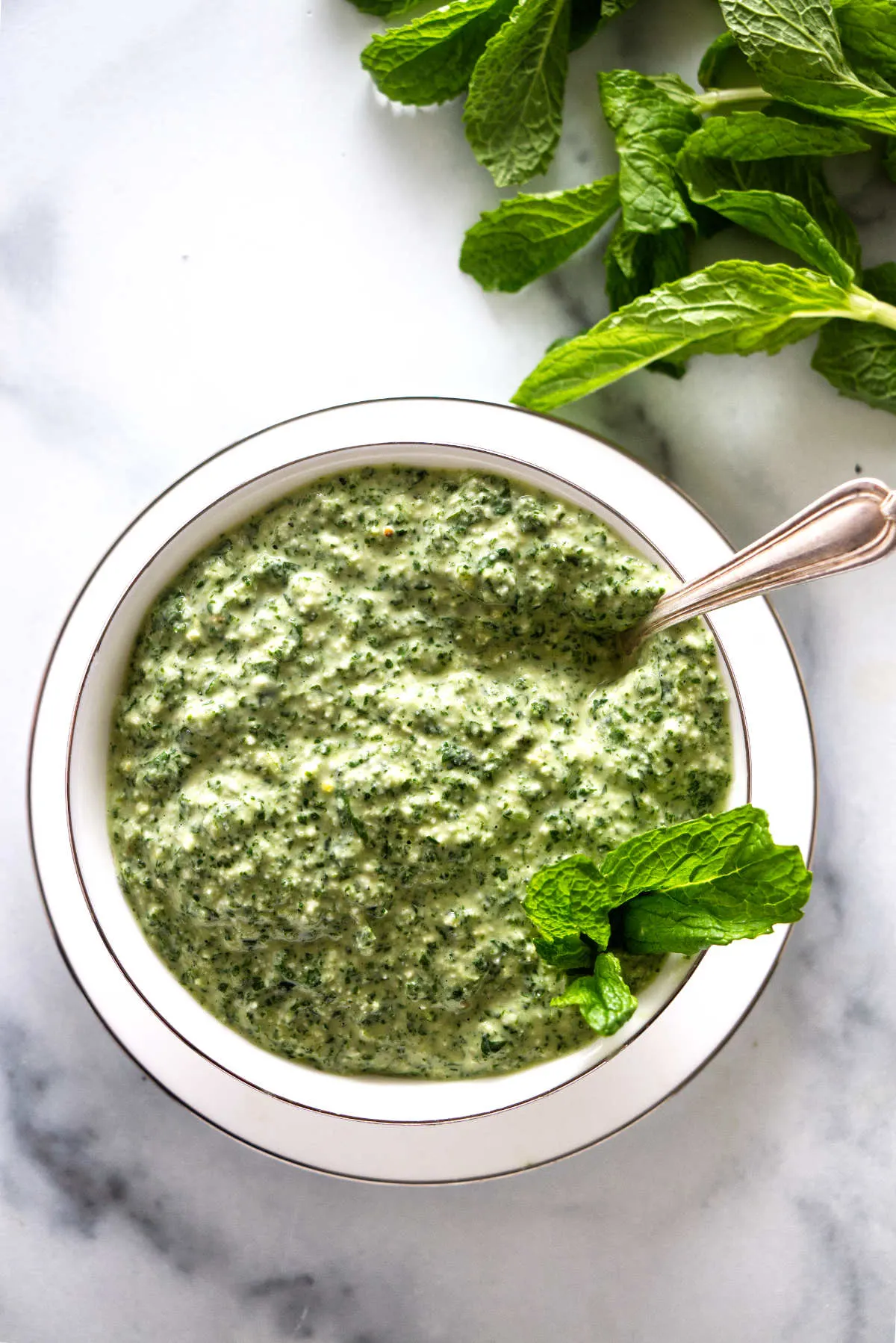 More Condiment Recipes
⭐️ Helpful Tools
Some of the following are affiliate links. We may receive a small commission if you click on these links and purchase something. You don't pay any extra, but it will help us keep the lights on.
? More Recipes You Will Love:
Lemon Herb Tahini Sauce is versatile and flexible, so you can enjoy it a variety of ways! From a thick sauce on lamb pitas to a thinner dressing on a fresh salad, the nutty flavor of tahini and bright lemon is always a hit!
Lobster Ravioli Sauce is rich, creamy, and velvety smooth. It's the perfect sauce for our homemade lobster ravioli, but you can also use it with other pasta dishes as well as fish and vegetables. Prep this creamy sauce to elevate any special occasion or date night meal!
Mediterranean Halibut Provencal is sophisticated yet easy, and the perfect choice if you're looking for a healthy and delicious meal. Tender and flaky halibut is simmered in an aromatic tomato sauce packed with garlic, onions and olives.
Connect With Savor the Best:
Please follow us on our social media accounts
Facebook * Instagram * Pinterest * Youtube * Twitter
Did you make this recipe? We would love to hear from you. Drop us a comment below.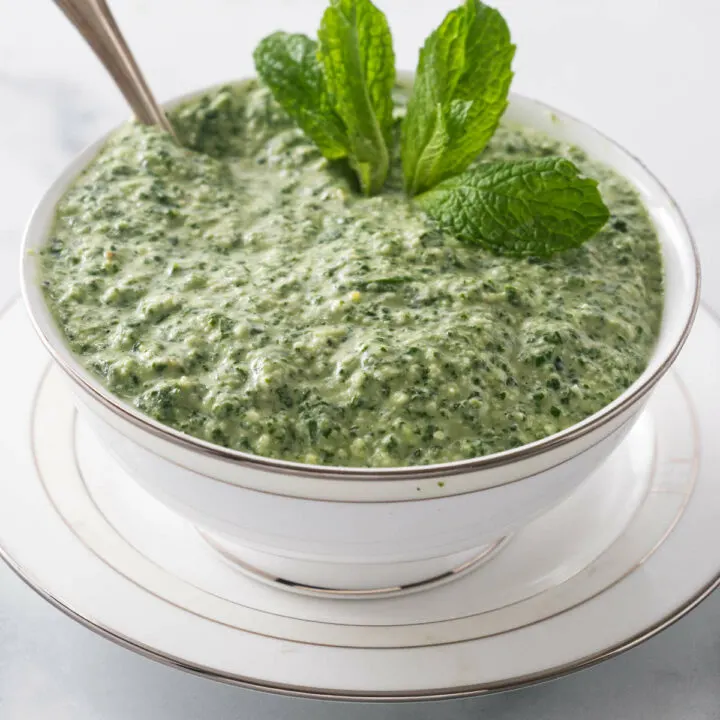 Mint Sauce for Lamb
This mint sauce is a perfect complement to lamb. Lemon, Parmesan cheese, fresh herbs, pine nuts, and just a hint of garlic give this sauce a burst of flavor.
The flavors come together for a truly delicious meal when served alongside juicy, roasted lamb. It pairs especially with lamb and goes well with pasta, roasted vegetables, and fish. Plus, it only takes minutes to make!
Ingredients
2 cups fresh mint leaves
4-6 fresh basil leaves
2 tablespoons fresh oregano leaves
2 cloves garlic ¼ cup fresh lemon juice (½ of a lemon)
½ cup pine nuts
½ cup freshly grated Parmesan cheese
1/4 teaspoon black pepper
½ cup olive oil
Instructions
Place the mint, basil, oregano leaves and garlic in a mini-food processor or blender and process briefly.
Stop the motor and scrape down the bowl. Add the lemon juice, pine nuts, parmesan cheese and black pepper. Process until well blended.
With the food processor running, slowly drizzle in the oil until you get the desired consistency. Taste and add salt if needed.
Transfer the sauce to a small dish and serve with lamb.
Notes
This recipe will make about ¾ cup and can easily be doubled if necessary.
The Parmesan cheese may add enough saltiness, taste before adding additional salt.
Nutrition Information:
Yield:

12
Serving Size:

1 tablespoon
Amount Per Serving:
Calories:

139
Total Fat:

14g
Saturated Fat:

2g
Trans Fat:

0g
Unsaturated Fat:

11g
Cholesterol:

4mg
Sodium:

77mg
Carbohydrates:

2g
Fiber:

1g
Sugar:

0g
Protein:

2g
Nutrition information is a guideline only. It is calculated automatically by third-party software, and absolute accuracy is not guaranteed.