This simple tahini dressing recipe is so creamy and smooth. The buttery, sesame flavored tahini blends well with the tang of lemon and peppery bite from the garlic. It only has six ingredients and takes 5 minutes to make. Drizzle it on salads, sandwiches or use it as a dip.
What is Tahini?
Tahini is sesame seeds that have been finely ground into a smooth, creamy paste. It sounds simple enough. Just one ingredient, how can anyone go wrong making tahini? But tahini can go very wrong. If you have ever had bitter, chalky, or even rancid tahini you know what I'm talking about.
If the first time you ever tried tahini, it tasted bitter and you never tried it again then let me convince you that tahini really can be delicious. I'm talking smooth-nutty-creamy-luxurious-eat straight from the bottle deliciousness. And if you spill some on your hands it is finger-lickin-good.
What makes good tahini?
Really good tahini that is not bitter, is made from hulled sesame seeds. Sesame seeds are covered in a coat-like layer called a hull. The hull is a protective layer covering the seed and contains oxalates. If you have ever had kidney stones, you have probably been told to avoid foods that contain oxalates because it contributes to the formation of crystals or stones in your kidneys.
Another reason to avoid oxalates is that they have a bitter, unpleasant aftertaste. If the hull is left on the sesame seeds, it will create bitter tasting tahini. It will also make the tahini seem gritty. Manufacturers that have smooth non-bitter tahini have taken some extra time to remove the hull before grinding the seeds.
Other things that will make tahini taste bitter is if the seeds are over-toasted or if the oils in the seeds are rancid.
There are many good brands of tahini and we certainly have not tried them all. But we have tried a few brands that we can recommend to you.
It's a short list and definitely not complete. I know there are many more great brands that we have not tried. If you know of a brand please let us know in the comments below. We really love to hear from you and appreciate your helpful tips.
Where can you find tahini?
Most grocery stores sell tahini in their ethnic foods or in the organic foods sections. My local grocery store has it in both sections. It is also available online which has been my preferred method of shopping for so many things. Mostly because it is a huge timesaver and I would rather be cooking and baking than shopping.
Tahini dressing has so many uses.
We love to use this creamy tahini dressing as a salad dressing but it really has more uses. It makes a great dip for veggies and breadsticks and it is fabulous drizzled on lamb, chicken or beef. If you make it thicker then it can be used as a spread for sandwiches.
How to make this simple and creamy tahini dressing.
This is such an easy recipe. You only need six ingredients, not including the water to thin it out.
Tahini

Lemon juice

Olive oil

Garlic

Sugar

Salt
Everything goes in the food processor or blender until it is creamy and smooth. Drizzle in enough water to make it as thin as you like then pour it in a jar.
Tips for really good tahini dressing.
Buy good quality tahini. As I mentioned above, some brands of tahini are bitter. Buy good tahini from a trusted brand. This dressing is all about the tahini so do it justice by getting some good stuff.
Use fresh lemons. Lemon juice in a bottle is so easy to use. I get it once in a while because I like convenience as much as the next guy. But let me tell you, that bottled stuff just doesn't compare to a freshly juiced lemon. This dressing is all about the fresh! So get the fresh, it's worth it.
Use fresh garlic. Yep, there I go again pushing the fresh stuff. Don't even think this will taste the same with dried garlic powder. Nope. Please don't do that!
Stir the tahini before you use it. Good tahini only has one ingredient: sesame seeds. Sesame seeds carry almost half their weight in oil. If you see a layer of oil on top of the tahini, that is normal, just give it a good stir to distribute the oil again.
SOME OTHER RECIPES WE ARE SURE YOU WILL LOVE:
CONNECT WITH SAVOR THE BEST!
Be sure to follow us on our social media accounts
Facebook * Instagram * Pinterest * Twitter * Youtube
Did you make this recipe? We would love to hear from you. Drop us a comment below.
Check out our video
above to see how easy it is to make this tangy tahini dressing.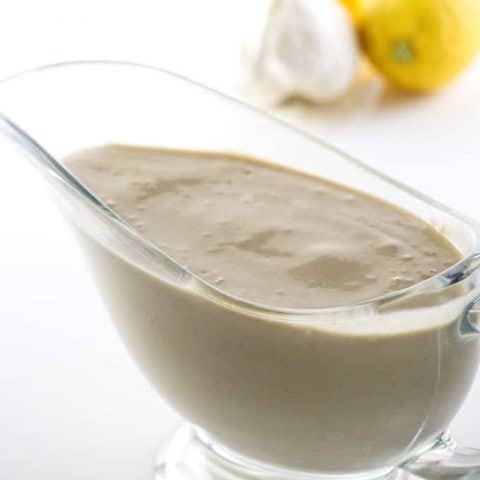 Simple Tahini Dressing
A creamy, smooth, lemony dressing with a hint of nuttiness from the tahini. There are only 6 ingredients and you can make it in less than 5 minutes.
Ingredients
1 cup tahini
1/2 cup lemon juice
1/3 cup olive oil
3 to 4 garlic cloves
2 teaspoons sugar
1 teaspoon salt
4 to 6 tablespoons cold water
Instructions
Place all the ingredients except the water in a food processor or blender and process until smooth. You may need to stop the blender or food processor a couple of times to scrape down the sides.
Blend in the water one tablespoon at a time until the dressing is as thin as you like.
Notes
Some brands of tahini paste are thick while others are runny. You may need to add some additional water if your tahini is thicker. Just add cold water until you get the consistency you like.
Store in a covered container in the fridge for one week.
This creamy tahini dressing will get thicker after it sits in the fridge for a while. If you want to thin it out, just whisk a little water in until you get the desired consistency.
Recommended Products
As an Amazon Associate and member of other affiliate programs, I earn from qualifying purchases.
Nutrition Information:
Yield:

18
Serving Size:

2 tablespoons
Amount Per Serving:
Calories:

118
Total Fat:

11g
Saturated Fat:

2g
Trans Fat:

0g
Unsaturated Fat:

9g
Cholesterol:

0mg
Sodium:

124mg
Carbohydrates:

4g
Fiber:

1g
Sugar:

1g
Protein:

2g
Nutrition information is a guideline only, is calculated automatically by third party software, and absolute accuracy is not guaranteed.