If you don't already have an Instant Pot, this recipe just might be the one to convince you that you absolutely need one: INSTANT POT ROASTED GARLIC. Roasted garlic adds an amazing flavor to almost any dish, and this roasted garlic recipe means you can get those garlic bulbs soft and caramelized in 10 minutes!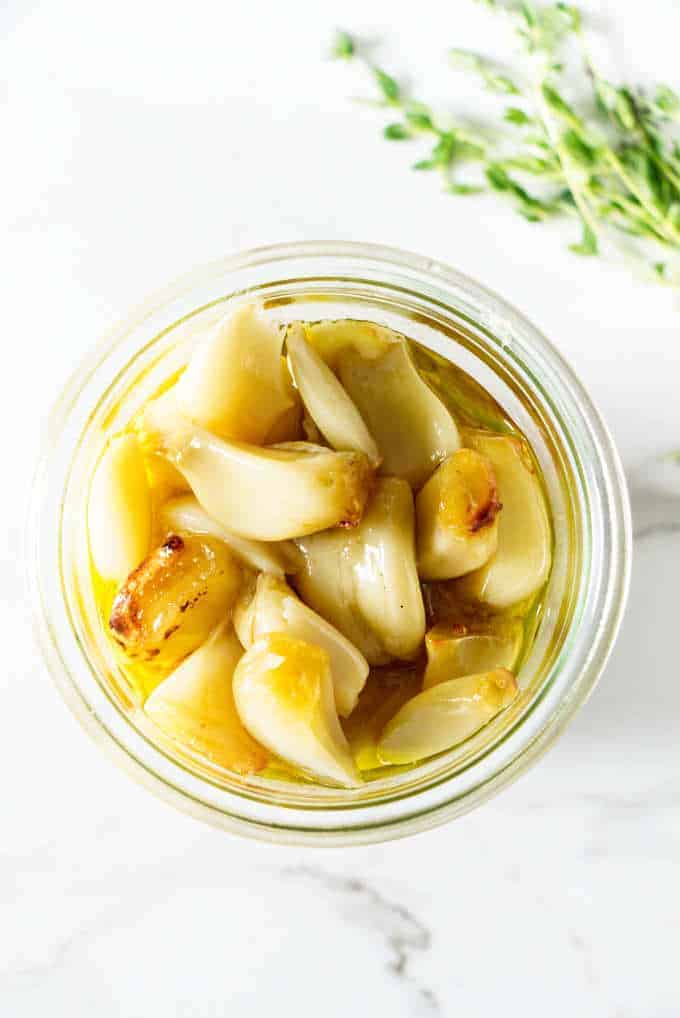 Normally it takes one full hour in the oven to roast garlic. Are you ready for some Instant Pot roasted garlic magic?!
how to make Instant Pot roasted garlic
We like to roast several heads of garlic at the same time because, a) we use a lot of it, (you'll understand once you've tried it) and b) you can keep it in the fridge for up to two weeks! Here's what you'll need:
Whole heads of garlic (we do 4 to 8 at a time)
Olive oil
Salt
Water
To get perfectly roasted garlic cloves, first cook the garlic under high pressure in the Instant Pot. When it's done, set the garlic heads under the broiler for a few minutes until they get a nice, toasty brown color. They caramelize under the broiler so you definitely don't want to skip this step!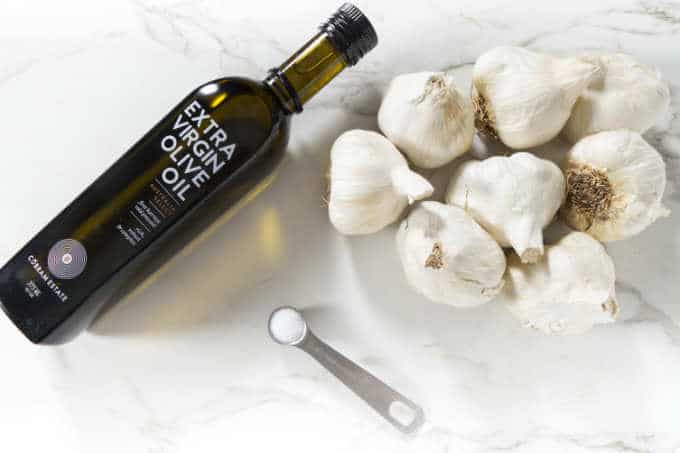 Here' a quick outline of the process, but scroll down to view the complete Instant Pot roasted garlic recipe, which has all the details you'll need:
Prepare the garlic by cutting 1/4-inch of the top of each of the garlic heads (this should expose most of the cloves which will help you remove the roasted garlic cloves later). Drizzle on oil and sprinkle salt on the garlic.
Place the rack or steamer insert inside the Instant Pot and add the water.
Place the garlic heads on the rack, cut side up. Seal the lid and cook on high pressure (see recipe for various times depending on the size of the garlic heads).
Let the pressure cooker release the pressure naturally for a few minutes, then release the remaining pressure manually.
Transfer the garlic cloves to an aluminum-lined baking sheet, drizzle the garlic heads with more oil, then broil for 4-6 minutes until they're golden brown.
how do you remove roasted garlic?
After roasting the garlic, you'll want to allow it to cool long enough to handle. To remove each roasted garlic clove, simple squeeze the bottom of each bulb and the cloves will pop right out!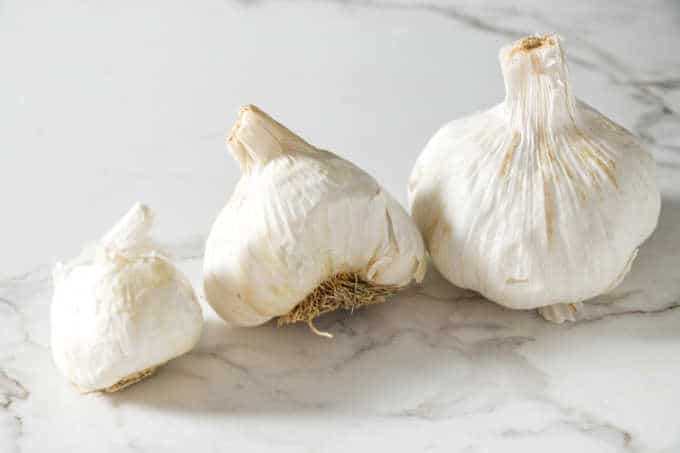 How long does it take to pressure cook garlic?
The cooking time will depend on the size of the garlic head. The picture above shows 3 different sizes of garlic. The small one is 1-1/2 inches in diameter, the medium one is approximately 2-1/2 inches, and the larger one is a little over 3-1/2 inches in diameter.
| Size of garlic head | Pressure cook time |
| --- | --- |
| Small | 6 minutes |
| Medium | 7 minutes |
| Large | 8 minutes |
what are the benefits of eating roasted garlic?
Garlic is incredibly good for you, packed with vitamins and antioxidants among many other benefits. Roasting garlic maintains a lot of the nutrients and sometimes is preferred over raw garlic because of the sweet depth it brings to many dishes. Plus it's velvety and creamy and delicious, so eat up!
how long will roasted garlic keep?
Adding a coat of olive oil to the roasted garlic will help keep it fresh and soft when it's stored. You can keep it refrigerated for up to two weeks!
If you want to store it longer then stick it in the freezer for up to 6 months.
the many ways to use Instant Pot roasted garlic
These roasted garlic cloves are little gems in cooking! They bring a smooth, sweet and wonderfully delicious burst of flavor when added to recipes. And there truly are MANY ways to use it!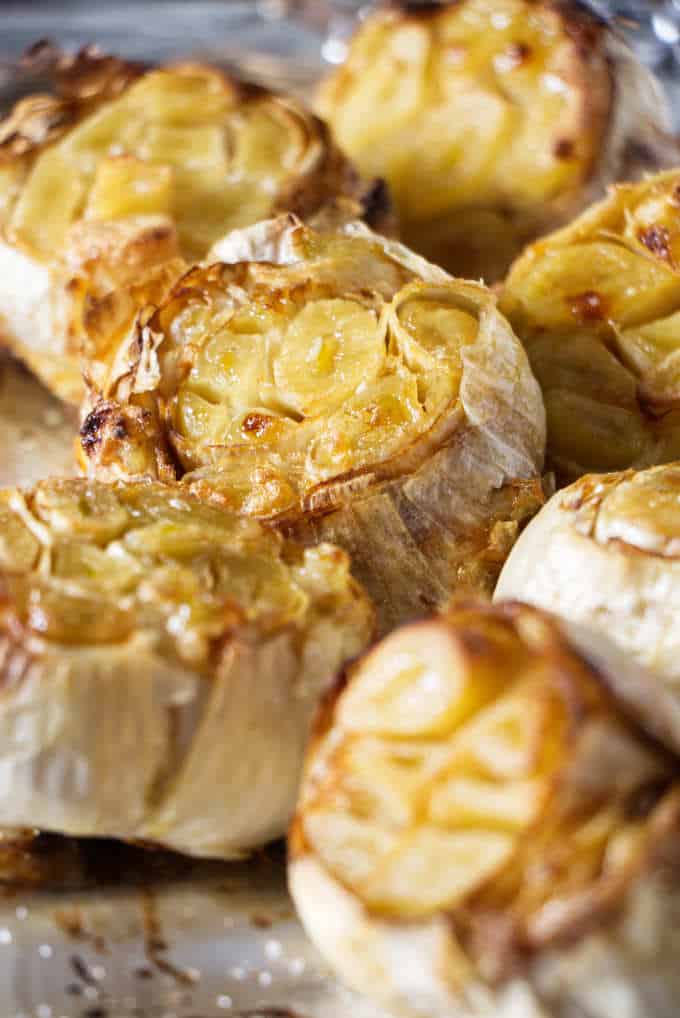 We hope you love this Instant Pot roasted garlic recipe! There's nothing better than being able to make a favorite in a fraction of the time! We love having roasted garlic cloves on hand – they're so easy to use and up the flavor of any dish!
SOME OTHER RECIPES WE ARE SURE YOU WILL LOVE:
This classic Italian Porchetta recipe is everything slow-roasted pork should be! The crispy, crackly outer pork belly skin is perfection, and this is a great dinner for any special occasion or large gathering.
Try this Greek Salad it is full of crunch, flavor, and fresh vegetables! A simple vinaigrette dressing and some feta cheese tops off this easy and tasty salad.
Our blondie brownies are an easy, one-bowl recipe that are soft and chewy- the ultimate blondie taste and texture! Make them, we promise you won't be sorry!
CONNECT WITH SAVOR THE BEST!
Be sure to follow us on our social media accounts
Facebook * Instagram * Pinterest * Twitter * Youtube
Did you make this recipe? We would love to hear from you. Drop us a comment below.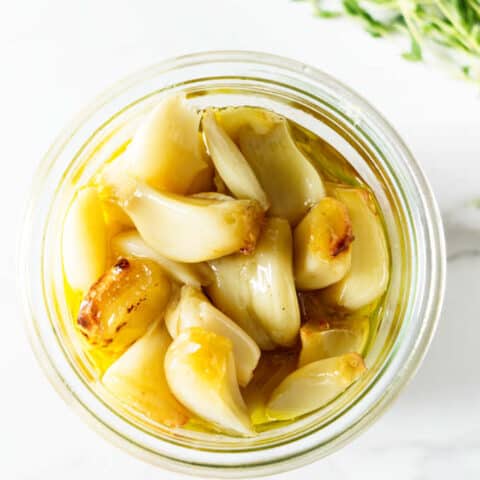 Instant Pot Roasted Garlic
Yield: 1 to 8 bulbs of roasted garlic
Prep Time: 5 minutes
Cook Time: 5 minutes
Total Time: 10 minutes
Roasted garlic is soft, smooth, creamy and almost sweet compared to raw garlic. It normally takes close to an hour to roast in the oven but it only takes 5 minutes in the Instant Pot. Stick it under the broiler for another 5 minutes to get a golden brown, caramelized color.
Ingredients
4 to 8 whole heads of garlic
3 tablespoons olive oil
3/4 teaspoon salt
1 cup water
Instructions
Cut 1/4 inch off the top of each of the garlic heads. Drizzle them with oil and sprinkle a bit of salt on each of them.
Place the rack or steamer insert in the Instant pot and add the water.
Set the garlic heads on the rack, cut side up.
Seal the lid. Cook on high pressure for 6 to 8 minutes (6 minutes for small garlic heads, 7 minutes for medium, 8 minutes for large).
Let the pressure cooker release the pressure naturally for 5 to 10 minutes then release the rest of the pressure manually.
While the pressure cooker is releasing pressure set the oven to broil and line a baking sheet with aluminum foil.
When the pressure is released, transfer the garlic to the baking sheet and drizzle with a bit more olive oil.
Broil for 4 to 6 minutes or until golden brown.
When the garlic cools enough to handle, squeeze the bottom of each bulb and the individual cloves will pop out.
Use in recipes right away or store in the fridge with a coat of olive oil for up to 2 weeks.
Notes
Store in the refrigerator for 2 weeks or in the freezer for 3 months.
Recommended Products
As an Amazon Associate and member of other affiliate programs, I earn from qualifying purchases.
Nutrition Information:
Yield: 40
Serving Size: 1 teaspoon
Amount Per Serving:
Calories: 13
Total Fat: 1g
Saturated Fat: 0g
Trans Fat: 0g
Unsaturated Fat: 1g
Cholesterol: 0mg
Sodium: 40mg
Carbohydrates: 1g
Fiber: 0g
Sugar: 0g
Protein: 0g
Nutrition information is a guideline only, is calculated automatically by third-party software, and absolute accuracy is not guaranteed.