Jalapeño cheddar cornbread is packed with big, bold flavors of rich cheddar and spicy jalapeño. It's moist and tender and a slice with a heap of butter is bliss! While our jalapeño cornbread recipe uses quite a few jalapeños, it's more on the "mild" side of spicy and is a recipe the entire family can enjoy.
Serve a slice with your favorite chili- a traditional Chili Beans with Beef or our Slow Cooker Turkey and Beer Chili with Beans– and cozy up to the perfect meal.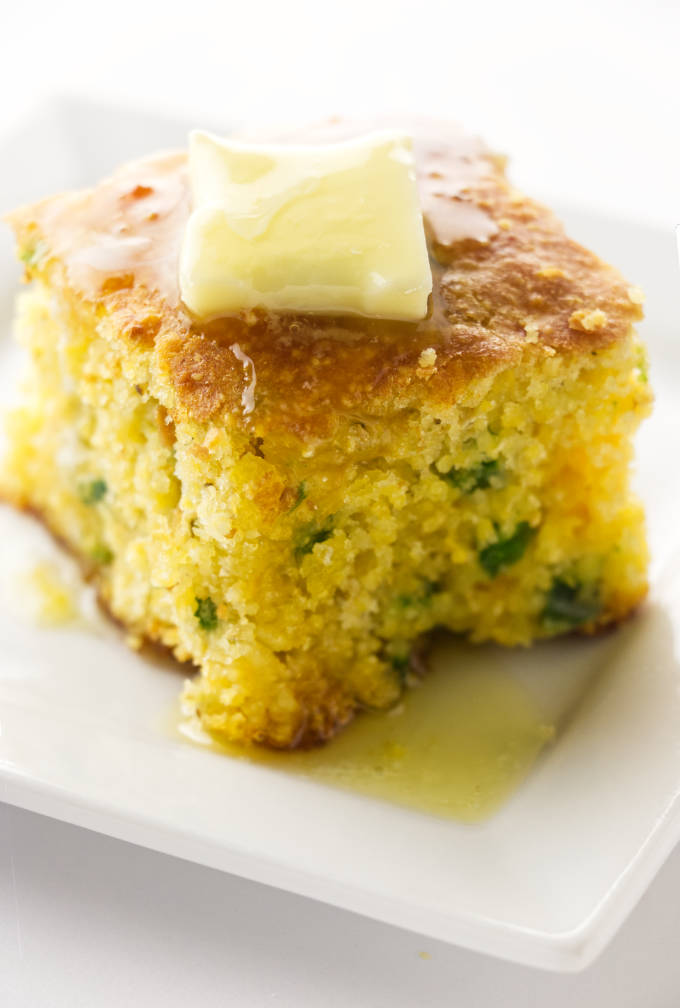 Homemade cornbread is simple to prepare and even tastier than the boxed mixes you can find at the store, which is why there is no shortage of cornbread on our site!
We have a classic, homestyle Cornbread recipe that's a wonderful go-to. And there's also this Sage Brown Butter Skillet Cornbread which is slightly elevated and packed with the savory flavor of sage and nutty brown butter.
But this jalapeño cheddar cornbread recipe is extra special. Buttermilk makes this a very tender and moist jalapeño cornbread, plus every bite is flavor-packed thanks to sharp cheddar cheese, butter, and fresh jalapeños. Cheesy jalapeño cornbread is simply a combination that is hard to beat!
Why you will love this Jalapeño Cheddar Cornbread:
Our cheesy jalapeno cornbread recipe is:
A moist and tender jalapeño cornbread that's simple to make
Mildly spicy and easy to adjust for heat
Quick to make with only 15 minutes of prep time
Ingredient List:
For this simple jalapeño cornbread, you will need:
Yellow cornmeal. Preferably finely-ground cornmeal for the best texture.
All-purpose flour.
Sugar. Sugar is optional but we like how it brings out the corn flavor in the cornmeal.
Baking powder and baking soda. Make sure these leaveners are not expired.
Salt.
Buttermilk.
Eggs.
Butter. Melted
Oil. Olive oil or any cooking oil will work.
Sharp cheddar cheese. Shredded
Jalapeño peppers. Seeded and diced (see note below)
Removing the seeds and pith of the jalapeño peppers will drastically reduce their "fire power" and give this cheddar jalapeño cornbread a mildly spicy flavor that is not overwhelming. This step is really important! See recipe tips for some advice on the best way to prepare the jalapeños.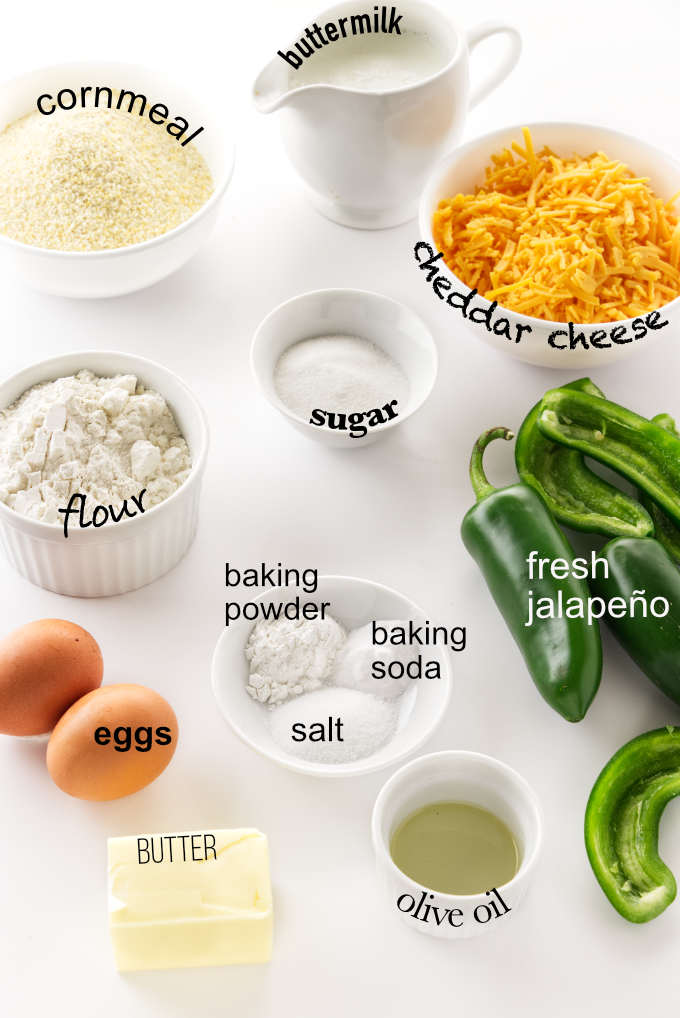 Our Cheddar Jalapeño Cornbread Recipe:
Homemade cheddar jalapeño cornbread is really an easy recipe. It's incredibly delicious fresh out of the oven, served warm, with butter, of course. 😉
Here's how to make cheesy jalapeño cornbread. Make sure to scroll down to the printable recipe card for all the details.
Preheat the oven and prepare your pan. We use a 9-inch square pan and coat it with non-stick spray.
Make the cornbread batter. Combine the dry ingredients in a medium mixing bowl. In a separate bowl, whisk together the buttermilk, eggs, and melted butter. Pour it into the dry mixture and stir.
Add the cheese and jalapeños. Fold them in gently, then spread the batter into the prepared pan.
Bake and cool. Transfer to the oven and bake. Let the jalapeño cornbread cool for at least 10 minutes.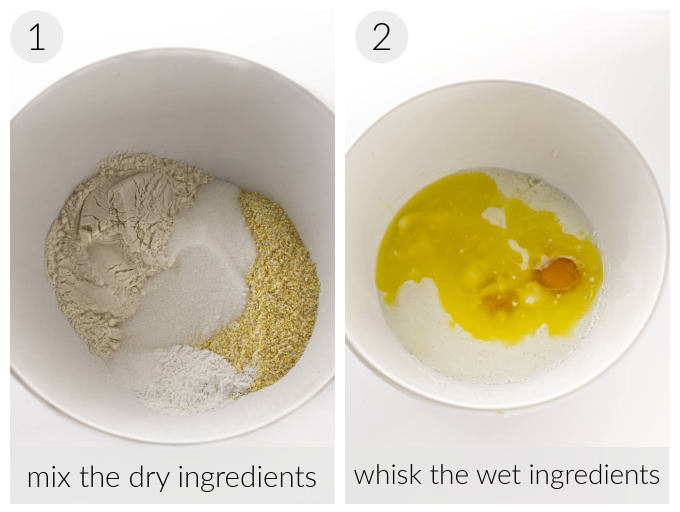 Combine the dry ingredients and wet ingredients in separate bowls.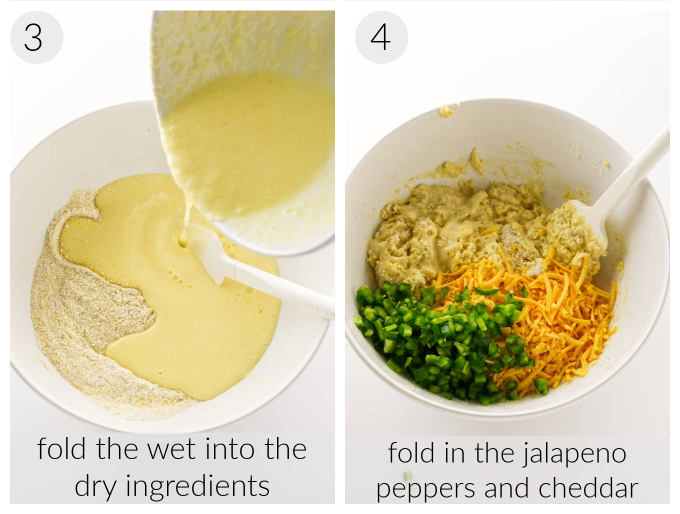 Fold the wet ingredients into the dry ingredients then stir in the cheese and jalapeno peppers.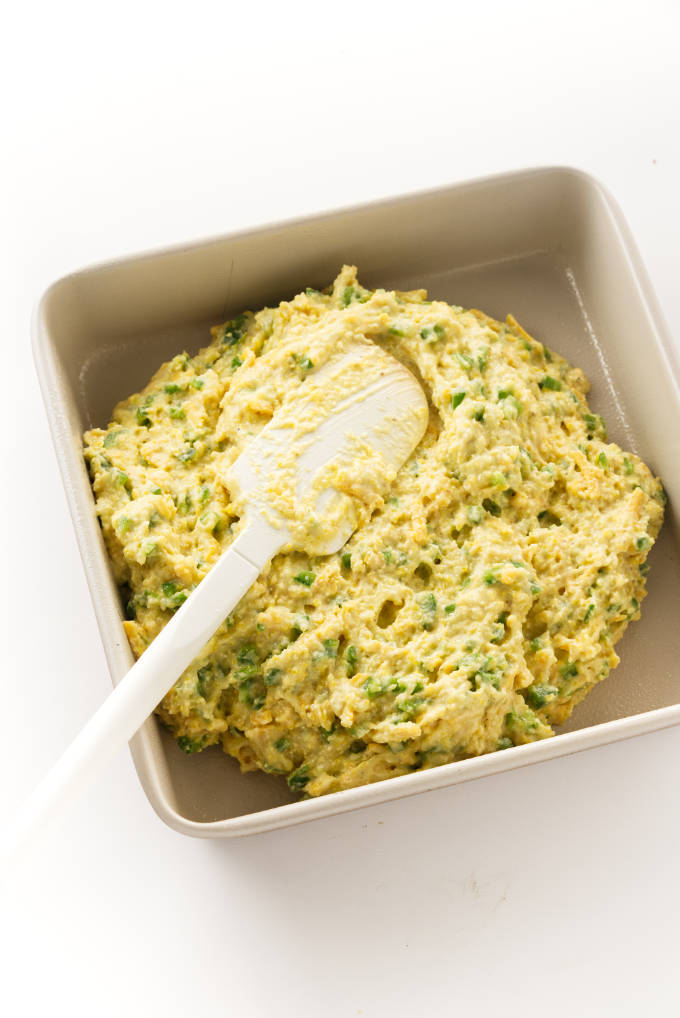 Tips for the Best Results:
Look for finely ground cornmeal, also labeled "bolted cornmeal." It will give you a much more tender crumb than a course-ground cornmeal.
When preparing the jalapeños, wear gloves or wash your hands thoroughly after handling them. Since jalapeños release capsaicin when they're cut, the disposable plastic gloves will offer you the best protection. Capsaicin can burn your eyes or skin if you touch your face.
The highest concentration of capsaicin is in the white membrane and seeds of the jalapeño peppers. Scrape this out completely or the spiciness will overwhelm your cheddar cornbread.
For the best results, use a 9-inch square pan or a 10-inch round pan. A smaller pan will require a longer bake time while a larger pan will make a very thin cornbread.
Variations and Substitutions:
You can make a few easy changes to this jalapeño cheddar cornbread recipe, too!
For jalapeño cheddar cornbread muffins: Follow the recipe and spoon the cornbread batter into a prepared muffin pan, lined with parchment paper cups. Fill each one about 3/4 of the way full, then bake at 350°F for 15-20 minutes or until done.
Gluten-free cornbread: You can easily use this recipe to make a gluten-free jalapeño cornbread! Simply substitute all-purpose flour with all-purpose gluten-free flour blend (like Cup4Cup or our whole grains gluten free flour) and you're good to go!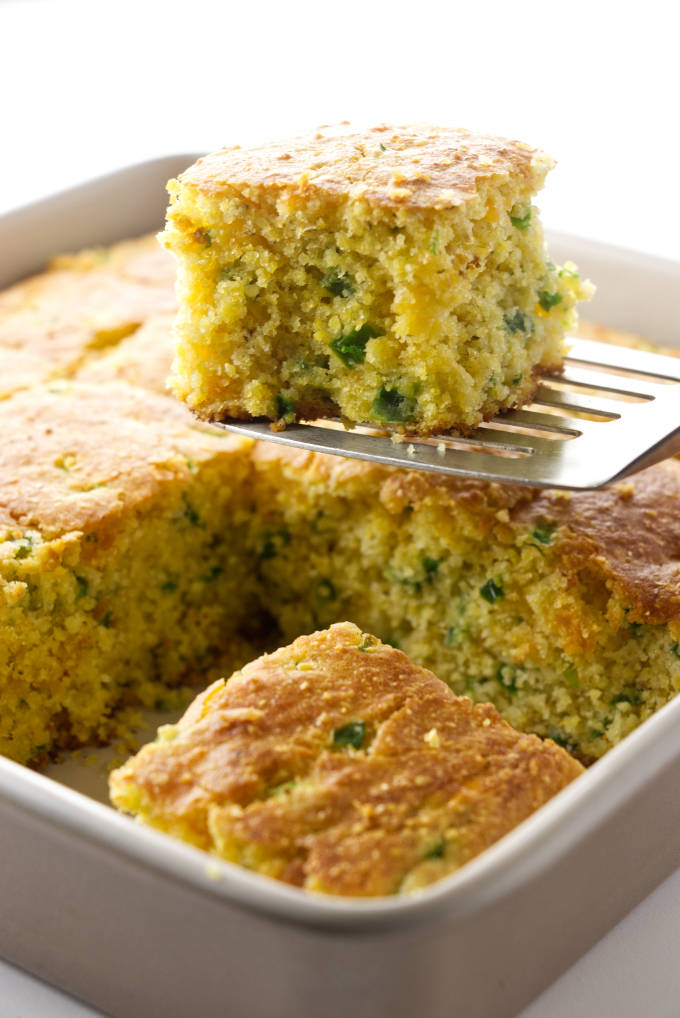 What does jalapeño cornbread go well with?
Serve this jalapeño cheddar cornbread with softened butter, garlic butter sauce, a drizzle of honey, or plain and warm right out of the oven. It packs so much flavor and has such a moist and tender crumb, that we guarantee you'll be going back for seconds!
The great thing about this jalapeño cornbread is that it can be enjoyed any time of day! Here are a few ideas for how to serve it:
We've found there's really no wrong way to enjoy our cheddar jalapeño cornbread and we're sure that once you try it, you will agree! Happy baking!
Other recipes we are sure you will love
Chilli Relleno Dip: A homemade chip dip that will beat even your favorite store-bought dip! This one is cheesy and so flavorful, plus it's a wonderful vegetarian and gluten-free option.
Mexican Cornbread Skillet Dinner: The perfect family-style dish, this Mexican cornbread casserole is loaded with corn, black beans, bell peppers and tender chunks of pork. Chipotle adds a delicious flavor and smokiness- plus a little heat- that everyone will love!
Beef Ribs in the Oven: Meaty, fall-off-the-bone tender, and baked slow to perfection! This is THE beef rib recipe that works year-round!
Connect With Savor the Best:
Please follow us on our social media accounts
Facebook * Instagram * Pinterest * Youtube * Twitter
Did you make this recipe? We would love to hear from you. Drop us a comment below.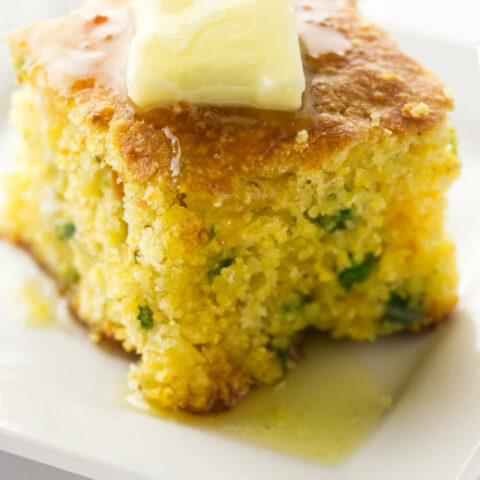 Jalapeno Cheddar Cornbread
Jalapeno and cheddar cheese add fantastic flavor to cornbread. There are a lot of jalapenos in this recipe but if you remove the seeds and pith, they will not overwhelm the cornbread. Baking the peppers also reduces their 'fire power" so the spice level is actually quite mild.
Ingredients
1-1/2 cups yellow cornmeal (see notes)
1 cup all-purpose flour
3 tablespoons sugar
1-1/2 teaspoons baking powder
3/4 teaspoons baking soda
1-1/2 teaspoons salt
1-1/4 cups buttermilk milk
2 eggs
6 tablespoons butter, melted
2 tablespoons olive oil
1-1/2 cups shredded sharp cheddar cheese
4 to 5 jalapeño peppers, seeded and diced
Instructions
Preheat the oven to 400°F. Spray a 9-inch square pan with non-stick spray.
In a medium-sized bowl, combine the cornmeal, flour, sugar, baking powder, baking soda, and salt.
In a separate bowl, combine the buttermilk eggs, melted butter, and olive oil. Pour into the flour mixture and stir just until combined. Fold in the cheddar cheese and jalapeño peppers.
Spread in the prepared pan. Bake for 25 to 30 minutes until a toothpick inserted in the center comes out clean.
Let the cornbread cool in the pan for at least 10 minutes, then run a knife around the edges to loosen the sides and invert onto a cooling rack.
Notes
Look for finely ground cornmeal (also sold as "bolted cornmeal"). Finely ground cornmeal will give you a much more tender crumb than coarse-ground cornmeal.
Wear gloves when you chop the jalapeno peppers or wash your hands well after handling them. Chopping them releases capsaicin which can burn your eyes if you touch your face.
The seeds and the white membrane inside the peppers have the highest concentration of capsaicin. Scrape them out completely or they will overwhelm your cornbread with too much heat.
Use a 9-inch square pan or a 10-inch round pan for the best results. A smaller pan will take much longer to bake and a larger pan will make very thin cornbread.
Recommended Products
As an Amazon Associate and member of other affiliate programs, I earn from qualifying purchases.
Nutrition Information:
Yield:

16
Serving Size:

1
Amount Per Serving:
Calories:

246
Total Fat:

13g
Saturated Fat:

6g
Trans Fat:

0g
Unsaturated Fat:

5g
Cholesterol:

52mg
Sodium:

650mg
Carbohydrates:

25g
Fiber:

1g
Sugar:

6g
Protein:

9g
Nutrition information is a guideline only, is calculated automatically by third-party software, and absolute accuracy is not guaranteed.