Sweet potato sage soup is a creamy, comforting soup with delicious flavor! Sage adds a rich earthiness to the sweet potato. The herb is not only blended into the soup, but we also fry a few sage leaves for a crispy soup garnish with a more mellow flavor than fresh sage. And we take the flavor even further by infusing cinnamon and topping this soup with a dollop of maple sour cream!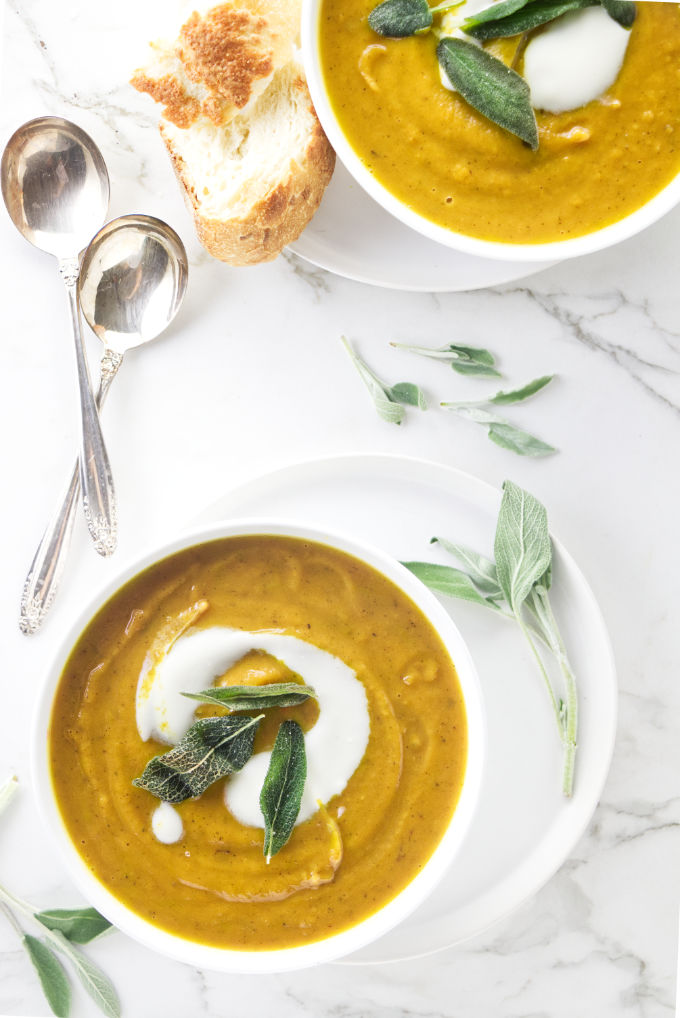 When it comes to flavor, this sweet potato soup recipe has a lot of it! A touch of maple syrup accentuates the sweetness of the sweet potato and the fried sage lends its distinct savory-earthy taste that really makes this dish. Don't skip frying the sage or you'll be missing out! We like to make a double batch of the fried sage leaves because they're not only a wonderful topping but they're an irresistible snack, too.
Our sweet potato sage soup is:
creamy, cozy and comforting
gluten-free and vegetarian-friendly (and the soup is dairy free)
a hearty and healthy soup that can be enjoyed as a starter or main meal
Ingredient List
Sweet potato sage soup is made with real-food ingredients that come together for a cozy comfort food perfect for chilly days. To make it, you will need:
olive oil
onion, sliced
fresh thyme, chopped
fresh sage leaves (you'll need about a bunch of whole sage leaves plus chopped sage)
garlic cloves, minced
salt and pepper
sweet potatoes, peeled and cubed
chicken or vegetable broth
maple syrup
cinnamon stick
canola oil
sour cream
This soup requires the use of a blender (an immersion blender will also work). Try serving this soup with our sweet potato flatbread or some homemade sourdough bread.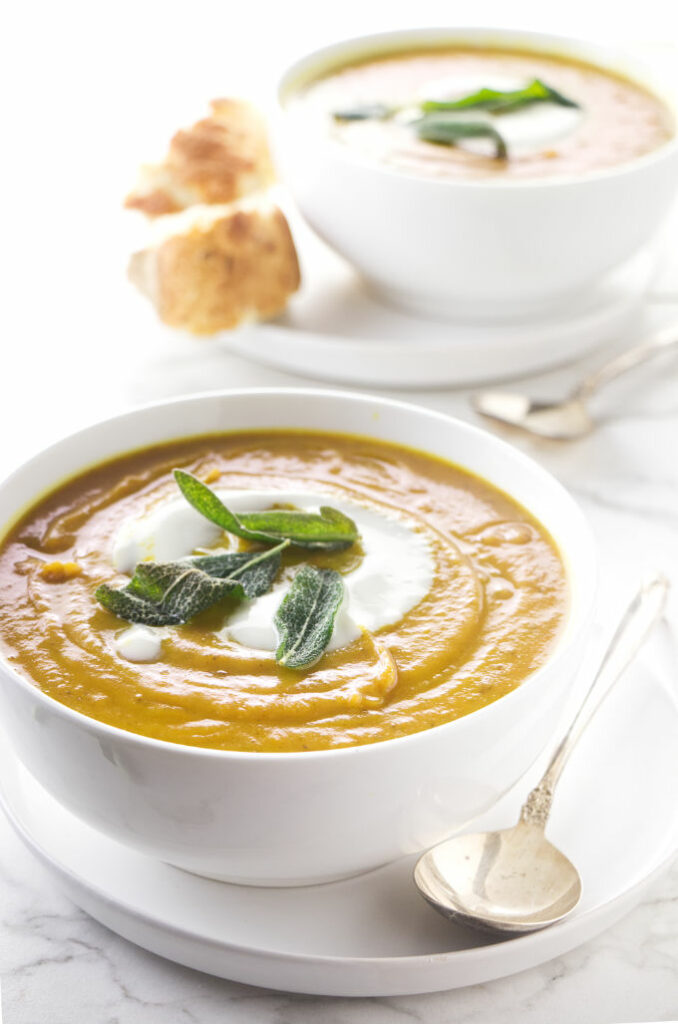 Our Sweet Potato Soup Recipe
The process for making this sweet potato sage soup is pretty simple! While it's really tasty on its own, the extra steps of frying sage leaves and making the maple sour cream add a lot to the dish and make it even more special.
How to cook sweet potato soup:
Make the soup: After you make the soup, process it in a blender until smooth (work in batches). If you have an immersion blender you can process it right in the pot you cooked the soup.
Make the fried sage leaves: Work in batches and fry 5 to 6 leaves at a time. Place them on a paper towel-lined plate to drain the oil and sprinkle them with sea salt. They'll crisp as they cool.
Prepare the maple sour cream: Stir until well combined, then garnish the soup with a spoonful of maple sour cream and the fried sage leaves.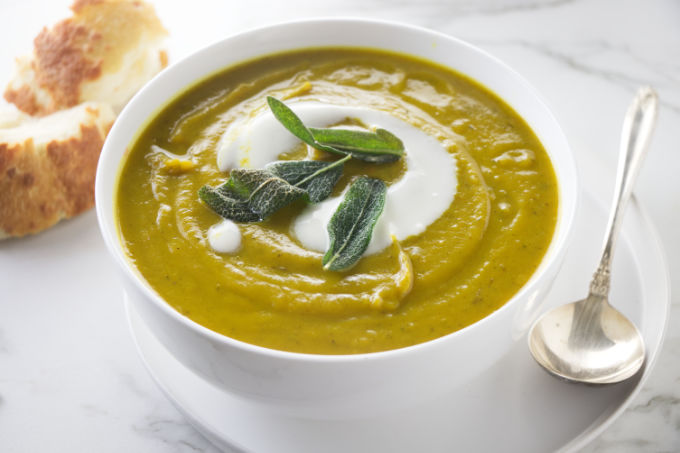 Tips for frying sage leaves
When frying the sage, be careful when you drop the sage leaves into the hot oil. Sometimes moisture is released from the leaves and can splatter once it hits the oil.
Make sure that the oil is pretty hot (the sage should immediately sizzle), the leaves only need about 5 seconds to cook. If the oil isn't hot enough, the sage leaves will take much longer and will soak up a lot of oil in the process.
Work in batches. Because the sage leaves only take about 5 seconds to fry, you don't want to fry too many at once or you won't have time to finish them all.
Don't top the soup with the fried sage until just before serving, otherwise the fried sage will soften if it sits in the soup for too long.
Frequently Asked Questions
Sweet, creamy, and perfectly spiced, this healthy sweet potato soup is comfort food you'll crave! Cinnamon, sage and sweet potatoes make a cozy combination that we're all about.
Helpful Tools
Some of the following links are affiliates. If you click on these links and purchase something, we may receive a small commission. You don't pay any extra but it will help us keep the lights on.
Some More Recipes We Are Sure You Will Love:
Instant Pot Mashed Sweet Potatoes: Creamy, silky smooth, and made with the Instant Pot! We add a splash of coconut milk and a little brown sugar to enhance the sweetness.
Sausage Stuffed Acorn Squash: A comforting meal with cozy flavors. Sage seasoned pork, cornbread stuffing mix, dried cranberries and herbs and stuffed into a tender baked squash.
Sage Brown Butter Skillet Cornbread: Cornbread is pretty amazing on its own but add some sage and brown butter and you'll have yourself one epic skillet cornbread with a deep, rich flavor.
Connect With Savor the Best:
Please follow us on our social media accounts
Facebook * Instagram * Pinterest * Youtube * Twitter
Did you make this recipe? We would love to hear from you. Drop us a comment below.
Check out our soup cookbook. It is filled with wholesome and hearty soups. Each soup recipe is from scratch with real ingredients and filling enough to be enjoyed as a main-course meal.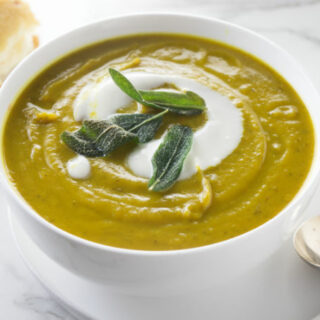 Sweet Potato Sage Soup
Yield: 6 to 8 servings
Prep Time: 10 minutes
Cook Time: 35 minutes
Total Time: 45 minutes
Sage adds an earthy flavor to the sweet potato. A small amount of sage gets cooked with the soup then it is topped with crispy fried sage leaves. Frying the sage leaves mellows the bold flavor and makes them quite addictive. You may want to make a double batch of the fried sage leaves just to snack on some of them.
Ingredients
For the Soup
2 tablespoons olive oil
1 yellow onion, sliced
2 tablespoons fresh chopped thyme
1 tablespoon fresh chopped sage
3 to 4 garlic cloves, minced
1/2 teaspoon each of salt and pepper
1-1/2 pounds sweet potatoes, peeled and cubed (about 4 cups if cut in 1-inch cubes)
4 cups chicken or vegetable broth
2 tablespoons maple syrup
1 cinnamon stick
For the fried sage:
1 to 2 bunches of fresh sage leaves
1/4 cup canola oil (more if you have a large skillet)
coarse salt
For the maple sour cream:
1/3 cup sour cream
2 tablespoons maple syrup
pinch of salt
Instructions
Make the soup:
Heat the oil in a large pot. Add the onion and cook until softened. Add the thyme, sage, garlic, salt and pepper and stir for 30 seconds until fragrant.
Add the sweet potatoes, broth, maple syrup and cinnamon stick. Bring to a boil then reduce the heat and simmer for 25 to 30 minutes until the potatoes are tender.
Remove the cinnamon stick and discard.
Working in batches, process the soup in the blender until smooth (or use a stick blender right in the pot).
Taste and season with salt and pepper.
For the fried sage:
Pinch the leaves off the sage bunch. Heat the oil in a shallow skillet, You may need more than 1/4 cup if you have a larger skillet. Make sure there is at least 1/4 inch of oil in the pan.
Test the temperature of the oil by frying one sage leaf. It should sizzle as soon as you drop it in the hot oil. If the oil isn't hot enough, turn the heat up just a smidgen before proceeding.
When the oil is hot, work in batches frying 5 to 6 sage leaves at a time. Fry the leaves for 5 to 10 seconds. Don't let them get brown or they tend to turn bitter. Remove them as soon as the sizzling settles down.
Use a fork to place the leaves on a paper towel to drain and sprinkle them with salt. The leaves will get crisp as they cool down.
For the maple sour cream:
Combine the sour cream, maple syrup, and salt in a bowl.
Garnish the soup with the fried sage and dollops of maple sour cream.
Notes
Reserve the crispy fried sage unit just before serving the soup so it stays crispy. If it sits in the soup for too long it will get soft and loose that crispy texture.
Be careful when you drop the sage leaves into the hot oil. Sometimes moisture is released from the leaves and splatters when it hits the oil. If the oil is hot enough they will finish cooking within 5 seconds. If the oil is not very hot then the sage will take much longer to cook and it will soak up a lot of oil in the process.
Recommended Products
As an Amazon Associate and member of other affiliate programs, I earn from qualifying purchases.
Nutrition Information:
Yield: 8
Serving Size: 1
Amount Per Serving:
Calories: 301
Total Fat: 14g
Saturated Fat: 4g
Trans Fat: 0g
Unsaturated Fat: 9g
Cholesterol: 69mg
Sodium: 326mg
Carbohydrates: 25g
Fiber: 3g
Sugar: 12g
Protein: 18g
Nutrition information is a guideline only, is calculated automatically by third-party software, and absolute accuracy is not guaranteed.