This delicious poblano Chorizo strata casserole is the ultimate Mexican-style breakfast dish. Featuring chipotle aioli, spicy peppers, and ground chorizo sausage, this hearty meal is blossoming with flavor. Top it all off with pepper jack, parmesan, and a sprinkle of cilantro.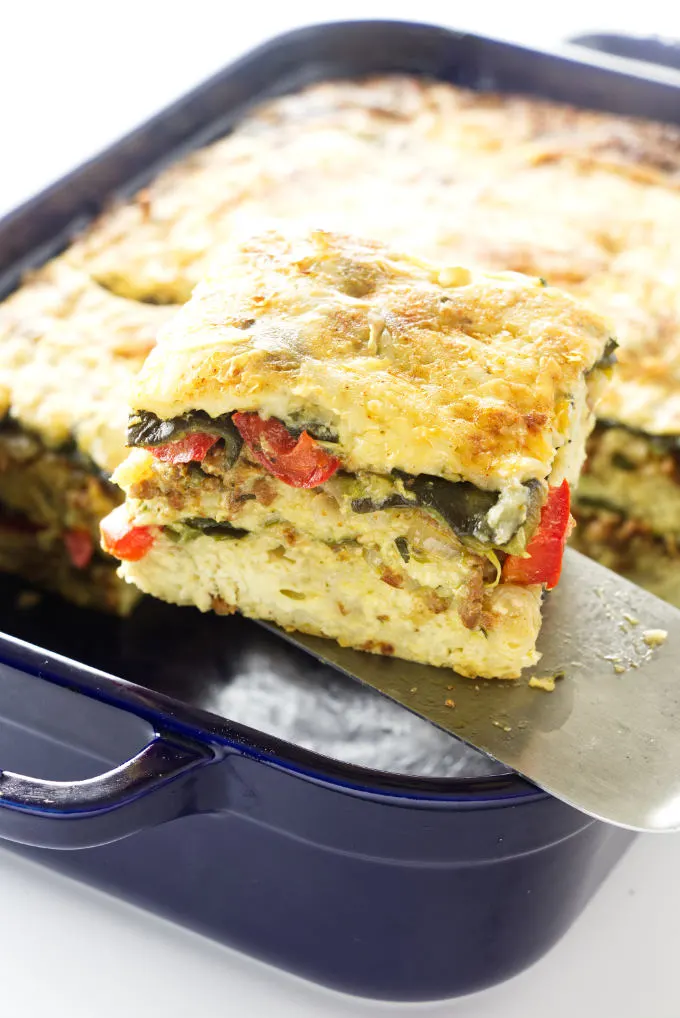 Stratas, which are essentially layered casseroles, are trendy brunch dishes since they are perfect for sharing. Serve this dish family-style in your favorite casserole dish.
They are also a fantastic way to make use of stale leftover bread in your kitchen. My bread of choice to use when making this dish is day-old French bread. Its texture works incredibly well in the strata and balances out the spicy flavors of the Chorizo.
With Mother's Day right around the corner, elevate your typical Sunday brunch using this straightforward recipe. If you are not a fan of Chorizo or peppers, feel free to check out some of our other breakfast strata recipes, including this salmon asparagus strata and asparagus ham and gouda strata.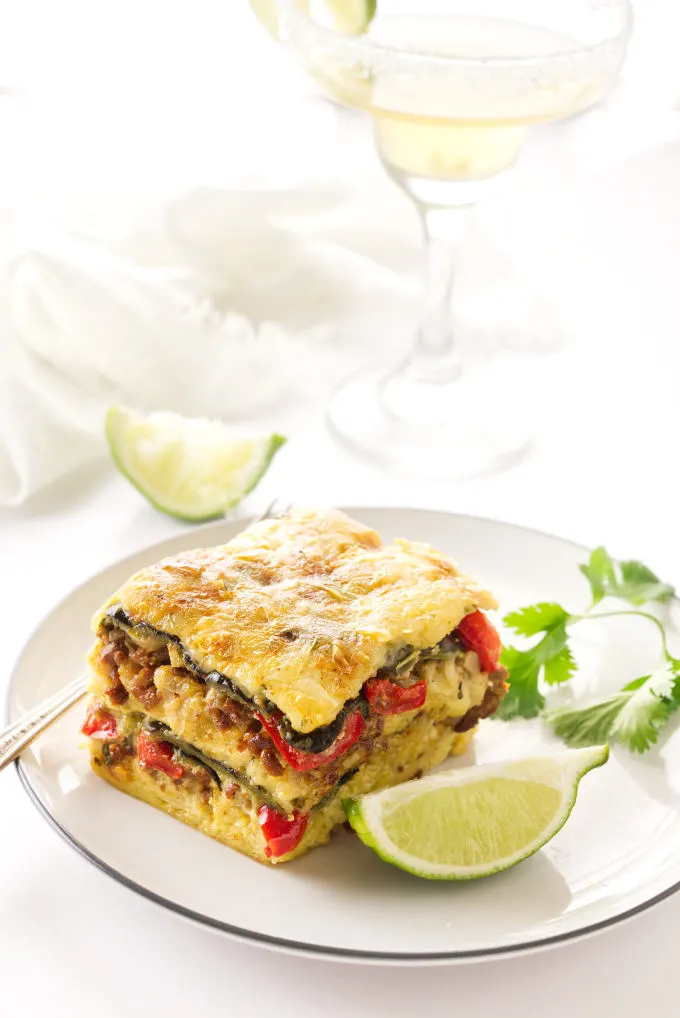 Why You Will Like This Spicy Chorizo Strata
This delicious meal is one of my favorite dishes to make. A few reasons that you are sure to enjoy this recipe are:
Super simple to bake.
Makes for a hearty and filling meal.
Packed with flavor and heat, chili pepper fans will adore this meal.
The best way to make use out of old, stale bread sitting on the countertop.
Perfect for brunch or family gatherings.
Ingredients Needed for This Strata Recipe
This hearty dish calls for quite a lot of ingredients but it is well worth the grocery haul.
Olive oil
Poblano chili peppers
Stale bread, crusts removed
Eggs
Whole milk and Cream cheese
Chipotle aioli. We have a quick and easy recipe.
Salt, pepper, and cumin powder
Ground Chorizo sausage (bulk, not links)
Shallots and garlic cloves
Deli roasted red bell pepper (or make these homemade grilled peppers)
Pepper Jack cheese and Parmesan cheese
Cilantro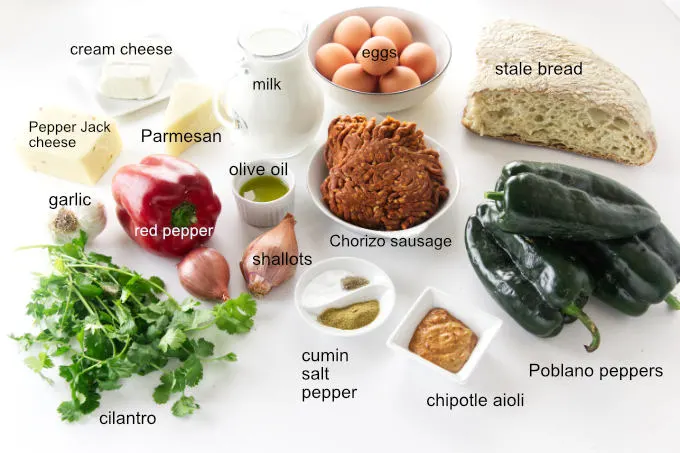 How to Make This Strata
Here is a brief overview of the process. Make sure you scroll down to the printable recipe card for all the details.
Roast the poblano peppers.
Make the savory egg custard.
Cook the chorizo sausage and veggies.
Assemble the strata in "lasagna-like" layers alternating the bread cubes, egg mixture, chorizo mixture, cheese, and poblano peppers.
Bake!
Chef's Tips for Recipe Success
Try to wear gloves when working with the peppers since they contain certain oils that may burn your eyes or skin. If using your bare hands, be sure to thoroughly wash your hands and avoid any contact with your eyes.
Chorizo has a lot of fat, and we recommend spooning off as much as possible. After baking, if fat has risen to the top, blot it off with a paper towel.
If you are looking for a healthier, low-calorie alternative, feel free to substitute Chorizo with ground turkey.
Refrigerating the unbaked strata overnight allows the bread to fully absorb the egg mixture.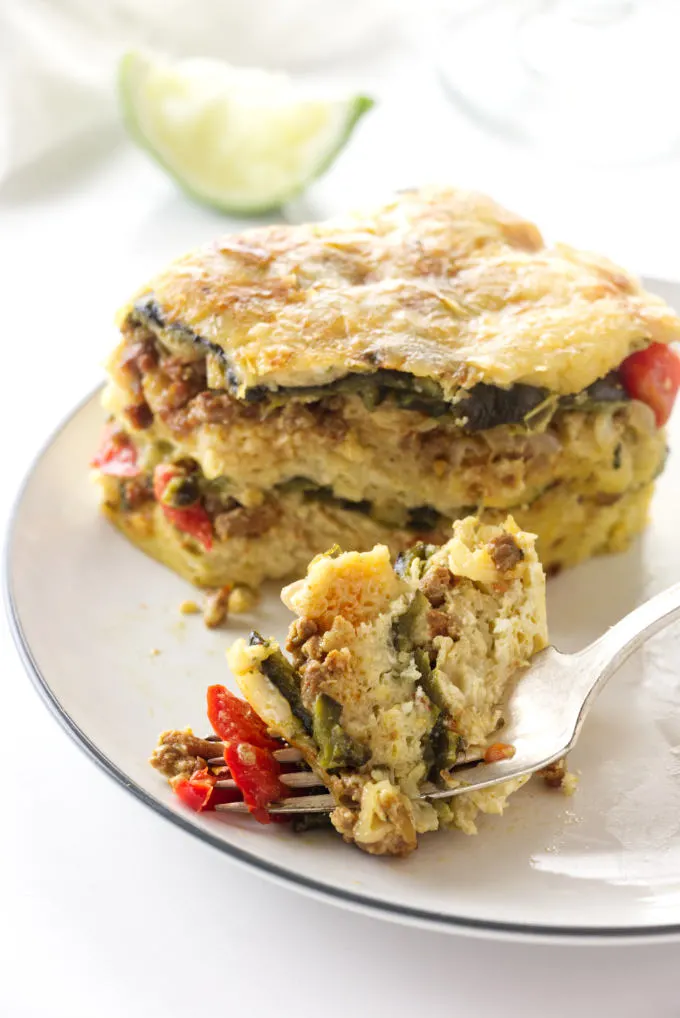 Frequently Asked Questions
What is the difference between Mexican and Spanish Chorizo?
While both types of Chorizo are made with pork, they are entirely different in terms of flavor. Spanish Chorizo is mild and usually seasoned with some smoky paprika. It comes either cured or semi-cured. You can eat dry-cured Chorizo alone, making it an excellent addition to a charcuterie board.
Mexican Chorizo is packed with a lot more heat due to its spice combination of cumin, oregano, and Ancho chilies. You can also make it using a combination of pork and beef, which is uncommon in Spanish-style Chorizo.
How do I store the poblano chorizo strata?
After baking, any leftovers will keep in the refrigerator for about three to four days. The dish may also be frozen for up to three months in a freezer-safe container.
To reheat, place the casserole dish back in the oven to bake.
Some Other Recipes We Are Sure You Will Love
Easy Healthy Huevos Rancheros Soft-cooked eggs, a spicy salsa, and black beans all nestled on top of a warm corn tortilla. Yum!
Mushroom and Goat Cheese Quiche: This deep-dish quiche is perfect for a party brunch. A creamy, thick quiche filled with roasted wild mushrooms and a rich custard that includes soft goat cheese.
Baked Eggs with Tomatoes and Onions: What a great dish to include in a brunch! Individual ramekins filled with fresh tomatoes and onions, bread cubes and an egg topping it off and baked in the oven. Delicious, healthy breakfast!
Connect With Savor the Best:
Please follow us on our social media accounts
Facebook * Instagram * Pinterest * Youtube * Twitter
Did you make this recipe? We would love to hear from you. Drop us a comment below.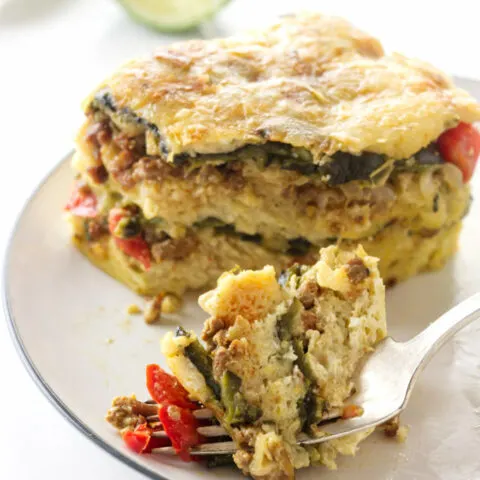 Poblano Chorizo Strata
Total Time:
1 hour
30 minutes
Our Poblano Chorizo Strata layers day-old bread with roasted poblanos, spicy chorizo, pepper-jack cheese, red bell peppers and a rich egg custard.
Ingredients
1 tablespoon olive oil
6 Poblano chili peppers
1-1/4 pounds stale bread, crusts removed, approximately 1 large loaf of French bread
10 eggs
3 cups whole milk
8 ounces cream cheese, cut into chunks
1 tablespoon chipotle aioli
1/2 teaspoon salt
1/4 teaspoon black pepper
1 teaspoon cumin powder
1-1/2 pound Chorizo sausage (bulk, not links)
3-4 shallots, sliced
3 garlic cloves, grated or minced
1 deli roasted red bell pepper, sliced in strips
8 ounces Pepper Jack cheese
1/2 cup chopped cilantro
2 ounces Parmesan cheese, grated
Cilantro stems for garnish
Instructions
Coat a 9x13x2-inch oven proof casserole dish with oil spray.
Roast the Poblano peppers:
Brush the Poblano peppers with the olive oil and place on a foil-lined baking sheet. Set the oven control to 'broil' with the top rack positioned 4-6 inches from the unit. Broil the peppers for 5 minutes until the skin blisters and chars. Pull the rack out and flip the peppers and broil the second side for an additional 5 minutes until the skin is blistered and charred.
Transfer the baking sheet to a work space and cover with another piece of foil. Let the peppers steam and 'sweat' for 10 minutes. When cool enough to handle, lift the skins off and discard. Cut the peppers in half, remove and discard the seeds, veins and the stem; then slice the peppers lengthwise, into 1-inch strips. Place the strips on a plate and reserve until needed.
Mix the Custard:
To the bowl of a food processor or blender, add the eggs, milk, cream cheese, salt, pepper, aioli and cumin. Pulse the mixture until smooth. Set aside.
Prepare the Ingredients:
Place the bread cubes in a large bowl and set aside.
In another bowl add the Pepper Jack cheese and the cilantro, toss to combine. Set aside.
In a large skillet set over medium heat, add the chorizo and cook until lightly browned, breaking it up with a fork as it cooks. Spoon off and discard as much of the accumulated fat as possible. Push the chorizo to the edge of the skillet and add the sliced shallots and red bell pepper. Sauté until the shallots are slightly softened. Add the garlic and cook until fragrant, about 30 seconds. Stir the chorizo and shallots, red pepper and garlic together and remove the skillet from the heat and set aside.
Shred the Pepper Jack cheese into a large bowl, add the chopped cilantro, toss together and set the bowl aside.
Assemble the Strata:
Coat a 9x13x2-inch oven-proof casserole dish with oil spray.
Place 1/2 of the bread cube in the bottom of the prepared dish. Pour 1/3 of the milk mixture over the bread cubes.
Add 1/2 of the chorizo mixture over the bread cubes and 1/2 of the Pepper Jack cheese and 1/2 of the Poblano slices. With a spatula, press down gently on the layer.
Continue layering with the remaining bread, 1/3 of the milk mixture, the remaining chorizo mixture and Pepper Jack cheese and the last of the Poblano slices. Again, press the layer down gently.
Pour the last of the milk mixture and distribute the grated Parmesan cheese evenly over the top.
Spray one side of a sheet of foil with non-stick oil spray, cover the casserole, oil side down and transfer to the refrigerator overnight.
When ready to bake the strata, transfer from the oven to the counter top while the oven heats.
Heat the oven to 350°F and bake the strata for 40 minutes covered with the foil, then remove the foil and continue to bake for another 20-25 minutes until the strata is golden brown and a little crisp around the edges.
Transfer from the oven and cool for 10 minutes on a wire rack before serving.
Notes
There should be seven or eight cups of lightly packed bread cubes.
We recommend removing the crusts of the bread as they are tough and do not absorb the egg mixture well.
Bulk chorizo is available in most supermarkets.
Chorizo has a lot of fat and we recommend spooning off as much as possible. After baking, if fat has risen to the top, blot it off with a paper towel or tissue.
Low-fat cream cheese and milk can be used for calorie reduction, however, full-fat cream cheese and whole milk will make a richer, tastier custard.
Coating the underside of the foil with non-stick oil spray will prevent the cheese from sticking to the foil during baking.
Refrigerating the unbaked strata overnight allows the bread to be fully absorbed by the milk-egg mixture.
According to USDA safety guidelines, an unbaked strata should be baked no later than the day after assembly.
Uncooked egg strata should not be frozen.
Bake until the center reaches an internal temperature of 160°F when tested with a food thermometer.
After baking, any leftovers will keep, refrigerated for three to four days or frozen for up to three months.
Nutrition Information:
Yield:

16
Serving Size:

1
Amount Per Serving:
Calories:

792
Total Fat:

42g
Saturated Fat:

17g
Trans Fat:

0g
Unsaturated Fat:

22g
Cholesterol:

202mg
Sodium:

1610mg
Carbohydrates:

67g
Fiber:

4g
Sugar:

12g
Protein:

36g
Nutrition information is a guideline only, is calculated automatically by third-party software, and absolute accuracy is not guaranteed.