A little prep time goes a long way with our easy chipotle aioli! Spice up any sandwich, a plate of fries or a veggie tray with this flavorful and spicy sauce that takes just minutes to make. Store it in your fridge for a quick and simple go-to sauce to add some bold and zesty flavor when you need it!
Our chipotle aioli recipe makes a simple sauce that's perfect as a spread or dip. We are big aioli fans and this chipotle aioli is a delicious spin on a classic- it adds just the right amount of heat.
If you like this recipe, you will also like our raspberry chipotle sauce.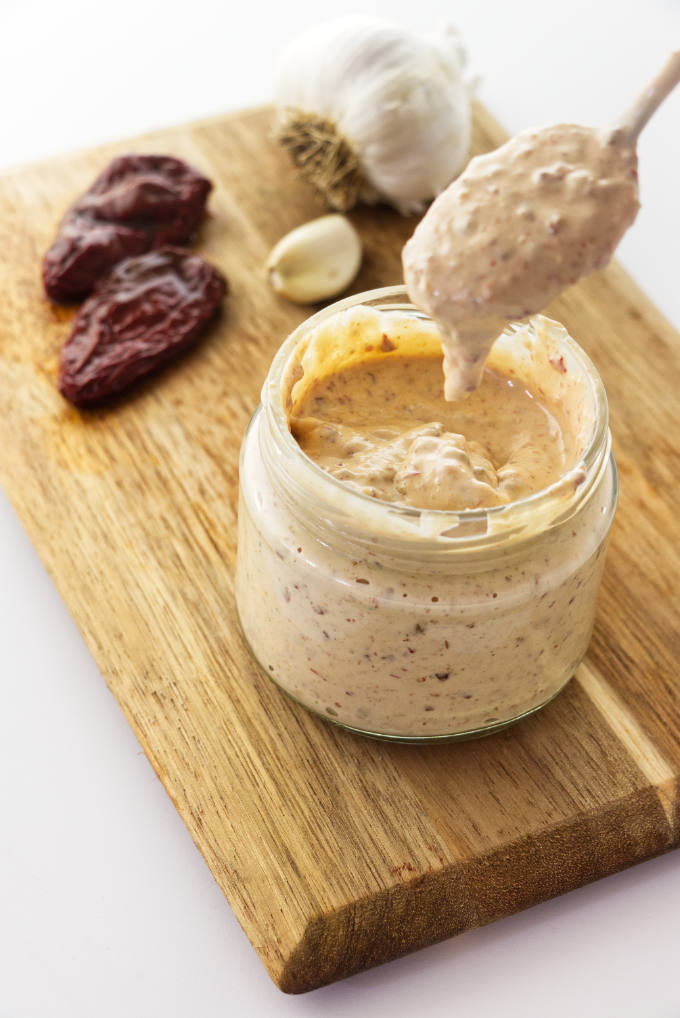 Our Chipotle Aioli is:
easy to make with only 5 minutes of prep time!
thick and creamy with a spicy-smokey flavor you'll love
made with less than 10 ingredients
gluten-free
What is Aioli?
First, what exactly is aioli? Is aioli the same as mayonnaise? Does aioli have raw egg? If you've ever come across this word and had no clue what it was (pronounced "ay-OH-lee," by the way), let us clear up any confusion!
Aioli is similar to mayonnaise in the sense that they're both emulsions (a mix of two ingredients that don't want to mix- like an oil with something water-based).
Traditionally, aioli refers to mashed garlic emulsified with oil, while mayonnaise is oil and raw eggs. Today, aioli is quite often understood to be a "fancier" or "dressed up" mayonnaise since many aioli recipes (including this one) use mayonnaise as a base to simplify and speed up the process.
For more yummy aioli recipes, check out our lemon-dill aioli sauce and our fresh horseradish aioli sauce. Both recipes make a delicious aioli that can be used in different ways. For instance, the lemon-dill aioli is superb paired with fish, while the horseradish aioli is perfect for steak or prime rib.
This easy chipotle aioli will jazz up a serving of fries, hot wings or a fresh vegetable platter- we love this chipotle version because there are so many ways to enjoy it!
Ingredients for Chipotle Aioli:
To make our easy chipotle aioli, you will need the following ingredients: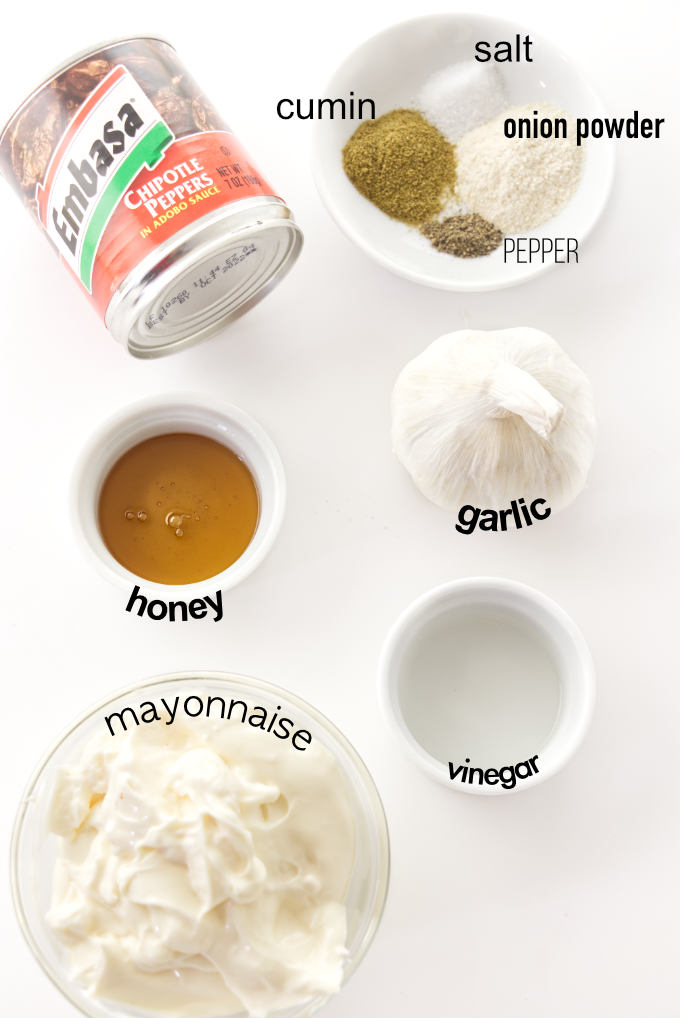 Our Easy Chipotle Aioli Recipe:
One of the reasons we love this chipotle aioli recipe is because it comes together in minutes since we use mayonnaise.
There's no need to worry about the emulsification process or how to fix a "broken aioli" or the temperature of your ingredients. It's a simple mix-and-stir kind of situation that really anyone can find success with.
Here's a Look at How to Make Chipotle Aioli :
Chop the chipotle peppers. Place the chipotle peppers on a cutting board and chop with the garlic until they are both finely minced.
Combine the ingredients. Scoop the mayonnaise into a small mixing bowl. Add the chopped garlic/chipotle peppers to the mayo. Stir in the vinegar, honey, onion powder, cumin, salt, and pepper. Mix until it's well combined and creamy.
Serve or chill. Serve this easy chipotle aioli immediately or store in the fridge until ready to use.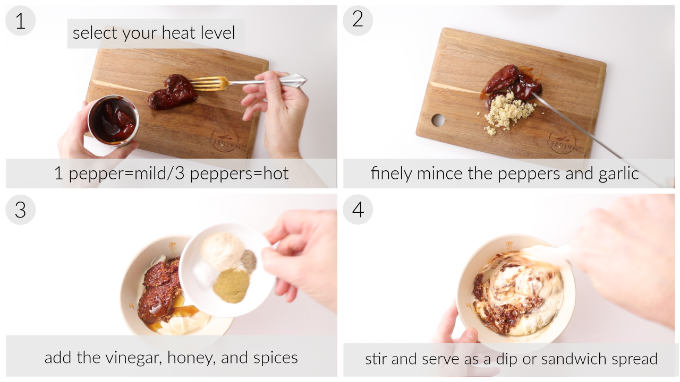 Pro Tip for Aioli:
This aioli contains small chunks of garlic and chipotle since it's added minced, but you can easily make it extra smooth by processing the chipotle and garlic in a food processor to turn it into a fine puree.
What Can You Put Aioli Sauce On?
The correct answer is: EVERYTHING. 😉 And after one taste, you'll totally agree! It's spicy, creamy, and smooth and makes the perfect sandwich spread or dip.
Here are a few of our favorite recipes that go well with this chipotle aioli: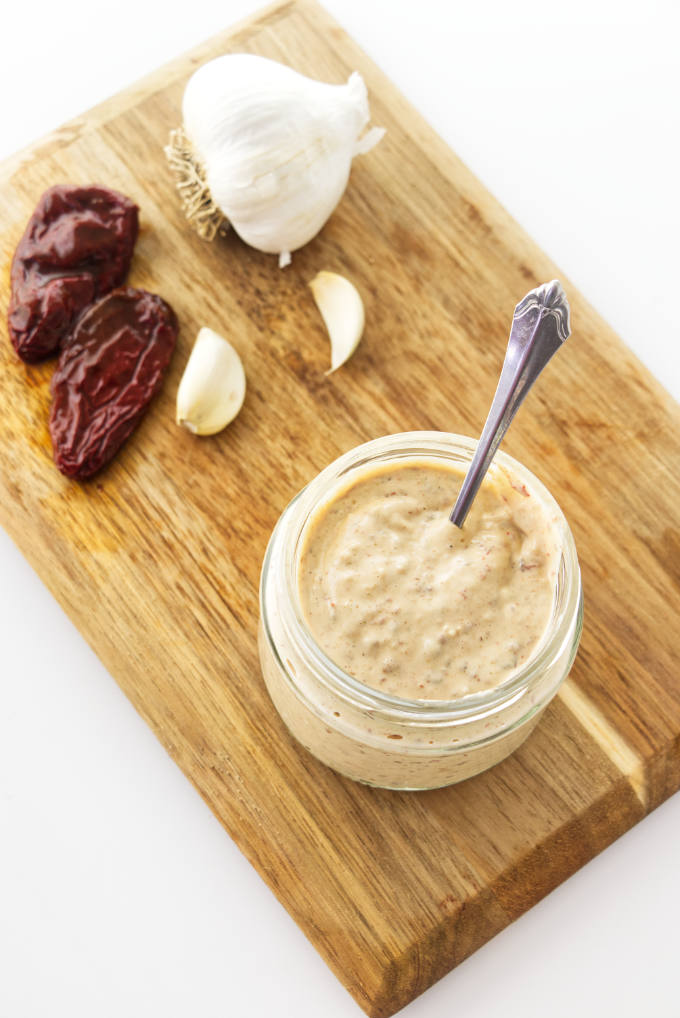 We hope you love this recipe as much as we do! It adds a touch of spice and heat that is seriously satisfying. Enjoy!
Helpful Tools
Some of the following links are affiliates. If you click on these links and purchase something, we may receive a small commission. You don't pay any extra but it will help us keep the lights on.
SOME OTHER RECIPES WE ARE SURE YOU WILL LOVE:
Chipotle Chicken Tortilla Soup: Because chipotle makes any classic recipe 100x better, we've gone ahead and made an extra delicious chipotle version of chicken tortilla soup! Smokey, spicy, and loaded up with all the toppings, this is one of our favorite south-of-the-border comfort foods.
Beef Steak Bites with Fresh Horseradish Aioli Sauce: This is a simple yet delicious appetizer full of flavor. Tender and beefy steak bites served with fresh horseradish aioli will be devoured quickly!
Creamy Peppercorn Sauce: Rich and flavorful with a spicy bite from the whole peppercorns. This is the sauce to serve with your next steak dinner!
CONNECT WITH SAVOR THE BEST!
Be sure to follow us on our social media accounts
Facebook * Instagram * Pinterest * Twitter * Youtube
Did you make this recipe? We would love to hear from you. Drop us a comment below.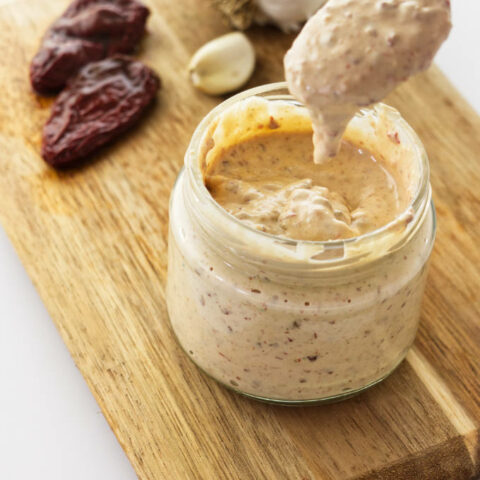 Chipotle Aioli
Yield: 16 tablespoons
Prep Time: 5 minutes
Total Time: 5 minutes
This zesty chipotle aioli starts with pre-made mayonnaise which makes it fast and easy to make. You can adjust the heat level by using more chipotle peppers. One to two peppers will give the aioli a mild to medium heat level and using three peppers makes it very hot.
Use this as a dip for french fries and veggies or as a sandwich spread.
Ingredients
1 cup mayonnaise
3-4 garlic cloves, minced
1 to 3 chipotle peppers (depending on how hot you like it)
2 teaspoons white vinegar
1 tablespoon honey
1 teaspoon onion powder
1/2 teaspoon cumin
1/4 teaspoon salt
1/4 teaspoon pepper
Instructions
Place the mayonnaise in a small mixing bowl.
Chop the chipotle peppers and garlic together until they are finely minced. Add them to the mayonnaise.
Stir in the vinegar, honey, onion powder, cumin, salt, and pepper.
Notes
If you want a very smooth aioli, you can zap the chipotle peppers and garlic in a food processor to turn them into a fine puree.
Nutrition Information:
Yield: 16
Serving Size: 1 tablespoon
Amount Per Serving:
Calories: 102
Total Fat: 10g
Saturated Fat: 2g
Trans Fat: 0g
Unsaturated Fat: 9g
Cholesterol: 6mg
Sodium: 122mg
Carbohydrates: 2g
Fiber: 0g
Sugar: 2g
Protein: 0g
Nutrition information is a guideline only, is calculated automatically by third-party software, and absolute accuracy is not guaranteed.