Oh, the sweet, savory flavor of this roasted raspberry chipotle sauce! This is so good! It is also easy to make, gluten-free and a multi-use sauce. The blending of fresh raspberries, spicy chipotle chilies and a little fresh lemon juice creates a magical, savory-sweet sauce.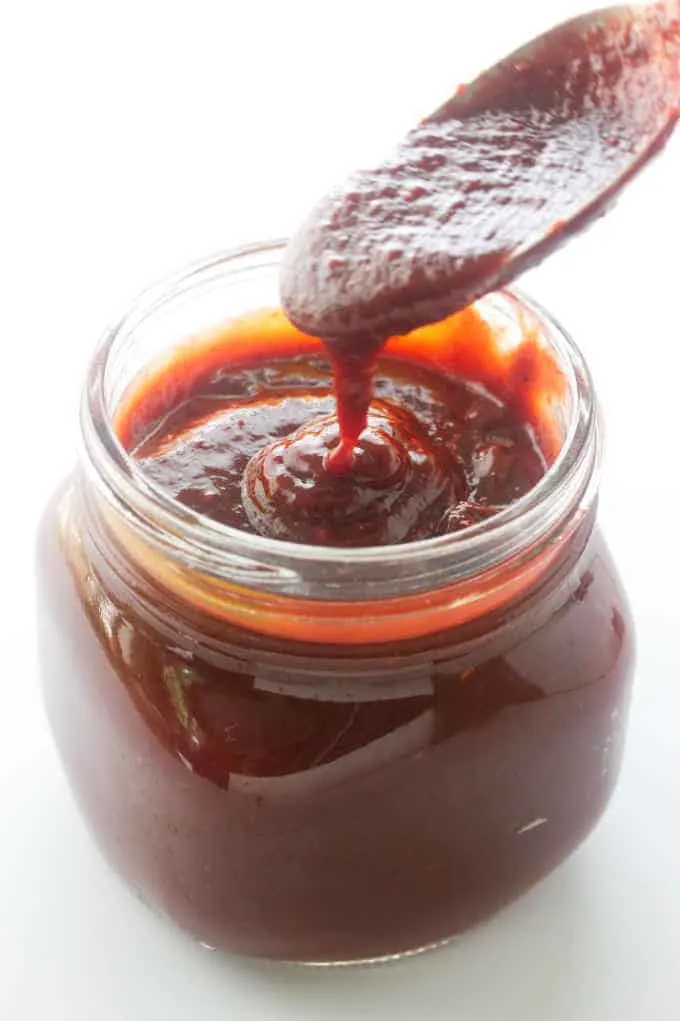 You can use this sauce on just about anything! Well, I'm not too sure about ice cream….but I'm willing to try.
If you like this recipe you will also like our chipotle black bean soup, or our chipotle pork chops or chipotle chili.
Raspberry chipotle sauce is a popular creation from chef Emeril Lagasse and has morphed into a few variations. The recipe can be either a basting sauce, glaze or finishing sauce.
This non-traditional BBQ sauce takes the ho-hum from a standard tomato-based sauce and adds a fruity taste, a little heat and some smoky essence to our barbecued pork ribs.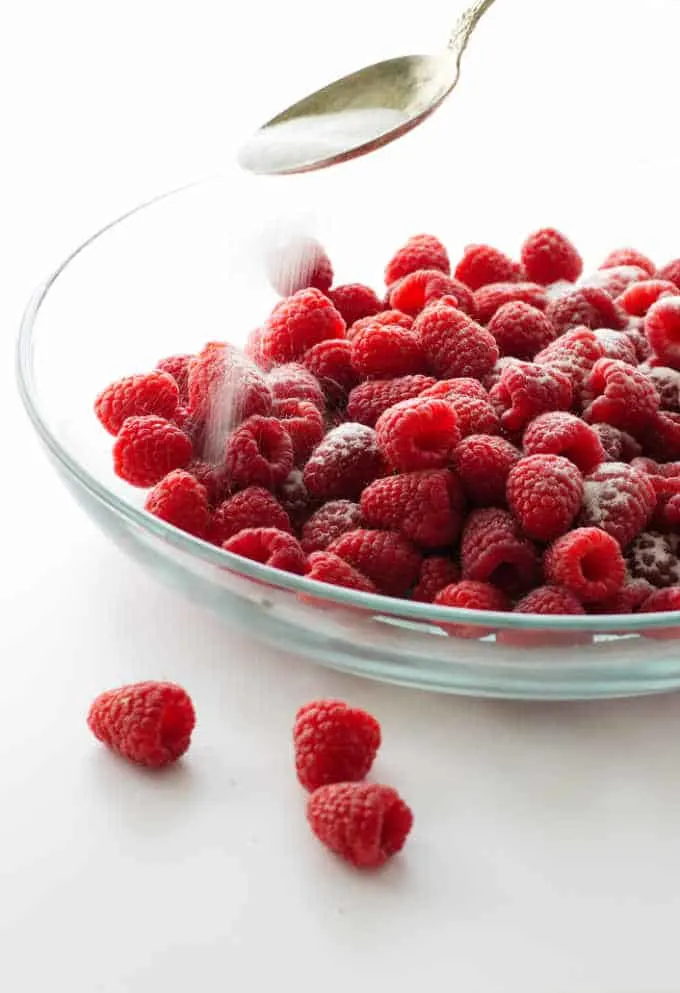 Fresh raspberries are just arriving at the produce markets. My taste buds explode with their juicy, sweet goodness. We love sweet raspberries piled on top of a cake, or fresh raspberry sauce in a lemon raspberry parfait. But those juicy, sweet berries are not just for desserts!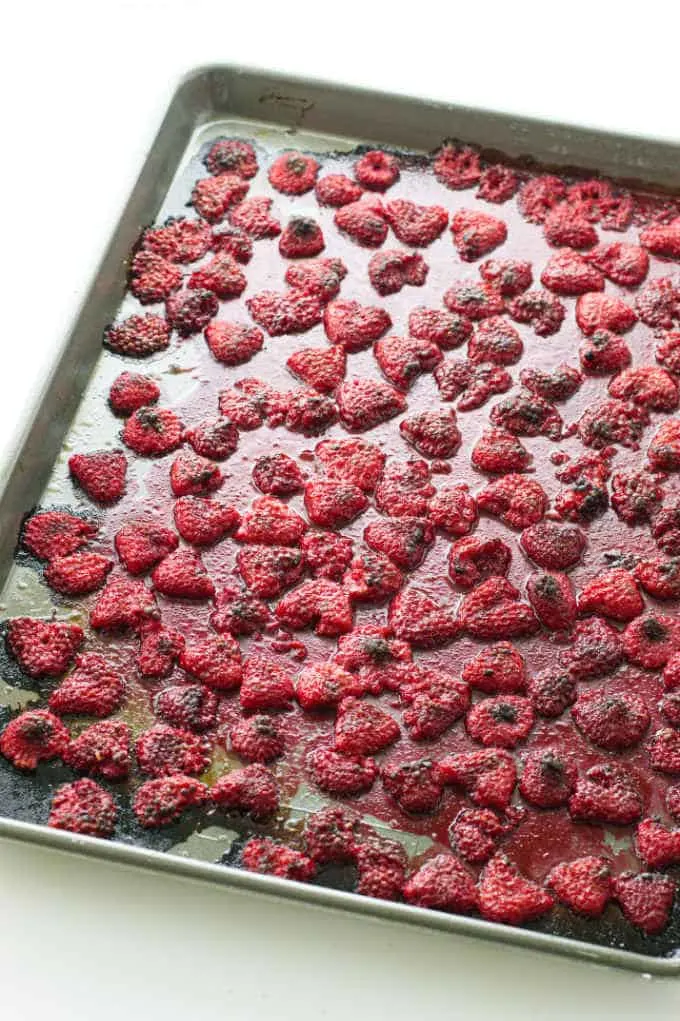 How to make Roasted Raspberry Chipotle Sauce:
This is really simple and you can put it together in 30-minutes or less. Here is how easy it goes together:
Add raspberries to a large shallow bowl and sprinkle with sugar and toss to combine.
Spread the berries onto a baking sheet and roast for 12-15 minutes at 450°F
While the berries are roasting, sauté the shallots and garlic in a little oil in a saucepan
Add the wine, honey, lemon juice, sugar, chipotle chiles, chile sauce, liquid smoke and salt
Bring the sauce to a boil, then reduce the heat to low and simmer for 8-10 minutes.
Remove the raspberries from the oven and spoon into the simmering sauce.
Stir the berries into the mixture and continue to simmer the sauce for another 5 minutes
Transfer from the heat and use an immersion blender to puree the sauce.
That's it! Now, if you like a chunky sauce then just transfer it to a lidded jar. If you are more the smooth-sauce type, then place a mesh sieve over a bowl and strain the sauce before transferring to a lidded jar. We like it both ways and divided the sauce.
Adjust the heat level:
Chipotle peppers are jalapeno chiles with a twist. They get dried and smoked which makes them taste uniquely special.
They are also powerful little packages of spicy heat. The jalapeno peppers are allowed to ripen and completely mature on the vine. The extra time spent ripening means they pack a bit more heat than a normal jalapeno.
With this little tidbit of knowledge, you may want to lighten up on the chipotle. We think 2 chipotle chiles make this sauce perfect but if you like things a little milder then start with 1 pepper. You can always add another one later.
And of course, if you like things really spicy, toss in as many as you want!
What is adobo sauce?
Adobo sauce is a rich, smokey tomato sauce. The smokey flavor is usually enhanced with paprika, garlic, and spices which gives it a complex flavor.
It is very common to find chipotle peppers in a can of adobo sauce like this. You can also find dried chipotle peppers packaged in a bag.
For this recipe, you should grab a can of chipotle peppers in adobo sauce and NOT the dried package of chiles. The adobo sauce will add a lot of flavor to the roasted raspberry chipotle sauce. You can adjust the smokey adobo flavor by adding as much as you want.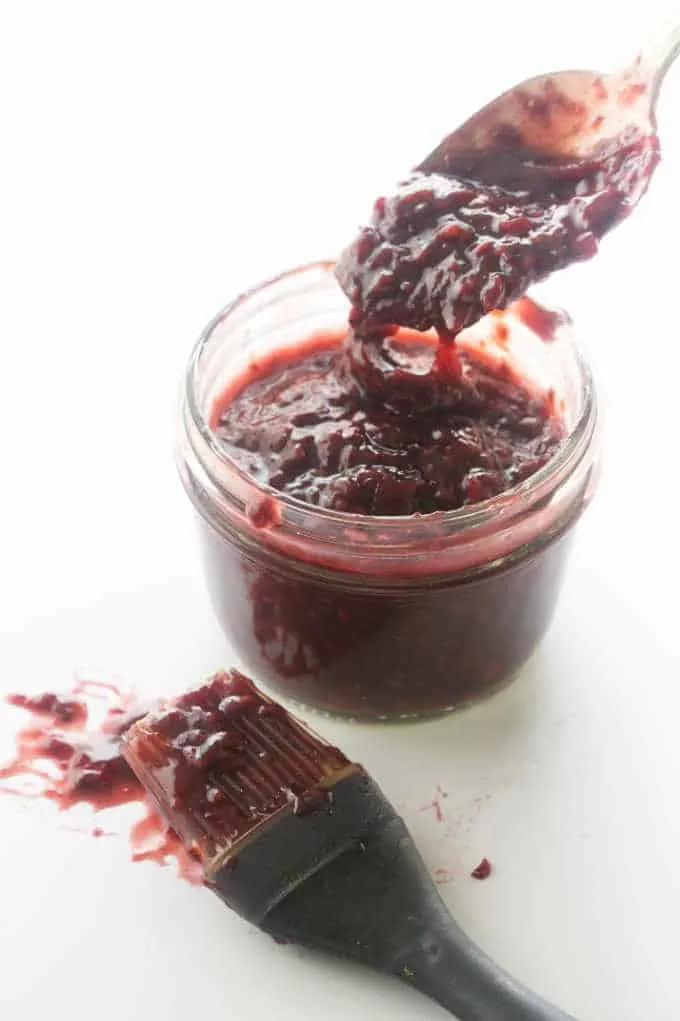 Ideas to use Roasted Raspberry Chipotle Sauce:
This is wonderful basted on an oven-roasted pork tenderloin and as a glaze for a salmon fillet. Grill up some chicken, or lamb and slather it on. It is a nice change from a tomato-based bbq sauce.
You can use this as a dipping sauce for shrimp or meatball appetizers. How about grilled bruschetta bread slices topped with tangy, soft goat cheese and roasted raspberry chipotle sauce. Or try it as a sandwich spread with roast turkey slices.
We used it as a finishing sauce for our Roasted Raspberry BBQ Ribs and it was delicious!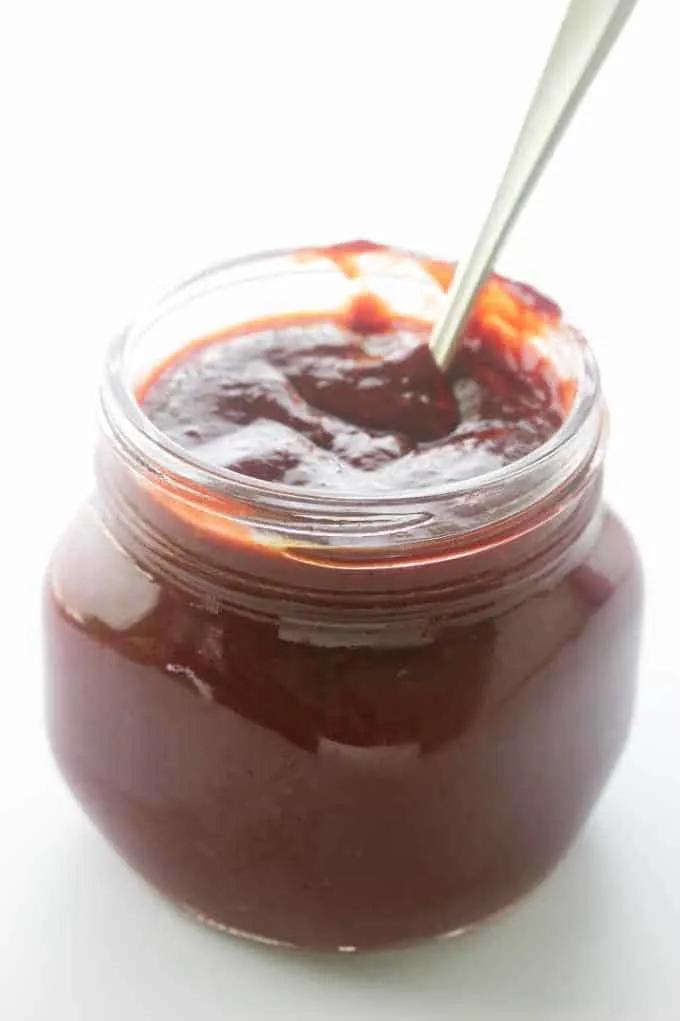 I can think of a whole lot of ideas to use this sauce for. Maybe I will even try it on ice cream. ?
More Recipes We Are Sure You Will Love:
Connect With Savor the Best:
Please follow us on our social media accounts
Facebook * Instagram * Pinterest * Youtube * Twitter
Did you make this recipe? We would love to hear from you. Drop us a comment below.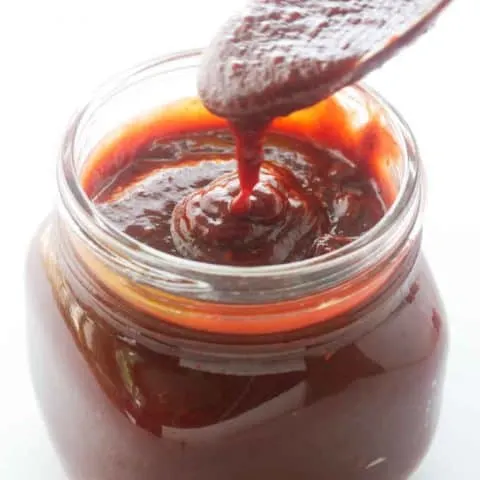 Roasted Raspberry Chipotle Sauce
Fresh roasted raspberries, chipotle chilies and in less than 30 minutes you can have the most delicious sauce for a grilling glaze for chicken, ribs or pork chops.
Ingredients
To Roast the Raspberries
24 oz.fresh raspberries, hulled
2 tablespoons white sugar
For the Sauce:
2 tablespoons olive or vegetable oil
1 medium shallot, finely chopped or grated
4 cloves garlic, minced or grated
1/2 cup white wine
1/4 cup honey
1/3 cup fresh squeezed lemon juice (about 2 lemons)
2/3 cup brown sugar (packed)
1 to 2 chipotle chiles in adobo sauce (see notes)
1-2 tablespoons adobo sauce
1 teaspoon liquid smoke
1/4 teaspoon table salt
Instructions
For the Roasted Raspberries:
Preheat oven to 450F. Adjust oven rack to the center position.
Add raspberries to a large bowl and sprinkle with the sugar. Toss to coat raspberries evenly, then spread them out onto a rimmed baking sheet in one layer.
Roast for 15 minutes, rotating baking sheet halfway through. Watch close to prevent caramelizing.
For the Sauce :
While the raspberries are roasting:
In a medium size saucepan, heat olive oil over medium heat. Add the shallot, and cook, stirring often until soft, about 1-2 minutes. Do not brown the shallots. Add the garlic and cook 30 seconds. Add the remaining ingredients and bring to a boil. Reduce heat to low and simmer 8-10 minutes.
Transfer the roasted raspberries from oven, use spatula to scrape into the saucepan. Stir to combine and simmer for 5-10 minutes, stirring frequently to prevent sticking.
Remove the sauce from the heat and purée with an immersion stick until smooth. For a smooth sauce: strain through a mesh strainer set over a bowl, pressing to remove the seeds.
Notes
You can use fresh or frozen raspberries for this recipe, however, if using frozen raspberries they may need an extra 5 minutes of roasting time. Check frequently for doneness.
Do not let the juices from the roasting raspberries caramelize.
Chipotle chilies and the sauce are powerfully hot! We suggest adding one chipotle chill and one tablespoon adobo sauce, stir and taste, then add according to your personal taste. The remaining chilies can be frozen so don't worry that you only use a small portion of the can.
A blender or food processor can also be used to purée the sauce. If using the blender, cool first, then leave the lid partially open.
Straining the sauce is optional.
If you want the sauce chunky, do not puree it.
This makes 2 cups of sauce and will keep in the refrigerator 7-10 days in a closed jar.
Recommended Products
As an Amazon Associate and member of other affiliate programs, I earn from qualifying purchases.
Nutrition Information:
Yield:

32
Serving Size:

1 Tablespoon
Amount Per Serving:
Calories:

39
Total Fat:

1g
Saturated Fat:

0g
Trans Fat:

0g
Unsaturated Fat:

1g
Cholesterol:

0mg
Sodium:

29mg
Carbohydrates:

8g
Fiber:

0g
Sugar:

7g
Protein:

0g
Nutrition information is a guideline only, is calculated automatically by third party software, and absolute accuracy is not guaranteed.