Meatless Mondays just got really exciting with these roasted cauliflower steaks! Butter, garlic, and a dusting of salt and pepper give these cauli steaks a simple and delicious flavor, and result in those perfectly crisp, roasted edges. Top this with chimichurri for an extra boost of YUM.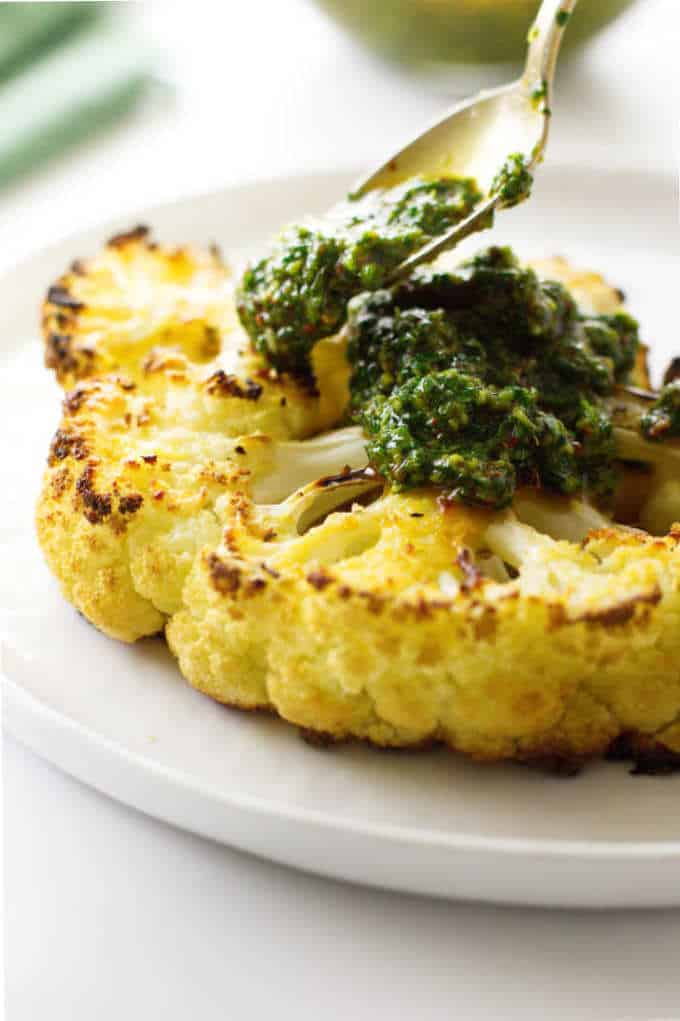 This is a light, fresh and healthy main dish (or a side if that's how you prefer to eat your veggies) that comes together fast!
What is a cauliflower steak?
A cauliflower steak is a thick slice of cauliflower that can be cooked and eaten just like a beefy steak. When the cauliflower is sliced vertically and close to the main stem, the florets stay attached to the stem and the 'branches'. It results in a beautiful floral shaped steak that soaks up the flavors of sauces and marinades.
how to make roasted cauliflower steaks
Have you ever tried these? Cauliflower is a popular substitute for almost ANYTHING these days (at least it seems that way!) but we're really loving it as this simple main course.
The prep time is quick, and then the oven does the rest of the work!
how to cut cauliflower steaks
Here's an important tip: you'll need to use a large head of cauliflower for this recipe. A small head will result in only one or two cauliflower steaks and the rest of it will crumble into florets (which are tasty too, but we want nice THICK steaks)!
Choose cauliflower with a thick stem. The thicker the stem is, the more steaks you will be able to slice. If you can't find any large cauliflowers with thick stems then make sure you purchase an extra one.
Cutting the cauliflower steaks is easy:
Remove the green leaves from the underside of the cauliflower and cut the stem off so the base is flat. Rinse and dry the cauliflower.
With the stem side down on a cutting board, cut two sides off so they're flat.
Cut the cauliflower in half, then cut each portion in half again so you get four thick cauliflower steaks.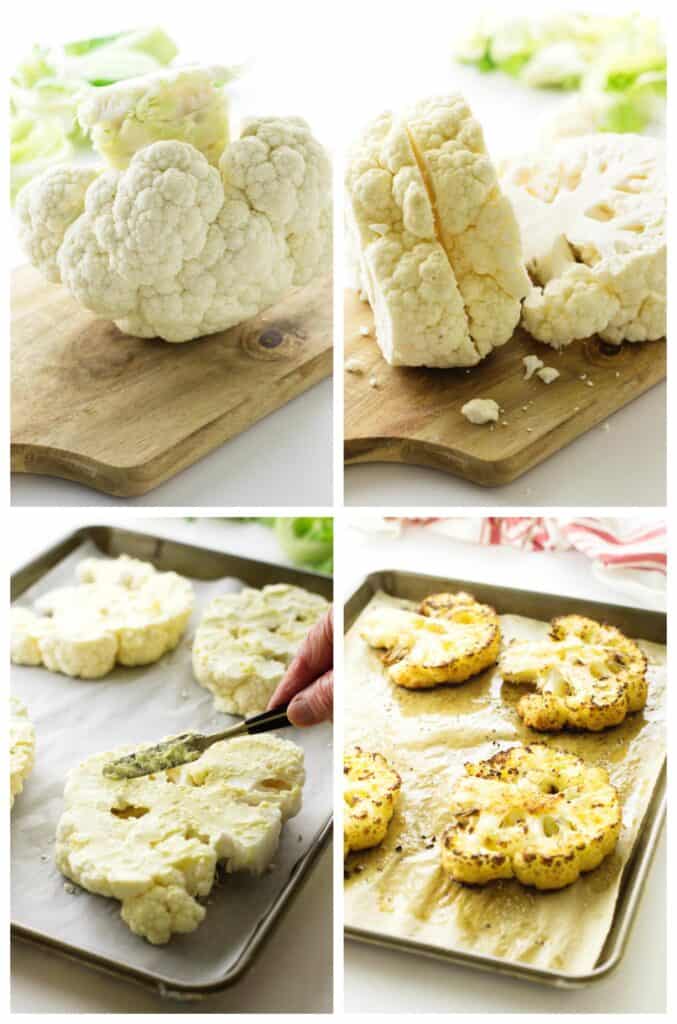 next, prepare the cauliflower for roasting
Place the cauliflower steaks on a sheet pan.
In a small dish, combine the softened butter with the grated/crushed garlic to make a spreadable garlic butter.
Spread a tablespoon of the garlic butter on both sides of each of the cauliflower steaks.
Roast the steaks in the oven for 10 minutes, flip, then roast for another 15 minutes.
what does cauliflower steak taste like?
The roast time gives these cauliflower steaks a lovely, crisp outside with a tender, cut-with-a-fork center. Garlic butter pairs well with almost anything, and is especially nice with roasted vegetables. Chimichurri – a fresh, Argentinian herb sauce made of parsley and olive oil- gives these roasted cauliflower steaks a savory/zesty spin. Your taste buds will be delighted with this meatless meal, and best of all, it fits with any diet!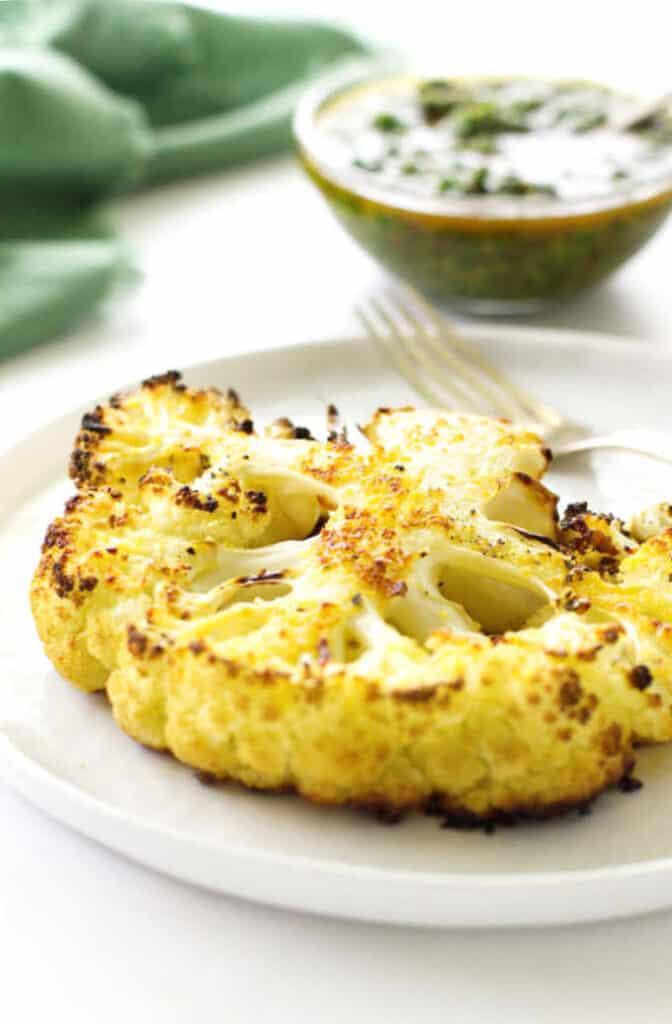 what to serve with roasted cauliflower steaks
The options are unlimited! Whip up a sheet pan of roasted brussels sprouts with balsamic to leave all the heavy lifting up to your oven. This roasted beet salad with fennel and radish continues to be one of our favorites. Or you could keep on with the zesty, cruciferous veggie theme and make this roasted lemon-chili broccoli as a side.
If you don't really fall into the meatless meals camp, roasted cauliflower steaks are delicious with a meat of choice. Serve them alongside this sous vide ribeye steak (also incredible with chimichurri) or a lemongrass chicken satay for a fun and unique dinner whether you're entertaining or cooking for the family.
Whatever you choose, don't forget something to soak up the extra sauce. Serve these tender vegetarian steaks with some garlic bread or homemade sourdough bread.
Regardless of what you enjoy these roasted cauliflower steaks with, I'm certain you'll love them! This one's an easy one with extra points for nutrition. Give this healthy dinner idea a try and let us know what you think!
Other sauces to serve.
Aside from the chimichurri sauce that we served these steaks with, they go well with a variety of sauces such as our buffalo sauce, tahini sauce, spicy Thai peanut sauce or a creamy cheddar cheese sauce.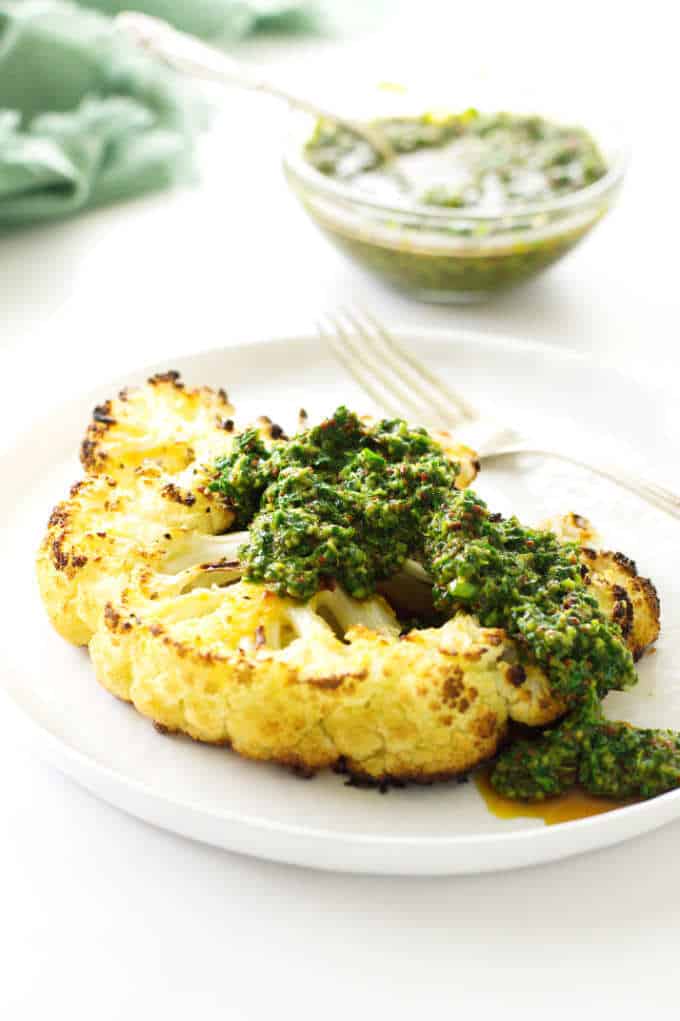 Some Other Recipes We Are Sure You Will Love:
Instant Pot Lebanese Green Beans: Lebanese braised green beans are usually stewed in a rich tomato sauce for well over an hour. This version speeds up the process by using the Instant Pot. You get all the flavor and texture of a long slow braise without all the time.
Malfatti in Tomato-Garlic Sauce: There is a video with this post! A light and delicate cheese-spinach pillow, served in a puddle of garlic-tomato sauce and garnished with fresh basil.
Chipotle Pork Chop Sheet Pan Dinner: Juicy, tender pork chops, fingerling potatoes and sweet apple wedges all roast on one sheet pan. Dinner in 30 minutes
Connect With Savor the Best:
Please follow us on our social media accounts
Facebook * Instagram * Pinterest * Youtube * Twitter
Did you make this recipe? We would love to hear from you. Drop us a comment below.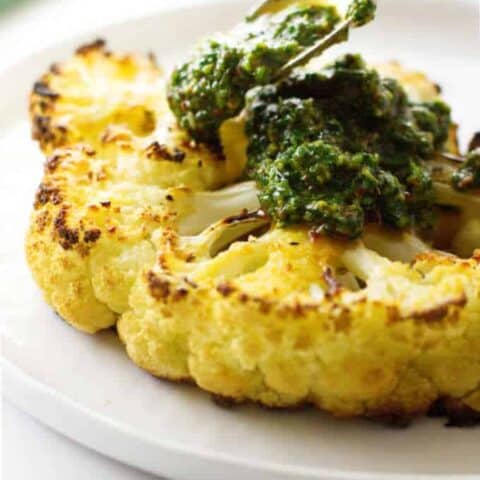 Roasted Cauliflower Steaks
These roasted cauliflower steaks are perfect for a Meatless Monday Meal! With crisp roasted edges and a rich garlic butter flavor, this easy sheet pan roasted entrée is topped off with the fresh taste of a chimichurri sauce.
Ingredients
1 large cauliflower
4 tablespoons butter, softened
2 large cloves of garlic, grated or crushed
Salt and pepper
1/2 cup chimichurri sauce (storebought or homemade)
Instructions
Preheat the oven to 400°F and line a sheet pan with parchment paper.

Prepare the Cauliflower:
Remove the green leaves from the underside of the cauliflower and trim the stem flat.
Rinse the cauliflower under cold running water, then dry with paper towels.
Place the cauliflower stem side down on the cutting board and carefully cut 2 sides off so they are flat.
Cut the cauliflower in half, then cut each half in half again for a total of 4 thick cauliflower slices
Place the cauliflower steaks/slices on the sheet pan.
In a small dish combine the softened butter and the grated/crushed garlic together, blending well.
Spread a tablespoon of the garlic butter on both sides of each steak/slice. Sprinkle with salt and pepper.

Roast the Cauliflower Steaks:
Transfer the sheet pan to the oven and roast the cauliflower steaks for 10 minutes, turn the steaks with a spatula and continue to roast for another 15 minutes or until tender when pierced at the stem with a skewer.
Serve each cauliflower steak with a tablespoon or more of chimichurri sauce.
Notes
Save the pieces of cauliflower that has been cut off for another purpose.
Try to choose cauliflower that has a thick stem down the center. If the stem is skinny then you will only get 2 cauliflower steaks from it.
Cauliflower adapts well to a variety of sauces such as our buffalo sauce, tahini sauce, spicy Thai peanut sauce or a creamy cheddar cheese sauce.
Recommended Products
As an Amazon Associate and member of other affiliate programs, I earn from qualifying purchases.
Nutrition Information:
Yield:

4
Serving Size:

1
Amount Per Serving:
Calories:

154
Total Fat:

13g
Saturated Fat:

7g
Trans Fat:

0g
Unsaturated Fat:

4g
Cholesterol:

31mg
Sodium:

200mg
Carbohydrates:

10g
Fiber:

5g
Sugar:

4g
Protein:

4g
Nutrition information is a guideline only, is calculated automatically by third-party software, and absolute accuracy is not guaranteed.